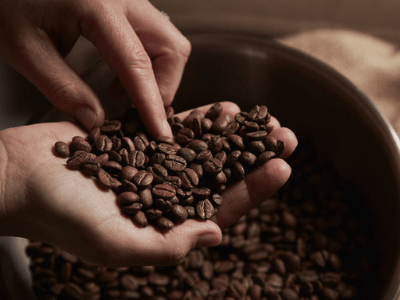 A fresh cup of coffee is the perfect way to start the day…
As a plant owner, you might be wondering whether…
… you can use coffee grounds to fertilize house plants.
Many people choose to use coffee grounds as an easy…
… eco-friendly, and inexpensive way to feed their plants.
Hear it from Jamie!
It's always fascinating to me how the gardening lifestyles…
… also has practices that are environmentally unfriendly.
This is why I always try to opt for a greener practice…
… in my gardening adventure.
Usually I find creative ways such as using kitchen materials…
… or reusable tools that will be more friendly to the environment.
One of my go to uses is the coffee ground…
I use my coffee ground for adding nutrients to my houseplants…
… and also help for water retention and deterring pests!
If you have houseplants…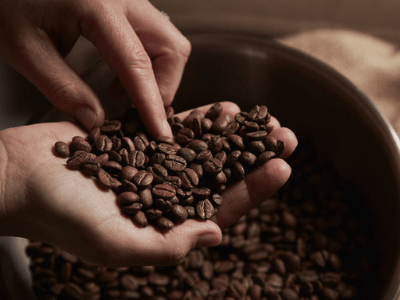 Coffee grounds are beneficial to them…
… as their high nitrogen content, micronutrients…
… and high water retention makes them a perfect fit for indoor gardens.
The best way to use coffee ground on your houseplants is to compost them!
Another good option would be to use the ground in a homemade potting soil mixture…
… or to make an easy plant fertilizer with leftover liquid coffee.
You can make your soil more moist when you use coffee ground…
… this is perfect for plants that like moist soil!
If you want to grow plants that prefer dry soil, such as succulents and cacti…
… keep your coffee ground and potting soil away from them.
If you wish to grow indoor plants you should avoid directly applying raw coffee ground…
… because doing so can cause the moisture levels in the soil to rise too much.
This can negatively impact the growth of your plants in several ways…
Learn how to use your coffee ground…
… to benefit your houseplants, and they will thank you profusely!
Here's how you can make the most of your morning cup of Joe…
… by incorporating coffee ground into your plant care routine!
Why Do People Use Coffee Grounds?
There has been a lot of discussion about using coffee grounds for your houseplants…
… so you might wonder what makes them a good option.
In addition to brewing a fresh pot of coffee, there are several reasons…
… why plant owners love using coffee grounds in their gardening.
Here are four major reasons!
Rich In Nutrients!
In order for plants to survive, they need nitrogen and phosphorus…
A surprising amount of nitrogen is found in coffee grounds!
Coffee grounds contain about 2% nitrogen by volume…
… making them a great choice for adding nitrogen nutrients to your plants.
Coffee grounds contain plenty of wonderful micronutrients your plants will love…
Micronutrients like calcium, magnesium, iron and more can all be found in coffee grounds!
Easy To Find!
Getting coffee grounds is a relatively simple process…
You don't have to go out to the local garden shop or spend hours looking online in order to find them…
Several householders will likely be willing to give you their used coffee grounds…
… even if you don't drink coffee yourself.
You could even ask a neighbor (although initially a little confused) to give you their used coffee grounds…
Ecofriendly!
Despite the fact that most people consider coffee grounds a form of garbage destined for landfills…
… some very clever gardeners have come up with a better use for them!
Using coffee grounds as part of your plant care routine…
… will mean that they will not add to global garbage problems.
Instead of contributing to environmental pollution…
… you will bestow those substances upon your green family.
This is a natural way of improving their health without any synthetics…
Low-Cost Plant Care!
Coffee grounds are an excellent way to cut costs when it comes to plant care…
Besides, a little extra cash for flowers and plants is always a welcome bonus!
Gardening is an expensive hobby, so any opportunity to cut costs is a welcome one…
Because they were going to be thrown away…
… it is an extremely economical option that costs you nothing out of pocket.
You will also probably have to spend less on other plant care products…
… that you would have purchased to achieve the same results.
It sounds great, however, you probably want to consider a few things…
… before throwing coffee grounds on your houseplants.
What Not To Do With Coffee Grounds
A warm and toasty cup of coffee or a cool caramel macchiato is not something humans crave…
Neither do all plants crave coffee grounds as part of their care routine…
However, coffee grounds will increase water retention in the soil…
This will create an optimal moisture environment for plants…
Each plant has its unique needs, and it is crucial to be aware of these needs…
… if you wish to see your plants reach their full potential.
Some species of plants will prosper in moist soils, but others may become stressed…
It is important to be aware of your plants' soil preferences…
…. and to reduce coffee grounds' effects on plants…
… that grow best in dry soils, such as cacti and succulents.
The same goes for applying coffee grounds incorrectly to indoor plants…
Coffee grounds shouldn't be applied directly to plants indoors…
Despite appearing to be beneficial, it can actually harm a plant's growth and cause stress…
Coffee grounds can hold in water very well…
The excess moisture from the coffee grounds…
… will cause unwanted fungal growth on your plant if they are directly applied.
Putting coffee grounds around your plant can cause too much water retention…
Overwatering can also result from direct application…
… because the coffee grounds retain additional water, resulting in a unhappy, waterlogged plant.
Furthermore, the pH of the soil will be affected if coffee grounds are directly applied…
However…
Brewed, or used coffee grounds are mildly acidic…
In a properly integrated environment, acidity is not an issue…
However, directly spreading coffee grounds around your plant…
… will slightly lower the soil pH which will harm some species.
Fortunately, you can avoid the detrimental effects associated with coffee grounds…
… while still reaping all of their mineral-rich benefits.
How To Use Coffee Grounds On Your Houseplants
The Best Way: Composting
Composting your coffee grounds will allow you to maximize the use of your grounds…
Coffee grounds can be an excellent addition to a compost pile. The grounds are relatively rich in nitrogen, providing bacteria the energy they need to turn organic matter into compost.

About 2 percent nitrogen by volume, used coffee grounds can be a safe substitute for nitrogen-rich manure in the compost pile.

Cindy Wise, Coordinator of the Compost Specialist Program at the Lane County Office of the Oregon State University Extension Service
Composting may seem like an intimidating and complicated project to some of you who are unfamiliar with it…
It is actually much simpler than it appears!
Composting is a fairly simple process, although some gardeners turn it into an almost art form…
Composting generally uses "greens" and "browns"…
"Greens" are nitrogen-rich materials such as coffee grounds and eggshells…
"Browns" are carbon-rich materials such as paper and dried leaves. These are combined in a 3:1 ratio…
Basically…
You compost your materials by throwing them into a bin or pile…
As long as you maintain a 3:1 ratio, you can use other materials…
… which would have been disposed of in a landfill, for the compost.
In some gardener's kitchens, small compost bins are common…
… where food scraps can be thrown straight into the compost bin.
In the end…
You have a wonderful nutrient dense growing substrate for your plants…
It can be mixed into your existing soil or mixed into the top layer of your already potted plants…
… when it seems like it's time for them to be replenished.
Paper coffee filters are considered a "brown" so they can be thrown in the compost!
This method extracts all of the rich nutrients from coffee grounds…
… and provides them to your houseplants in the best way possible.
Enhance Your Potting Soil Mix
In addition to having a high moisture-holding capacity…
… coffee grounds can adversely affect the skin when directly applied.
Coffee grounds could add great water retention to a homemade soil mix!
These kinds of ingredients are great for potting soil…
Using coffee grounds in a potting mix might also require adding a little more sand for drainage…
So, if you're adding it you should also be adding a little more sand for drainage…
As a reminder, it is always important to determine the soil type…
… each of your plants prefers before you pot them.
Many plants prefer to grow in moist soil over dry soil, including succulents and cacti…
… but many love a dry well-drained soil to keep them hydrated and comfortable.
If your houseplants fall into the second category…
… you may want to consider adding coffee grounds to your potting mix.
You would also get a little nitrogen boost from the coffee grounds…
Coffee Fertilizer, Yum!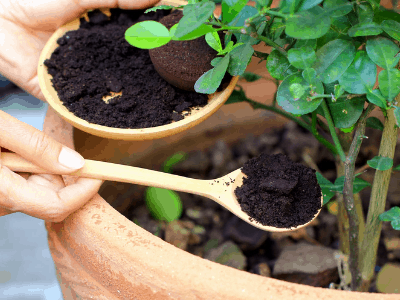 If you have leftover liquid coffee, make use of it instead of throwing it away…
Rather than tossing that part of your pot that has sat all day, use it!
You can make your own liquid fertilizer by mixing cooled coffee with tap water in a ratio of 1:3…
For example…
You could mix 1/4 cups of leftover coffee with 3/4 cups of water…
Please note that this will be an acidic fertilizer…
This means that it will lower the pH of the soil…
Some plant species prefer acidic soils, but others do not…
Using this coffee fertilizer, no more than once a week…
… will help maintain a low pH level within the soil while replenishing some key nutrients.
The African violet is a very common houseplant that thrives in acidic soil…
Coffee and Soil PH
Whenever discussing plant care methods for coffee…
… it's crucial for us to understand how the soil pH can be affected.
Time for a super quick science lesson! pH ranges from 0 to 14, with 7 considered neutral…
Having a good understanding of soil pH is important to maintaining and growing your plants…
Acids have a pH of 0-6.9, while bases have a pH of 7.1-14…
Therefore…
High acidity means a low pH (or vice versa)…
pH values slightly lower than neutral are preferred by plants…
… because they can absorb more nutrients. However, going too low is potentially harmful…
Soil pH can become toxic when it falls too low, stunting plant growth…
This can be a result of…
Nutrient availability becoming too wide…
If you are using unbrewed coffee grounds, you should never use them on your plants…
Additionally, liquid coffee is very acidic, requiring diluting before being applied to plants…
Coffee grounds that have been used or brewed have a much lower risk of lowering the pH of the soil…
However, it is still important to be aware that they are slightly acidic and can affect the soil…
To sum it up…
A variety of factors prompt plant owners to use coffee grounds in their houseplant care regimen…
They are high in nitrogen and rich in various micronutrients…
Gardeners can take pride in taking something that would have ended up in a landfill…
… and utilizing it for the benefit of their plants by using coffee grounds.
Coffee grounds are commonly found in most homes making them readily available…
It is also an extremely cost-effective choice…
Although there are many benefits to using coffee grounds…
… you should keep in mind the potential dangers.
If you use coffee grounds directly on plants, these can be toxic…
The extra moisture can lead to fungal growth, overwatering, and can inhibit growth…
The best method of composting coffee grounds is to use a simple 3:1 "browns to greens" ratio…
A simple liquid fertilizer can also be made from leftover coffee…
You can also mix coffee grounds into a homemade potting soil…
Remember that raw coffee grounds, along with liquid coffee fertilizers…
… are highly acidic, and can lower the pH of your soil.
If you use an acidic fertilizer, such as liquid coffee fertilizer…
… make sure you use it only on plants that prefer low pH soils, such as the African Violet.
In order to best help your plants flourish…
… it is essential to fully understand their particular care requirements as with all plant care methods.
Conclusion
Now I hope this article had provided you with the answers needed for your query…
If you happen to still have questions…
… or in need of further information…
… you can comment down below, or contact us.
Check out more posts on our website like this one here!
Have an awesome gardening journey!
Related Articles!