Since the early 1900s, Craftsman has built a reputation for itself as a world-renowned brand.
The company makes tools, lawn and garden equipment, and clothing.
Lawn mowers made by the company have a great warranty and are of high quality.
It is wise to invest in a capable lawn mower for the best results…
…regardless of whether your lawn is small or large.
You can find some of the best craftsman lawn mowers on Amazon…
…to help you choose one that suits your needs.
Among the factors we evaluated in our in-depth review were engine…
…power source, fuel capacity, zero turn, start, type…
…fuel capacity, transmission, and durability.
Each of these characteristics determines the mower's quality and performance.
Here are a few words from Tony…
It was easy to set up, poured the gas and oil in and did the job.
For the money, this is a good lawn mower.
The only downfall I can see is the small bag.
I had to empty it out about five or six times, but overall it was easy to clamp on and off.
Now let's jump right in!
Best Craftsman Lawn Mowers on Amazon
Let's go through them one by one…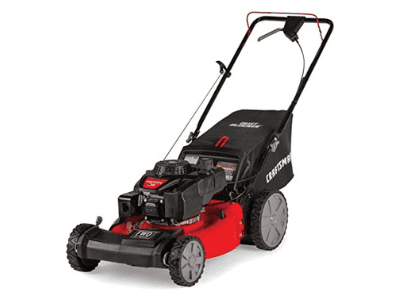 This Craftsman self-propelled lawn mower is one of the best.
It has a powerful engine of 159cc that powers its front wheels allowing for easy maneuverability.
It is a 3-in-1 mower. You can set it up for side discharge…
…so that it will cut the grass and expel it on the sides.
Using the mulching setting will help you maintain your lawn if it has grown too long.
A smooth recoil and automatic choke contribute to the mower's ease…
…of starting compared to other gas-powered mowers.
In general, the M215 is a perfect option for anyone looking for an affordable gas-powered option.
In addition, it is the best mower to use if you have a large lawn…
…because it is easy to use and can cut a lot of grass at one time.
What We Liked:  Thanks to its self-propulsion system…
…and large rear wheels, this mower is very easy to use.
The large wheels make maneuvering a breeze.
It is also incredibly versatile thanks to its 3-in-1 capabilities.
It can be used as a bagger, mulcher, and convenient side discharger.
The mower also comes with a sharp 21-inch cutting blade.
Cutting a lot of grass at once with top precision…
…and control will make mowing your lawn less of a chore.
In addition, you can change the cutting speed and adjust the deck height…
…in order to set the grass height according to the state of your lawn.
If the weather is dry, you want to leave the grass a little high to help retain moisture.
You can lower the deck to cut the grass a bit lower if it's a wet season.
You can adjust the speed of the M215 according to your natural walking gait…
…by using the variable speed controls.
On long stretches, you wouldn't feel like you were pulling or pushing.
Craftsman has also added a Dust Blocking feature…
…that makes the mower extremely convenient to use during the dry season.
The mower is extremely easy to maintain.
You need to change the oil periodically and sharpen the cutting blades every two to three years.
What Could Be Better: The mower is fairly heavy and bulky.
For some users, this could be a deal breaker.
In addition, the handles aren't padded.
Some users find them uncomfortable after prolonged use.
Users have also complained about carelessness during shipping.
Most of them received their packages with warped parts, especially the rear wheel.
The 9mower would be perfect if Craftsman didn't care too much about packaging and transportation.
Keep reading…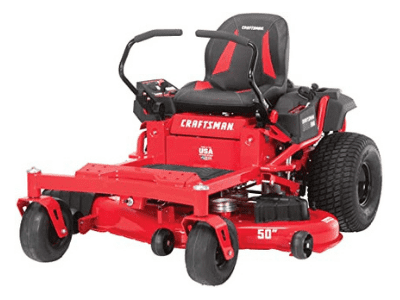 There are many zero-turn riding lawn mowers on the market, but this is the best.
The mower is very powerful, durable, and convenient.
Despite its rugged build, the mower can withstand the test of time.
It has a sturdy steel frame and smooth wheels with good traction.
In our opinion, the Kohler twin-cylinder engine of this mower…
…outlasts many other zero-turn mowers.
Having a powerful engine means you won't have to choke or prime for an easy start.
This machine also boasts a decent 50-inch cutting width.
You can easily cut up to 10 acres of grass with this.
Therefore, it is the perfect mower for commercial spaces or large residential lawns.
Furthermore, its smooth wheels and rear drive tires give you excellent traction…
…and a strong grip on the ground, especially in wet weather.
What We Liked:  The mower is remarkably easy to operate.
Its comfortable cut-and-sew high back leather seat…
…and robust steel frame are obvious signs that it was constructed…
…to be both aesthetically pleasing and durable.
The 17ARFACQ091 is Craftsman's best riding lawn mower.
We were very impressed with its maneuverability.
It offers fast and easy directional changes thanks to its zero turn radius.
The feature will increase your enjoyment of mowing your lawn due to its optimal efficiency.
In addition, the mower has a dual hydrostatic transmission…
…and a high-back seat that provides the most comfortable ride.
Another thing that makes this mower a great choice is its adjustable cutting height.
Cutting heights range from 1.25 inches to 3.75 inches at the minimum and maximum.
Depending on the current state of your grass, you can choose the most appropriate cutting height.
What Could Be Better: It is not surprising that a mower…
…with such powerful performance offers a relatively narrow range of cutting heights.
Several users have also complained about difficulty starting the mower.
Also, delivery seems to be an issue as it is with the Craftsman M215.
According to many user reviews, the product took so long to reach buyers.
For some, it took as long as 45 days.
The Craftsman 17ARFACQ091 would be ideal if the cutting height range…
…could be a bit more comprehensive and the delivery was done on time and in good condition.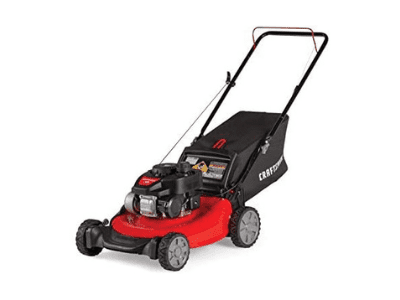 One of the best mid-range gas mowers is the Craftsman M105.
This 140cc tool compares favorably with other mid-range models due to its sharp blade.
You can set it up and use it immediately, and it starts without any hassle.
Another feature of this mower that makes it user-friendly is its recoil start.
The mower starts on the first attempt. Another nice touch is the auto choke.
By doing this, you can avoid pushing a primer bulb before you begin.
For those looking for a powerful mower to cut tall grass on their lawn…
…pick up leaves in the fall, or perform regular yard maintenance, this mower is a great choice.
If you have a large lawn or yard, you might want to consider another option since it is a push model.
What We Liked: At its price point, the M105 has so much to offer…
…in terms of performance and features.
Similar to other high-end options, it provides a great user experience…
…solid durability, and a powerful performance.
This push lawn mower has three functions.
The options are great for people who like variety.
Depending on your grass's condition, you can either bag, mulch, or discharge it sideways.
The grass can be bagged when it is too tall and mulched…
…when it is at a normal height to provide your lawn with some extra nutrition.
Thanks to its user-friendly features, the mower is a real pleasure to use.
It features a starter cord that is conveniently located halfway up the handle assembly…
…so it is easy to access, a grass bag you can take off and re-position in the same position…
…and an easy-to-use height adjustment lever.
What Could Be Better: A bit too small of a grass bag for the M105.
You have to empty it several times, and it can slow you down when you mow your lawn.
Some users have also complained that the engine is difficult to restart…
…after running several passes on wet grass in the morning.
A stalemate results when you pull the cord to restart the engine.
There were also issues with the packaging on the M105.
Some customers received their mowers with missing parts and in a package…
…that had been resealed several times.
Go on…
Things to Consider
Craftsman has a great selection of gardening tools and equipment.
With so many models to choose from, choosing the one that best suits…
…your needs and budget can be challenging.
Even though they all come from the same brand, the lawn mowers differ slightly…
…when it comes to performance and features.
You will find all the information you need here…
…so that you can choose one that is more appropriate for your needs.
Why Go for Craftsman Lawn Mowers?
Craftsman lawn mowers are a great choice for a variety of reasons.
Firstly, Craftsman is a respected brand known for quality and durability.
As long as you take good care of a craftsman mower, it will stand the test of time.
Craftsman mowers are also readily available.
If you want to purchase one, you can easily visit a Sears store nearby or order one online.
The brand offers a wide range of craftsman lawn mowers…
…which is another reason you should choose the brand.
It is easy to find a unit that meets your needs and requirements.
In addition, the products are very affordable.
Perhaps you are wondering…
Features to Consider When Purchasing A Craftsman Lawn Mower
As well as your budget, there are other considerations when buying a Craftsman lawn mower, such as:
Power Source
Depending on the power source, there are three main types of lawn mowers: manual mowers…
…electric and battery lawn mowers, and gas-powered lawn mowers.
Gas lawn mowers are the most powerful and should be your first consideration if you have a large lawn.
Electric lawn mowers and battery lawn mowers are suitable for smaller lawns.
Since all you have to do is plug them in or change the batteries, they are easier to use and maintain.
When you use a manual lawn mower, you have to exert energy to cut the grass.
In addition, they are environment-friendly and great for small yards.
Engine
There are two types of engines on Craftsman gas mowers: 2-stroke and 4-stroke.
If you have a small residential lawn, you should get a 2-stroke engine.
If the lawn is grown with tough grass, though…
…you should invest in a 4-stroke engine mower since it is more efficient.
Large lawns are best suited to mowers with four-stroke engines. They are also more eco-friendly.
Start
This is very crucial. Getting the mower started does not have to take hours.
Otherwise, you won't want to mow the lawn.
Choose a model that is easy to start, like the Craftsman M105. 
You should look for features such as a recoil start and an auto choke when buying an easy-to-start firearm.
Zero Turn
If your lawn has obstacles such as flower beds, trees, or landscaping…
…then you should invest in a zero-turn mower.
With the help of the caster wheels on the front, they can pivot at sharp angles easily.
With a Zero-turn radius mower, you control it with a lever or lap bars instead of a steering wheel.
Cutting Width and Height
You should take the size of your yard or lawn into account…
…when choosing the cutting width of your mower.
You should buy a mower with a large cutting width…
…if you have a large lawn so that you will spend less time cutting grass.
"For a small residential lawn you can go for 21-inches cutting width while for a commercial yard or large residential lawn you can go for 50 inches cutting width."

Nora Held – Author at Backyard Style
Make sure your mower offers options when it comes to cutting height.
You can choose from six different cutting height settings on some models…
…like the Craftsman M215, depending on the state of your turf.
Fuel Capacity
Each mower has a different fuel capacity depending on its size.
Most small lawn mowers hold 1 to 3 liters of fuel…
…but large commercial mowers like the Craftsman 17ARFACQ091 can hold up to 5 liters.
Transmission
Lawn mower transmissions include CVTs, automatics, gear drives, friction discs, and hydrostatics.
Mowing at various speeds and providing more torque are some advantages…
…of hydrostatic transmissions, but they are also more expensive and more difficult to maintain.
As they require only one control lever, CVT transmissions are the easiest to operate.
Automatic transmissions are most commonly found on low-end mowers.
It's a reliable option, but not the best for steep terrain or heavy loads.
Gear drive or mechanical transmissions are the most difficult to operate…
…but they are also the most reliable and easy to maintain.
Through a series of gears, it modifies the mower's speed.
Craftsman M105 models come with attachments like a grass bag to make your work easier. 
With the grass bag, you would not have to pile the grass up for later collection.
We also offer replacement wheels, snow plows, snow blowers, lawn mower covers, and blades.
Warranty
Different models have different warranty covers.
If anything goes wrong, you can reach out to Craftsman for repairs and parts replacement.
The company also offers free labor for a certain period of time.
Safety Features
Craftsman offers a wide range of safety features in their mowers…
…including a child lock and a thick rubber flap to prevent stones…
…and debris from being ejected and injuring your feet.
Durability
With Craftsman mowers you wouldn't have to worry about durability.
They are dedicated to producing high-quality mowers…
…that can hold up well to frequent use in the longest time possible.
Sum Up!
When it comes to outdoor tools and equipment…
…Craftsman has been a top favorite for many…
…because of their high performance and great value.
Mowers from this manufacturer are built to last and come with generous warranties.
Based on our comprehensive review of 3 best craftsman lawn mowers…
…and extensive buying guide, you should have a better understanding..
…of what you need and should buy for your lawn.
Among our top picks, the Craftsman M215 stood out for its powerful engine and ease of use.
It is the perfect blend of power and simplicity.
In addition, you won't have to dig too deep into your pocket for it.
We chose the Craftsman 17ARFACQ091 because of its premium features. 
We think it's the ideal lawn mower for commercial or large residential properties.
If you are looking for excellent value for money, the Craftsman M105 is our third choice.
This machine is compact, lightweight, and powerful at the same time.
Conclusion
The best lawn mowers are worth investing in.
You've come to the right place if you're looking for a reliable…
…well-built machine to keep your lawn looking nice.
Today, there are many different types of mowers on the market…
…making it difficult to select the right one for your needs.
However, we've reviewed some of the most popular models available…
…and found some great options that should suit your needs!