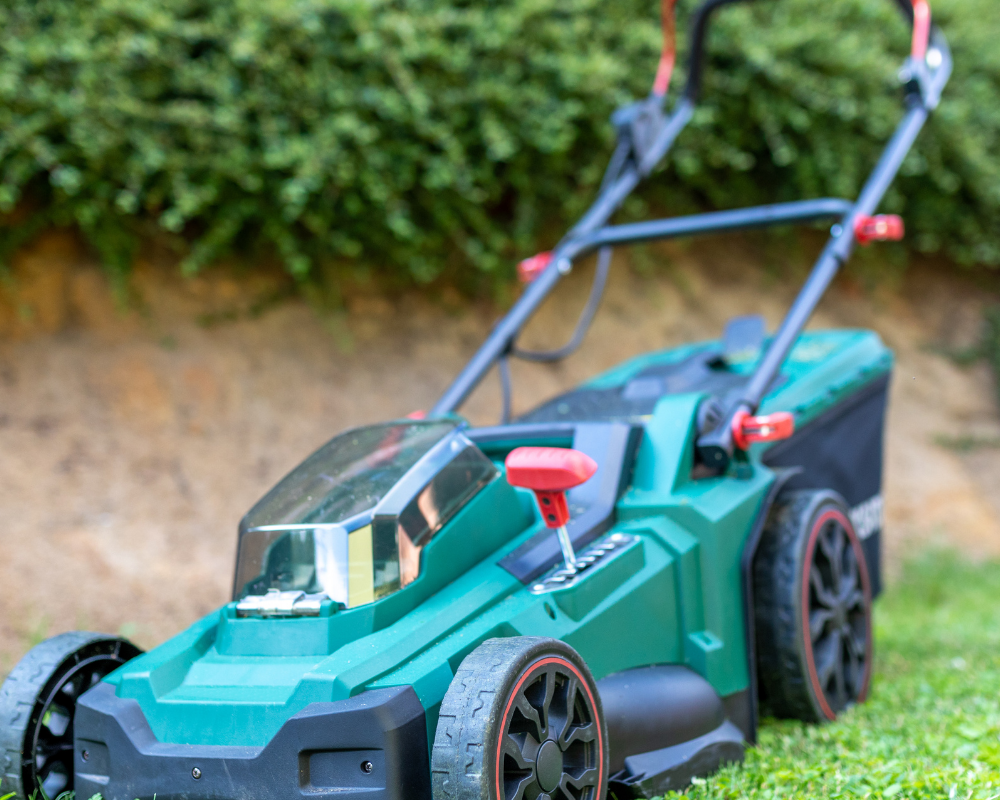 Electric lawn mowers are an excellent alternative to gas-powered lawn mowers if you're ready to upgrade.
You will not only reduce carbon emissions by not having to tug a pull cord…
…replace corroded spark plugs, and store flammable fuel…
…but you will also save time and effort by not pulling a pull cord.
However, electric mowers do have some downsides when it comes to power, price, and even safety.
Find out why the picks below are among the best electric mower models in the market…
…learn about pros and cons, as well as what to look for when shopping.
Julia has some words to say…
The reel mower I use has been with me for years.
It's only the smell and the noise that I dislike about gas/oil mowers.
I was left wondering what I could do as my reel mower blades wore out. 
Thankfully, there is this electric mower available.
So, yeah, it's made of plastic, but it's lightweight.
While it may be narrow, it can corner things better than most mowers.
Despite being electric, it is so light that it appears to be a vacuum cleaner. I love it.
Looking forward to mowing my lawn again.
Now, let's get started…
Before You Buy an Electric Mower
It is extremely eco-friendly to use electric mowers, which are well suited…
…to homes without the storage space to store the fuel needed to run gas mowers.
However, electric mowers aren't suitable for everyone.
Both sides make compelling arguments in the debate over gas vs. electric mowers.
Electric mowers reduce carbon footprints and are relatively quiet.
By contrast, a gas-powered mower is loud, but can run for hours as long as a can of gasoline is nearby. A
lso, it's usually more powerful, so it's better suited for mowing thick…
…dense grass where an electric mower can get clogged.
What to Consider When Choosing the Best Electric Mower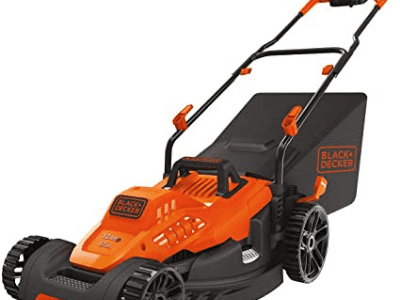 Electric mowers come with a variety of options that make them more suitable for certain lawns and users.
When selecting an electric lawn mower, consider the following factors.
Type
Several types of electric mowers exist, including push, self-propelled, riding, and robot mowers.
Depending on your yard, your budget, and how much work you're comfortable with…
…you should choose the right type.
The push lawn mower is a basic walk-behind mower that requires manual effort to operate. These are significantly less expensive than other electric varieties, which contain more advanced features. Push mowers require labor, so they're ideal for small to medium-sized yards with even terrain.
As the name implies, self-propelled lawn mowers propel their wheels forward as they cut grass. Some of these high-end mowers cost several hundred dollars more than push mowers. Convenience and reduced effort make them preferable for medium- to large-sized lawns and sloped terrain.
A riding lawn mower is extremely heavy-duty, and the price tag reflects that. Mowers in this category include lawn tractors, zero-turn mowers, and rear-engine mowers. The mower can be operated from a seated or standing position. Due to their large cutting widths and terrain capabilities, they can handle large yards, navigate hills, and even steep slopes with ease.
Robot lawn mowers are autonomous and require the least amount of effort. The high-tech models are equipped with many modern features, such as programmable mowing, collision sensors, and app operation. Compared to other mowers, lawn robots have a lower power output. In addition to having a shorter runtime and a limited cutting width, they aren't the best choice for large lawns.
Keep reading…
Corded vs. Cordless
The majority of electric mowers today are cordless and powered by rechargeable lithium-ion batteries.
Compared to self-propelled mowers, corded options are rare for push mowers.
Each power source has its own advantages and disadvantages.
Mowers powered by batteries can be taken anywhere a lawn needs to be cut and offer the most flexibility.
After the battery runs down, usually within 30 minutes to 2 hours, it must be recharged before mowing can resume.
By purchasing a second battery for your cordless mower…
…you can double the operating time once the first one runs out.
One advantage of corded electric mowers is that they provide more reliable power due to an electrical outlet.
Because they don't contain batteries, they're usually less expensive and weigh less.
This has the drawback of limiting the user to the extension cord's length, which is typically 50 to 100 feet.
A corded mower will require a heavy-duty extension cord;
…a 12-gauge or 14-gauge cord will do best, although it's important to check the owner's manual.
"Don't use a corded electric mower on wet grass. Electricity and water don't mix, and mowing wet grass can lead to an electrical short or danger of electrical shock." 

Glenda Taylor – Writer`
Motor Power
The voltage of a lawn mower, measured in volts (v), corresponds to how much energy the motor can handle.
The higher the voltage, the more energy is delivered from the battery or power outlet to the motor.
To mow large lawns, more volts are required, as well as sufficient torque to cut through tall and thick grass.
Expect these voltages and coverage areas for electric lawn mowers:
Push mowers: 18 volts to 80 volts (1/4 acre to 2 acres)
Self-propelled and riding mowers: 40 volts to 120 volts (1/4 acre to 3 acres)
Riding mowers: 50 volts to 120 volts (1/2 acre to 3 acres)
Robot mowers: 18 volts to 40 volts (1/4 acre to 1 acre)
Choosing a mower based on battery voltage may seem logical…
…but this number alone does not reflect motor power.
Power is also determined by amps (amps).
An amp is the rate at which electrical current is delivered to the lawn mower, usually between 6 and 12 amps.
The power of an electric lawn mower is determined by its wattage (W)…
…which is equal to volts multiplied by amps –so a larger battery does not always result in a more powerful mower.
A 5-amp mower with a 60v battery (300W) is less powerful than a 7-amp mower with a 50v battery (350W).
Brushed vs. Brushless Motor
Motors with brushless technology are more efficient, with less energy lost as heat.
Since there are no worn-out brushes to replace, they produce less friction (which damages the motor).
Combined, these factors result in better performance than brushed motors.
By contrast, brushed motors produce more heat at the expense of more power.
Due to this, these types of motors can overheat and cause mowers to stall.
Brush motors are the most affordable option, although they're more prone to friction and heating problems.
Deck Size and Swath Width
Deck size refers to the width of a lawn mower's cutting swath.
The wider the swath-the width of grass you can mow in one pass-the fewer passes you'll have to make.
Wider swaths, on the other hand, require more power, which can result in shorter battery life.
The average swath width of an electric mower is 13 to 22 inches for push and self-propelled models…
…5 to 10 inches for robot models, and up to 54 inches for riding mowers.
A 15-inch swath width will do the job without taking too much time on a small lawn.
Larger yards benefit from a wider swath width so mowing doesn't take forever.
Size and Weight
Mower size and weight are also important factors, especially if storage space and user strength are limited.
Larger batteries tend to make higher-voltage mowers heavier.
The deck width of larger mowers is also a determining factor when it comes to their weight.
The biggest and heaviest models are riding mowers.
While small riding mowers are similar to go-karts, heavy-duty models look like subcompact cars.
Their weight ranges from 400 pounds to upwards of 800 pounds.
Push mowers usually weigh less than self-propelled models…
…since self-propulsion requires more power from the battery.
Mowers typically weigh anywhere from 30 pounds for a small push mower up to 100 pounds…
…for a large self-propelled mower.
Note that self-propelled mowing still requires some manual labor…
…such as maneuvering through tight spaces and moving the mower backwards (they only self-propel forward).
Choose a corded push mower or robot mower if you need a lightweight tool.
Electric corded mowers are lighter than cordless ones since there are no batteries to weigh them down.
You can easily hang corded mowers on the wall of your garage or shed to save space.
The smallest and lightest robot mowers usually weigh between 15 pounds and 30 pounds.
They aren't much larger than a robotic vacuum cleaner.
Because of this, they are extremely portable and easy to store.
Tires/Wheels
For uneven ground and thick grass, mowers have larger rear wheels with a diameter of 8 inches or more.
Compact models with small wheels, on the other hand, are better for maneuvering in…
…and around flower beds, trees, and other obstacles in your yard.
There are different types of tires for riding lawn mowers, depending on the terrain.
Considering the large amount of traction that lug tires offer…
…they are the best choice for wet, slippery, and sloped yards.
The smooth surface of the tire prevents ruts from damaging the soil in your garden. '
The turf tires provide a middle ground, with reasonable traction and less damage to the lawn.
Here's the main part…
Our Top Picks
Image
Title
Prime
Buy

Top

Greenworks Pro 80V 21 inch Cordless Push Lawn Mower, Includes Two 2Ah Batteries and Charger, GLM801601

Prime

Eligible

Check Price on Amazon

Top

Snapper 1687914 21" SP Walk Mower Kit, Self Propelled, Red/Black

Prime

Check Price on Amazon

Top

EGO Power+ LM2142SP 21-Inch 56-Volt Lithium-Ion Cordless Electric Dual-Port Walk Behind Self Propelled Lawn Mower with Two 5.0 Ah Batteries & Charger Included

Prime

Eligible

Check Price on Amazon

Top

Greenworks 40V Brushless Self-Propelled Lawn Mower, 21-Inch Electric Lawn Mower, 5.0Ah Battery and Charger Included

Prime

Eligible

Check Price on Amazon
Let's go through them one by one…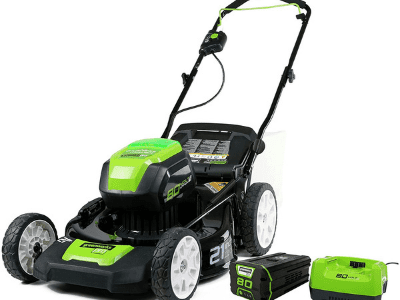 The G-MAX battery pack included in this mower (compatible with other G-MAX lawn tools)…
…can power through nearly an acre of grass during a full 60-minute charge.
With a push of a button, the cordless mower turns on and boasts a cut width of 21 inches.
The brand's SmartCut technology detects when grass is getting denser and speeds up the blades as a result.
The mower also offers a 3-in-1 system, which allows the user to mulch, bag, or discharge grass clippings.
Mowing and maneuvering are easy thanks to the large front wheels and rear wheels.
Pros
Includes two batteries
Easy push-start button
Sensor to adjust blade speed for thick grass
Cons
When it comes to a powerful, high-end electric mower, Snapper's cordless model won't let you down.
It runs on a supercharged 82-volt lithium-ion battery: two batteries and a charger are included.
Its 21-inch swath width rivals some of its gas-powered competitors.
A heavyweight at 80.9 pounds, this item is heavier than most electric mowers…
…but it features self-propulsion, so users need only walk behind and guide the mower.
In addition to its push-button start, this mower offers seven cutting heights…
…ranging from 13 to 33 inches, so it can be used for most types of turf.
There are large 10-inch rear wheels and a grass-catching bag mounted on the back,…w
…hich disperses grass clippings to the side or the back.
Pros
Powerful motor
Self-propulsion feature
Multiple cutting heights
Cons
Go on…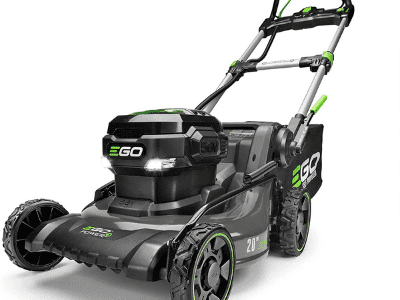 Pushing is not necessary! This cordless electric mower cuts an ample 20-inch swath…
…thanks to a powerful 56-volt lithium-ion battery (battery and charger sold separately).
The user simply walks behind the mower and guides it.
This 70-pound mower has LED headlights for those early morning or after-dark mowing jobs…
…and the fold-down handle adjusts to six different positions to suit a variety of grass heights.
A fully charged battery lasts up to 60 minutes before it needs to be recharged.
Grass clippings can be discharged on the side, back, or mulch.
Pros
Works well on uneven ground
Long-lasting battery
Multiple discharge and mulch options
Cons
Battery and charger sold separately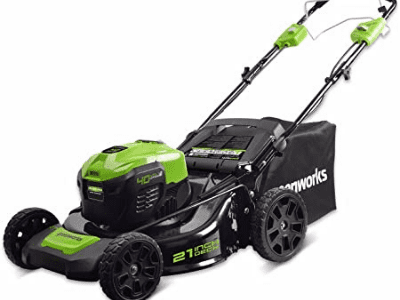 Don't bother with that old gas-guzzling mower, toss those fuel cans…
…or toss the oil-changing pan: you won't need them if you purchase this Greenworks electric lawn mower.
Featuring a 21-inch swath cut, this mower can run for up to 70 minutes…
…with its two 40-volt lithium-ion batteries (included)…
…allowing users to mow for longer periods without stopping to recharge.
In the event of one battery running out, the second battery automatically takes over the power.
In addition to its self-propulsion and large wheels for easy maneuvering…
…the mower features a push-button start, a height adjustment range of 138, 334, and a folding handle.
Clippings can be collected with rear bagging, side discharge, and mulching.
In addition, the battery charger features a USB port that can charge a cell phone or tablet if necessary.
Pros
Long battery life
Lightweight and easy to maneuver
Quiet operation
USB port included on the charger
Cons
Mulching in thick areas can become difficult
Sum Up!
Electric mowers are environmentally friendly and have the power of gas mowers…
…but operate much more quietly without producing any noxious fumes.
To help shoppers find the right unit for their needs…
…we gathered the top products available on the market and organized them into specific categories.
We researched the most popular options in each category, offering corded and cordless choices…
…each with perks such as self-propelled motors, double batteries for extended runtimes…
…extra wide cutting widths, and compact and foldable solutions for easier storage.
Conclusion
We choose Greenworks Pro 80V 21″ Cordless Push Lawn Mower with Smart Cut Technology as our top picks.
You can't go wrong with the Greenworks Pro 80V 21″ Cordless Push Lawn Mower with Smart Cut Technology…
…which has two batteries and a dependable motor. 
Gardening is how I relax!
It's another form of creating and playing with colors?
My mission is to make people realize that even by growing a plant...
....it will make them believe in tomorrow?
And that's life most valuable moment!?