There are many great options available if you want to replace your axe with a log splitter.
The gas-powered versions are bigger and more powerful…
…while the electric splitters are quieter, less polluting…
…and usually quite adequate for most home users.
The problem is, with so many options to choose from, it can be hard to know where to begin.
So here are our top picks for best electric log splitters on Amazon to help point you in the right direction.
Before we get started, here are a few words from Tobey…
A few weeks ago, I purchased the Boss Splitter.
Currently, millions of trees are dying in the mountains…
…of California due to the drought and bark beetles.
It was necessary for me to cut down a 250-foot pine tree…
…because the bark beetles had taken it.
The logs I have been splitting are very green and have a lot of water in them.
So far, the splitter has gone through a log that was 16 inches long…
…by 22 inches round, and it went right through without any problems.
So far, I have split 30 logs, all of them 16 inches long…
…and the circumference ranged from 17 to 22 inches.
I have not had any problems splitting these logs.
The splitter has also been used to split kindling down to 1/2 inch wide pieces.
For kindling, I use cedar, because it splits well.
Now let's get started…
What To Look For When Choosing An Electric Log Splitter
When choosing the best electric log splitter for you, take note of these features.
Power
Log splitters are measured in tons…
…this is the amount of force they exert on the log during splitting.
Usually, home-use electric splitters are rated at six or seven tons…
….which is sufficient for most splitting jobs.
Even five will do if you need to split hard or knotty wood…
…but you might want something a bit stronger.
Horizontal Or Vertical
With smaller splitters, you can only use them in a horizontal position…
…so you need to lift each log up to the rack, causing back strain.
Some splitters can also be used vertically, which allows you to simply roll the log into position.
Choose a splitter that can be used in both positions…
…if you want to split large pieces of wood.
Only one electrical splitter in our review offers this feature.
This is not common with home-use electrical splitters.
Log Capacity
The maximum size of logs a splitter can handle is a critical factor.
If you are thinking about buying a log splitter…
…be sure it can split logs of the size you need.
Keep reading…
Splitting Cycle Time
In splitting, a splitting cycle is the period of time it takes for the splitter…
…to split a log and for the ram to return to its starting position.
With a fast cycle speed, you can work through your pile of logs in less time.
A cycle time of between 10 and 15 seconds is generally considered to be a good speed…
…but for smaller jobs using an electric splitter…
…a slower cycle time shouldn't be an issue unless you plan…
…to chop up large quantities of wood frequently.
Mobility
They are easy to move around, which is one advantage of electric splitters.
Consider the weight of the machine, whether it has large…
…tough wheels and whether it has a handle that makes wheeling it easier.
Here's the main part…
The Best Electric Log Splitters On Amazon
Let's go through them one by one…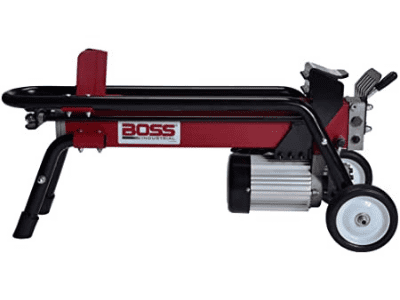 If you're looking for an electric splitter suitable for small-scale applications…
…this is another option. As a result of its 13.5A 2HP motor…
…it has a chopping force of seven tons…
…which is plenty to slice through most logs, even those for casual use.
We like how easy and convenient it is to use this machine.
One-handed operation and automatic ram return make it easy to operate…
…and at only 106lbs, it's relatively lightweight and easy to handle.
In addition, it comes with wheels, so you can move it wherever you need to work.
The main advantage is that it runs on regular a/c current…
…and as an electric splitter, can also be used indoors.
As a result, it's ideal to install in a shed or garage so you don't have to go outside to chop wood.
In addition, it's durable and long lasting.
The frame is made of strong metal tubes…
…while the wedge is made of heavy-duty steel.
This is a good all-around splitter for home use that won't break the bank.
If you need something for heavy-duty splitting, larger models are available.
Pros
Easy and convenient to use
Lightweight and mobile
Sturdy, durable design
Runs off regular a/c power
Powerful splitting force
Cons
Uncomfortable low position
Larger logs can "run up"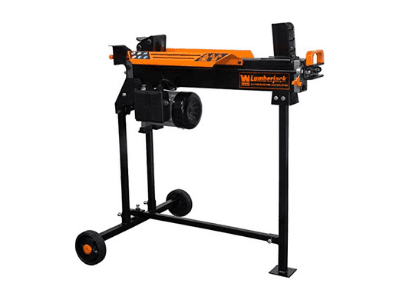 With its 15A motor and 2.5 horsepower, this electric log splitter…
…from WEN can deliver 6.5 tons of splitting force, more than enough for most home log splitting tasks.
This wheeled cart is designed to be easy to move…
…and features a handle along with 5.5″ never-flat tires that make it easy to wheel from place to place.
Users will also appreciate its convenience and comfort.
Depending on your preferences, you can position it…
…on the floor or at waist height with the 34″ optional stand.
By avoiding bending and lifting, you can minimize the strain on your back.
It also features a reasonable log-splitting capacity for a home-use splitter…
…it can handle logs up to 20.5″ in length and 10″ in diameter, again…
…plenty for the vast majority of home users.
Overall, a great machine for small-scale home log splitting…
…although if you need more power or a faster working cycle, it may be better to look elsewhere.
Pros
Decent log cutting capacity
Plenty of power for home use 
34" stand
Easy to move
Reasonable price
Cons
20-second cycle
A little complicated to assemble
Go on…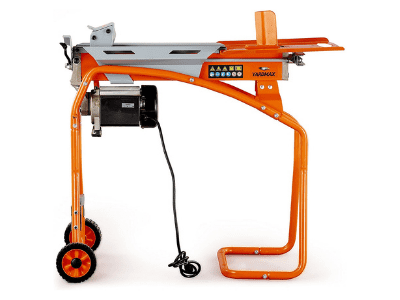 Yardmax makes a wide range of high-quality splitters that come…
…with very reasonable price tags for what they are – and this five-ton model is no exception.
You can use it directly on the floor or on a stand, giving you more flexibility with your work.
It is also convenient to have the log tray that catches logs after they are split…
…which reduces the need to bend over and pick up logs from the ground.
You can easily set it up and use it anywhere you want…
…and it includes large wheels that make it easy to move over uneven ground.
You can use it inside or outside, depending on your needs.
Even though it is a compact unit, it has a respectable…
…log splitting capacity of 20.5″ in length by 10″ in diameter, comparable to any other splitter in its category.
The Yardmax log splitter is another top product, and for anyone looking ..
…for a smaller machine to make splitting logs for the fire a breeze, this machine recommends itself highly.
Pros
Includes stand and log tray
Stroke limiter
Can deal with decent-sized logs
Requires only minimal assembly
Portable and suitable to use anywhere
Cons
Lack of power
Slightly slow splitting cycle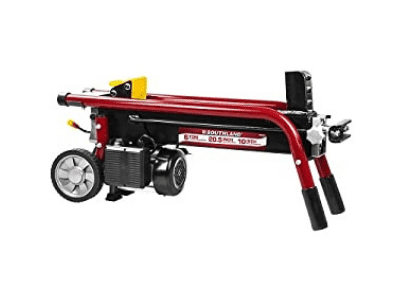 This six-ton log splitter can be compared to other splitters in its class in many ways.
Battery power is 15A, delivering 1.5Hp.
This is less than some other models, though it is still capable…
…of producing a splitting force of six tons, which is sufficient for most home users.
This splitter is different from most others in this category in…
…that it can be used horizontally or vertically.
It makes it easier to handle large logs since you don't have to pick them up and place them on top.
You can also move it around. T
he machine has large wheels and is easy to move to any location…
…so you can split wood wherever the logs are.
When you are finished, it is easy to store.
Simply put it upright to reduce the footprint and save space.
"If you are looking for a log splitter that can be used either vertically or horizontally, this should be near the top of your list of possibilities. It is a solid piece of equipment and comes highly recommended." 

The Daily Gardener
Pros
Vertical or horizontal operation
Powerful mechanism
Stroke limiter
Easy to store
Good mobility 
Cons
No log catcher
Slower splitting cycle
Sum Up!
Each of the electric wood splitters above has something to offer.
Homeowners who are looking for a more efficient, easier way…
…to cut wood are the intended audience for these products…
…not professionals who are looking for an industrial method. 
It depends on the features you most appreciate as well as the type of wood you're splitting.
You will greatly simplify your wood cutting life if you carefully…
…read the product specifications before purchasing one of these high-quality electric log splitters.  
Conclusion
Many of the machines in this review have similar qualities…
…and sometimes there is little to choose between them.
If you are having trouble making a decision…
…either our top pick or our runner-up are excellent options…
…but any of the splitters in this review would be a good option.