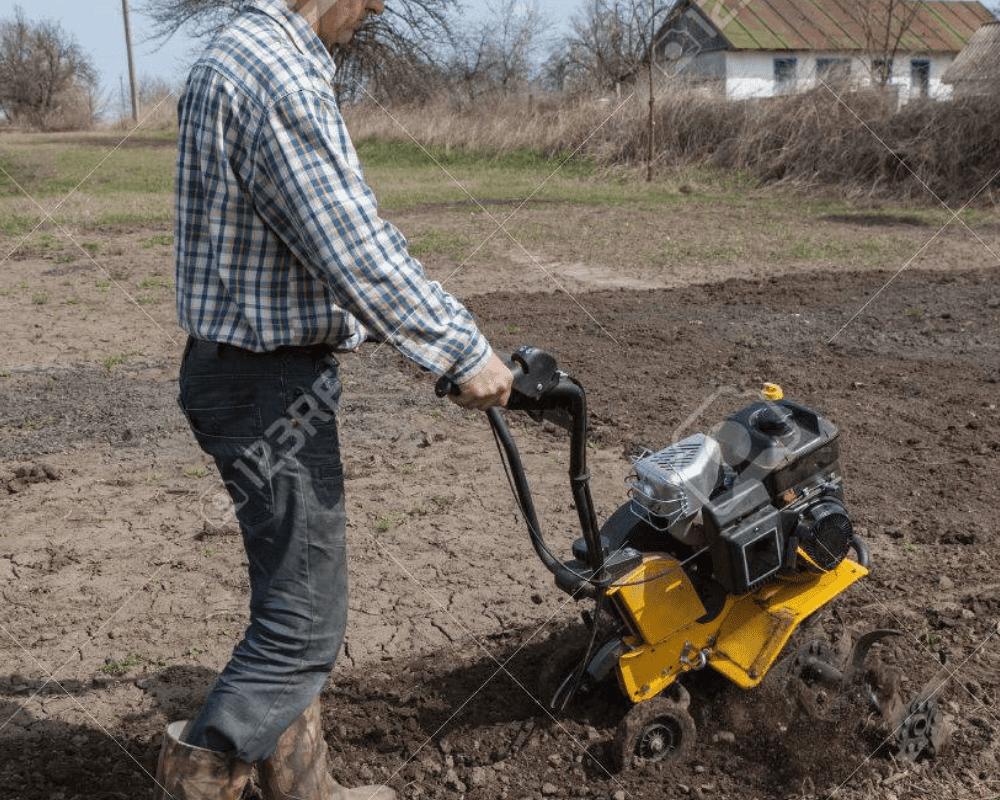 It is exciting to start a new garden: what a bounty of vegetables…
…and flowers this plot of land might produce!
However, transforming the ground…
…into a hospitable plant home can be a challenging endeavor.
Not only do you have established grass or other vegetation to contend with…
…but also the dirt itself is likely to be settled and firm. 
Yet people start new gardens every year, and you can too with the right equipment!
In this article, you'll discover our top choices for the best garden tillers on Amazon…
…for breaking new ground. In addition…
…you'll find some helpful shopping tips and answers to some common questions. 
Let's dive in!
Best Garden Tillers on Amazon
Let's go through them one by one…
This machine is an absolute beast, no doubt about it!
Regardless of the size or current condition of your future garden, the Pioneer can handle it.
As a result of its wide-set wheels and rear-tine design…
…the Pioneer offers excellent stability and maneuverability.
Despite being a big, heavy machine, the expertly balanced construction…
…should prevent you from having problems controlling or steering it. 
For superior power that rips through grass, rock, and clay…
…this engine features a single cylinder and 99cc displacement.
With a fuel capacity of just over half a gallon…
…you should be able to last several hours of work.
Occasionally, after tilling a stretch of ground…
…you decide that a second pass in reverse is needed.
With some tillers, this can be tricky.
The Pioneer, on the other hand, has a unique shift handle…
…that lets you change directions quickly and easily.
With the airless wheels, you won't have to worry about getting a flat in the middle of your job.
Solid wheels do not have the grip of pneumatic rubber tires…
…but the Pioneer more than compensates with deep lugs that provide excellent traction. 
It's not surprising that you're looking at spending a pretty significant amount…
…of cash with the Earthquake Pioneer considering the number of features…
…smart construction, and power it has to offer.
In the long run, however, investing now can help you save time, effort and money…
…if you have extensive gardening plans over the coming years. 
Product weight: 160 pounds
Engine type: Gas-powered 90cc Viper single cylinder
Tiller depth: 10 inches
Tiller width: 16 inches
Number of tines: 4
Tine rotation speed: 200 RPM
Warranty: 5-year limited warranty
Wheel type: No-flat wheels with deep lug pattern
Pros:
An exceptional power
Perfect for large areas or tough conditions
Easy to shift gears or go in reverse
Sturdy, no-flat tires
Easy to steer and maneuver thanks to a perfectly balanced frame
Cons:
A few words from Tony…
I particularly like how easy it is to move the tiller from one garden to another.
It makes tilling almost effortless. I have used several different brands over the past 50 years.
This is my favorite! Initially, I thought I had made a mistake…
…but after learning how to use the drag stake, my opinion quickly changed.
The tiller has no trouble working through clay soil.
It's mostly used for cultivation, aside from flower gardens.
At the time, I was concerned about it covering up my corn. However, it did not.
Go on…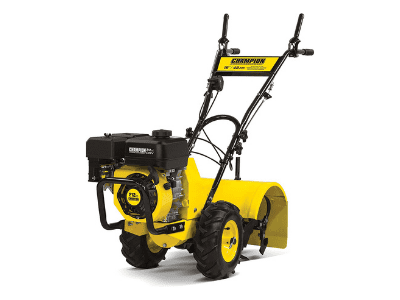 Looking to break up that stubborn ground with the fewest number of passes?
This machine delivers thanks to its wide tilling width and rear-tine power! 
With its 19-inch wide cutting path, this tiller offers…
…one of the widest cutting paths for a rear-tine model.
You can cover more ground with each pass…
….thereby reducing the time you need to prepare the ground. 
There is a generous 0.9 gallon gas tank…
…so you should have enough fuel to see you through the job.
The oil compartment is also large at 0.6 quarts, and the low-oil shut-off …
…prevents you from accidentally burning up the motor.
When you purchase a tiller from Champion Power Equipment…
…a bottle of oil is included as a bonus. 
The machine weighs 161 pounds, making it a heavy piece of equipment.
However, self-propelled wheels roll along of their own accord as they traverse bumpy terrain. 
Despite their large size, the 13-inch pneumatic rubber tires…
…provide some extra traction and shock absorption. 
It seems, however, that the inner tubes are prone to punctures.
If you want to save yourself some time and hassle, keep some spare tubes on hand.
Product weight: 161 pounds
Engine type: Gas-powered 212cc 
Tiller depth: 8 inches
Tiller width: 19 inches
Number of tines: 4
Tine rotation speed: Not stated
Warranty: 2-year limited warranty
Wheel type: 13-inch rubber tires with pneumatic tubes
Pros:
Rear-tine power for tough conditions
Self-propelled wheels mean less effort on your part
Wide tilling path
Large gas tank for all-day jobs
Self-propelled wheels
Cons:
Pneumatic tubes can blow easily
Keep reading…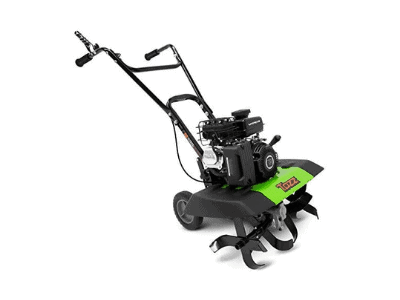 Are you interested in using a tiller customized to meet your needs?
You'll appreciate the many ways you can adjust your Tazz tiller…
….to fit your preferences and the task at hand.
Here are the points of adjustment Tazz built in:
Choose between 3 tilling widths. With removable outer tines and side shields, you can adjust the width of the till path to 21, 16 or 11 inches. 
Choose your tilling depth. Tazz includes an adjustable drag stake that allows you to set your preferred depth, up to 11 inches. 
Choose your handle height. Rarely do you find an adjustable drag stake on a tiller! Say goodbye to hunching over and stretching up by setting your handles at one of four heights.
The low center of gravity is also a nice feature.
Due to the engine sitting low to the ground, the tiller has built-in stability…
…so you don't have to exert too much effort to maintain balance or move forward. 
Along with the well-designed frame, you also get a 4-cycle gas engine with 79cc of displacement…
…which has plenty of power for completing various tasks quickly.
Additionally, you can mulch dead foliage or aerate your garden plot…
…in the fall in addition to tilling up hard-packed soil in the spring. 
While you can look forward to speedy outdoor work, getting there can be a challenge.
The assembly process is quite intricate…
…so plan on spending at least a couple of hours to get your tiller up and running. 
Product weight: 83.8 pounds
Engine type: Gas-powered 79cc Viper 4-cycle
Tiller depth: Adjustable up to 11 inches
Tiller width: 21-, 16- and 11-inch settings
Number of tines: 4
Tine rotation speed: Not stated
Warranty: 3-year limited warranty
Wheel type: No-flat rubber tires
Pros:
Multiple customizable settings
Lightweight and easy to maneuver
Powerful engine makes for speedy work
Cons:
Assembly can be challenging
Mantis 7940 4-Cycle Gas-Powered Cultivator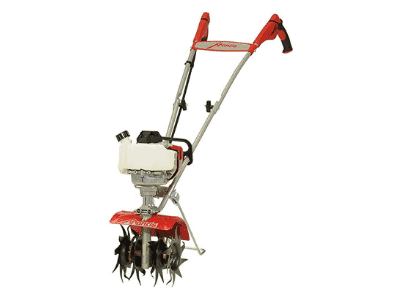 No matter how hard the material, be it rock-hard clay…
…large dirt clods or grass roots, the Mantis will pulverize it into soft planting soil in no time. 
You may have struggled with riding along the soil's surface…
…when you used an ultra-lightweight tiller in the past.
This can be a problem with small tillers since they have so little weight to hold them down.
Mantis is a different story! While the Mantis weighs only 24 pounds…
…it overcomes this problem in two ways:
Although all tiller tines have some degree of curve, the Mantis has a specialized curve pattern that digs downward rather than forward.
At 240 RPM, the tine speed is a bit slower, but the gear-driven transmission is more efficient. 
A nice touch on the Mantis are the comfort-grip handles. Rubberized outer coating provides comfortable cushioning, and flared ends help you maintain control without gripping tightly. 
You can also use your Mantis to perform various other outdoor tasks in addition to tilling.
By flipping your tines in the opposite direction, you can cultivate shallowly or remove weeds.
Also available are various accessories that will turn your tiller into an aerator, de-thatcher, etc. 
The Mantis has enough power to handle large gardens…
…but because of its smaller size, it could take a long time to work on them.
If you have a large area to work with, you may want to consider a larger machine. 
Product weight: 24 pounds
Engine type: Gas-powered 25cc 4-cycle Honda 
Tiller depth: 10 inches
Tiller width: 9 inches
Number of tines: 4
Tine rotation speed: 240 RPM
Warranty: 2-year limited warranty
Wheel type: None
Pros:
Powerful, reliable Honda engine
Exceptional power and balanced design
Lightweight and easy-to-handle frameIdeal for deep tilling and surface cultivation
Comfortable, easy-grip handles
Cons: 
Not ideal for large garden plots
Perhaps you are wondering…
What to Consider When Buying A Garden Tiller
Following your knowledge of the different types of tillers…
…it is time to ask yourself a few more questions.
For many gardeners, the most important question is about your budget.
What Is Your Budget?
Not everyone has unlimited funds. The price of a tiller ranges from $100 to $3000.
Find a tiller within your price range that does not sacrifice efficiency for economics.
The cost of a cheap tiller that is too small or not powerful enough for the job is not worth it.
Spending hundreds of dollars on a machine that is too powerful…
…for your small garden is definitely a waste of money.
Try to strike a balance between the two.
How Big Is Your Garden?
When deciding what type of garden tiller to buy, the size of your garden plays a huge role.
Consider investing in a smaller, electric tiller instead of a larger, gas-powered tiller…
…if you have a small garden. Having a large garden means you need a tiller…
…that can work all day and cover a lot of ground, so a gas-powered tiller is probably the better choice.
"Mechanized tillers can dig deeply into the soil and have an adjustable tilling width…
…8 to 10 inches, and perhaps deeper, for new beds—aerating compacted or rocky soil.
The wider the tiller, the more ground it can cover, which means fewer passes across the bed to till the soil to the desired crumble and depth. This convenience, however, comes with a price. Large tillers often are heavier and more difficult to maneuver in small beds."

Heather Blackmore – Writer and Photographer Specializing in Gardening, Health, and Family.
Type of Soil
Congratulations if your soil is fine, loamy, and rich in organic material and relatively weed-free.
You can get away with purchasing a less powerful tiller that is easier to use and probably cheaper.
It is necessary to use a more powerful tiller if your soil is heavy, clay-based, very gravelly, compacted, or full of rocks.
Are You Breaking New Ground or Re-tilling?
The task of breaking new ground is difficult, so you need a tough tiller to help you.
You may be able to get by with a smaller tiller, front tine tiller, or electric tiller if you are re-tilling.
What Versatility Do You Need From Your Tiller?
There are tillers that come with multiple attachments.
If you are looking for a "multi-tool" tiller with other accessories…
…that will certainly play a role in your decision.
Remember that the same selection standards apply to versatile tillers as to standalone tillers.
Quality should not be sacrificed for versatility.
Which Manufacturer Do You Want to Go With?
Some gardeners know and trust certain manufacturers.
If you have a favorite company from which you have purchased goods in the past…
…or if there is a company in your area that manufactures good-quality tillers…
…then you should look in their showrooms or catalogs.
Is There A Decent Warranty or Guarantee from the Manufacturer?
Let us be honest. Everything you use in your garden is bound…
…to come into unexpected obstacles, such as really enormous rocks or hidden twine…
…and a variety of other factors that exert strain on tilling twines, engines, and other components.
A guarantee or warranty safeguards your investment and provides you with the following…
…the tranquillity that the majority of us experience while gardening.
Tillers are potentially harmful. When using a heavy tiller, always use a low gear…
…on a slope or on loose soil and promptly switch it off…
…if you believe the tiller is becoming uncontrollable.
When it comes to powerful tillers, the machine always wins.
Make no attempt to subdue the tiller. Instead…
…regroup for a moment and restart.
Finally…
Sum Up!
The best tiller for breaking new ground will depend on your unique situation:
the size of your garden plot, the type of soil you are working with…
…your location (urban vs rural), and your budget.
Consider your situation carefully and then shop with confidence.
There are plenty of great options out there, so take the time to consider them. 
Go get that garden of your dreams! 
Conclusion
Choosing the right garden tiller is partly a matter of knowing what features to look for.
After learning the questions to ask yourself as you search for the perfect garden tiller…
…you will be able to make an informed decision about which product is right for you.
Tillers are a big investment.
Although all of this information might seem overwhelming at first…
…choosing the right tiller the first time around will save you money…
…and make gardening easier, more rewarding, and more productive.
Gardening is how I relax!
It's another form of creating and playing with colors?
My mission is to make people realize that even by growing a plant...
....it will make them believe in tomorrow?
And that's life most valuable moment!?