Although the trees on your property are beautiful most of the year…
…cleaning up after them can be a hassle.
You probably have a large yard, more leaves than most…
…or you are in the commercial landscaping business if you want a gas-powered leaf blower. 
There are three things to consider when purchasing a gas-powered leaf blower: weight, cost, and power.
Blowing power is measured using two industry-standard methods.
The speed of the gust coming from the nozzle is measured in miles per hour (mph).
The cubic feet per minute (cfm) measures the amount of air moving through the machine as it pushes the leaves.
In addition to these measurements, we also considered cost…
…and weight to determine the best gas leaf blowers on Amazon.  
Words from Anthony…
Two weeks ago, when my first 2-cycle leaf blower broke, I bought this 4-cycle blower.
I received it in three days after ordering.
It is easy to install the blower tube, just add oil and gasoline, and pull to start.
My 2-cycle one is much quieter, but I can't tell the difference between them in terms of blow power.
The blower tube of this machine is on the side,
so I feel as if there is a force pushing my hand from the side as I did with my old 2-cycle machine.
Considering this is my first use, I may just need to get used to it.
Now, let's get started…
Before You Buy the Best Gas Leaf Blowers on Amazon
It's not for everyone to use gas-powered leaf blowers.
They're loud and can be quite heavy; some require backpack straps to carry them comfortably.
Also, as their name suggests, they use gasoline and oil, which may worry eco-conscious homeowners.
Check out an electric leaf blower as another option.
To move leaves, these machines use battery power or extension cords to create wind. 
Not only are they quieter and lighter, but they also require less maintenance than gas-powered blowers…
…though they may be less powerful.
Types of Gas Leaf Blowers
Leaf blowers come in a variety of shapes and sizes.
Understanding the various types of leaf blowers can help shoppers understand the differences…
…and choose the right gas leaf blower for their needs. Each model has its own advantages and disadvantages.
Handheld 
Leaf blowers are the simplest and most widely recognized gas-powered blowers.
Because the blower is carried by its handle, it is highly portable and versatile.
It is ideal for small- to medium-sized yards.
Despite this, because most gas leaf blowers are over 10 pounds,
…utilizing a portable blower for a full day of autumn cleanup may be exhausting.
For homeowners with vast yards, handheld blowers may not be the ideal option.
Backpack
A backpack blower is hard to beat when it comes to power and convenience.
The heavy blowers come with shoulder straps so that users can carry them on their backs.
They are distributed evenly across the user's body.
Although backpack blowers are powerful, they are heavy and unnecessary for smaller yards.
Additionally, they're usually louder than handheld models, so you may need extra ear protection.
Walk-Behind
If you have a larger yard, consider a walk-behind leaf blower, which is essentially an engine on wheels.
Just push it across the lawn. The downside of a walk-behind blower is that it takes up more storage space.
It can also be difficult to direct the airflow.
Perhaps you'd like to know…
What to Consider When Choosing the Best Gas Leaf Blowers on Amazon
Before you shop for the best leaf blower, familiarize yourself with its features.
We've put together a list of features and stats to keep in mind when perusing the best gas leaf blowers.
Yard Size
The size of your yard is one of the most important factors to consider when choosing a gas leaf blower.
Generally, people want a blower that can get the job done in a reasonable amount of time without tiring them out.
You can get away with a smaller, handheld leaf blower if your yard is small.
Consider a backpack blower if your property is larger.
The shoulder pads distribute the weight over the body's core, making users able to work relatively effortlessly.
CFM and MPH
On the side of every leaf blower box and in every product description…
…you will find two statistics: cubic feet per minute (CFM) and miles per hour (mph).
The numbers are more important than horsepower or cubic centimeters (cc)…
…since they indicate the efficiency of the blower.
Volume is how much air the blower discharges from its nozzle in cubic feet per minute.
With a gust of wind from a blower, volume is essential…
…because it essentially determines how many leaves will move.
CFMs leave the nozzle at a rate of miles per hour (mph). Using this number determines how quickly and how far users can move a pile of leaves.
"Manufacturers list engine size in cubic centimeters (cc). More cc usually means more power, but the cfm and mph ratings are better guides to overall performance." 

Family Handyman
Keep reading…
2 Cycle vs. 4 Cycle 
Two kinds of small engines are used on leaf blowers…
…(and other power equipment): two-cycle (or two-stroke) engines and four-cycle engines.
Different types have different qualities, work differently, and use different fuel sources.
Because two-stroke engines don't have an oiling mechanism, oil must be mixed with the fuel.
The mixtures must be relatively precise.
Two-stroke engines are powerful and extremely durable, but they're also noisy and dirty.
In a four-stroke engine, there is an oiler, which is far easier to operate.
The fuel and oil can be topped off separately without worrying about mixing them.
Four-stroke engines are more efficient, but they're less powerful.
Fuel Tank Capacity
Having to stop every 30 minutes to refill a fuel tank slows down the process.
Fuel storage for a backpack blower is crucial: Taking a blower on and off your back all day is exhausting.
Choose a tank that holds 40 ounces or more. An ideal reservoir should hold at least 15 ounces.
Speed Control
There are some blowers that have a speed control or cruise control…
…that allows users to lock the throttle in place to maintain a constant airflow.
It can be very helpful to have these features during a long day at the office.
Leaf blowers don't have to run continuously at full throttle.
Cutting the throttle back a bit when moving dry leaves helps users control their movement.
Furthermore, holding down the trigger all day can cause hand cramps.
Usability
Leaf blowers should also be easy to use, since fall cleanup is rarely a favorite chore.
Some models are lighter than others (less than 9 pounds). L
ightweight handheld models are even easier to carry with sling straps.
Additionally, comfortable grips and handles make it easier and less awkward…
…to sweep the blower's nozzle across the front of a leaf pile.
Features and Accessories
Many of the best gas leaf blowers come with additional features and accessories.
Leaves are collected using a vacuum bag attachment for convenient bagging.
Other variants include a modular discharge nozzle that allows you to,
…change the direction of the airflow.
…and concentration to be adjusted.
There are also shoulder straps, attachments for cleaning gutters…
…and other convenience-oriented accessories.
Noise Level 
Leaf blowers powered by gas are louder than those powered by electricity.
Despite their mufflers, internal combustion engines make a lot of noise (often around 100 decibels)….
…and the volume of air in the machine hums quite loudly.
Choose a model with a decibel (dB) level in the 60 to 70 range.
Gas leaf blowers typically have four-stroke engines, which are naturally quieter than two-stroke engines.
Here's the main part…
Our Top Picks for the Best Gas Leaf Blowers on Amazon
| Image | Title | Buy |
| --- | --- | --- |
| Top | Makita EB5300TH 52.5 cc MM4 4-Stroke Engine Tube Throttle Backpack Blower | Check Price on Amazon |
| Top | Husqvarna 965877502 350BT 2-Cycle Gas Backpack Blower, Orange | Check Price on Amazon |
| Top | Schröder Leaf Blower - Schröder Backpack Blower - Gas Leaf Blower - SR-6400L - 3.7 HP Engine - 5 Year Warranty | Check Price on Amazon |
Let's go through them one by one…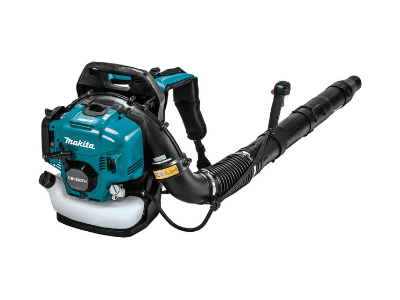 Makita backpack blowers are powered by powerful 52.5 cc four-stroke engines that generate 2.5 horsepower…
…capable of producing 516 CFM and 184 mph while creating 70 decibels of noise.
Despite having a large 60.9-ounce fuel tank and weighing 19.7 pounds…
…the padded shoulder straps allow operators to carry it comfortably.
Makita's backpack blower has a tube-mounted throttle with cruise control…
…automatic decompression for easy starting, and anti-vibration mounts to reduce vibrations.
It has interchangeable nozzles and an adjustable discharge tube.
Husqvarna 350BT backpack blowers are pro-level blowers with a 50.2cc two-stroke engine.
With a speed of 180 mph, it pushes 494.41 CFM of air at a weight of 22.5 pounds. The fuel tank holds 42.27 ounces.
Even though the 350BT is a bit heavy, its comfortable shoulder pads help spread the weight.
A tube-mounted handle with a variable speed trigger and cruise control is included.
The handle can be detached to allow two-handed operation.
Its modular discharge tube can be adjusted to the perfect length. The 350BT is a bit loud at 104 decibels.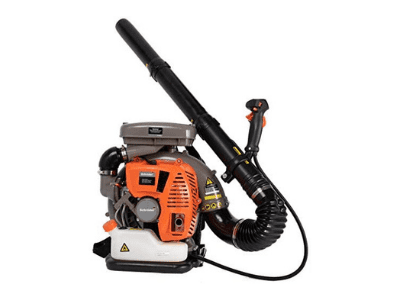 Nothing on our list compares to the Schröder industrial backpack leaf blower SR-6400L when it comes to raw power.
An impressive 920 cubic feet of air are moved by this high-performance, commercial blower in just one minute.
A 230 mph blast of wind is comparable to those experienced by most NASCAR drivers.
German-made, this blower has a big motor that produces 3.7 horsepower and 63 cc.
You'll have to be careful not to blow your mulch away with so much power.
This backpack blower is also much lighter than some of the other backpack models available.
A 5-year warranty is included with the Schröder SR-6400L…
…so you can rest assured that this company stands behind their product.
Since this is also one of the more expensive blowers on our list, you'll want it to be durable. 
Tips for Using a Gas Leaf Blower
Be sure to wear a hearing protector if you are using a gas leaf blower. Even though muff-style ear protection is adequate, consider wearing earplugs underneath them to get the maximum amount of hearing protection.
Eye protection is a welcome feature when blowing leaves across a particularly dry patch of dirt.
If the leaves are wet and heavy, they stick together and are nearly impossible to move. Let the leaves dry in the sun before blowing them.
It's often best to wait for a day with no wind, but a steady wind blowing in the right direction can speed up the process. When blowing into wind, it's best to:

Put on two layers of hearing protection
Wait for the leaves to dry
Wait for a wind-free day unless the wind is blowing in the desired direction
Sum Up!
The changing colors of the trees in autumn are a delight…
…but keeping up with the constant onslaught of fallen leaves can be a real challenge.
There's a better way to get the job done than raking leaves on your weekends.
By purchasing the best gas leaf blower, you will be able to significantly reduce your leaf handling time…
…allowing you more time to spend with loved ones or watching sports.
Leaves are lifted and pushed across your yard by powerful air gusts, making cleanup quicker and more enjoyable
Conclusion 
With this in-depth look at gas-powered leaf blowers, you should be able…
…to make an informed decision about buying your next outdoor power tool.
The amount of work you have, the size of your yard, and how much you want to spend will all affect your decision. 
With a basic understanding of these, you can decide which model is best for you.
All of these models are available from major retailers. 
As an alternative, you may choose to hire a professional company to handle your fall cleaning.
If, however, you prefer to tackle the job yourself, these picks will get you closer to your goal.