If you are a homeowner, you will want to keep your lawn neat and nicely trimmed…
…which can only be done with the right tools.
Known for their efficiency, high-end lawn mowers get the job done perfectly and effortlessly.
The following is a review of the best high-end lawn mowers available today.
Here are some words from Thomas…
No, I don't miss my gas mower a bit, on the contrary.
Compared to my old Honda…
…this lawn mower I just bought has at least the same power…
…is lighter and more maneuverable, stops and starts with a button…
…is self-propelled, almost no maintenance, no gassy smell, and is quieter than my old Honda.
Everything about it is positive. I should have acted upon it immediately upon its release.
Now let's get started…
Buying Guide
Types of Lawn Mowers
Before choosing a mower, you need to decide which of the three types will work best for your yard.
Walk-Behind 
There are two types of walk-behind mowers: push and self-propelled.
Self-propelled mowers have power wheels that propel the mower forward.
On the handle of the mower, there is a pressure-sensitive bar that controls the mower.
Mowers with manual operation do not have power-assisted wheels and must be pushed manually.
Riding
There are many types of riding mowers…
…including zero-turn mowers, lawn tractors, and rear-engine mowers.
The most expensive lawn mowers on the market use a motor…
…that sits behind the operator and is controlled by two levers.
The mowers get their name from their ability to pivot 360 degrees in place.
A zero-turn mower also has a very wide deck.
They are ideal for cutting large lawns with obstacles…
…that the user must maneuver around due to their size and maneuverability.
Unlike farm tractors, lawn tractors have a motor at the front of the mower.
A steering wheel is used to control the tractor from the driver's seat.
Lawn tractors have broad mowing decks but do not have a small turning radius like zero-turn tractors.
Similar to lawn tractors, rear-engine lawn mowers have their engines at the back.
The decks on rear-engine lawn tractors tend to be smaller…
…but the operator has better visibility and is more maneuverable.
Robotic
As the latest type of lawn mower, robotic mowers are shaped like robot vacuum cleaners…
…except they are larger and have larger wheels that allow them to move through the grass.
The robotic lawn mower can mow a yard automatically while being controlled by a smart device.
The lawn mowers are powered by a rechargeable battery…
…and can be programmed to mow the lawn at certain times and intervals.
In order to prevent the mower from wandering off, the user must set up wires…
…in the yard to create boundaries for it. In addition, laser-eye technology is used…
…to spot obstacles in the yard so the mower can avoid them.
Drive
A self-propelled mower can be driven by a front-wheel, rear-wheel, or all-wheel drive.
The front wheels of front-wheel drive mowers can be raised for easier turning…
…while the back wheels are used for pivoting.
The weight of rear-wheel drive mowers is distributed over the drive wheels…
…providing better traction on slopes and incline.
For homeowners with rougher terrain and more extreme slopes, all-wheel drive mowers are the best choice.
Fuel Type
Three types of fuel can be used for lawn mowers: electricity…
…gas, and rechargeable lithium-ion batteries. 
Despite their constant source of power, electric mowers are restricted…
…by a cord that connects to a standard wall outlet. 
Because of this, corded lawn mowers are difficult to use, especially in large yards.
A gas-powered lawn mower can run for hours…
…on a single tank of gas and provides the most power.
A gas mower, on the other hand, requires more maintenance…
…to remain in top condition and can produce exhaust fumes.
A battery-powered mower is powered by a large lithium-ion battery.
While they are easier to start than gas-powered lawn mowers and don't emit fumes…
…they don't produce as much power and can only run for about 45 minutes per charge.
The price of battery-powered mowers is also much higher than that of gas-powered mowers.
Keep reading…
Safety
You will need to consider your safety and that of your children…
…and pets when purchasing a lawnmower.
You need to buy a mower that children cannot easily start on their own as a parent.
You won't have to worry every time your kids join you in the garage…
…because this will keep your children safe.
Anyone who has heart or lung problems should avoid mowers that emit fumes.
Size of Lawn
Not every lawn mower is suitable for every lawn.
When mowing a large lawn, for instance, a powerful lawnmower…
…with a wide cutting width is required to finish the job quickly, accurately, and efficiently. 
"When it comes to smaller and mid-sized lawns, mowers with a cutting width of 7 inches to 16 will still get the job done perfectly. Ensure you get the mower that best suits your needs."

 Alice MacHaria – Author at Garden Squared
Weight
 Although some lawn mowers are lightweight…
…others are quite bulky and may be difficult to maneuver.
Working with such machines can be challenging and tiresome.
If you choose the right mower, it should not be difficult to operate…
…and it shouldn't strain your muscles.
You should be able to use it without consuming a lot of energy.
Convenience
Even if it's a mower, it should be controlled by you, and not the other way around.
When you need it, it should be there for you.
Even consider getting a mower with LED headlights…
…so that you can mow at any time during the day or whenever you are available.
Here's the main part…
Best High-End Lawn Mowers
Let's go through them one by one…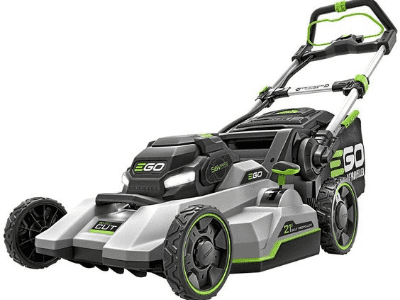 The power of this mower is right at your fingertips.
Mowing becomes a pleasant and enjoyable activity thanks to Touch Drive Self Propelled Technology.
By using a 56V 7.5 Ah ARC Lithium Battery, you get 60 minutes of uninterrupted mowing time…
…allowing you to focus on your job without recharging frequently.
You will love the brushless motor because it's reliable…
…and delivers the performance you need to get your lawn looking vibrant, lively and perfect.
Furthermore, it has LED headlights, so you can mow early in the morning or late at night.
Additionally, it is fairly quiet and does not emit any fumes.
Pros
Provides a better mowing experience
It has increased run-time
It has a reliable and high-performance motor
Easy to mow during both dawn and dusk
Con
The mower has a durable 21-inch cutting deck which enables it to cover a wider area in a single pass.
It also features a dual battery port design that allows you to connect two batteries for extended runtime.
One of the batteries can be used to power the mower, while the other can be stored for when the first one runs out.
Its 3-in-1 design (mulching, bagging, and side discharge)…
…along with its 7-position cutting height adjustment functionality…
…allows it to cut any height between 1 3/8 inches and 3¾ inches.
Because of its lightweight design, it is easy to maneuver and requires less effort to operate.
Pros
Wider cutting width
Mulching, bagging and side discharge capabilities
Easy to start and operate
It's lightweight
Con
You may experiences troubles removing the battery
Go on…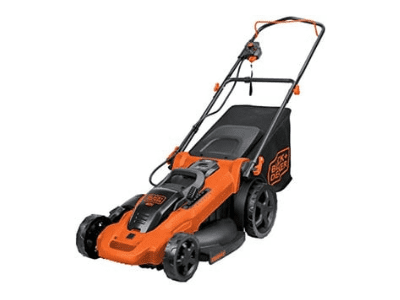 BLACK+DECKER 40V MAX Cordless Lawn Mower comes with (1) CM2043 Cordless Mower…
…(2) LBX2040 and (1) 40V MAX* Charger. 
The (2) 40V Max Lithium Battery give you double the runtime…
…so you can mow for as long as you want without having to recharge.
Mulching, bagging, and side discharge capabilities make this mower convenient.
Its edgemax design allows it to reach even the toughest of corners for a perfect and even cut.
 This mower is perfect for small and mid-sized yards of up to 1/4 acre.
As this machine can be folded to fit small spaces, you don't have to worry about space in your garage.
The mower is also quiet and efficient, and requires little maintenance.
Pros
It offers you double run time
Reliable and user-friendly
Easy to start and maneuver
It has a 3-year limited warranty
Cons
It does not have LED headlights
It may not be ideal for larger lawns
A great mower that has been thoughtfully designed to meet the needs of most landscapers.
With its 21-inch cutting deck, you can mow a wider area at a time.
Thanks to the Innovative Smart Cut Technology built into this mower…
…you don't have to adjust the blades' speed manually…
…every time you need them to work quickly.
This tool has a brushless motor that you can rely on to do the job quickly and efficiently.
To make mowing easier, fun, and safe, the mower is easy to start and cuts quietly.
Plus, its 3-in -1 function facilitates easy bagging, mulching and side discharge of grass clippings.
Pros
The mower is safe and easy to operate
No costly maintenance needed
Quiet and eco-friendly
Con
Relatively bulky in comparison to mowers in the same price range
Last but not least…
Yard Machines' 140cc OHV High Wheeled 2-in-1 Walk-Behind Push Lawn Mower…
…is a powerful machine that can handle uneven and tough terrain. 
The engine is powered by a 1400cc engine and the wheels are slip-resistant.
Featuring a dual-lever height adjuster, the mower allows you…
…to adjust the cutting height in 6 different positions for easy maneuverability.
Both light trimming and full cutting are supported.
Additionally, its lightweight design makes it easy for people with disabilities to drive.
Additionally, the mower is easy to start and gets the job done effortlessly.
In addition, it can mulch and side discharge grass clippings.
Pros
It can handle tough terrains
It's affordable
It's also incredibly lightweight
It has a 2-year warranty
Con
It's not suitable for larger lawns
Sum Up!
Several factors were taken into consideration as we evaluated dozens of lawn mowers…
…including power, reliability, deck size, and clipping disposal options. 
We even looked at whether the tires tend to pick up wet grass clippings.
There is a lot of tedious, exhausting testing involved.
On the other hand, it's the most effective way to test a mower.
Conclusion
The best lawn mower depends on a number of factors…
…including the size and type of your yard, the terrain, and even your physical strength. 
Investing in high-end lawn mowers is a great way to bring more life and tranquility…
…to your front yard, and they are worth the investment.