Did you know plants can improve your health?
You can improve your health, improve your mood, and reduce your stress by having plants in your home.
Your home can be livened up while improving the quality of the air you breathe every day.
What could be better than to enjoy nature's therapeutic properties without ever leaving your home?
Even if you don't have a green thumb (I've killed a lot of plants), you can still have fun.
Get into the routine by buying a few easy-care plants. 
Let us hear Ayu's story
I just bought a new house..
..and I really want to make it feel like home.
The last thing I need is something that will make me sick..
..so my first priority was finding plants for indoors.
After hours of research..
..I found the best indoor plants as well as some tips on caring for them!
Health Benefits of Indoor Plants 
House plants can reduce anxiety and stress
Studies have shown that plants can lower blood pressure, keep you calm, and ease anxiety.
It is even possible for the soil to help reduce stress and anxiety.
The soil plants grow in contains a microbe called M. vaccae that acts as an antidepressant.
You can achieve a state of calm by simply looking at plants, and they can significantly increase your mood.
What a great way to brighten your day, right?
The relationship between oxygen and stress is also straightforward.
It is less stressful for your body when you are getting enough oxygen.
Plants Improve Air Quality
The chances are that you're living in a house with toxins such as asbestos, mold, radon, formaldehyde, benzene, and carbon monoxide.
You can get headaches, allergies, dry eyes, and asthma from these invisible toxins.
There are plants that can help you breathe cleaner air by absorbing these pollutants.
Definitely yes!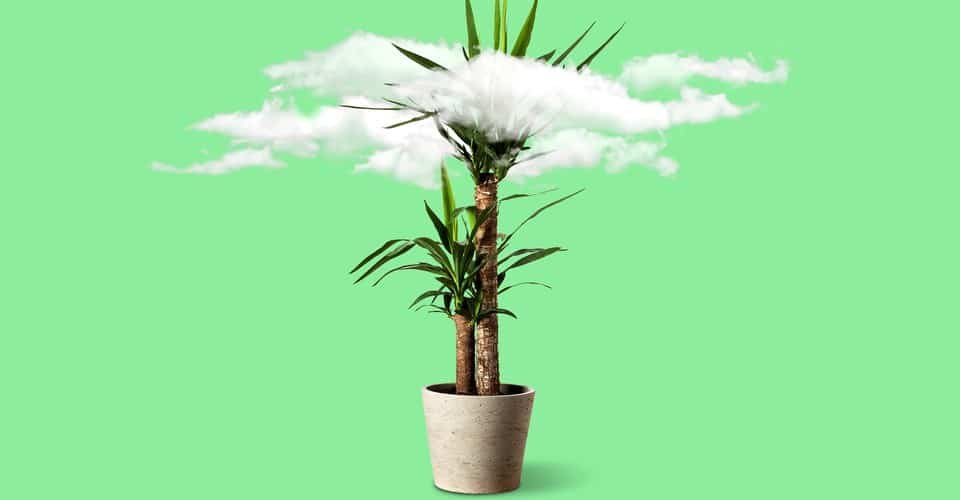 How to Choose Indoor Plants
A part of your decision will be based on your personal preferences.
There may be plants that you do not like, or colors that do not fit your style.
To help you relax, you may also want to consider the following factors.
Easy to Keep Alive
There are plants that are more sensitive than others.
Depending on your schedule and lifestyle, you may be able to grow certain types of plants.
The key is to choose a calming plant and keep it alive! 
Indoor light
Based on its placement, consider how much light the plant will receive (direct and indirect).
Suited to live indoors
Choosing plants that do well inside the home may seem like an obvious choice, but it is important to choose plants that do well in homes.
A plant that thrives inside prefers temperatures between 60 and 80 degrees, likes humidity, and doesn't need constant sunlight. 
Ability to Rid Toxins
The best plants produce more oxygen, some remove common toxins better..
..and others emit a soothing fragrance that lowers anxiety.
Here's a look at plants that will help you breathe easy and remain happy by filtering the air of nasty toxins. 
Best House Plants for Anxiety and Stress
Here are a few of our favorite indoor plants for reducing anxiety, stress, and pain.
We selected these plants for their calming scents, their ability to elevate mood, and their anti-anxiety effects.
Aloe Vera
Jasmine
Lavender
Peppermint
Gerbera
Snake Plant
Rosemary
Chrysanthemum
Chamomile
English Ivy Plant
We'll dive into the details below.
Aloe Vera
This plant filters out nasty toxins.
What is It? 
There are more than 300 species of aloe (though most people know about aloe vera).
Originally from Africa and Europe, this plant lives in tropical and semitropical climates.
In addition to having healing properties, Aloe Vera is soothing.
It's a common ingredient in beauty products for soothing sunburns.
Aloe Vera juice has a number of benefits, including digestive and well-being benefits.
However, it is not only the gel inside that will benefit you, but the plant itself will be worth displaying in your home.
How it Works?
Benzene and formaldehyde, which are found in most household cleaners and paints, are filtered out of Aloe Vera.
At night, this plant is more active and produces more oxygen since it conserves energy during the day.
Make your bedroom fresh and clean by keeping this adorable little plant in it.
Care
Alternatively, it likes artificial light or indirect sunlight.
A generous amount of water must be applied to Aloe Vera occasionally.
Wait until the soil is completely dry before watering.
Don't let the plant sit in water.
Toxicity
Aloe vera could be toxic to your pets, so you might not want to use it.
The toxicity rating is mild to moderate, but it's not worth risking your puppy's life. 
Jasmine
This plant provides a smooth, sweet fragrance for your home.
What is It?
Species of jasmine (part of the olive family) have star-shaped white flowers, though some species have yellow flowers.
You should choose a species carefully if you want it to be kept as a house plant because most species of Jasmine grow outdoors.
An indoor plant you may want to consider is the Jasminum polyanthum, or Chinese Star.
How it works?
Jasmine is known for its sweet scent, which is often found in perfumes and essential oils.
The sweet scent of a Jasmine plant in bloom can permeate an entire room.
You can use it like a diffuser all day long.
A living room, home office, or sunroom will look great with Jasmine.
If you want to enjoy this plant's scent, first make sure you like the smell!
This won't be the best option for you if you don't like the smell or find it too overwhelming. 
Care
If you'd like to ensure that your jasmine plants receive a lot of natural light, make sure they are near a window.
The vines need support, so you might want to consider growing on a trellis.
The plant should be placed in porous, well-draining soil.
Soil that is moist (but not soggy) is best for them.
Toxicity
Plants of the jasmine family are not toxic to cats and dogs.
Jasmine can live in the house with your pets without being bothered.
Lavender
Your home will always smell like a peaceful oasis of healing lavender with this plant.
What is It?
Lavender is a herb native to the west Mediterranean region.
Indoors, it is not typically appropriate, but in the right conditions, it can work.
The calming properties of this essential oil make it a favorite among those who want to relax and sleep better.
It is for this reason that Lavender is so great at reducing stress and anxiety.
How it Works?
It is calming just to look at the beautiful light purple leaves.
It has also been proven that lavender oil can help with the management of anxiety and depression.
I enjoy using lavender essential oil for meditation, mindfulness exercises, and for aromatherapy.
It's commonly prescribed for anxiety, insomnia, and stress.
There is evidence that lavender contains linalool, a compound that promotes healthy immunity and reduces anxiety.
Care
Unlike most indoor plants, indoor lavender plants require high levels of light for maximum growth.
Don't forget to give them enough direct light.
In this case, you may need to supplement them with fluorescent lighting so they stay happy.
You should use lean soil so the roots don't become oversaturated and place in a pot in which the root ball is not more than a few inches.
Toxicity
Animals can be poisoned by lavender, including cats and dogs.
Pets are not recommended to live with this plant.
Peppermint
Soothe the senses and get focused with this cooling, soothing scent.
What is It?
Peppermint is a member of the mint family and was developed through an experimental hybridizing of spearmint with watermint.
As a result of its use in toothpaste, sweets, and chewing gum, peppermint already has a familiar smell (and taste).
How it Works?
Furthermore, it is great for digestion, soothing sore throats, and may even help regulate blood sugar when consumed.
As a stress reliever and a cognitive enhancer, the strong, refreshing aroma can boost your mood.
Menthol is commonly found in peppermint, which makes it useful for reducing muscle tension.
Care
The plant tends to spread, though indoors this is not an issue.
Peppermint prefers nutrient-rich soil and full sun to partial shade.
Make sure there is enough drainage in the pot.
Moisture needs to be provided, but the soil shouldn't be soaked.
It is best to mist the leaves between waterings since this plant loves humidity.
Toxicity
Neither cats nor dogs should ingest peppermint.
Pets and dogs probably shouldn't be around this plant.
Gerbera
Beautiful, bright, calming flowers for your home.
What is It?
Sunflowers, daisies, and this colorful flower are all members of the same family.
Among its native habitats are South America, Asia, and Africa.
These brightly colored flowers, also known as Transvaal daisies, are frequently used in bouquets thanks to their long vase life and bright colors.
Besides being wonderful air purifiers, Gerbera daisies are also beautiful!
How it Works?
Trichloroethylene, a chemical commonly used for dry cleaning, can be removed by this plant.
Cancers of the kidney and liver have been linked to this nasty chemical.
Also, Gerbera flowers filter benzene that can be produced by engine exhaust, cigarette smoke and forest fires.
You'll be able to find this chemical in lubricants, detergents, and dyes.
This friendly plant helps purify your home's air each time you breathe it.
You may want to add them to the dining room or living room.
Care
You should keep these flowers in well-drained soil and give them ample light.
To keep flowers vibrant in between watering, mist them.
Toxicity
Dogs and cats are not poisoned by Gerbera daisies.
Pets won't be harmed by eating flowers, so you needn't worry about them.
Snake Plant
The powerful purifier you want in your home.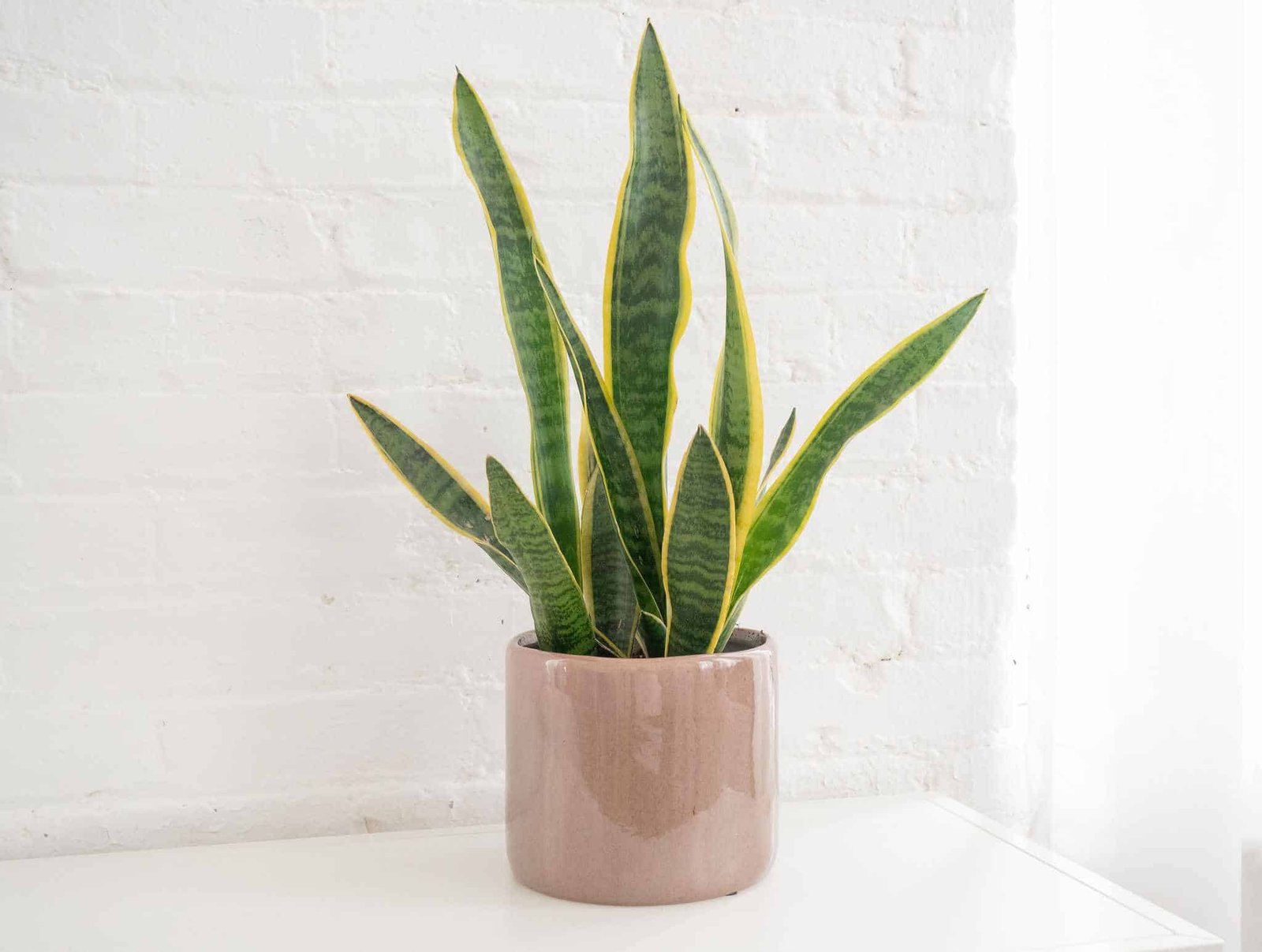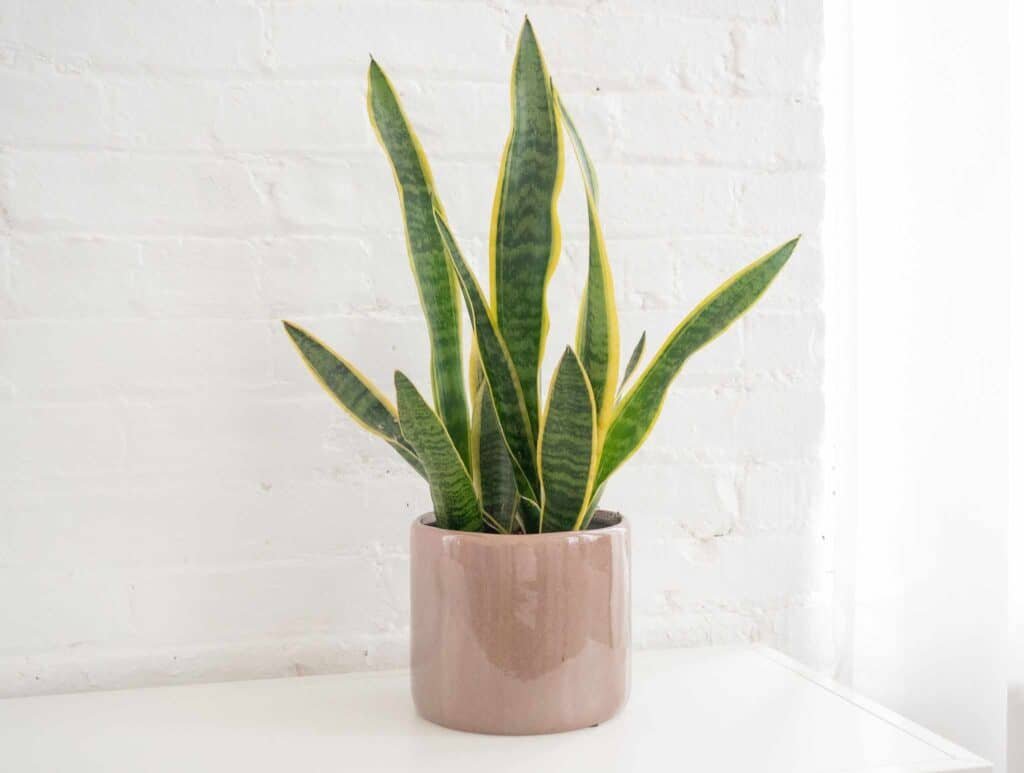 What is It?
Snake plants come in about 70 different varieties, but all of them are native to tropical and subtropical regions of Europe, Asia, and Africa.
Although they may look like a basic office plant, they are capable of purifying the air.
In addition, this plant requires little maintenance.
How it Works?
Snake plants are powerful air purifiers as well.
It can eliminate most of the formaldehyde, benzene, trichloroethylene, and xylene that is found in your home, just as the Gerbera does.
You can use this air cleaning plant to relieve headaches, breathing problems, and eye irritation.
Your body benefits from a clean home that is free of these harmful chemicals.
Care
They should be placed in direct sunlight, and they shouldn't be over-watered (this is my kind of plant).
Because they are low maintenance, they make great office or entryway plants.
Toxicity
There is a high possibility of cat and dog poisoning from Snake plants.
It is important to use caution if you have animals in your home, since it can cause nausea, vomiting, or diarrhea when consumed.
Rosemary
Get your mood up and your concentration up with the aroma.
For brain health, cook with Rosemary.
What is It?
Rosemary belongs to the mint family and is native to the Mediterranean region.
This is a perennial species that can live for over two years.
A popular choice among perfumers and chefs, this herb is well known for having a strong smell (and flavor).
How it Works?
Calcium, iron, and vitamin B6 are all found in it when eaten.
As well as that, carnosic acid can serve as a powerful antioxidant for the brain.
Various studies have shown the scent can improve attention, memory, mental performance, and even mood.
Care
If possible, place in a window sill that receives direct sunlight.
You must provide your Rosemary plant with six hours of direct sunlight every day.
You can use fluorescent lights if direct sunlight isn't possible.
Water the soil only after the top layer has dried.
It is best to mist your plants on days with higher humidity (for example, when your heater is running).
To make sure the air moves around your Rosemary plant, you might consider placing a fan on it.
A stagnant atmosphere can cause the plant to develop powdery mildew.
Toxicity
A pet can stay in the house with rosemary without fear of the herb being toxic to them.
Chrysanthemum
Lift your mood with these bright flowers while purifying the air.
What is It?
Chrysanthemums, also known as mums, are a form of daisy (flower) that was originally cultivated as a plant associated with life.
Mums are available in many beautiful colors including white, red, yellow, pink, and purple.
How it Works?
Whether you're feeling down or up, this is the perfect flower for you.
Colorful flowers can relieve stress and ease worries.
Furthermore, they are excellent air purifiers, removing ammonia, toluene, and formaldehyde from the air.
In addition, you can make tea with the petals, which can help calm and relax the body.
Care
Chrysanthemums can thrive on a wide variety of soils if they have good drainage and constant moisture.
This flower prefers to get about six hours of sunlight each day, similar to Rosemary.
Toxicity
Chrysanthemums are toxic to animals, so you should keep them out of their reach if you have a pet.
Chamomile
Herbs that make good tea are the best. With a floral, sweet taste, it will relax you.
What is It?
An herb with petite white and yellow flowers, chamomile has a daisy-like appearance.
Aromatically, it is mild and sweet.
In addition to promoting better sleep, chamomile has been used for centuries to reduce anxiety.
This compound is often found in teas, but can also be found in skincare products.
How it Works?
Tea made from chamomile flowers reduces anxiety, stress, and insomnia.
It contains flavonoids, which are nutrients believed to have calming effects.
Herbs such as this one may be kept around the house for its pleasant smell and cute flowers, but its tea provides the real benefits.
Care
Just enough water should be provided to keep the soil moist but not wet.
Toxicity
This plant can be toxic to dogs and cats, so you should avoid keeping it around them.
English Ivy Plant
Great for calming allergies – especially those with asthma
What is It?
The English Ivy (or European Ivy) is an evergreen perennial plant that is popular for outdoor landscaping.
But don't worry, it can also be grown indoors as well!
How it Works?
It is said that this climbing vine purifies the air inside your home.
The English Ivy filter out toxins such as toluene, benzene, formaldehyde, and xylene.
Care
Make sure it gets plenty of natural light, or artificial light if that's your only option.
Ivy should be watered generously, but you should wait until the top of the soil is completely dry before watering again.
They prefer humid climates, but can handle drier ones as well.
Toxicity
Dogs and cats are poisoned by English Ivy.
If you have pets, this is not the best option.
Sums Up
It is an amazing way to improve your mood, reduce anxiety, and purify the air you breathe by keeping plants at home.
Here is just a small sampling of plants that grow in the region.
Many other calming plants are also available that offer great benefits (not on this list).
Despite not finding the perfect plant, keep trying.
There's no need to worry if you don't know how to take care of plants.
Many of the species listed are easy to take care of, and there are plenty of expert articles available for almost every one of them.
Conclusion
Are any of the plants we mentioned above in your home?
Can you suggest any other plants we should add to our list?
Please leave a comment below if you would like to share your thoughts!
Gardening is how I relax!
It's another form of creating and playing with colors🌱
My mission is to make people realize that even by growing a plant...
....it will make them believe in tomorrow🌸
And that's life most valuable moment!😍