You don't need a fancy lawn mower if your lawn is less than 10,000 square feet.
The only thing you need is a machine that is reliable, compact, and affordable.
Take a look at these 4 best lawn mowers for small yards on Amazon…
…instead of sifting through the thousands on the market. 
When compiling this list, we focused on the mowers…
…that would give you the most bang for your buck.
With our collection of push mowers, you will be able…
…to take care of your small yard without breaking the bank. 
Let's get stared…
Considerations Before Buying a Lawn Mower 
When you're shopping for a lawn mower for a small yard…
…you don't have to worry so much about things like size, battery runtime, or being tied to a cord.
It also doesn't need to be anything fancy (and expensive)…
…like a self-propelled or riding mower. Rather, you want something simple, reliable, and affordable. 
We'll cover how to pick the right lawn mower for your small yard in this buying guide…
…then we'll explain how we determined our top picks.
What Power Source Do You Want to Use?
Depending on your needs, you will need to choose…
…between reel, corded, battery-powered, or gas power.
They all have advantages and disadvantages.
Reel Lawn Mowers
A push reel lawn mower is the most convenient and eco-friendly way…
…to mow your lawn because the mower does not use gas or electricity.
Additionally, they are maintenance-free because there is no need…
…to change oil, store fuel, or charge batteries.
Because reel mowers require you to push them to turn the blades…
…they require more effort to operate.
Compact and lightweight, reel mowers are ideal for small yards.
Despite the fact that they do require a little more effort…
…it shouldn't be too difficult or take too long to mow a small yard with one.
What is the biggest benefit of reel mowers?
Typically, they are cheaper than gas or electric mowers. 
Corded Electric Lawn Mowers
A corded electric mower is the next cheapest and lightest option after reel mowers.
Since corded mowers need to be plugged into an outlet…
…they aren't ideal for large yards, but if you use an extension cord…
…(which you'll have to buy separately), they should be fine for smaller yards.
In addition to being cheaper, corded mowers don't have a time limit…
…making them a better option than battery-powered mowers.
As long as they're plugged in, they'll run, so you don't have to worry about charging batteries.
However, the cord can sometimes be difficult to maneuver around…
…especially if your yard is full of obstacles like trees and flower beds. 
Battery-powered Lawn Mowers
In comparison to gas, corded electric, or reel mowers…
…battery-powered cordless mowers are usually the most expensive option.
They cost so much because they combine the environmental friendliness…
…and quiet operation of electric with the maneuverability of gas.
In contrast to mowing a large property, a battery's limited run time…
…should be sufficient for mowing a small yard.
Battery-powered lawn mowers generally run for 30 to 60 minutes on a single charge. 
Gas-powered Mowers
Typically, gas mowers have more powerful engines than mowers…
…with other power sources, but they are also the most challenging to maintain.
Most require regular oil changes, and sometimes…
…you have to mix your own fuel before filling up the tank.
Gas engines are also noisy, which can upset neighbors…
…and gas-powered lawn mowers pollute the environment.
For these reasons, gas is probably the least convenient option for small yards…
…especially since the extra power is usually not necessary.
With an electric or reel mower, you're better off unless your property has slopes..
…or you mow tough overgrown grass often. 
Go on…
Factors to Compare Lawn Mowers
When you have chosen the power source you want, you should compare specific models.
In order to choose our top picks, we considered the following factors.
These factors can also help you determine which mower is best for you. 
Power Level 
Powerful mowers can handle tougher jobs…
…such as going uphill and cutting tall or thick grass.
Unless you plan to mow frequently in difficult conditions like these…
…you don't have to worry too much about power for a small yard.
Cutting Width 
The cutting width of a mower describes the amount of grass it can cut in a single pass.
When your mower has a wider deck, you won't have to make as many passes…
…and you'll spend less time mowing the lawn.
When mowing a small yard that's quick and easy…
…cutting width isn't too much of a concern regardless of the mower size.
Generally, larger means more expensive, so you'll need to decide…
…if you'd like to save money now or save time later. 
"This can be defined as the width of grass that your lawn mower can cut at one go. If you want to mow your yard faster, you need to choose a lawn mower with a bigger cutting width."  

Emily Miller – Author at Garden Squared
Weight 
Mowers that are heavier are more difficult to push….
…especially for people with limited upper-body strength, such as seniors.
Consider the weight of the mower when shopping for one…
…and make sure you don't choose one that will be too heavy for you to push. 
Price 
The price is by far the most important factor when choosing a lawn mower for a small yard.
As we have said before, if you have a small lawn, you don't need anything extraordinary.
You don't need extra features, so why would you pay for them?
We chose our top 4 mowers based on price to give you a list of mowers…
…that will meet your needs while still being affordable.
Best Lawn Mowers for Small Yards on Amazon
Let's go through them one by one…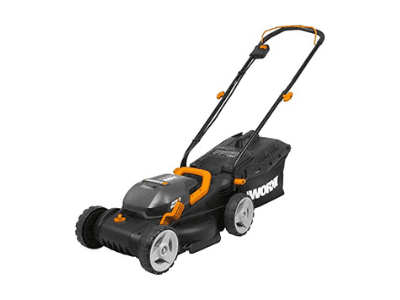 Error: Unknown Link Type
The WORX WG779 provides a high-quality cordless mower…
…(and two 20-volt batteries) for less than $300.
The batteries that  come with it are compatible with other WORX products…
…so you won't have to buy additional batteries if you buy another leaf blower…
…string trimmer, or other power tool from the same company. 
As with many of the other mowers on this list…
…the WG779 has a compact 14-inch deck that's suitable for small yards.
With the deck's single lever height adjustment system…
…you can choose six different cutting heights.
With the mower's rear bag and mulching blade…
…you can either collect your grass clippings as you mow or discharge the mulch.
There is one special feature on this mower that none of the others have: Intellicut technology.
You can adjust the mower's torque on demand using the dial on the Intellicut. In this way, you can increase torque for tough grass and decrease it for preserving the battery at other times.
Here are a few words from Joe…
Even though I am a huge Worx fan, I was a little skeptical…
…on how this would perform compared to a gas mower.
I've had this mower for a couple of weeks now and I love it! 
It arrived nicely packaged and mostly assembled.
Anyone can assemble this mower, so don't worry if you don't like assembly.
Only a few steps are required for assembly, which takes about five minutes without tools.
Keep reading…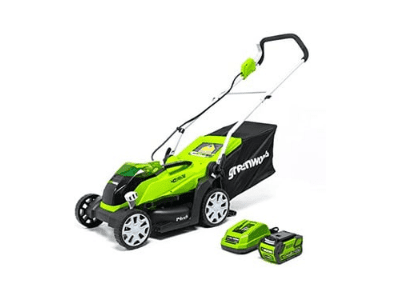 With their version of a battery-powered electric lawn mower…
…Greenworks rounds out the list.
This electric mower is made of ABS plastic and aluminum, making it one of the lightest on our list.
With the Greenworks MO40B410, you can bag and mulch in the rear…
…along with adjusting the height of the deck using a lever near the front of the mower.

As with many name-brand products, the battery used in this machine…
…can be swapped out and exchanged with other Greenworks products.
If you think you will need more life than the 45 minutes…
…that one battery offers and you have other Greenworks tools around…
…then you can always charge one at a time.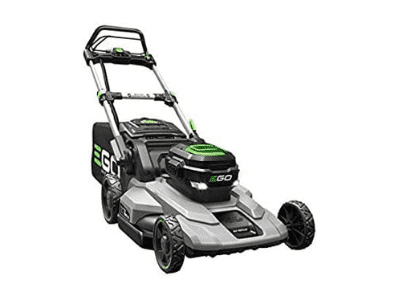 With the EGO Power Cordless Lawn Mower, you can dispose of grass in three different ways.
You can either side discharge, mulch, or bag the grass. 
Because of this, it's suitable for lawns with new aesthetic designs.
This lawnmower comes with different settings you can choose…
…from based on the patches of grass you wish to cut.
Since the handles are foldable and the bag is small, there is no need to worry about storage. 
Indeed, if you like, you can store it inside your closet without occupying a lot of space.
The motor can be started by simply pressing a button.
It features a reliable battery that can easily mow your whole yard if it is fully charged.
You will not be disappointed with this electric lawn mower…
…if you are skeptical about other electric lawn mowers.
PowerSmart's DB2321C model is the best gas-powered push mower for small yards.
With its 21-inch cutting deck, this lawn mower will get the job done in no time.
The 170 cc OHV engine powers through slopes and wet grass.
It weighs 60 pounds, making it relatively lightweight for a gas mower…
…but much heavier than our electric and reel mower picks. 
Bonus points: The PowerSmart DB2321C is easy to fold for compact storage.
Unlike the other mowers we've listed so far…
…this model offers more cutting height options, ranging from 1.18 to 3 inches.
It has a standard side discharge chute and the ability to mulch grass clippings. 
PowerSmart DB2321C is the mower you need…
…if you have a small yard and are looking for an affordable gas mower. 
Sum Up!
It's not necessary to spend a lot of money on lawn care tools when you have a small yard.
At an affordable price, there are many high-quality lawn mowers…
…that can take care of a lawn less than 10,000 square feet.
We have suggestions and a buyers guide that will help you decide…
…which mower is best for you based on the kind of yard you have…
…and what kind of mower will be best for you. 
Conclusion
You should now have a better understanding of the best electric lawn mower…
…for a small yard after reading this review.
Make sure your lawn mower not only fits your budget…
…but also suits your individual needs when you are shopping for one.
You need to choose the best lawn mower no matter the size of your yard.