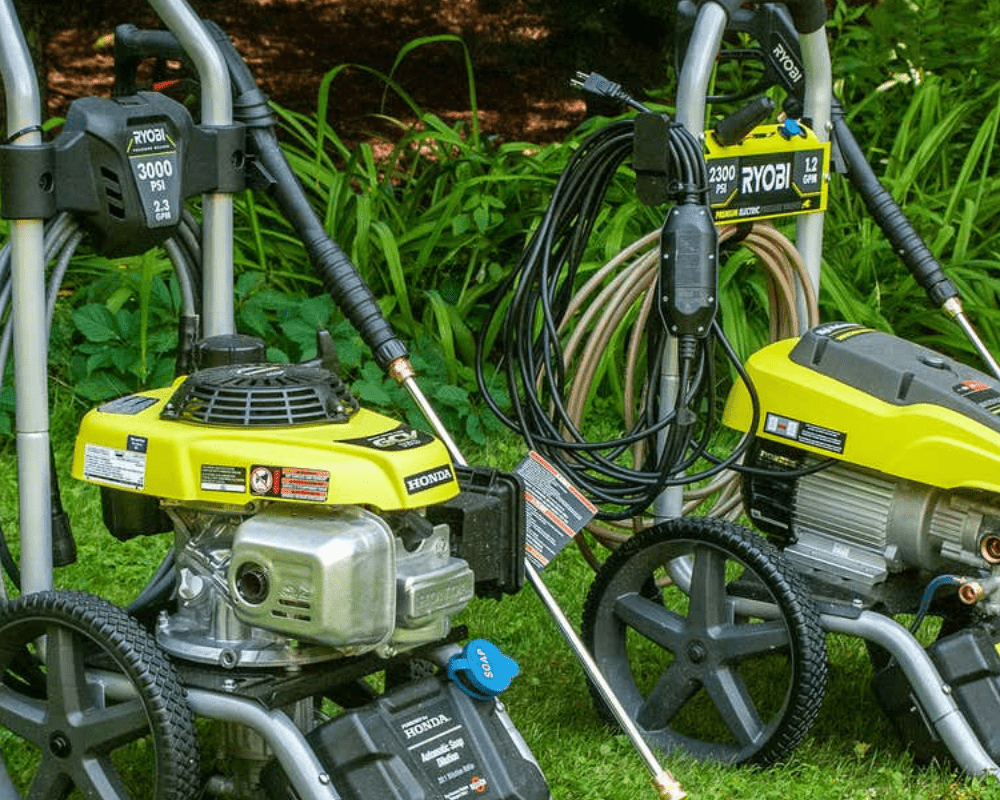 You can use a pressure washer for many things around your home…
…from cleaning decks and siding to washing cars, removing mold, and cleaning lawn equipment.
Their power is what makes them so effective.
Garden hoses emit water at less than 40 psi, but pressure washers…
…thanks to their gas or electric motors, can emit water at 1,000 psi to 4,000 psi, depending on the model.
These versatile tools are available in electric and gas versions…
…the gas-powered models are typically more powerful and in a range of sizes.
We researched the most popular pressure washers available today…
…and then narrowed the choices down to the best models in the gas category…
…most important to the average homeowner.
John will give us a few words before we get started…
For the money, I think this pressure washer offers the best value.
Since I'm an Engineer, I examine the specs for each item I'm looking to purchase
as well as comparing every model by every manufacturer.
Sometimes it's a blessing, sometimes it's a curse.
The pressure washer is definitely something that all my friends should consider.
Let's get started!
Top 3 Gas Pressure Washers Reviews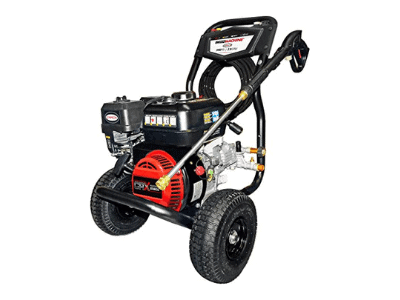 Image
Title
Prime
Buy

Top

Top

Simpson Cleaning PS60843 PowerShot Gas Pressure Washer Powered by Simpson, 4400 psi at 4.0 GPM

Prime

Check Price on Amazon

Top

Top

SIMPSON Cleaning ALH4240 Aluminum Series Gas Pressure Washer Powered by HONDA GX390, 4200 PSI at 4.0 GPM, (49 State), Red

Prime

Eligible

Check Price on Amazon

Top

Top

Champion Power Equipment 4200-PSI 4.0-GPM Commercial Duty Low Profile Gas Pressure Washer

Prime

Eligible

Check Price on Amazon
Let's gp through them one by one…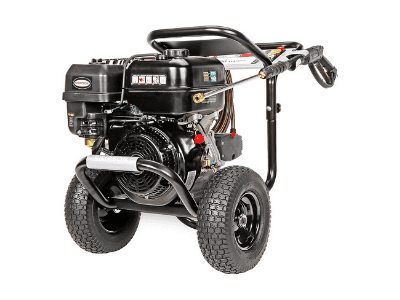 There is almost no grime this machine can't handle, as it is capable of removing graffiti…
…cleaning decks, and more. 
It is perfect for heavy-duty cleaning and commercial jobs. 
Bonus points: This pressure washer comes with 13-inch premium pneumatic wheels…
…for easy maneuverability on job sites.
In addition, the Simpson Cleaning PS60843 includes a corrosion-resistant heavy-duty steel frame…
…a triplex pump designed for longer tool life, and a 50-foot steel braided hose for abrasion resistance. 
Specifications: 
PSI: 4400
GPM: 4
Pump Type: Triplex
Hose Length: 50 ft
Weight: 138 lbs
Pros: 
Cleans well and meets the demands of high-demand jobs
Features 13 premium pneumatic wheels for better maneuverability
Includes four stainless steel nozzle tips: 0, 15, 25, and 40 degrees
Nozzle tips designed to resist corrosion
Includes one plastic soap nozzle
Heavy-duty steel frame designed for durability and corrosion resistance
Equipped with a 50-foot long, steel-braided, kink- and abrasion-resistant hose
Cons: 
Some users complain that the pressure washer is difficult to start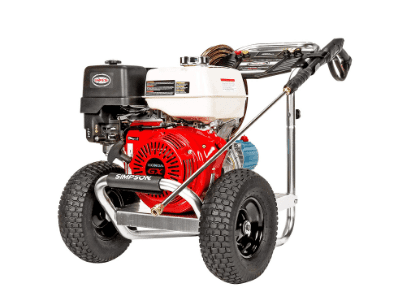 Almost any tough grime can be tackled by the Simpson Cleaning ALH4240.
Make sure you don't apply too much pressure to the car, or it will need re-painting!
Key features of the Simpson Cleaning pressure washer include:
Extended reach: The steel-braided, kink- and abrasion-resistant hose stretches to 50 feet.
Easy maneuvering: 13-inch pneumatic wheels help navigate over bumpy terrain. 
Adjustable nozzle: Four stainless steel nozzle tips let you change stream angles. 
This high-powered pressure washer features a Honda GX390 engine…
…an aircraft-grade aluminum frame, and a triplex plunger pump. 
What's CETA? The Cleaning Equipment Trade Association…
…is an international non-profit trade organization representing the pressure cleaning industry.
Its members include suppliers, manufacturers, contractors, and distributors. 
Specifications: 
PSI: 4200
GPM: 4
Pump Type: Triplex
Hose Length: 50 ft
Weight: 133 lbs
Pros: 
Strong enough to handle heavy-duty cleaning
13-inch pneumatic wheels for better maneuvering
Four stainless steel nozzle tips: 0, 15, 25, and 40 degrees
Nozzle tips designed to resist corrosion
A plastic soap nozzle
Equipped with a 50-foot long, steel-braided, kink- and abrasion-resistant hose
Honda engine (GX390)
Aircraft-grade aluminum frame
Triplex plunger pump
CETA-certified 
Cons: 
Expensive
Some users report that after a few uses, the tool becomes defective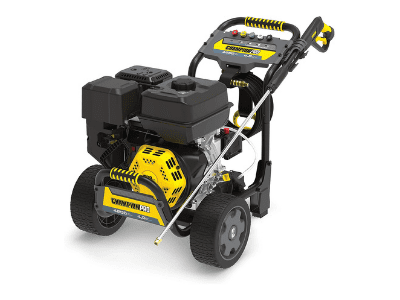 Clean the muck from your deck, driveway, or side of your house…
…with this Champion Power Equipment pressure washer.
With the built-in detergent tank and the 2-foot detergent hose, this pressure washer provides extra cleaning power.
Do not clean your laundry with your pressure washer. 
Although the Champion Power Equipment 4200-PSI 4.0-GPM pressure washer may exceed some budgets…
…you can often find this tool at a cheaper price if you shop around.  
"Designed for reliable, sustained use, this pressure washer features a triplex pump motor, in addition to a 50-foot hose and oversized tires. Included are five quick-connect nozzles, a wand, and a trigger gun for use without the wand. The pressure washer also comes with a built-in detergent tank for convenience."

Glenda Taylor – Writer
Specifications: 
PSI: 4200
GPM: 4
Pump Type: Triplex
Hose Length: 50 ft
Weight: 124.6 lbs
Pros: 
Excellent cleaning power for high-demand jobs
13-inch premium pneumatic wheels 
Quick-connect nozzles: 0-, 15-, 25-, and 40-degree angles
Trigger gun
50-foot high-pressure rubber hose
AR Triplex Brass Head pump
Champion 389 cc engine
2-foot detergent hose
1-gallon detergent tank
Cons: 
Perhaps you are wondering…
What to Consider When Choosing the Best Pressure Washer
A pressure washer takes the manual labor out of cleaning exterior surfaces…
…and they all function in a similar fashion.
Even so, there are some differences, such as how they operate – some are electric, others are gas-powered. 
You should consider the following factors when choosing a pressure washer.
Gas vs. Electric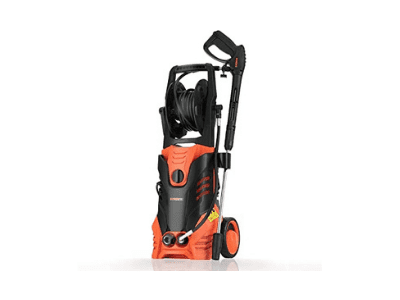 The superior cleaning power of a gas pressure washer is the best choice…
…if you have large areas to clean, such as a pool deck, patio, or tall exterior walls.
These machines are the most powerful and mobile.
The machines aren't tethered to an outlet, so you can move around more easily.
They also have a higher pressure, so they work faster.
Electric pressure washers are better for smaller, simpler chores…
…such as cleaning outdoor furniture, the family car, or just a few feet of exterior space.
Generally, they are quieter and lighter than gas-powered models.
Plug-in pressure washers don't offer quite as much mobility…
…but an electric pressure washer will typically offer a 30-foot or longer power cord…
…along with a long pressurized hose that can reach the perimeter of the job site.
When connecting and disconnecting the cord, keep your hands and the socket dry.
Intended Use
Pressure washers come with a variety of power settings, each of which is suitable for a different job:
A model rated below 2,000 pounds per square inch (psi) is considered light-duty and is best suited for small surfaces such as patio furniture and cars.
Generally, medium-duty pressure washers (between 2,000 and 2,800 PSI) offer a little more power and are an excellent choice for larger cleaning jobs involving smaller surfaces.
The heavy-duty washers (from 2,900 to 3,300 psi) are ideal for large driveways, high walls, and preparing exterior paint jobs.
Most professional-grade pressure washers reach over 3,300 psi; they are usually used in commercial settings and are more expensive.
Consider a multi-duty model that allows the user to adjust the pressure depending on the type of cleaning job.
Flow Rating and PSI
The number of gallons per minute (GPM) released by a pressure washer is also important to consider.
Consumer-grade power washers typically have flow rates between 1.0 and 4.0 GPM.
Commercial pressure washers have flow rates between 2.0 and 10.0 GPM.
Generally speaking, higher flow rates result in faster, easier cleaning.
Let the force be with you and pick a higher GPM if you're dealing with really stubborn mud, crud, or gunk.
The amount of flow through the washer nozzle is measured in GPM…
…while the pressure of the flow is measured in pounds per square inch (psi).
Pressure washers generate an average of 1,000 psi to 4,000 psi of water pressure.
Nevertheless, you should be aware that a psi above 3,000 may damage some surfaces, such as softwood or siding.
Both ratings are important, although psi is more commonly used for consumer pressure washers…
…while GPM is usually more important when purchasing a commercial model.
Keep reading…
Cleaning Performance
Cleaning units (CU) are used to measure a pressure washer's overall cleaning power.
Some manufacturers don't list the CU on their models, but it's easy to find out whether the GPM and PSI are available.
The CU of a pressure washer is calculated by multiplying the GPM by the psi.
For example, if the washer has a GPM of 2.0 and a psi of 3,000, the machine will have a collective CU of 6,000.
In comparing different pressure washers, if the CU and the GPM…
…or psi ratings are the same or nearly the same, but the GPM and psi ratings differ…
…be aware that the higher GPM will clean faster because it produces more water flow.
Axial vs. Triplex Pump
Gas-powered pressure washers have two types of pumps, each with its own advantages and disadvantages.
Axial: An axial pump is a direct-drive pump, meaning it spins at the same speed as the engine. While an axial pump produces good pressure and a lot of water power, it wears out faster than a triplex pump. An axial pump is suitable for most DIY washing projects.
Triplex: A triplex pump is a heavy-duty displacement pump that expands and contracts rather than spinning, which is found in many commercial pressure washers. A triplex pump will usually outlast an axial pump when both are used for the same duration, but expect to pay more for a washer with this type of pump.
Nozzle
It is common for pressure washers to have more than one nozzle to allow the user to adjust the spray pattern.
As these nozzles have standard connections (¼" quick connect)…
…nearly any nozzle purchased will work with another pressure washer.
However, the most important factor is the psi rating of the nozzles.
Sometimes, low-psi-rated nozzles are less expensive than higher-psi-rated nozzles, depending on the quality.
Nonetheless, a low-rated nozzle will not stand up to the pressure of a high-rated pressure washer…
…so make sure you use a nozzle with an equal or greater psi rating than the washer to which it's attached.
Portability
Especially gas-powered pressure washers can be heavy, weighing up to 55 pounds.
Taking them out, putting them away, or loading them in the back of a pickup truck can be a chore.
If transporting the washer is essential, then look for a compact, lightweight model…
…some models weigh as little as 15 pounds and include handles.
In general, lighter pressure washers are electric…
…so choosing a more portable model means…
…it won't produce the same amount of CU as a heavy-duty, beefier model.
Still, the design improvements in today's electric pressure washers mean…
…that they can handle most around-the-house and car-washing tasks quite well.
Go on…
Additional Features
A few options can make pressure washers easier to operate, but most don't come with many bells and whistles.
Built-in detergent tank: Models with an integrated tank instead of a dispenser that attaches to the wand make it easy to fill the tank with detergent for washing.
Steel-braided hose: Often found on commercial pressure washers, these hoses are reinforced with steel binding and can be ordered separately to fit almost any washer. Less likely to leak or bulge.
Upgraded wand: Wands for pressure washers are rated in PSI, just like nozzles. With some washers, the wand is rated for a higher pressure, making them stronger and more likely to last longer.
Sum Up!
Mold, dirt, grime, and stains can be removed from decks, driveways, sidewalks…
…and fences with a pressure washer.
A pressure washer can be powered by gas or electricity.
A gas-powered washer is typically more powerful and durable than its electric counterpart. 
Conclusion
To determine the best pressure washers, we reviewed power sources…
…cleaning performance, flow rating and psi, axial vs. triplex pumps, nozzles, portability…
…and additional features such as detergent tanks, upgraded wands, and steel-braided hoses.
For home use, our top picks are some of the best on the market.
Gardening is how I relax!
It's another form of creating and playing with colors?
My mission is to make people realize that even by growing a plant...
....it will make them believe in tomorrow?
And that's life most valuable moment!?