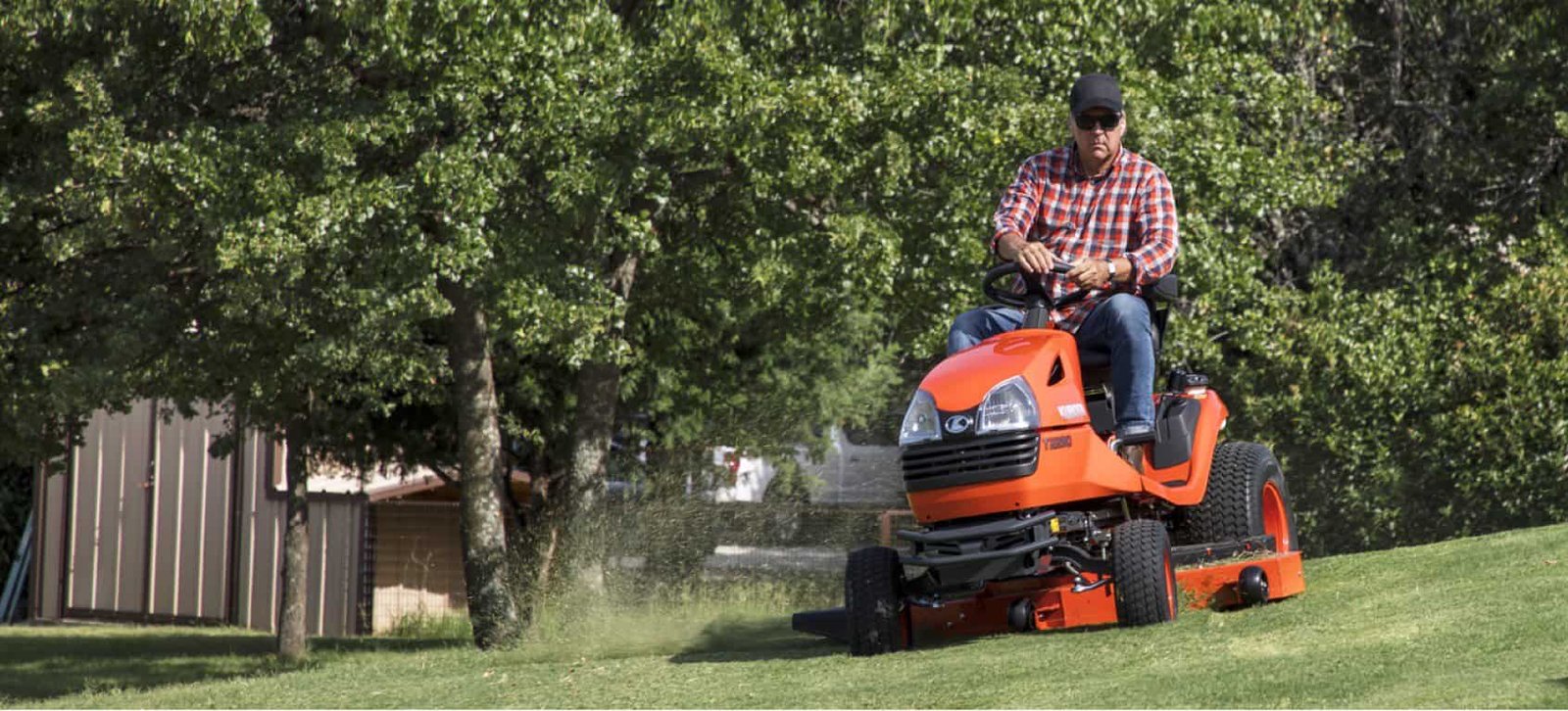 Looking to buy a kubota lawn tractors?
Whether you're a homeowner looking to tackle smaller tasks or a business owner with a large lawn to care for. Choosing the best lawn tractor for your needs can be daunting.
There are so many different models and manufacturers to choose from making it hard to decide which one is right for you.
But don't worry – we're here to help! In this article, we'll compare the five top kubota lawn tractor models available on the market today.
We'll reveal which model is perfect for your needs as well as provide in-depth reviews of each one.
So be sure to scroll down and get started!
first thing you should know,
There Are Three Type of Kubota Lawn Tractor
Riding Lawn Mower
The most common form of mower for medium-sized yards is a riding mower. These mowers will suffice for the majority of homes.
They come standard with a mower deck. Deck widths will vary depending on the choices chosen and the mower's size.
Some riding mowers, especially those on the bigger end, can be equipped with implements such as yard rollers, grass sweepers, sprayers, and wagons, making them a flexible equipment that can do any work a typical homeowner might need to undertake.
Zero Turn Mower
If you have a lot of grass to mow or a lot of tight curves and obstacles in your landscape, this is the mower to choose. When you spin the steering wheel on a traditional riding mower, the front wheels turn together.
Dual gearboxes drive side wheels independently on zero-turn mowers, allowing them to turn on a dime.
These mowers are usually fast, averaging six to eight miles per hour compared to three or four for a riding mower, allowing you to mow a lot of grass in a short amount of time. That's on top of the fact that a lot of zero turns have big mowing decks.
Kubota zero turn mowers come in sizes ranging from 42 to 72 inches, while Kubota lawn and garden tractors come in sizes ranging from 42 to 54 inches.
The disadvantage these mowers is that they might be dangerous when used on steep slopes. They are more prone to tipping, and because they lack a specific braking system (you must pull back the levers to stop the mower), they can be difficult to stop if they begin to slide.
COMPACT AND SUBCOMPACT TRACTORS
When you require a lot more than a mower, this is the best option. A compact or subcompact tractor, on the other hand, is probably too much tractor for many homeowners.
Kubota lawn tractor come with a variety of options, including turf tires and tires for different applications, as well as front end loader options.
Because they have three-point linkages and PTO drives on the back, you may utilize a variety of attachments, such as box blades, rear-drive mowers, post hole diggers, snow blowers, sweepers, tillers, and more.
In addition, let's take a look how kubota lawn tractor developed it's own industries untill arrive in this rate.
Here we are,
Our 5 Best Kubota Lawn Tractor
Kubota T2090BR-42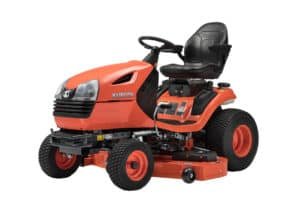 This is a smaller riding mower, but it still offers plenty of power thanks to a 20 HP Briggs & Stratton engine.
It comes with a ductile cast iron front axle that will withstand bumps and shocks, whereas other mowers with weaker front axles are more likely to bend or break.
This model's mower decks span from 42 to 48 inches, giving you a very wide path for a riding mower. There are also other choices, such as a premium high back seat with armrest and suspension for added comfort when mowing.
Optional accessories for this kubota lawn tractor include a front snow blade, snow blower, and grass catcher are have been reviewed in our recent article make sure you check it! 🙂
KUBOTA T2290KW-42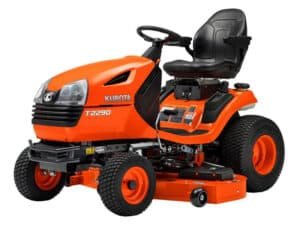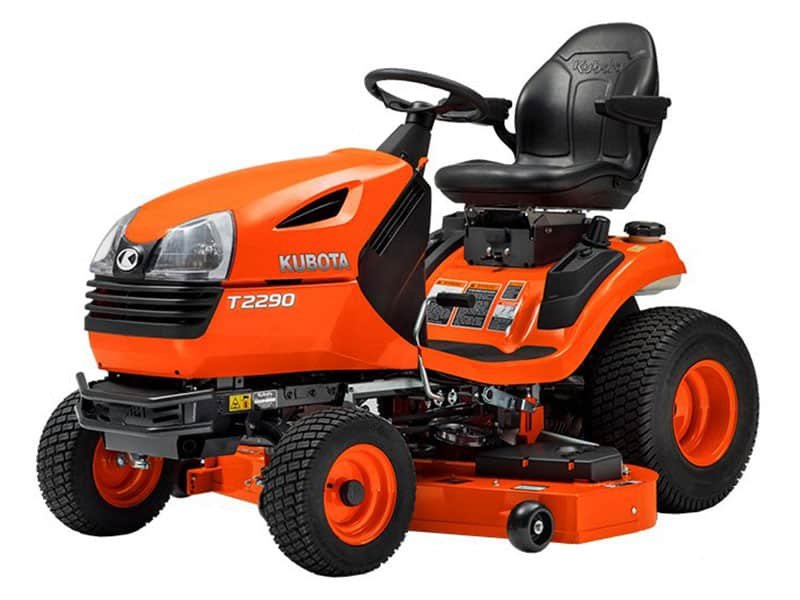 The Kubota T2290KW-42 is a compact mower that is excellent for small to medium-sized yards. It boasts a 21.5 HP Kawasaki engine, an improvement over the T2090BR-42's 20 HP engine.
A few new features are also added. With cruise control, you may choose the ideal pace and accelerate, and the suspension in the seat improves ride comfort. There are two different mower deck sizes: 42 and 48 inches.
For this kubota lawn tractor, you may additionally get a front snow blade, snow blower, and grass catcher, just like with other models
KUBOTA T2290KWT-48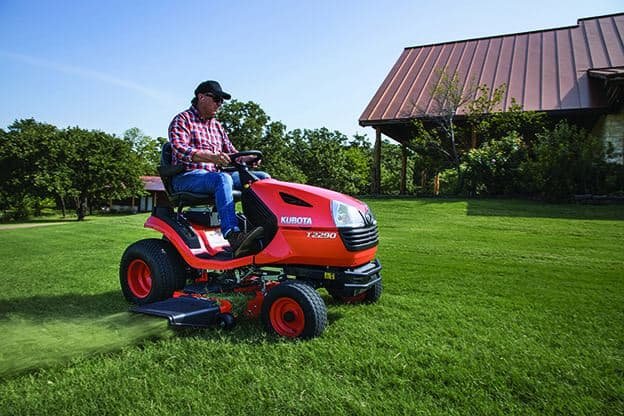 The Kubota T2290KWT-48 riding mower has a lot of features. It boasts a new dashboard that allows you to monitor the mower's functions as well as the 21.5 horsepower engine.
This mower is also quite comfortable to use. Dual arm rests and a suspension seat absorb shocks and provide a place to rest your arms when going over bumps.
There's also a 12-volt power plug and a phone charging slot so you can charge your phone as you mow. Mower decks in 42-inch and 48-inch sizes are available for this model.
KUBOTA GR2120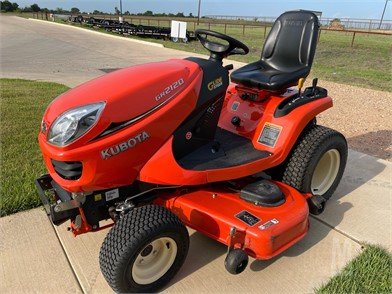 If you're in the market for a reliable tractor that can handle all types of lawn care, then the Kubota GR2120 should be at the top of your list.
This model is perfect for medium to large lawns and has a variety of features that make it an ideal choice for the gardener on a budget.
Some of the standout features of the Kubota GR2120 include its easy-to-use controls, high horsepower, and adaptable blade system. With these features, you can tackle even the most stubborn lawns with ease.
KUBOTA GR2020G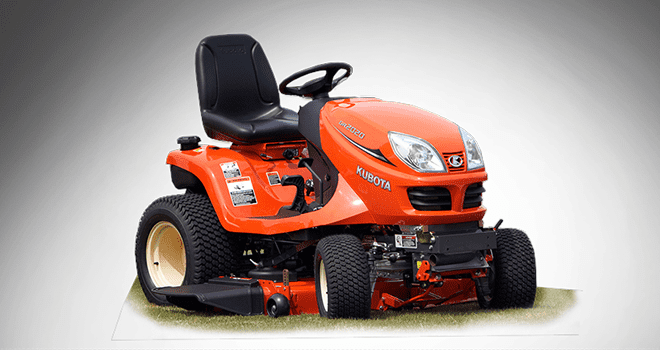 This mower comes with a number of options. It has a 5/16-inch U-frame base, which adds to its durability. It also incorporates a shaft-drive PTO for powering the mower deck, which is a more robust and low-maintenance choice than most riding mowers' belt drives.
It's a comfortable riding mower with a high-back seat, cruise control, and a step-through operator platform that allows getting on and off the mower simpler without knocking your shins.
Now, which was your favor?
Conslusion
In conclusion, each of these kubota lawn tractors has its own advantages and disadvantages. However, overall, they are all solid choices for a reliable tractor that can handle most lawn care tasks. If you're looking to save some money and still get a high-quality machine, either option would be an excellent choice.
Read More Related Articles