It can be frustrating and time-consuming to figure out…
…which of the hundreds of options is best for you…
…when buying best riding lawn mowers on Amazon (aka ride-on lawn mowers).
We've compiled the 3 best riding lawn mowers based on price, engine power…
…and overall performance to make your decision easier. 
Whatever your needs – big yard, small yard, tight budget, or bottomless budget…
…we have a riding mower to fit your budget.
Whether you know what you're looking for or not, we've got you covered.
Also, we have put together a thorough buyers guide…
…with all the information you need when shopping for riding lawn mowers. 
Here's what Josh has to say before we get started…
The difference between my old tractor mower and the new one is night and day.
Compared to my tractor, it takes less than an hour to mow my Acer plus lawn with the Husqvarna Z254.
The Kohler 7000 motor is very powerful…
…and keeps the rpm constant no matter where I am, so I can maneuver it with ease.
My only task was to adjust (following the manual instructions) the drive sticks to work in balance…
…which is something I believe should be done by the manufacturer. Overall, I like it very much.
Now, let's get started…
A Buyer's Guide to the Best Riding Lawn Mowers on Amazon
Spending thousands of dollars on a new tool requires a good understanding of what you're looking for.
We'll talk about the basic types of riding lawn mowers in this buyers guide…
…and explain the criteria we used to select our top picks.
You can use these details to make an informed decision about which model would work best for your needs. 
Types of Riding Lawn Mowers
Riding Lawn Tractors
You can basically think of a riding lawn tractor as your standard lawn mower.
You control it with a steering wheel, and it turns like an automobile.
Lawn tractors can be equipped with a variety of attachments…
…such as mulching and bagging kits, trailers, and snow shovels.
They are usually the most stable on slopes. 
Zero-Turn Lawn Mowers
Mowers with zero-turns are more maneuverable than lawn tractors.
The wheels turn at sharp angles for 360-degree turns.
Zero-turn mowers are ideal for cutting grass close…
…to landscape beds, fences, trees, and other landscaping features.
In most zero-turn mowers, you control the machine with lap bars…
…instead of a steering wheel. Zero-turn mowers are usually faster than lawn tractors.
"Zero-turn mowers are considered to be the equivalent of today's sports car. They are easier to maneuver compared to lawn tractors and they can make really sharp turns that makes cutting grass easier and more fun. They are great when you have plenty of obstacles to overcome and are efficient on lawns with irregular shape." 

Corey Majeau – Researcher, Product Tester and Writer.
Gas-Powered vs. Battery-Powered
You may have noticed that most of the riding lawn mowers on this list are gas-powered.
Only one battery-powered riding mower made our list, although there are others available.
Keep in mind that battery-powered mowers are limited by their battery's run time.
Despite this, battery-powered riding mowers have their advantages.
Compared to gas-powered mowers, they're quieter and more environmentally friendly.
You won't have to store fuel for them, and they won't require as much maintenance as gas mowers. 
When it comes to battery-powered riding mowers, the Ryobi RY48110 is a great option.
The machine runs for up to two hours on a single charge, has a 38-inch cutting width, and costs about $3,500. 
Perhaps you are wondering…
How to Choose the Best Riding Lawn Mower for You
We used five factors to determine the best riding lawn mowers:
…power, cutting width, fuel capacity, max speed, and price.
Let's now explain what each of these measurements means practically…
…and how you can use them to decide what's right for you. 
Power
With more power, your mower's engine will be able to handle more difficult jobs.
Therefore, if you plan to mow hills or deal with overgrown patches of grass and weeds…
…you need a more powerful engine. Alternatively, if you have a flat, simple lawn…
…there is no reason for you to pay more for the extra power. 
Cutting Width
The cutting width of a mower is the area of grass you can cut in one pass.
It is the cutting width that determines how long it takes to mow your lawn.
By using a larger cutting deck, you'll finish faster since you'll cover more ground with each pass.
Mowing with a smaller cutting width will take longer.
Nevertheless, mowers with a smaller deck size take up less storage space…
…and are easier to maneuver. 
Fuel Capacity 
It matters how big your mower's fuel tank is…
…because it determines how long you can mow before refueling.
You probably do not need to worry too much about fuel capacity…
…if you have a small yard that doesn't take long to mow.
You might want to consider a mower with a large fuel tank…
…if you plan to use it for several hours at a time.
You don't want it to die on you when you're in the middle of a job. 
Max Speed 
Mowing takes a lot of time depending on how fast your riding mower moves.
Mowing at 9 miles per hour will take you less time than mowing at 5 miles per hour.
The maximum forward speed is usually significantly faster than the maximum reverse speed.
In our case, we used the maximum forward speed. 
Price
As you can see from our rankings, riding lawn mowers vary greatly in price.
The entry-level models cost under $2,000, while the premium models can cost as much as $10,000.
No matter what kind of riding lawn mower you want, be prepared to spend at least $1,000.
Besides the price, how much you spend depends on how much power you need…
…what size mower you want, and whether you want a lawn tractor or zero-turn mower.
Consider a push lawn mower instead if you're on a budget and looking for more affordable options. 
Here's the main part…
Best 3 Riding Lawn Mowers on Amazon – Reviews
Let's go through them one by one…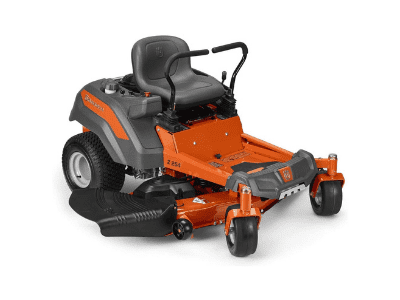 As with its lawn tractor cousin, the Z254 comes with a 54-inch cutting deck… 
…and special air induction technology.
However, with a 26-horsepower engine and a maximum forward speed of 6.5 mph…
…this zero-turn model is faster and more powerful. 
Husqvarna Z254 stands out even among other zero-turn mowers.
The parking brake system automatically activates and deactivates as you shift the steering wheel.
Furthermore, it has 3-in-1 capabilities for disposing…
…of grass clippings through mulching, bagging, and discharging…
…(although the mulching kit and bagger attachment must be purchased separately). 
Husqvarna's Z254 features high-quality construction, ease of use…
…and exclusive features at an affordable price.
Large areas and yards with lots of obstacles are perfect for it. 
Specifications:
Power: 26 horsepower
Cutting width: 54 inches
Fuel capacity: 5 gallons
Max speed: 6.5 mph
Pros:
Reliable, powerful engine
Wide cutting deck
Patent-pending park brake system
Large fuel tank for long runs
Cons:
Not as fast as other zero-turn mowers
Keep reading…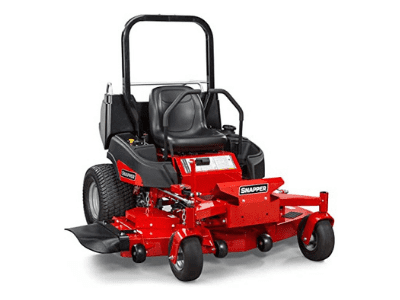 The Snapper 560Z zero-turn lawn mower is designed for commercial-grade work.
With its powerful Briggs & Stratton engine and steel front axles and bumper…
…it can handle rough terrain with ease.
The 560Z has a maximum speed of 9 mph, making it the fastest mower on our list…
…perfect for extra-large properties.
This mower is capable of handling commercial-level jobs…
…but its controls are easy for any homeowner to use.
The deck-lift cutting height lever, fuel gauge, and other controls are easily accessible and easy to use. 
The price of this mower will be higher since it combines the durability…
…and power of a commercial model with the convenience of a residential model.
You should be able to get by with a less expensive riding mower…
…if you do not have rugged terrain or a large yard. 
Specifications:
Power: 25 horsepower
Cutting width: 52 inches
Fuel capacity: 5.5 gallons
Max speed: 9 mph
Pros:
Strong construction for rough terrain
Powerful, reliable engine
Fast
Cons:
As the only electric mower on our list, the Ryobi RY48110 offers a more eco-friendly option for lawn mowing.
On a single charge, this battery-powered riding mower can cover 2 acres of land for up to 2 hours.
Along with zero emissions, electric mowers also require less maintenance…
…since they do not require spark plugs, filters, or belts.
Ryobi's RY48110 is one of the fastest on our list with a maximum speed of 8 mph.

This rear engine mower offers easier maneuverability…
…and a smaller overall machine for storage when it is not in use.
Although the 38-inch cutting width is fairly average for its size…
…the 12-option deck adjustment setting really stands out.
Deck height can be adjusted manually, but it must be done manually.

It is inevitable, however, that there will be some bad with all good things.
In some reviews, users have mentioned that their mower quits after two seasons…
…and even smokes and shorts out after long periods of use.
Specifications:
Power: Electric, 48 volts
Cutting width: 38 inches
Fuel capacity: N/A
Max speed: 8 mph
Pros:
Compact size
12-position deck adjustment
Low maintenance, no emissions
Fast
Cons:
Doesn't have comparable longevity to the gas mowers we reviewed
Shorter run time than gas mowers
Sum Up!
While riding lawn mowers aren't cheap, they're a worthwhile investment for many homeowners.
It takes less time to maintain your lawn with this type of lawn mower…
…and dare we say that they can even make lawn care enjoyable? 
When you have a riding mower, you can sit back with a drink and steer it instead of pushing it around.
There are many types of riding mowers available, including lawn tractors…
…which can be used for a variety of tasks, and zero-turn mowers…
…which often have larger decks and can turn quickly.
Also, you can choose between traditional gas-powered mowers and eco-friendly electric mowers…
…both have their merits, so it really depends on your needs.
Conclusion
Thanks to our suggestions and definitions, you're hopefully more prepared…
…to invest in a riding lawn mower than you were before.
The lawn mowers on this list represent some of the best options available on the market…
…but only you can choose which is best for your property.
Regardless of which you choose, you will get good value for your money.