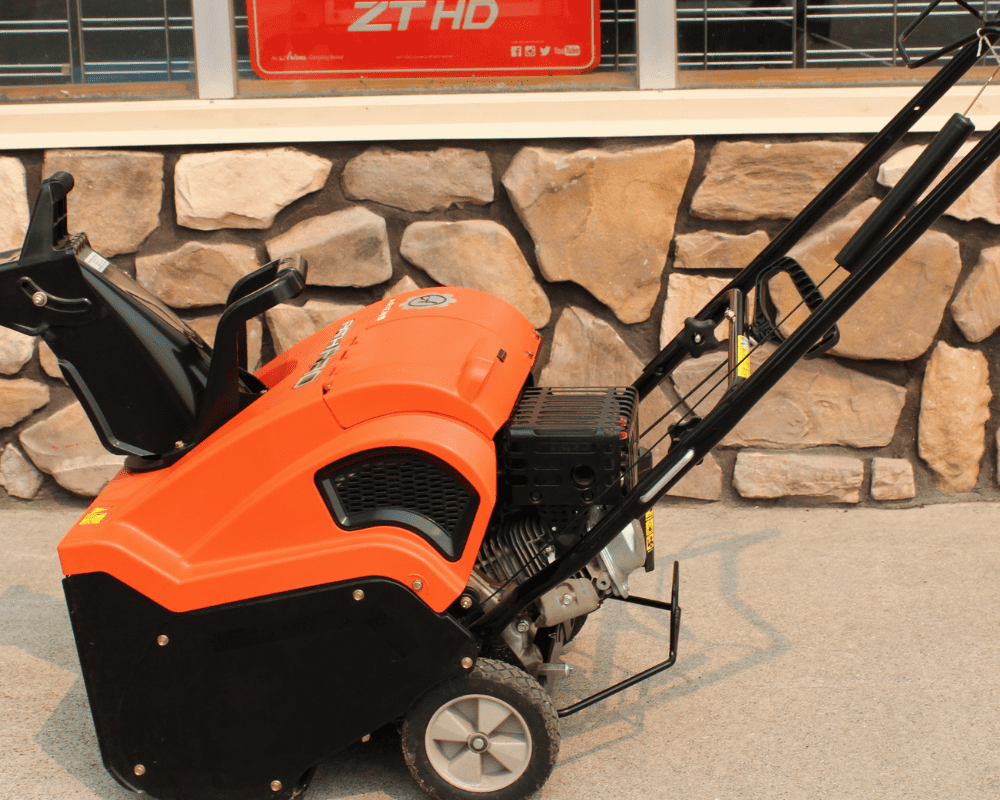 If winter has arrived, chances are you are dreading the chore…
…of clearing your driveway or sidewalk of heavy snow.
If you choose one of the best single-stage snow blowers on Amazon…
…you will not have to worry about breaking your back, since the machine will handle all the work.
To find the top three single-stage snow blowers on the market, we scoured the market.
Out of all the models we examined, the Ariens Path-Pro 938032 is by far the best.
Powered by a 208cc gasoline engine, this is one of the most powerful snow blowers money can buy.
It is a single-stage model, but it can be used for pretty much any type of snow…
…and is capable of handling anything from a light dusting to 9 inches of snow.
However, you should also look at its competitors on our list…
…so that you can be sure you have the best model for your needs.
We spent tens of hours reading through hundreds of reviews to create our list…
…detailed reviews, and in-depth buying guide.
To make our list, we considered the different power sources and the weight of each item.
Afterwards, we examined the clearing depth and width, as well as the overall capacity of each model.
We looked for the best of the best in each of these categories…
…because these are the features that will make or break a snow blower.
Here are a few words from Randy…
Years ago, I preferred to shovel instead of using the gas-powered snow blower in the garage.
Although it is a widely recommended model on CR and elsewhere, it has only ever started inconsistently.
I would spend the rest of the day smelling like gas fumes when it finally worked.
Ultimately, I decided to go electric and take a leap into the unknown.
Over the course of Winter 2018-19, I had no problems with it, and I live in Wisconsin.
Now let's jump right in!
Best Single-Stage Snow Blowers on Amazon
Let's go through them one by one…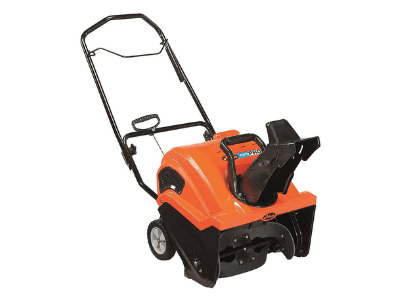 Ariens Path-Pro 21 in. Single-Stage Snow Blower-208cc
Price For: Each Fuel Type: Gas Item: Snow Blower Engine Brand: Path-Pro(TM) Inlet Height: 12-7/32 Wheel Dia.: 7-1/2 Drive Type: Auger Auger Diameter: 8-13/32 Wheel Width: 1-3/4 Torque: 9.5 ft.-lb. Clearing Path: 21 Displacement: 208cc Drive Gears: 1 Forward Start Type: Electric/Recoil Stages: 1 Fuel Tank Capacity: 2.9 qt.
You should consider this model if you are looking for the most powerful…
…versatile, and easiest to use single-stage snow blower.
This model features a 208cc engine that delivers a lot of power.
It is so powerful that it can easily plow through 57 tons of snow per hour.
If you consistently experience large snowstorms, this model will be up to the task.
Another key reason why this model works so well is its throw distance.
This model can throw even the heaviest of snows 35 feet away…
…compared to many single-stage blowers that can only throw snow 20 feet or so.
As a result, it's a great option for clearing large areas quickly and efficiently.
Furthermore, it has the best chute on the market.
As it can be rotated up to 210 degrees…
…it is much easier to keep the snow off of the parts of your driveway…
…or pavement that have already been cleared.
It also has an adjustable scraper bar.
You can set the depth of how much snow your blower will go through at a time by using this bar.
Because of this, it's one of the most efficient models…
…since you can get as little or as much snow as you like in one pass.
Due to its powerful engine, the only problem with this model is its weight.
The heavy build makes transportation challenging.
If all you intend to use it for is at home, however, this shouldn't be a problem.
Why is it special?
210-degree chute rotation
Adjustable scraper bar
Ergonomic, foldable handle
Durable
Powerful
Long throwing distance
What are the flaws?
Heavy; difficult to transport
Keep reading…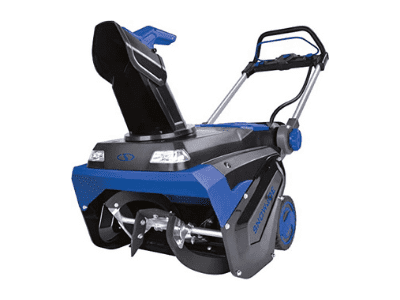 As this model runs on a battery, it is extremely easy to maneuver and easy to maintain.
Even if you need to clear a windy sidewalk, this machine will be able to handle it.
Another feature that contributes to the overall mobility of this model is its auger-assisted drive.
By using this drive, the machine will pull itself through the snow, which in turn makes your job much easier.
One thing that might surprise you with a model like this is how powerful it really is.
Despite the fact that it runs on a battery, it can go through a lot of snow in a short amount of time.
This machine is rated to remove up to 16 tons per charge…
… which should be more than enough for small to medium-sized areas.
The battery life of any battery-operated device is something that you need to keep in mind.
The model is powered by a rechargeable lithium-ion battery, which is highly efficient.
However, it does not hold a charge for very long…
…which may limit its versatility when it comes to clearing large areas.
If you run out of batteries, you can always get more so that your machine keeps running…
…while the others are charging. This route will, of course, cost you more money…
…but it might be worth it if you need a cordless snow blower for a large area.
Why did it make our list?
Large clearing depth
Auger-assisted drive
Easy to maintain
Long throwing distance
Maneuverable
Powerful
High discharge capacity
What is not ideal about it?
Short runtime on one charge
Go on…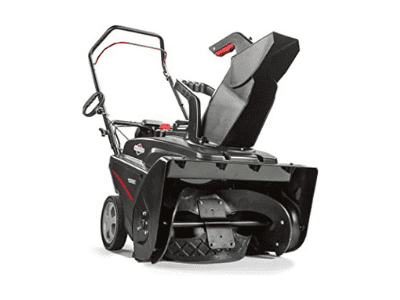 One of the most affordable gas snow blowers on the market is the Briggs & Stratton 1022E.
Although it doesn't perform as well as higher-end models, it isn't bad compared to its peers.
There are a few things that set it apart from other single-stage snow blowers within its range…
…such as a powerful, high-torque 208cc engine.
It is great at blowing light, fluffy snow.
This machine is capable of clearing up to 1 ft of snow and even more.
When it comes to wet snow, it is not the most effective, but it is capable of clearing up a foot or more.
It is much easier to start the Briggs & Stratton 1022E than most gas snow blowers.
It comes with an electric starter that works flawlessly…
…and lets you start it immediately with the push of a button.
It is also possible to start it manually, which is equally easy and fast.
This machine is fairly quiet when it comes to noise.
Gas snow blowers are known to be noisy, but this model is a tad quieter.
Despite being considerably louder than most electric models, it's still tolerable.
Because of its lightweight and compact design, you will appreciate how easy it is to handle.
Although it is not self-propelled, its auger-assist drive system allows it to move forward smoothly.
Even though its build quality is not as good as higher end models, it feels fairly solid.
Although it has some weak points, it is reliable.
Additionally, since it has a 4-stroke engine, you do not need to mix oil and fuel…
…making maintenance easier than with 2-stroke engines.
What do we love it for?
Decent build quality
Easily maneuverable (lightweight and compact)
Easy to start (electric and manual options)
Easy maintenance
Reasonably priced
3-year warranty
What were we disappointed with?
Struggles with thick wet snow
Perhaps you are wondering…
What Features to Consider When Purchasing A Single-stage Snow Blower?
As you can imagine, when you are shopping for a snow blower…
…there are several factors that you should keep in mind.
Our goal is to make sure that you find the most appropriate model…
…for your needs by guiding you through everything you need to know.
Power Source
Prior to buying your new snow blower, you will need to decide which power source you prefer.
You can select from gas models, which are more expensive but more powerful, corded electric…
…which have plenty of power but are limited in their maneuverability, and cordless electric…
…which is lightweight and maneuverable, but have a limited amount of power.
Engine and Motor Power
The next thing you need to do once you've selected your power source is to determine…
…how much power you need.
Snowfall and the amount of snow you need to clear will determine how long it takes.
Clearing Width and Depth
It is also important to consider how much snow you want your snow blower to remove at a time.
Again, if you have a larger area, then it's best to invest a bit more money…
…and get a blower with a larger clearing width and the ability to handle deeper snow. 
Throwing Distance
Another important factor to consider is the throw distance…
….which, as the name suggests, is the distance at which a snow blower can throw its snow.
By having a longer throw distance, like the 35 feet provided by the Ariens Path-Pro 938032…
…you can reduce the amount of time you need to spend clearing your area…
…since you won't need to go over the same snow twice.
Discharge Capacity
Using the discharge capacity, you can determine how much snow will be blown away…
…in a minute with your new blower.
"The higher the rating, the more snow it can handle. If your area is prone to getting wet, heavy snows, then you will want to go for a higher discharge capacity. "

Nora Held – Author at Backyard Style
Starting System
You have the option of choosing between an electric or pull start when it comes to starting systems.
Using an electric start makes starting your blower much easier since it only requires the flip of a switch.
When selecting a blower, keep in mind that a pull start can be difficult on your back…
…and might require multiple tries to start, so keep that in mind before you buy.
Weight
Gas blowers tend to be heavy, while electric models are very lightweight.
Thankfully, once they are all running, they are all pretty easy to maneuver.
The only time the weight of your blower will figure in is if you have a hilly area, need to clear i…,
… or need to move it a long distance before you use it.
You might want to consider a lighter model like the Snow Joe SJ625E in that case.
Size
Before you make your final purchase…
…you should also carefully consider just how large a blower you can store in your garage or shed.
A larger clearing width is ideal, but it won't help you much…
…if you can't put your blower away when it is not in use.
Before you make a final decision, make sure you measure the storage area carefully.
Other Features
There are many features that you can get on a snow blower…
…but the most important is going to be an easy-to-adjust chute.
You can decide where the snow will go when you are clearing an area, which is very helpful.
Getting a blower with propel assist might also be a good idea if you are getting a heavier model.
Sum Up!
Snow blowers come in three different types, including single-stage…
…double-stage, and triple-stage models.
Different types of blowers are well-suited to different types of snow and different locations.
For instance, a single-stage model is ideal for lighter…
…fluffier snow that does not exceed 10 inches in depth.
Also, these blowers are only suitable for paved surfaces…
…as their auger makes contact with the ground.
Due to the single stage of their clearing process…
…these models are not able to throw as much snow as models with double or triple stages.
Conclusion
The Ariens Path-Pro 938032 is probably your best bet…
…if you're looking for the best single-stage snowblower available today.
The gas-powered mower is powerful and durable enough…
…to withstand the worst that winter can throw at you.
Check this one out if you have a large area to clear and get lots of snow frequently.
The best cordless single-stage blower is the Snow Joe iON100V-21SB-CT.
This mower is easy to maintain and use. Even though it is battery-powered…
…it is powerful enough to handle a lot of snow.
Gardening is how I relax!
It's another form of creating and playing with colors?
My mission is to make people realize that even by growing a plant...
....it will make them believe in tomorrow?
And that's life most valuable moment!?