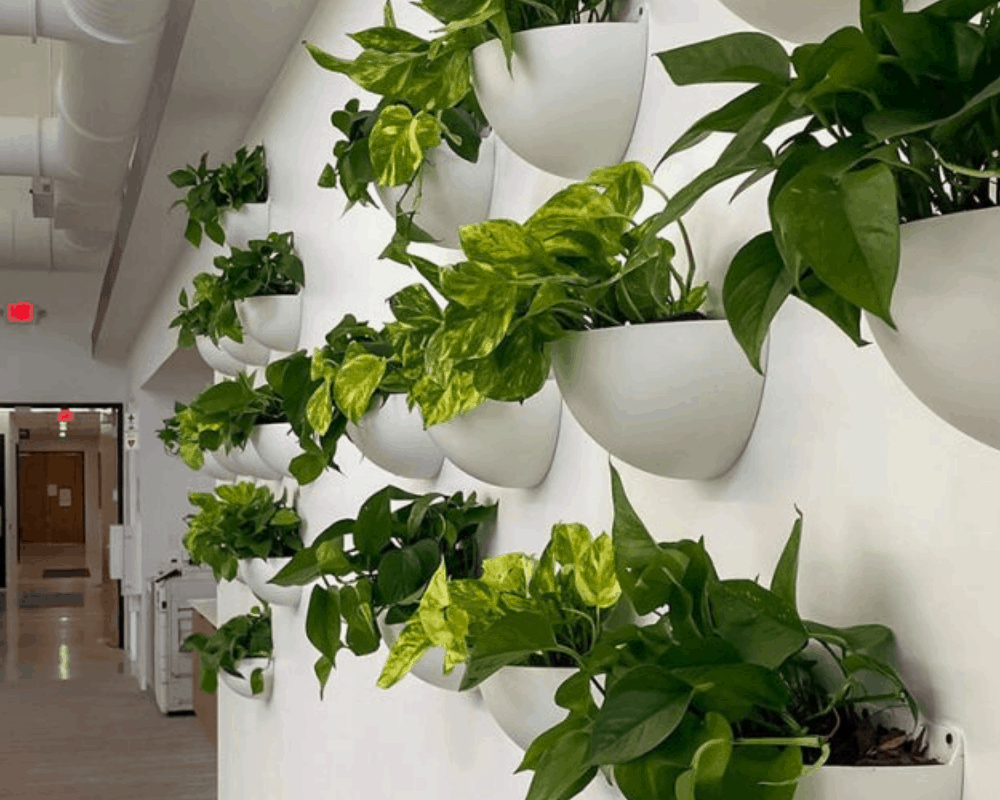 I definitely wouldn't call a plant that has personality enough to be hung on walls a wallflower. 
It might be time to display some of your plants in a new way…
…if you have a lot of greenery in your windowsills, shelves, and floors.
 There are many different styles, sizes, and shapes of wall planters…
…so horticulturists of every kind are sure to find the right one for their needs.
Words from Joanna…
My house is decorated with plants and I enjoy taking care of them.
A few days ago, I was redecorating my house.
The problem is I don't know what to do, so I look up for references online.
Then I came across this lovely wall planter.
These are exactly what I was looking for to finish my bathroom,
and they appear to be of decent quality.
This ceramic pot has lovely colors and a sturdy construction.
Having a wall planter like this brings joy to my home.
It is important to read this before moving on to the list…
Tips on Choosing the Best Hanging Planters
In a room, plants can either serve as a focal point or act as secondary accessories.
A plant hung from a hook draws the eye upward…
…creating a stronger visual impact than a plant positioned on a table or the floor.
To achieve the best design effect, hanging planters should be large enough…
…to accommodate the desired specimen, made of durable materials…
…complement the room's style, and be hung securely.
A person's style and preferences play an important role in selecting the best hanging planter…
…but there are also other factors to consider.
Size
Don't ignore the size of the hanging planter, but choose one that is attractive.
Different plants require more or less room for root development…
…so choose a planter that is large enough to hold the desired plant.
Spider plants, for example, are perfect for hanging planters…
…because they trail beautifully, creating a show-stopping appeal.
However, they also tend to become root-bound…
…so they need a pot that is at least 8 to 10 inches in diameter.
In contrast, miniature succulents and air plants can survive in pots…
…as small as a few inches across without becoming root-bound.
Aesthetics and functionality are also influenced by size.
When placed in the corner of a large room with a vaulted ceiling…
…a tiny hanging planter won't look nearly as attractive as a larger decorative pot that better fills the space.
Consider also that the larger the planter, the heavier it will be…
…which means it will probably require drilling bolts into ceiling joists (or wall studs).
To hang small, lightweight planters, toggle-type bolts must only be inserted into the drywall.
Go on…
Material and Form
There are many different types of hanging planters…
…from plastic and ceramic to terra cotta and metal.
In order to select the best hanging planter for a particular room…
…one must analyze the room's overall theme, the budget, and the desired visual effect.
In general, selecting a planter made of a material…
…that compliments the material in the room will make it look like it is a part of the overall décor.
A chrome planter hanging above a chrome table will visually anchor the pieces, creating a sense of unity.
Its shape and form can also accentuate similar shapes in the room…
…or you can use it to contrast them.
A globe-shaped hanging planter, for example, can function as a visual anchor…
…to tie together other round elements in the room, such as a globe ceiling fixture.
A planter can also add visual interest and a contrasting geometric appeal…
…to a room with an abundance of cubical design elements.
Consider hanging more than one planter or a multi-planter…
…with more than one planting section to add some foliage.
Print out an image of the planter you are considering, and hold it up in the room to see how it will look.
Style
If its style complements the existing décor in the room, a hanging planter will create the best visual effect.
There are many individuals who seek to develop a distinctive interior design style…
…and this should be considered when selecting the right hanging planter for an indoor or outdoor setting.
Self-Watering
Healthy plants add decorative appeal, but only if they're watered regularly.
For busy individuals, watering can be overlooked until the plant appears dry and wilted.
You do not have to adhere to a strict watering schedule if you purchase a self-watering planter…
…with a reservoir that holds water and gradually distributes it throughout the soil.
For those new to tending hanging plants…
…a self-watering container reduces the risks of watering too little or too much…
…making it easier to grow healthy plants.
Mounting
Lightweight hanging planters can be attached to a wall or ceiling using toggle-type bolts in the drywall.
Torque bolts can safely hold up to 30 pounds of weight, but others can hold less.
Fasteners should be inserted into ceiling joists or wall studs when mounting heavier plants.
When in doubt, insert into a solid framing member rather than just the drywall.
Here's the real deal…
Our Top Picks of Wall Planter
Here are the best wall planter for showcasing your indoor plants as works of art.
Image
Description
Price
Prime
Buy

Top

Top

Mkono Ceramic Hanging Planter Wall Planter Set of 3 Modern Flower Plant Pots for Succulent Herb Air Plant Live or Faux Plants Home Office Decor Idea (Plant Not Included), White

Prime

Eligible

Check on Amazon

Top

Top

Umbra Trigg Hanging Planter Vase & Geometric Wall Decor Container, Small, White/Brass

Prime

Eligible

Check on Amazon

Top

Top

Orimina Pack of 6 Glass Planters Wall Hanging Planters Round Glass Plant Pots Hanging Air Plant Pots Flower Vase Air Plant Terrariums Wall Hanging Plant Container, 12 cm Diameter ¡­

Prime

Eligible

Check on Amazon

Top

Top

Mkono Macrame Plant Hangers Set of 4 Indoor Hanging Planter Basket Wall Decorative Flower Pot Holder with 4 Hooks for Indoor Outdoor Home Decor Gift Box, Ivory

Prime

Eligible

Check on Amazon
Product prices and availability are accurate as of the date/time indicated and are subject to change. Any price and availability information displayed on [relevant Amazon Site(s), as applicable] at the time of purchase will apply to the purchase of this product.
Prices pulled from the Amazon Product Advertising API on:
Let's take a closer look…
Mkono Ceramic Hanging Planter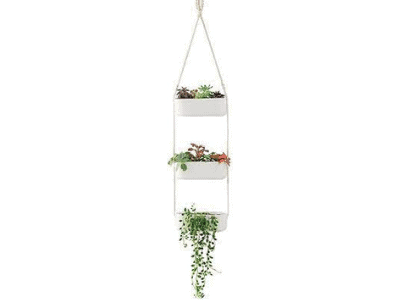 First top picked item! They successfully win our hearts since…
…they effortlessly make the plants look pretty and please the eye!
More than that, make sure you put small plants there, when it grows,
…put them in a larger pot!
This tiered hanging planter gives you three rectangular pots to fill with one small, easy mount. The rope and ceramic combo creates a modern yet rustic vibe, perfect for succulents, herbs, faux or any small regular plants. It's also lightweight, durable and has hundreds of five-star reviews.

Loren Cecil – Professional Writer at SPY
Umbra Trigg Hanging Planter Vase and Geometric Wall Décor
Just look at this one! Is there any way you're not falling in love with them?
The aesthetic modern look maje them one of our favourites!
If you're looking for a modern-looking wall planter, this could be your best friend!
Keep reading…
Orimina Hanging Glass Wall Planters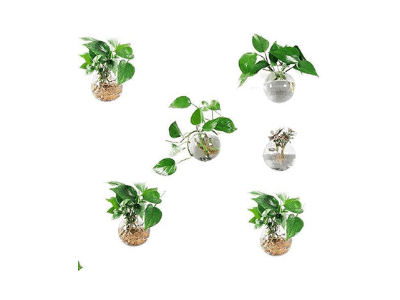 They are our third top picked item, but honestly, we can't decide since..
…all top three are neat and nice!
Moreover, the plus point of this glass wall planter is…
…it looks more natural than the other ones.
If you want wall planters that will make your room looking fresh,
…this could be your favorite one!
Mkono Macrame Plant Hangers Set of 4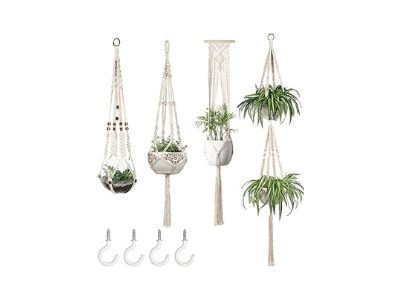 Mkono plant hangers always surprise us with their design ideas.
We love their design since they consider the house styles!
If you're into the bohemian interior, this fits well!
Furthermore, they will stay in a good shape for a long time!
This set of four is also worth the price!
I mean they are pocket friendly!s
Sum Up!
Mkono Ceramic Hanging Planter is our top pick for the best hanging planter…
…because this planter comes with three tiers suitable for succulents…
…air plants, and more, as well as a drainage hole to prevent over-watering.
Conlusion
Did you decide yet which of these wall planters you were going to buy?
Be sure to take several things into consideration before you purchase one, as we detailed above.
If you find this article useful, please let us know in the comments section below!
Gardening is how I relax!
It's another form of creating and playing with colors?
My mission is to make people realize that even by growing a plant...
....it will make them believe in tomorrow?
And that's life most valuable moment!?