It must be the most fun project ever to propagate snake plant, also known as Sansevieria, in water…
Setting it up is very straightforward. The hardest part is waiting!
We'll explore watering snake plants in the next section! But first…
Hear it from Steven!
The snake plant is just a winning houseplant…
Not only that it's easy care and low maintenance…
It's also very easy to multiply these babies…
… simply by propagating them. Lots of methods to try from!
The simplest way is propagating it through leaf cuttings…
Generally, these cuttings are planted in soil medium…
But you can actually plant them in water, amazing right?
That's why snake plants are a lot of people's favorite…
This variety is the current moment's "it" succulent. There's a reason sansevierias are so popular, they're practically indestructable.

MARC HACHADOURIAN, THE DIRECTOR OF GLASSHOUSE HORTICULTURE AT THE NEW YORK BOTANICAL GARDEN
Check this out!
Easily Plant Snake Plant In Water From Leaf Cuttings
Snake plants, also known as Sansevierias, are one of the easiest houseplants to maintain.
You can also propagate the leaves to grow more plants if you have one.
For no cost! It is very easy to propagate a Sansevieria plant.
Snake plant cuttings can almost always be rooted in water.
Patience may be the most difficult aspect.
Do you have any questions about your snake plant?
Visit my other article for more information on how to care for your Sansevieria.
Learn how to keep your plant happy and healthy with these helpful hints.
Snake Plant Propagation
There are a few reasons why you would propagate your snake plant.
You might want to propagate your snake plant for a variety of reasons.
Use a sunburned leaf or a leaf that has grown too tall and bent or broken.
Perhaps you accidentally overwatered your Sansevieria, resulting in root rot.
If the damage isn't too severe, you may be able to save your plant by propagating the parts that are still viable.
You may simply want to change the overall appearance of your plant by removing a few leaves here and there.
Those leaves that would otherwise be discarded can be used to grow your houseplant collection..
..or as thoughtful gifts for friends and family.
Easy Propagation Tips
Use healthy leaves, preferably those that aren't too old, for the best results.
When I say "quickest," I don't mean "overnight."
Cuttings of snake plants take a long time to root.
Be prepared to put your patience to the test.
People usually say it doesn't work because they didn't wait long enough.
Snake plants do not develop roots over night.
It's critical to keep the leaf cuttings facing the same way they did on the plant.
They will not root if you accidentally turn them upside down.
On the bottom of the cuttings, cut a v-shape notch.
This increases the surface area available for roots to grow..
..as well as making it easier to remember which side is up and which end to place in the water or soil.
If you propagate a variegated Sansevieria with yellow leaf margins..
..new leaves will not have the variegated yellow edges.
The only way to maintain the variegation is to divide your plant.
Remove a clump of leaves with roots from the main plant and repot it in its own container.
In just water, snake plant cuttings grow roots and new leaves.
You Can Propagate Snake Plant In Water!
Carefully cut a leaf near the soil with clean, sharp cutting shears.
A single leaf can be propagated and placed in a tall glass vase for a dramatic effect.
Cutting the leaf into multiple sections is even better.
As a result, you'll be able to grow more new plants from that single leaf.
Leaf top cuttings with a pointy tip have the highest success rate for me..
..and they appear to grow roots and new leaves a little faster.
Allow your cuttings to dry for a few days to allow the cut ends to callous over.
This is crucial in order to keep your cuttings from rotting.
In a glass vessel, place the leaf cuttings with just enough water to cover the bottom part of the cuttings.
Place it in a location that receives a lot of indirect light.
Every few days, change the water.
After that, the waiting period begins.
If you haven't seen any roots after a month, don't worry.
That's completely normal. It's possible that you'll have to wait another month for roots.
It takes even longer for leaf pups to emerge.
Before you pot them up into well-draining succulent soil..
..wait until the roots are at least an inch long.
For even better drainage, add some perlite pumice.
How To Propagate Snake Plant Cuttings In Soil
I like to start by rooting in water because I enjoy watching the roots grow.
However, I understand the desire to complete one task and be done with it.
If that's the case, you can also plant Sanseveiria cuttings in the ground.
This method omits the water part entirely.
Cut your leaf, wait for it to callous, then place it in soil.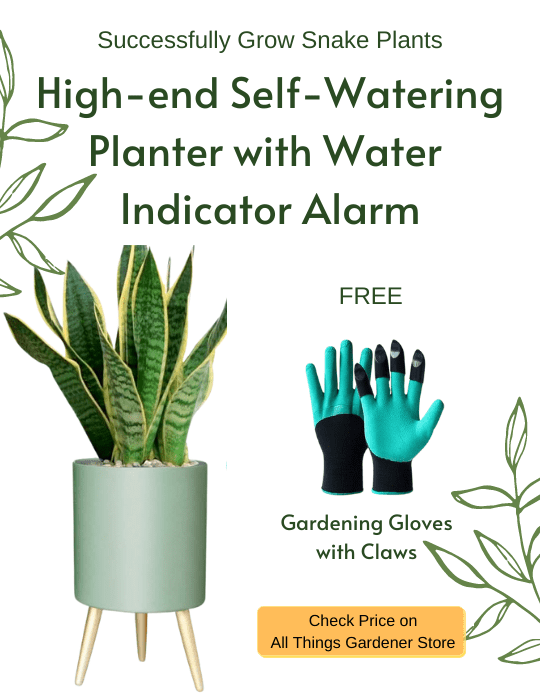 While rooting, keep the soil moist, but less so once roots have established.
The leaf-cutting will no longer grow.
Unless it was the leaf's tip, which was still intact.
Once you see a new leaf popping up, you can cut the original cutting down.
To speed up the process a bit, you can use rooting hormone powder on your cuttings.
Dip your cuttings in water first, then dip the bottom 1/4 inch in rooting powder.
Fill a small pot with slightly moist, well-draining succulent soil..
..and stick your cutting in about 1/2 inch deep.
Propagation Problems
Even though snake plant propagation is nearly foolproof..
..it is possible that it will not go as planned.
It's possible that some cuttings will not take as well as others.
Giving your snake plant cutting more time is usually the answer to why it isn't growing roots.
Roots may appear as long as the cutting does not rot and the water is kept fresh.
Leaves Get Mushy And Brown
Snake plant cuttings that become mushy from the bottom up and then turn a brown..
..or black color should be avoided. The cutting has started to rot.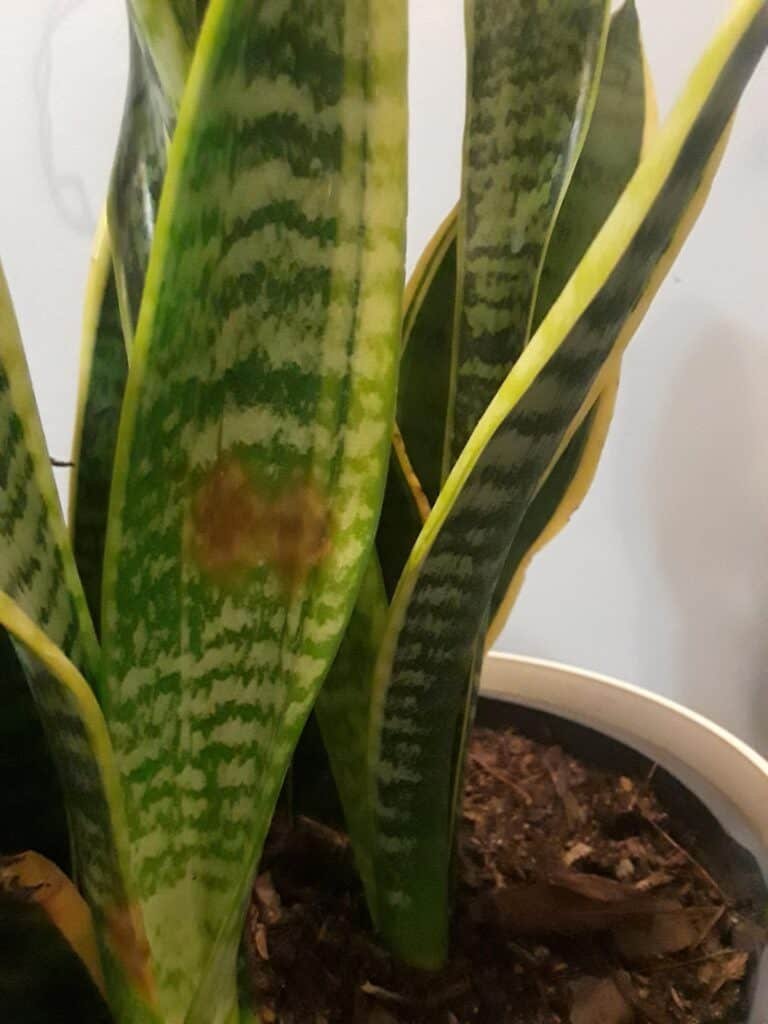 This is something you don't want to happen.
If this happens to cuttings in water..
..it's most likely because the cut wasn't completely dry before being immersed.
When cuttings planted directly in soil begin to rot..
..it's usually a sign that the plant has been overwatered.
This can happen if you water the cuttings too frequently..
..or if they're in a pot that's too big or doesn't have drainage holes on the bottom.
Common Growing Problems
A low-maintenance plant Although plants thrive in most environments..
..it's important to recognize the warning signs that your plant requires extra attention.
Low temperatures can be harmful to snake plants.
Brown leaf edges indicate a drafty or cool environment.
If you notice any of these, relocate your plant to a warmer location in your home.
Your snake plant's leaves will be shriveled if it isn't getting enough water.
Give it a good soak..
..and keep an eye on it to make sure it doesn't go too long without water.
When the roots below the surface rot due to too much soil moisture..
..you're more likely to see symptoms of overwatering such as drooping, yellowing, or mushy leaves.
Because root rot begins beneath the soil, where it is not visible..
..it is best to let your plant dry completely between waterings.
Remove your plant from the pot if it shows signs of root rot and start over with a new soilless mixture.
Remove any mushy or brown roots or leaves, and repot healthy rhizomes in the new mixture.
If the rhizomes cannot be saved, they should be discarded.
Save a few healthy leaves for propagation of new snake plants.
Propagating Other Succulents From Leaves
Do you want to propagate a different type of succulent?
Many plants can be easily propagated and grown from a single leaf.
There are three ways to propagate succulent leaves.
In the water, on the ground, or by doing nothing at all.
I'm not making this up.
Have you been able to grow your Sansevieria snake plant from seed?
Tell me everything about it! A good propagating story is one of my favorites.
Caring For Your New Snake Plants
The last thing you want is for your new snake plants to die..
..after you've put in the time and effort to propagate them.
Fortunately, these are low-maintenance plants..
..and even inexperienced gardeners should be able to grow one successfully.
Time To Propagate Those Snake Plants!
You can fill every room in your house with snake plants now..
..that you know how to propagate them in so many different ways!
Snake plants are among my favorites..
..so propagating them is something I'm passionate about.
I wish you luck with your snake plant propagation!
Sums Up
There are lots of other propagation method you can choose for your snake plant…
But it won't harm you to try and experiment with other possible methods…
… just so that you can finally pick a method that will be your go to.
Although propagating in water is an option…
Usually you'll get better results through propagating in soil or through division…
Use water to promote root growth in your cuttings…
… and stick with a method most successful to you!
Conclusion
There are still many recent and interesting articles about Snake Plants…
… as well as other unique information from All Things Gardener.
For further information and other inquiries…
… you can contact us here.
Check out more of our posts like this one here!
I hope you can now take care your snake carefully and grow it big!
Thanks for reading this article! Bye!
Related Articles!
What Is the Best Place to Keep My Snake Plant? Ultimate Guide (2021)
How To Propagate Rotting Snake Plant? Superb Tips For You (2021)
How Often Does A Snake Plant Flower? Amazing Thing You Need To Know (2021)