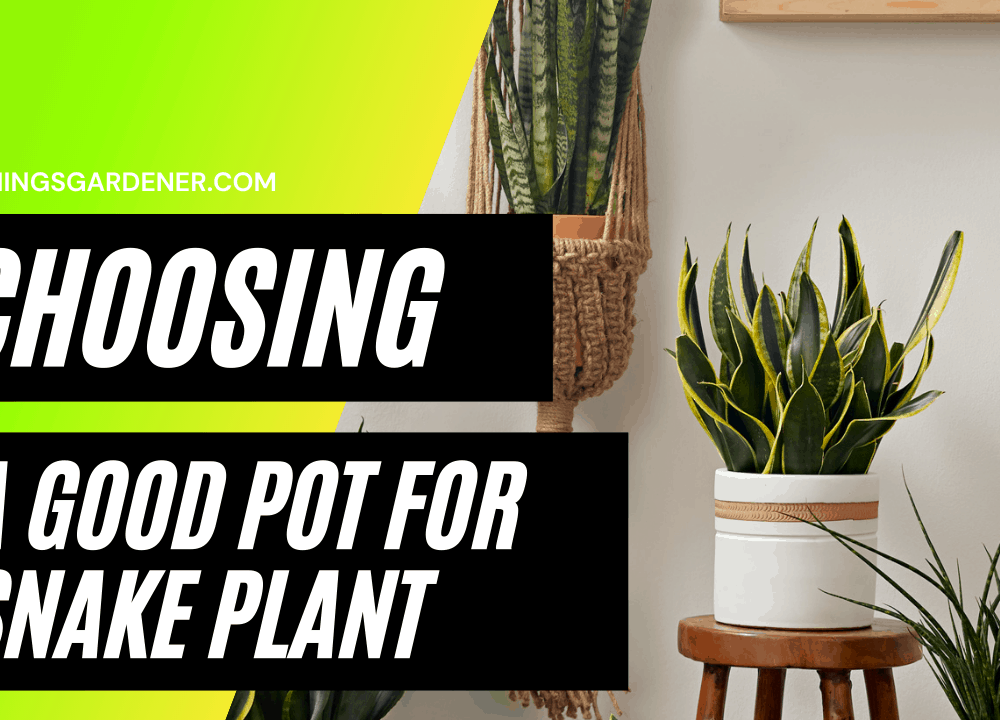 Sansevieria or (san-se-vi-ah) in the Lily family, also known as one of the world's most popular plants.
On the basis of molecular phylogenetic studies, Sansevieria has been included in the genus Dracaena…
…which is native to tropical Africa in particular, Madagascar, and southern Asia. 
The 70 or so species formerly placed in the genus have been known by many common names…
…including mother-in-law's tongue, devil's tongue, jinn's tongue, bow string hemp, snake plant, and snake tongue.
According to the APG III classification system, Dracaena is a member of the family Asparagacea…
…subfamily Nolinoideae (formerly the family Ruscaceae).
It has also been placed in the family Dracaenaceae.
With its durability, the Sansevieria makes an excellent choice for apartment dwellers…
…who typically have difficulty with houseplants due to limited lighting.
They should take a good look at snake plants. As the most tolerant of all decorative plants…
….Sansevieria can survive the harshest growing conditions, abuse and neglect. 
Simply put, sansevieria is a tough houseplant to kill. Snake plants are versatile…
…classic houseplants with sword-like foliage.
The great thing about this plant is that it's a great plant for forgetful gardeners and it's an excellent air purifier plant for indoor environments.
Despite being a resilient succulent that can grow from 6 inches to several feet, snake plants have a number of health benefits.
Household plants are often strategically placed for decoration and to maintain good feng shui.
But did you know that some of these same plants also have some health benefits?
You might be surprised to learn that snake plants bring both health benefits and beauty to your home.
Keep reading to discover the snake plant's benefits, how to care for one, and how to keep it alive.
Here's the Jonah's story about he's having experience for the first time repotting the snake plant.
Let us hear Jonah's story…
In the last summer, I went to my grandmother house while bringing my snake plant that need to be repot.
I dont know how to do it, but my grandma said she could do it.
After I arrive, she' s hugging me and "C'mon, I'll show you the snake plant pot for good soil drainage for your snake plant." the woman said to me.
The two of us walked over to a shelf and she picked up an empty clay pot with small holes on the bottom.
"This is perfect because it has these little holes that help drain out all of your water so it doesn't get too stagnant."
She carefully placed the plant in this new home and stepped back to admire her work.
That was when I noticed how meticulously she had gone about watering each individual leaf before planting anything;
he couldn't help but feel a sense of awe at his grandmother's patience.
After that, the new snake plant was repot from the old pot to the new one with the good drainage.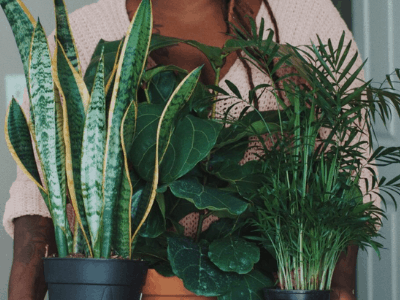 That's because summer's hot weather is ideal for this African native. Snake plant's upright, modern style makes it the perfect "thriller" portion of any outdoor planter.

Karen Weir-Jimerson, writer, editor, and regular contributor at Better Homes and Gardens and Country Gardens
Perks of Having this plant
Well, this plant is one of the famous houseplant that you will ever had.
Recognizable and easy to care! Isn't that great?
The snake plant is native to Africa's tropical western region, from Nigeria to Congo, where she goes by the scientific name Sansevieria trifasciata; however, she goes by a variety of other names. 
She is most recognized as "snake plant," or "mother-in-law's tongue" because of the shape and the sharpness of her leaves.
n Brazil, they call her "Espada de São Jorge," because she is associated with the sword of Saint George, and in Japan, they call her "Tiger's tail." 
Like all famous people, the snake plant suffered criticism.
She was associated with bad luck.
This is just a rumor. In fact, the plant was cherished in ancient times and was believed to bring good luck in several countries.
Here's the thing….
Best pot for Snake Plant!
When a plant is paired with an equally beautiful pot, there is something unquestionably satisfying.
Snake plants (Sansevieria Trifasciata), more commonly known as Mother-in-law's tongue…
…look beautiful with their upright leaves and vivid green leaves.
Additionally, choosing the right pot to accommodate different types of plants is quite essential.
Find out how to pair your snake plant with an absolutely gorgeous and extremely convenient pot.
Picking the perfect pot isn't the most important thing for growing healthy plants, but it's definitely a bonus.
Each plant has unique features that play an important role in deciding the right type of container.
Different plants will dry up the soil at different rates.
It is very important to repot some species after a few weeks since they grow very rapidly.
The type of foliage is also a deciding factor. For example, trailing plants work wonderfully in hanging planters.
There are few major considerations that you have to know for choosing pots or containers for snake plants…
…so you will not regret when you have bought one.
Let's go through them one by one.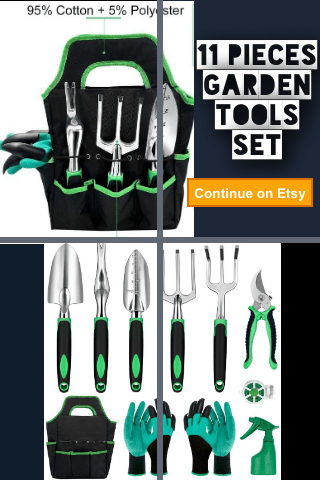 New facts for you!
Is Repotting Is A Must For Snake Plant?
It's purely depends. Depending on the size, age, and reliability of the pot…
…snake plants needs to be repotted every other year or two.
Providing your plant with a new home is always a good idea. It helps it grow healthier and stronger.
The second time you should repot is when the plants have lost its leaves, you need to buy a new plant.
A new sapling comes in plastic grows containers and by the time it is purchased it is usually overgrown.
From the greenhouse, recently purchased plants appear full and fresh.
Without proper repotting, the plants will progressively waste away.
That's a total waste right? A repotting does not always mean increasing the size of the pot.
During repotting, the plant's roots can be rehabilitated with a new potting mix or by replacing the old soil with fresh.
Essentially, you would have to replace the old nutrient-depleted soil with a new soil mix.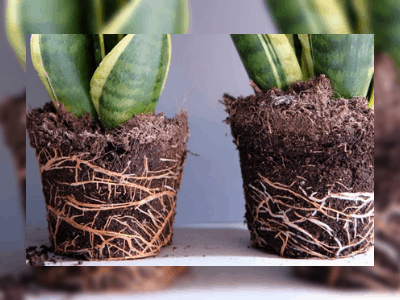 Go on…
Does the pot need drainage?
Absolutely yes! Well logically, any plant in this world needs good drainage.
Proper water drainage is extremely important for snake plants.
The roots of mother in law's tongue plants rot when overwatered, so they are prone to overwatering.
These factors are applicable to basically all Sansevieria varieties.
There are some houseplants that can be cultivated in pots without drainage if you apply a little finesse.
However, for snake plants it's best to always choose pots with drainage.
There are a few different types of pots that provide good drainage, which I'll explain in a later section.
Next up....
To ensure a snake plant grows properly and does not get sick, it's important to choose the right pot for its size.
Making a decision about the container size can be a little confusing, especially for those who are just starting out.
Here are some guidelines that can help you with that.
Select a Good Pot That Fit To The Plant Size
Despite the fact that this is a natural tendency for plants, too much or too little space can aggravate conditions.
If a pot is too large, it leads to slow drying of the soil, and can cause plants to stay watered for long periods of time.
Root rot occurs when a snake plant's roots become infected.
That's will be quite a problem if its happen to your plant.
Conversely, a pot caused by a small opening can cause the soil to dry out highly.
The plant will need to be watered more often.
Additionally, your snake plant may become root-bound, and its growth may become stunted.
Also, when larger plants are placed in pots that are too large for them, the snake plant will occasionally tip over.
Consider The Growth Rate of Your Plant
When you purchase a smaller plant from a nursery, use a pot the same size that it is growing in.
The plant has grown out of its current pot when repotting.
Choose a pot with a diameter a few inches larger than the ones you use.
You should choose a pot 2-4 inches larger if your plants grow quickly.
For slower growing plants, a pot 1-2 inches larger is recommended.
As a general rule snake plants are considered slow growing plants.
A snake plant growing outside tends to grow a little faster than an indoor snake plant.
Dwarf Sansevieria varieties such as Sansevieria Trifasciata Hahnii are slow growing and usually don't reach more than 6 inches in width.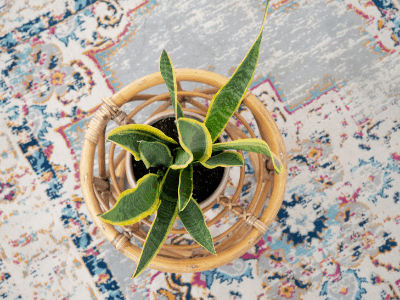 Last but not least…
Don't Make a Drastic Jump In Sizes
As discussed before, too much space could pose a threat to the plant's health.
Make sure that the pot size is not drastically increased as you will ruin the flavor.
There will be a long wait for the plant to start spreading.
Moreover, it can increase your chances of overwatering the plant.
If you have snake plants, choose a pot that is 1-2 inches larger than the existing size.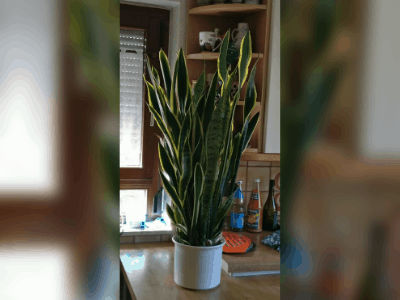 See having Snake plant is good choice for you to have! It's cool, its famous, it's easy to have and care!
What else do you need? In this pandemic time like this, is a good choice for you to have an new activity…
…and having snake plant is a good choice for you to have!
Last thing for sure. This plant need to be care carefully, remember plant need the "love" too.
Alright that's all for today! Do you have any questions about all of this?
Or do you want to add some good pot choices for snake plant?
Let me know your recommendation from the comment below.
I hope you can now take care your snake carefully and grow it big!
Thanks for reading this article! Bye!