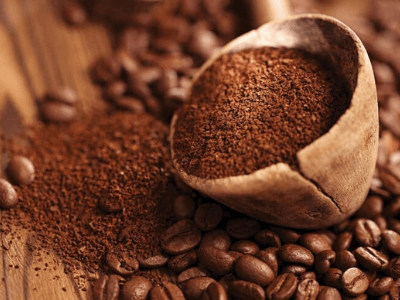 Having a passion for coffee, I have conducted extensive research…
… on the relationship between coffee grounds and houseplants.
The article enlightens us on whether you or your plant appreciate coffee as much as we do…
Hear it from Greneth!
At first, I never knew that kitchen supplies may also benefit the garden…
… except for kitchen waste of course, since compost is a popular thing.
Then I came across articles about coffee grounds…
It turns out that coffee grounds are actually beneficial…
… to plants and to primarily the soil the plants are in.
I only know that coffee contains nitrogen that helps plants grow…
… other than that, what are the benefits of coffee grounds for houseplants?
In particular…
I will explain how coffee benefits houseplants…
… why some people use coffee grounds as fertilizer…
… and if coffee grounds work as claimed. Let's get started.
Do Houseplants Like Coffee Grounds?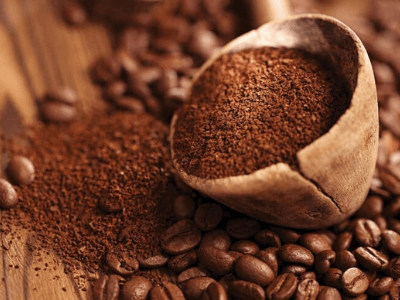 Coffee grounds are good for houseplants…
… because they provide extra nutrition and act as a natural fertilizer.
In my opinion…
Coffee grounds are not as beneficial as worm castings as fertilizer…
… and we should use worm castings instead.
You can give your houseplant some coffee grounds if you want to give it a little treat…
… but don't expect any miracles to happen.
Can Coffee Grounds Be Used As Fertilizer?
The answer is yes, you can fertilize your houseplants with coffee grounds…
Coffee grounds are one of the most natural plant fertilizers…
Many people use them as plant fertilizer…
I too think that coffee grounds don't have the same impact as worm castings for fertilization…
… and I prefer using worm castings.
Coffee is thought to provide our plants with nitrogen…
Plants need lots of nitrogen for the production of chlorophyll, so they require a lot of it…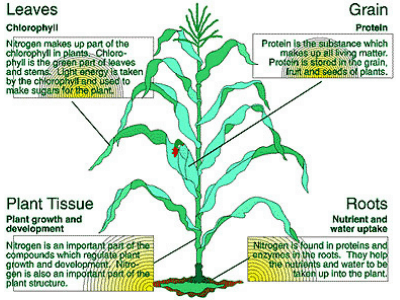 Among the constituents of coffee grounds are Nitrate, Nitrogen, and Ammonium…
As plants need nitrogen to thrive, this is a good thing…
Plants are notoriously poor at absorbing nitrogen from the air…
… so the only way for them to absorb it from the soil is through the roots.
Nitrogen can be absorbed more readily in soils that have coffee grounds added to them…
Nitrogen is primarily absorbed through fine roots as either ammonium or nitrate.  This uptake can be affected by soil type, pH, temperature, soil moisture content, and time of year.

Dr. Desmond R. Layne in The Importance of Nitrogen
Unless your houseplants are given the nitrogen they need to grow…
… you will see the leaves beginning to lose color, the stems becoming thinner…
… and the plant no longer growing. It will wilt and eventually die.
Why Use Coffee Grounds to Fertilize Indoor Plants?
Kitchen waste and nutrient-rich coffee grounds are common household waste items…
… that are thrown away by most people.
They are widely available and free, plus they are high in nitrogen…
… one of the essential nutrients for healthy plant growth.
It is also possible to reduce household waste by using coffee grounds on indoor plants…
Since people have been using coffee grounds in their gardens with reasonable success for years…
… it is only natural for them to experiment with using them to fertilize indoor plants.
We shall see that this is definitely something you should consider…
… but there are significant issues surrounding their use.
Do Coffee Grounds Cause Acidic Soil?
There is no risk of acidic soil resulting from coffee grounds…
With a pH of 6.8, they are slightly more acidic than alkaline, but not enough to be considered acidic…
There are only 0.2 pH units difference between coffee grounds and official pH neutrality…
Benefits Of Using Coffee Grounds On Houseplants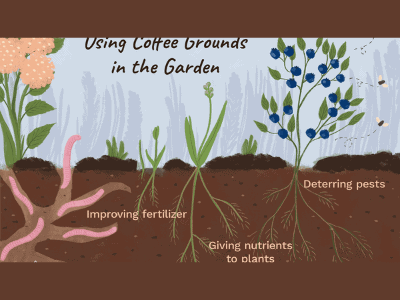 Coffee grounds can be used to fertilize house plants in some ways…
It's no secret that coffee grounds aren't magic for plants…
… but if you want to cut waste or are on a budget you can use them.
Coffee grounds have the main advantage of…
… assisting the soil in your pot to loosen and stay moist…
… however they do not work as effectively as perlite.
The following are some of the most common statements made by people…
… who mix coffee grounds with soil for plants.
Disease
It is believed that coffee grounds contain microorganisms that prevent pathogenic fungus from growing…
Thus, you will directly reduce the chances of rot…
Water
Water is held in the grounds of coffee and is slowly released to the soil…
Consequently, coffee grounds act as self-waterers…
… reducing the amount of time you have to spend watering your houseplants.
Pests
Slugs can find their way into your home and enjoy your plants if the soil is covered in coffee…
As slugs and snails both dislike coffee, you can keep them away from your plants with coffee…
Soil
Plants benefit from the nutrients released by coffee grounds…
Specifically, your plant could benefit from an increase in potassium, nitrogen, and phosphorus…
As a matter of fact, you can use coffee grounds as houseplant fertilizer…
Pets
It is possible to stop cats from digging up your plants by sprinkling coffee grounds over them…
Why Not To Use Coffee Grounds On House Plants?
If you want to use coffee grounds on your plants…
… you want to avoid fungus gnats because they tend to attract them.
Gnats do not damage your plant, but they can be quite annoying if they are present in large numbers…
Food is an attraction for fungus gnats…
… which are a problem with most DIY fertilizers.
The bananas are a no-no! You can use coffee grounds, but not bananas…
In any case, coffee grounds are fine to use on plants…
It is safe to add coffee grounds to potting mixes without causing damage to your plants…
How Often To Put Coffee Grounds On Houseplants?
There is no right or wrong answer here…
Depending on the plant, I recommend putting coffee grounds on it once a month…
While it might be tempting to sprinkle coffee grounds on your houseplant after every cup of coffee…
… you run the risk of unbalancing the nutrients.
Your plant can take advantage of coffee's benefits this way…
… and your soil won't be overwhelmed by it.
By doing so, you are being environmentally friendly…
There Are Much Better Alternatives
Coffee grounds are not the best form of fertilizer for houseplants, as the bottom line shows…
It is probably better to use coffee grounds for your outdoor plants…
… or to make use of this kitchen waste in another way…
… rather than fertilizing them with natural or synthetic fertilizers.
In many areas…
Kitchen and garden waste is now collected separately…
… from the remainder of a person's waste by the local authorities.
In this way, local authorities can recycle organic waste into compost…
… which can then be used in more appropriate settings.
To sum it up…
You now know that houseplants love coffee grounds, but they're overrated as an effective fertilizer…
The plant doesn't hurt to receive coffee grounds, so you can give it to it if you want…
The soil can be fertilized with coffee, but it will require a large amount to make any noticeable difference…
The use of coffee grounds can help prevent soil disease and maximize plant drainage…
In other words…
They could be used as an alternative to charcoal and perlite…
… when potting mixes for indoor plants are created.
To keep slugs away, you can always spread your coffee grounds over your outdoor plants…
Even if you don't plan on using your coffee grounds on your plants…
… you can continue to use the grounds to keep them away.
Conclusion
I'd like to hear from you if you are using coffee grounds on houseplants…
Your personal experiences would be greatly appreciated…
Also, it will be helpful to other readers!
Check out more posts on our website like this one here!
Share with us in the comment below, or contact us whenever!
Have an awesome gardening journey!
Related Articles!