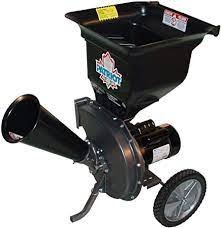 An electric leaf chipper shredder is the best outdoor power tool for gardeners. No matter where you live, winter weather may leave your lawn with a combination of fallen branches, leaves, and other debris. An excellent equipment for reviving and cleaning up your yard is a leaf chipper shredder.
The goal of these instruments is to make it easier to remove yard debris, such as leaves, small branches, and twigs, which may also be used for other lawn tasks.
It saves time. These tools can consolidate 10 bags of rubbish into one for speedy cleanup, in addition to helping you cleanse your yard of twigs and leaves. This will allow you to save both time and space.
Mulch. Use the chipping capabilities to turn twigs and small branches into fine wood chips for your own nutrient-rich mulch.
Compost. The shredding function of chipper shredders and chipper shredder vacuums makes it possible to swiftly compost plants and leaves. Smaller pieces reveal more surface area, hastening the disintegration process rather than waiting a few months.
Best Electric Leaf Mulcher Shredder
The Sun Joe is a silent electric leaf chipper shedder with a 15-amp electric motor. The CJ603E is perfect for turning leaves, twigs, brush, and branches up to 1.73-inches in diameter into nutrient-rich mulch! with a reduction ratio of 21: 1. It's easy to assemble and, with its built-in safety stop that automatically engages when the hopper is opened, you'll feel at ease shredding your lawn debris.
Worx is recognized for making cost-effective, long-lasting power tools. A number of leaf-mulcher models driven by electricity are also produced by them.
The Earthwise corded leaf shredder is a strong electric leaf shredder that shreds leaves quickly and effectively. There are three different mulching settings available for quickly shredding leaves. This corded electric mulcher is entirely driven by electricity; no oil or gas is required for it to function.
The Earthwise shredder has a comparable level of power as a gas shredder yet emits no harmful fumes. An Earthwise leaf shredder can mulch 55 gallons of leaves per minute, utilizing a 16:1 mulching ratio. This lawn shredder is ideal for your garden because it is portable and easy to use.
How Does a Leaf Shredder Operate?
Leaf shredders use blades or strings to cut leaves into little bits. Handheld shredders commonly release the mulch into a collecting bag when used as leaf blowers or vacuums. Leaves enter in single units at the top and leave as mulch at the bottom. The mulch may be spread out on the ground, composted, or gathered in a bag for collection.
Leaf Shredder Maintenance and Safety
Even though it ought to go without saying, you should never put your hand into a running shredder. Eventually, every leaf shredder will become jammed. Refrain from using a stick to drive the load through when that happens. Turn off the power out of an abundance of caution before clearing the obstruction.
Additionally, keep in mind that the shredder will generate a lot of dust and debris while in operation. Despite how painful it is to have leaf particles in your eyes, this usually doesn't require medical treatment. To avoid being hit, put on a mask and eye protection. When the shredder gets noisy, use earplugs to protect your ears.
Conclusion
Anywhere you reside, the winter season may leave your yard covered in a mixture of broken branches, leaves, and other trash. A leaf chipper shredder is a great piece of equipment for revitalizing and cleaning up your yard.
We may add leaves, a free organic resource, to the soil to refill it with nutrient-rich material. You might discover that the best way to manage them is to shred them with a leaf shredder.
We appreciate you taking the time to read our blog post. If you're looking for more fun information about all garden issues, check out our blog post !