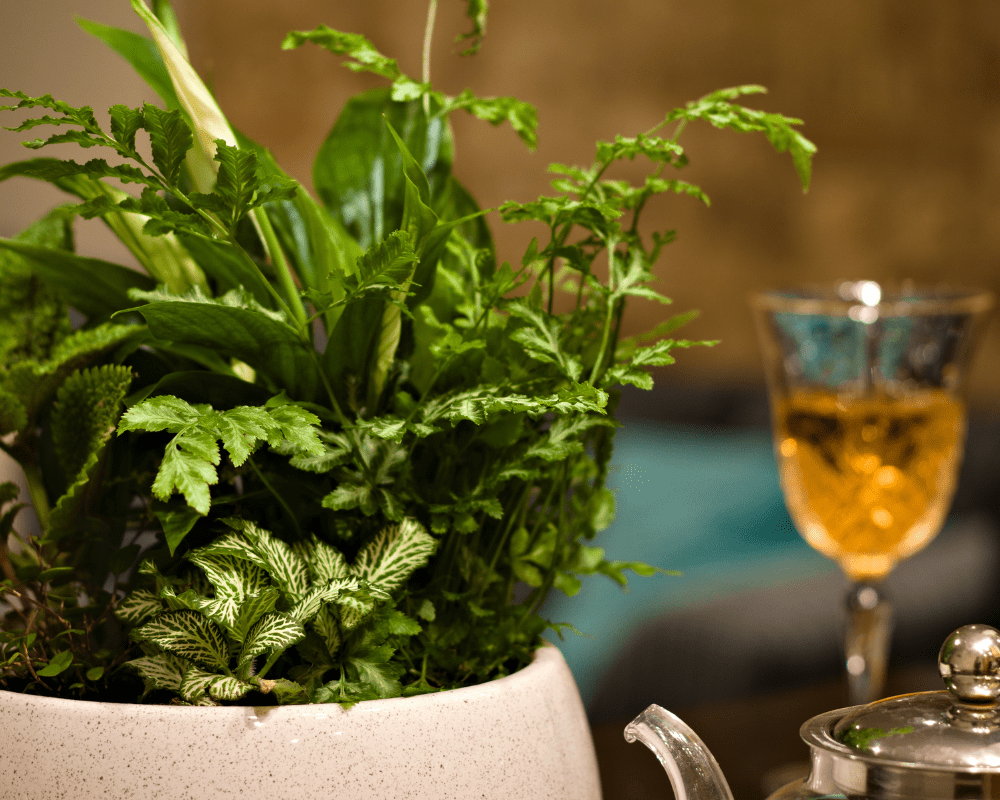 Most people simply plant one houseplant at a time…
… but could you grow several houseplants in the same container?
Hear it from Keanu!
Planting one plant in a pot is the safest way to go…
… but I am also intrigued with the idea of planting plants together…
… I mean like planting different plants together in one pot.
I find that this way of planting will safe up space…
… and also accentuates rooms more than just one in one.
Before looking it up in the internet…
… I didn't know that there's actually a term of planting plants together.
Companion planting or houseplant pairing – this is now my favorite method of planting…
Are you like Keanu?
If you are also the person who just heard of houseplant pairing…
… and you wonder whether that's a thing you can do or not?
The answer is yes! The key to combining multiple houseplants into one container…
… is selecting houseplant pairings that complement one another.
Let's find out!
Is Houseplant Pairing A Thing?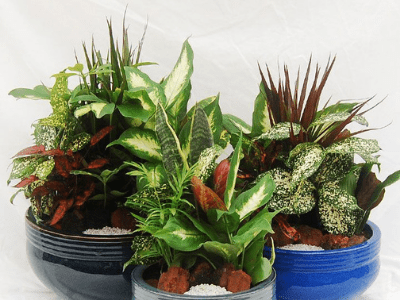 Yes, more than one houseplant can be used in one container…
Think about how plants are typically combined in the garden…
If you have purchased or received a basket for a gift, you will see…
… that the florist combines several plants together.
The best way to houseplant pairing in one container…
… is to provide them with the same growing conditions.
Consequently, it would not be a very good idea to combine a cactus with fern…
Other succulents, however, prefer the company of cacti or other succulents…
The Perks Of Houseplant Pairing
An individual ficus in an empty corner or a hanging fern are great…
… but when combined with other likeminded plants, the combination makes a statement.
There are many ways to use plants, such as combining plants…
… to bring attention to a color, grouping taller plants to draw the eye upward…
… using textures and colors to add drama, and using trailing plants…
… to create movement that can transform a lonely plant into a work of art.
What Are Companion Houseplants?
Companion plants share the same needs for light, nutrition, and water…
As previously mentioned, it is very unlikely to plant a fern and a cactus together…
Cacti prefer a long, dry, cool winter dormancy…
… while ferns prefer low light and consistently moist soil.
Several plants, such as Kalanchoe daigremontiana…
… are also allelopathic, making the soil they grow in toxic.
There's nothing wrong with it; it's just an adaptation to survive…
Thankfully…
Most house plants are quite resilient and pair up nicely together…
Some common houseplants, like philodendrons, schefflera and peace lilies…
… all tolerate moderate levels of light and humidity…
… so all of them can be combined in one pot.
The short stemmed dracaena adds height and the coleus imparts color…
… which makes the arrangement intriguing.
You can grow your houseplant pairing in individual pots in a basket…
… if you can't seem to find plants with the same requirements.
As time progresses and the plants grow, they may need to be repotted…
… and moved, but still, they can benefit from watering…
… and fertilizing individually for the time being.
Don't forget that…
The plants need equal lighting requirements…
You can choose from different growing habits, including upright to cascading…
… different textures, and different colors. For example, put in some annuals…
… for some color, knowing that the time will come…
… when their time is done, but enjoy them nonetheless.
The tallest plant you can use for a combination pot…
… is usually one planted near the back center of the container.
Trailing or cascading plants should be planted around the outside of the pot…
Build a pyramid out of the tallest plant, and plant all the plants around it…
Do not be afraid of trying different combinations, just do some research first…
Even with the best of knowledge, there are times when plants…
… that look just as good together, do not get along.
Houseplant Pairing With Snake Plants
There are a number of cultivars of dracaena, which generally vary mostly in height…
However, container-grown dracaena will be smaller. As an example…
… the corn plant dracaena, or D. fragrans, can reach heights…
… of up to 50 feet (15 m.) in its native tropical Africa…
… but it will only grow as high as six feet (2 m.) inside a container.
Depending on the height of your dracaena plant companions…
… Song of India may be a better selection with its yellow-green varigated leaves…
This plant can reach a height of around 3-6 feet (1 to 2 m)…
You must consider…
The dracaena's needs when choosing houseplant pairing.
Companion plantings combine plants that have…
… similar light, feeding, and water requirements.
Plants of the dracaena family thrive in well-draining soil…
… which requires only one time of watering weekly…
… and a small amount of feeding once or twice during the growing season (March-Sept).
These plants do not require constant moisture, nor do they require constant feeding…
They require moderate amounts of indirect sunlight as well…
What to Consider
We will now examine potted dracaena pairings based on the dracaena's needs…
In planting mixed container arrangements…
… it is usually a good idea to include a "thriller" such as dracaena…
… as the focal point that will add height to the vase…
… while also incorporating some lower-growing "filler" plants.
The magic behind focal-point planters is the inclusion of three key plant proportions in your pot. Great designs include a "thriller," a tall plant usually with a strong statement of form and color, "filler," plants that fill the space hiding the soil and "spiller" that weeps over the edge of the pot. The result is a three-dimensional arrangement that looks opulent, mature and permanent.

National Association of Landscape Professionals
Dracaenas are medium light plants, so how about…
… including some low to medium blooming annuals…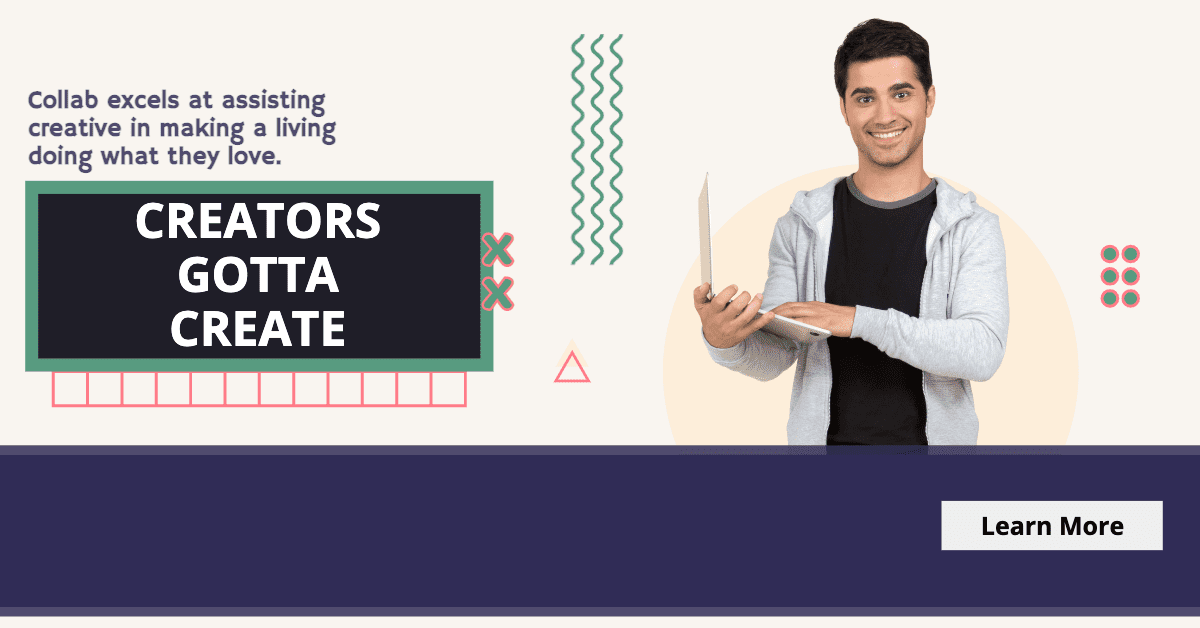 … like some colorful impatiens and a purple sweet potato vine to set it off.
There are also perennials such as coral bells as well as…
… creeping jenny and maybe two or three petunias.
Moreover…
The number of houseplant pairings you need depends on the size of the container…
Make sure to leave room for them to grow if they are not fully grown already…
There is a general rule of thumb that says three plants per container…
… however, if your container is huge, throw the rules out the window and fill it in.
Begin with the center "thriller," the dracaena, and work outward from there…
You can add additional interest to your garden by mixing up perennials with annuals…
… as well as choosing plants that bloom and those that do not bloom.
The only limit to your companion choices really is your imagination…
… since dracaenas require moderate indirect light, moderate water, and minimal feeding requirements.
7 Houseplant Pairing Ideas For Your Snake Plant!
There are so many houseplant pairing for a snake plant!
Combining it with just about any plant works wonderfully well!
Here are a few options that would go well together…
Bird of Paradise
The tall, gorgeous houseplant pairs very nicely with a snake plant…
Both plants look amazing in the same place. They look great on a verandah or indoors…
A tropical houseplant, Bird of Paradise, grows indoors in most climates…
Still, it can also be grown outdoors in a frost-free region…
Its elegant looking leaves do wonders for a plain wall in a living room…
Several different kinds are available…
… such as Orange Bird of Paradise that blooms…
… and White Bird of Paradise that has leaves resembling palm leaves…
These plants can be grown on patios, balconies, decks, or outdoors…
Indoors, these plants will flourish if given light of medium or bright intensity…
They also need to be watered regularly, but once they are well adjusted to the pot…
… missing a few watering sessions will not hurt them.
Variegated Ivy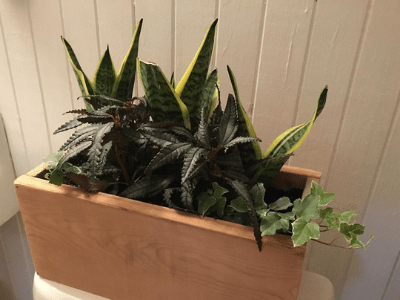 Houseplants like this one are easy to maintain, and it makes a cute house plant…
… that looks good anywhere in your house as long as it gets enough light and water.
The beauty of this plant is that you don't even have to plant it in a pot…
You'll be fine growing it in a basket, allowing it to climb, and if nothing else…
… even letting it hang at the side of the pot will work.
The ivy plant will look unique if it is placed in the snake plant's pot…
The ivy plant can be grown under low or medium light because it is not very picky…
You can help it grow to its maximum potential by giving it light…
… and watering after the top inch of the soil mix becomes dry.
Mandevilla Plant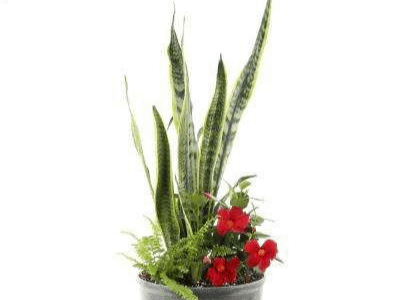 It is recommended that you add a colorful plant with your snake plant…
A Mandevilla plant is an excellent choice because it is a vine…
… that comes in shades of pink, red, and white.
Mandevilla is typically planted with other plants because of its flowering ability…
It requires moist conditions to grow, but it should not be wet, and cannot handle frost…
Calibrachoa
Growing it is easier than spelling it! Another colorful plant…
… to try in your pots, baskets, and boxes, Calibrachoa.
This colorful plant grows up to 10 inches in height…
… and will drape itself along the outside edges of the container.
The small, colorful flowers that appear on this plant throughout the summer may be bi-colored…
Calibrachoas grow well in both sunlight and shade provided they are well-fed…
To keep them blooming all year add liquid fertilizer on a regular basis…
Marigolds
This beautiful plant is a great way to add a little sun to your garden…
You can grow marigolds easily and they grow throughout the season…
… and you can choose from many different kinds.
The sight of marigolds and snake plants in your garden…
… will make a visually pleasing sight.
Marigolds need direct sunlight for up to 6 hours a day…
The marigolds need well-draining soil that is hot and humid at the same time…
Marigolds are also relatively drought-tolerant…
Fittonia
Fittonia albivenis can be placed on top of the table, in a basket…
… or in a glass container and is an excellent addition to your houseplants.
Placing this plant in different colored pots can make any space more colorful…
The leaves have red, white, and pink veins running through them…
Nerve plants, which are similar to Fittonia, and snake plants…
… would be good houseplant pairing as well.
Snake plants grow in low light conditions…
This plant's leaves can become crisp when exposed…
… to excessive sunlight because they are being burned.
Succulents
Succulents love the sunlight and love the bright light…
… which is why they make such useful desk accessories.
However, they also prefer artificial lighting, which is why…
… they make such useful accessories for your desk.
Just like snake plants, succulents do not need to be watered every day…
… because they store water in their leaves.
Use an all-purpose fertilizer if you expect fast growth from succulents…
Succulents are naturally slow-growing plants.
after several months you would want to prune them…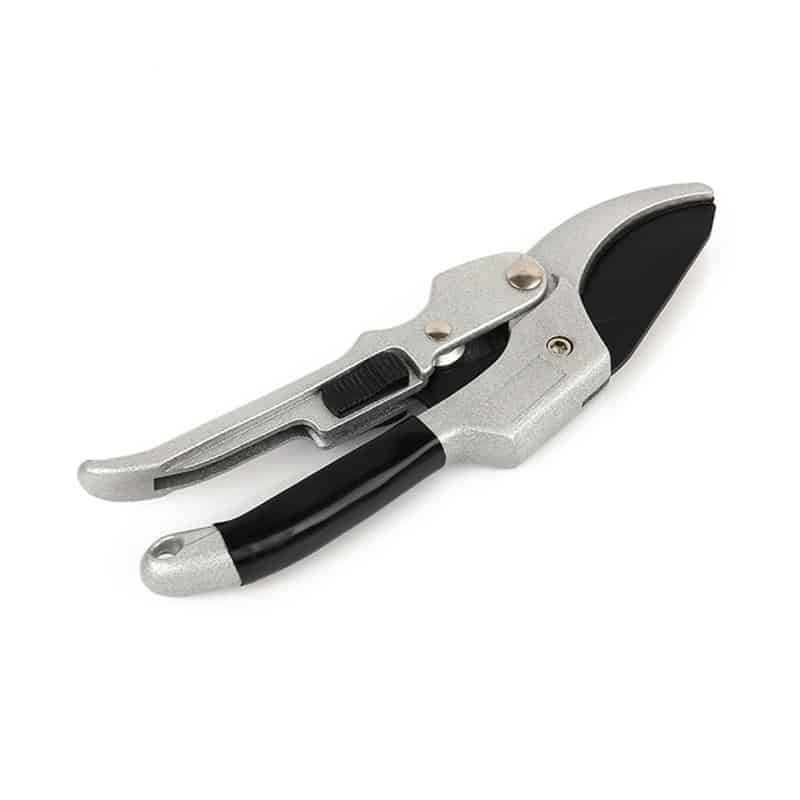 High-Carbon Steel Grafting Shears for Gardening
Ideal for cutting stems and light branches. Easy-open lock protects the blade during transport and storage
Fully hardened, precision-ground steel blade stays sharp, even through heavy use
Price: $25.00
on Amazon: $28.00
on Walmart: $29.90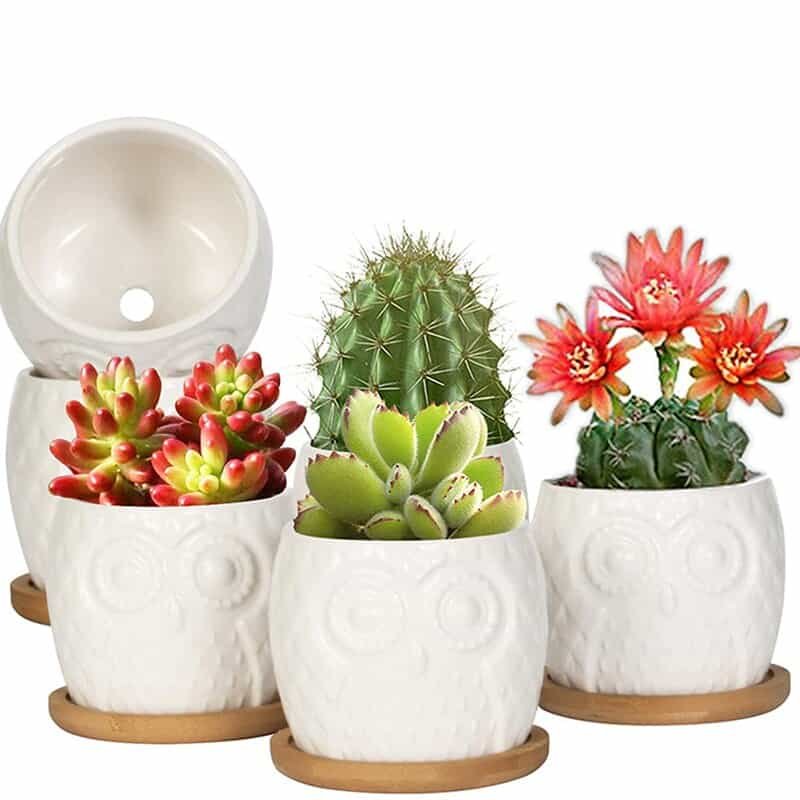 Ceramic Succulent Planter Pots Cactus Flower Pots with Drainage
Whatever you choose to pair your snake plants with, make sure you have a good pot with drainage.
A great water flow will make your plants happy!
Price: $13.00
on Amazon: $18.00
on Walmart: $22.90
finally…
Conclusion
Yes, companion planting and houseplant pairing is a thing…
You can actually plant different plants together…
… as long as you consider the factors of each plant…
… so that you can group plants with similar needs.
Especially for Snake Plants, you must look for houseplant pairings…
… with need of bright indirect light, less watering, and less fertilizer.
These plants include Fittonia, Marigolds, and Succulents…
Have a try in houseplant pairings by yourself…
… and let us know how it goes for you.
Check out more of our posts in this website like this one here!
Leave us a comment below or contact us…
… and have an awesome gardening journey!
Related Articles!