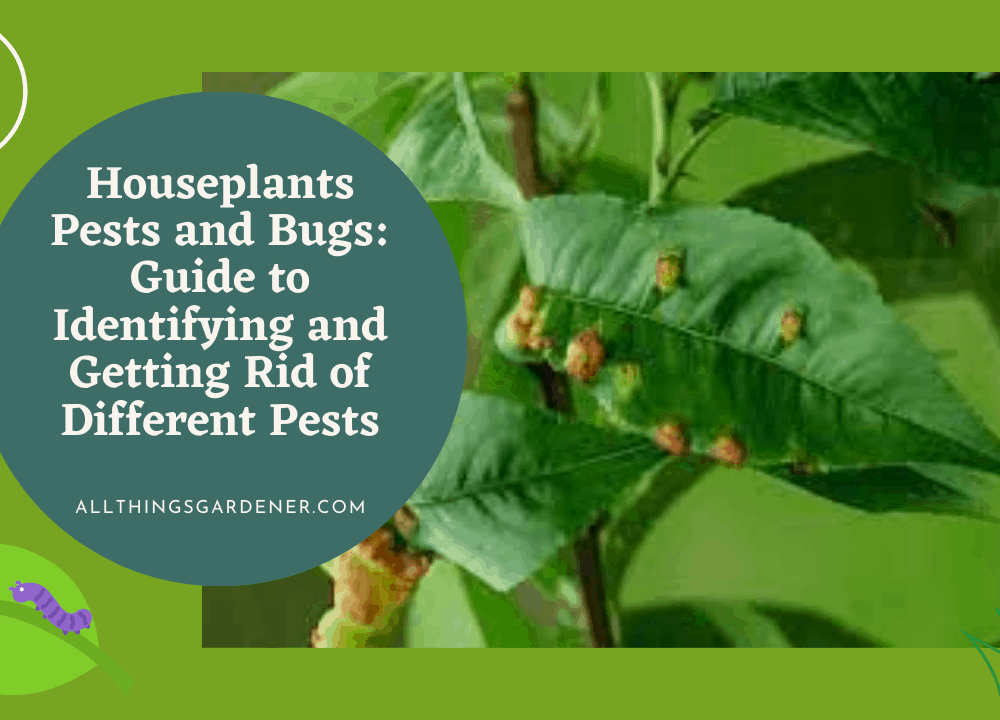 Annoying Pests And Bugs!
A houseplant pest infestation can spread quickly indoors..
..due to the growing conditions indoors, which are warm, moist, and bright.
These conditions provide an ideal environment for houseplant bugs to thrive.
You must be able to recognize…
….common indoor plant pests in order to get rid of the bugs quickly..
..as well as regularly inspect houseplants…
…for signs of pests in order to prevent infestations before they get out of hand.
Carefully maintaining houseplants makes them less susceptible to pests.
Research indicates that houseplant bugs affect stressed plants in several ways.
These include weak growth, changes in leaf color..
..isolated spots on stems and leaves, webbing under leaves, or wilting.
Throughout the article you will learn how to identify the pests and bugs that affect houseplants….
….as well as learn how to get rid of them naturally.
It is always a good idea to isolate houseplants…
…from other indoor plants when you find bugs on them.
This will help you get rid of the pests effectively…
…and prevent future infestations.
Here we have story from Danny about his experience encountering pests and bugs on his plant!
Let us hear Danny's story
Yesterday was the bad day that I have ever had! My plant got mealybugs on it!
So after a long day through in summer, I back to home with my dad after having a monthly grocery.
I have a lot of plants inside the house. As I walked up to the plant, I noticed that it had some mealy bugs on it.
That was totally not cool! Weeding would've been easy for this one, but we didn't have any pesticides.
My dad got out a can of hairspray and sprayed the entire thing until there were no more mealy bugs left.
It's so annoying when you have a pests and bugs in your plant! Especially for indoor plant.
Seems like I need to research more about pests and bugs to keep my plants out of them!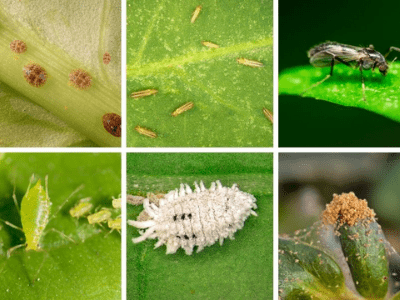 Mealybugs are clever little devils, they like to hide and then come in for the sneak attack. It seems like overnight there's white cottony growth on plants that appeared out of nowhere."

Amy Andrychowicz, author from getbusygardening.com
Here's the main thing!
Types of Houseplant Pests And Bugs
Let's Breakdown This Pests And Bugs One By One!
The bugs that damage house plants come in a variety of colors..
..including small aphids with yellow, brown…
…red, green, or black coloration.
Mealybugs, on the other hand, look like small white specks attache…
….to plant stems and leaves.
They usually come in a wide variety of colors and are long with pointed tails.
While difficult to trace..
..microscopic spider mites eat plants and sometimes leave fuzzy webs on leaves and stems.
There are a number of pests that can live on leaves and in the soil, including fungus gnats.
These pests look like little dark flies, similar to fruit flies, and can damage roots.
Now that you know what the most common houseplant pests are..
let's learn more about them.
Knowing what bugs or pests are living on your plants will enable you to take action..
..before they cause permanent damage.
Aphids
Known as greenflies or blackflies..
..aphids are pests that feed on the sap of house plants and can cause damage….
….so severe that the plants die.
They belong to the superfamily Aphidoidea and are commonly called…
…greenflies or blackflies.
Wasps, ladybugs, and larvae help control aphid populations outside…
…but indoor aphid populations have no natural predators and quickly reproduce.
How to Identify?
Aphids measure only 1/8″ (3 mm) long..
..which makes them difficult to distinguish on plants.
But they can be almost…
…any color black, white, yellow, red, brown and blue.
There even is a fluffy white hairy aphid that feeds on sap.
An aphid infestation may manifest as clusters..
..of these tiny fat insects on plants' young stems and leaves.
In addition to tiny fat insects..
..you may also notice wilting leaves as well as a black sooty mold fungus.
How to Get Rid?
It is difficult to get rid of aphids from plants.
Most bugs can be dislodged with a good spray of water.
You should then wash the leaves and stems with mild soapy water.
Aphid-destroying natural spray is made…
…by mixing 1 teaspoon of organic mild liquid soap with 33 fl. oz. (1 l) of warm water.
Use it every day until the aphids have disappeared.
You can also use neem oil and rubbing alcohol to eliminate aphids in houseplants.
Fungus Gnats (Soil Gnats)
Houseplant fungus gnats live in and on the soil and feed on fungus.
These small, dark winged insects eat fungus…
…and usually do not damage healthy houseplants.
They lay eggs in the soil and their larvae can cause root damage.
These small black pests typically only eat decaying roots..
..which is why they're often found…
…in indoor plants with over-watered roots.
How to Identify?
When you examine houseplants for fungus gnats..
..you'll see them looking like small fruit flies crawling over the soil…
…or flying around your plants..
..the difference being that fruit flies are attracted to fruit and other garbage…
…not your lovely houseplants.
The adult fungus gnats are between 0.08″ and 0.3″ long (2 – 8 mm)…
….and swarm around plants.
They seldom harm plants, but can be a nuisance inside.
How to Get Rid?
Researchers have found that Bacillus thuringiensis var. Israelensis..
..also known as Bacillus thuringiensis or H-14…
….is an effective natural insecticide against fungus gnats on houseplants.
The best way to keep your houseplants free….
…from fungus gnats is to maintain a minimum level of humidity in the soil.
Depending on the situation..
..the soil may need to be replaced or the pot sterilized before repotting.
You should also consider using diatomaceous earth (DE) to eliminate fungus gnats.
DE works by damaging the outer layer of pests, making the soil dry.
You can also place yellow sticky stakes to catch flying gnats.
Mealybugs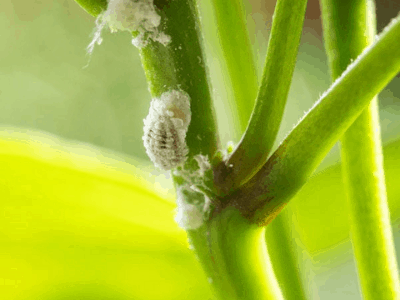 The Pseudococcidae family contains mealybugs..
..a type of sap-sucking insect that can harm your houseplants.
Mealybugs will suck juices from plants until they die if not treated.
How to Identify?
There is a chance that the small white bugs on your indoor plants are mealybugs.
Mealybugs are about 0.25″…
…(6 mm) long, with a segmented body and an oval shape.
You may observe yellowing leaves…
…that may indicate mealybugs and a dark..
..sticky substance known as honeydew on plant stems.
Mealybugs live in the joints of leaf stems and the main stem.
How to Get Rid?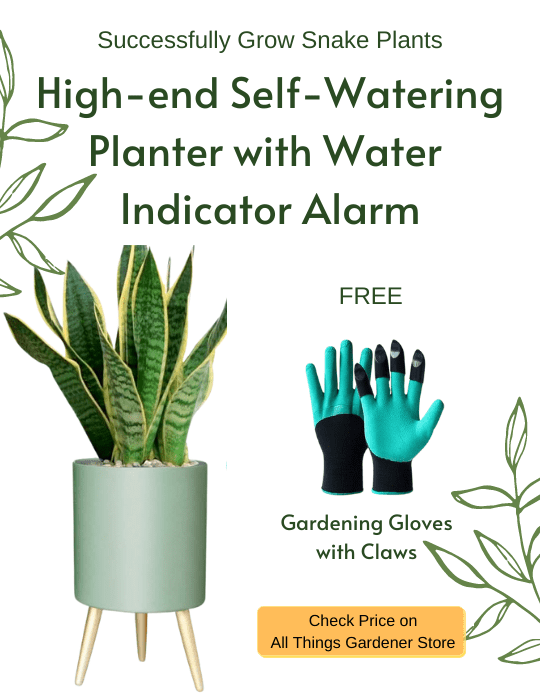 When you notice signs of mealybugs on your indoor plants..
..you should take immediate action.
You can kill these white bugs by treating the plant daily with rubbing alcohol.
Apply the alcohol on cotton swabs and treat the plant until all evidence of mealybugs has disappeared.
Keep reading…
Spider Mites
The Tetranychidae family contains these tiny spider-like mites that can infest your indoor plants.
Spider mites measure only 0.04 inches (1 mm) across and are difficult to spot because their size is so small.
Spider mites feed on sap and kill plants by eating it.
The plants eventually lose their leaves.
They leave behind telltale webbing under plant leaves.
How to Identify?
In addition to silky spider webs on your plant..
..spider mites are often identified by looking for tiny, individual insects.
An extensive spider mite infestation will usually be visible by spider web signs.
When buying plants at a garden center..
..make sure there are no spider webs around the plants.
How to Get Rid?
You should use neem oil immediately if you observe spider mite pests on indoor plants.
Mix 15 ml of neem oil…
…with 1 ml liquid soap and 33 ounces (1 l) of warm water to make a neem oil spray.
Moisten leaves thoroughly with the solution to get rid of most insects.
You can spray neem oil weekly…
…to kill spider mites. However, even after the spider mites are gone..
..continue every two weeks to prevent their return.
Keeping humidity levels high is one way to prevent spider mites from returning.
Whitefly
Whiteflies are a winged insect in the family Aleyrodidae..
..and range in size from microscopic to 0.07″ in length.
They are a pest of indoor plants..
..especially in areas where they can overwhelm plants.
The whitefly typically emerges from underneath the leaf surface when a plant is disturbed…
…which is one way to distinguish mealybugs..
..from whiteflies mealybugs do not fly but instead crawl.
The whitefly, however, can cause the same destruction to plants as mealybugs, aphids, and thrips.
Keep going…
How to Identify?
In order to detect whiteflies on indoor plants..
..turn the leaves over and look for small whiteflies.
Once you spot whiteflies, you need to eliminate them quickly.
They reproduce quickly, and their sap-sucking…
…habits stunt your indoor plants' growth.
How to Get Rid?
The tiny whiteflies can be removed from plants in a variety of ways..
..such as with yellow sticky traps…
..that reduce their numbers.
The neem oil spray can also be used to control the houseplant pests…
….but because whiteflies fly away when disturbed..
..it is only effective on the eggs and larvae.
Spray frequently to disrupt the lifecycle of whiteflies to control them.
Trim off infested leaves and dispose of them outdoors.
Thrips
Thrips are whitish, long, skinny insects that live in the order Thysanoptera.
They are one of the most annoying house pests in many home gardening communities.
Thrips crawl and fly and move rapidly from plant to plant, causing widespread infestations.
They feed on the sap of houseplants, resulting in stunted growth and discolored leaves.
Thrips are not like fungus gnats, which live in the soil.
They move across the soil, up the stems, and under leaves.
How to Identify?
Thrips have long, pointed bodies with pointed tails.
Thrips are usually black, but can also be brown…
…greenish-yellow, or white. You'll often find them on the underside of leaves.
Check for tiny white or yellowish green…
…spots. An infestation of thrips can also be recognized by brown stripes on leaves..
..leaf drop, or dying parts of plants.
How to Get Rid?
In order to get rid of thrips for good, perseverance is key.
Cleaning leaves with insecticide soap is one way…
…to eliminate thrips permanently.
When the leaves have been thoroughly washed, rinse them off with water…
…and make sure that you don't leave any soap residue.
Before using the soap, check one leaf to make sure…
…that it won't damage the plant.
Using neem oil solution as a natural insecticide is another way to get rid of thrips on houseplants.
Spray the solution on plant leaves once a week.
Some of it kills thrips immediately…
…and others die after taking it in.
Scale
Indoor scale insects feed on the sap of plants and can cause considerable damage.
They are in the superfamily Coccoidea and can be found on houseplant stems and leaves.
Scale insects come in a variety of colors, shapes, and sizes.
How to Identify?
Identifying scale on indoor plants is challenging since they do not crawl, fly, or scurry..
..but rather look like…
…little brown bumps or growths on stems.
Usually, they are brown in color, but they can range…
…from white to reddish-brown.
Pests appearing on houseplant stems or leaf joints are easily spotted because of their growth in population.
How to Get Rid?
Applying rubbing alcohol to scale insects will kill them on contact.
Check every crevice of the houseplant…
…since scale bugs like to hide in corners.
Remove some soil from around stems to check for signs of scale insects there.
Scale is a houseplant pest that lives in soil..
..If your plants are infested with scale, you should repot them…
…in a fresh potting mix.
If you are using the same pot, make sure to sterilize it before using it again.
Sum Up
Having to deal with houseplant pests, aphids, bugs..
..and spider mites is a time-consuming and frustrating task.
Many bugs have a life cycle in which adults can die..
..but their eggs can hatch, causing the problem to recur.
It is essential to prevent indoor plant pests from infecting your prized houseplants.
Here are some helpful tips on how to prevent pests from infecting your houseplants:
Always look for pests and bugs when buying plants at garden centers or stores. The most common signs are webbing, tiny insects, unusual spots on leaves, or brown bumps on stems.
Make sure leaves are free of pests by checking their undersides.
You can tell you have aphids or mealybugs if there are sticky substances on the stem.
A healthy plant is less prone to pests. So, provide the proper conditions for healthy plant growth.
Instead of garden soil, use commercially prepared potting soil.
Conclusion
Last thing for sure. This plant need to be care carefully..
..remember all plant need the "love" too.
Alright that's all for today!
Do you have any questions about all of this?
Or do you want to add some method for getting rid pest and bugs on houseplant?
Check out more posts on our website like this one here!
Let me know your recommendation from the comment below.
I hope you can now take care your plant and it's growing big and healthy!
Thanks for reading this article! Bye!
More Related Articles For You!