Do you know how to care for catnip plants in pots? Let's find out together in this article. Keep reading!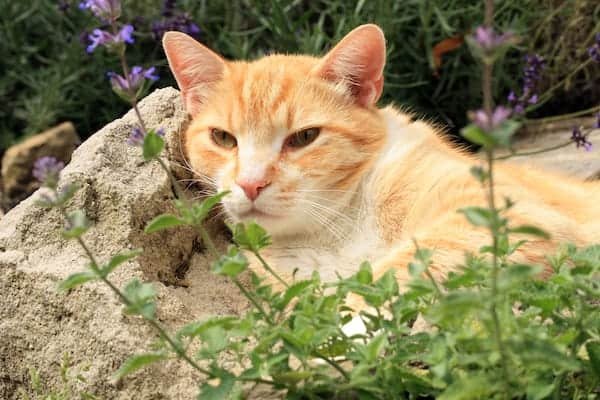 Are you looking for a fun activity to keep your cat entertained? Try growing catnip plants in pots instead.
Catnip is not only full of advantages for them, but your feline buddy will also appreciate you for it! We'll walk you through the process of cultivating catnip plants in pots step-by-step in this blog post.
This manual has all the information you require to get started, from picking the best plant to preparing the soil. So why are you still waiting? Get outside and begin cultivating some catnip!
Before we start the main topic, maybe you are interested in our article here: Effective Tips for Proper Catnip Plant Care.
---
Can You Grow Catnip in a Pot?
Many species and variants of Nepeta, a hardy herbaceous perennial, go by the names catnip or catmint. The species Nepeta cataria is said to as the "genuine" catnip and is thought to have the most fragrant leaves.
Science has been aware of catnip's effects on cats since the 1700s, but recent research has clarified how they function.
Most cats roll, flip, rub, and eventually nod off in response to catnip. They may growl or meow simultaneously. Other cats become energetic or outright hostile, especially if you approach them. These sessions typically last for 10 minutes before your cat loses interest.
Can catnip be grown in a pot? Catnip can be grown in a pot, yes.
Catnip grows well in pots as well. Catnip can actually be contained by using a planting space with a boundary, such as a pot, raised garden bed, or stone wall. A catnip plant can also be grown indoors. All you need is a window sill that gets enough sunlight.
It's recommended to give potted catnip plants regular waterings and to fertilize them once a month using a premium liquid fertilizer.
What possible advantages might cultivate catnip have?
Growing catnip may offer your cats hours of enjoyment and entertainment, as well as benefits to their mental and immune systems, immune system stimulation, and relaxation.
---
A Step-by-step Guide on How to Care for Catnip Plants in Pots
A fun and simple way to add some freshness and taste to your home is to grow catnip plants in pots. To ensure the success of your catnip plants, follow these easy steps:
Water the plant frequently, but not excessively.
Sow the catnip in soil that drains well.
After the catnip has grown to a length of about 4 inches, remove the top few leaves to promote further growth.
While your catnip plant is growing, keep a look out for bugs and weeds since they will compete with it for nutrients and water.
---
What are the Benefits of Catnip for Cats?
Catnip can help keep cats interested and stimulated, which is one of its advantages. Cats also get a soothing effect from catnip, which is helpful when they are nervous or stressed.
Because it is enjoyable and exciting to cats, catnip is a terrific plant for them. Additionally, your cat will spend countless hours amused by catnip plants.
Make careful to heed the following advice to promote the catnip plant's optimal development and survival:
Provide plenty of humidity and sunlight for your catnip plants.
Give catnip plants enough sunlight and humidity instead of watering them as frequently as other plants.
Keep your cat away from the catnip plants so they don't come too close in case they get hooked on the leaves.
How Can I Make Sure That My Catnip Plants Stay Fresh and Green All Season Long?
How can I guarantee that my catnip plants remain healthy and green throughout the entire season?
Water your catnip plants frequently to keep them lush and healthy throughout the entire growing season. If you want to keep the plant active and alive all season, consider adding new leaves and flowers every few days. Water them at least once a week. Avoid overfeeding or overwatering the soil as this can make the plant decay.
The advantages of catnip plants will appeal to cat lovers. These plants provide numerous advantages for cats in addition to giving your feline pals a tasty treat.
In order to ensure that you can continue to profit from catnip for many years to come, we will walk you through the step-by-step procedure of caring for catnip plants in pots in this blog post. Read this article carefully to learn more about the advantages of catnip for your cat.