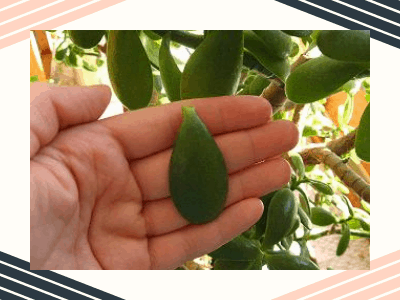 Do you know how to grow jade plant from cuttings?..
… just from leaf cuttings or stem cuttings?
This article will show you how…
… and help your propagation of jade plant!
A backstory from me…
My father is always a garden person…
He enjoys everything to do with plants!
One day,..
I came across a jade plant in front of a store…
I accidently broke its stem…
Not wanting it to be a waste…
I brought it home…
Showed it to my father…
… and let him do his magic.
I wonder if propagation can be done only from broken cuttings…
He took me with him…
… and taught me how to grow a jade plant from just a stem cutting!
Meanwhile…
I also searched on the internet…
… and found this, relating so much on my broken stem experience!
After a few weeks…
The jade plant finally propagate!
I was so amazed by how he did this…
So I decided to write it here…
To help all of you who need this article…
… or all of you who must try it with your own jade plant!
Hear me out…
Before jumping into how to do these methods…
You have to know when is the ideal time to do propagation…
When is the Best Time for Propagation?
Remember that jade plant loves the warm…
They need a humid and well ventilated space for rooting…
This is why summer is the best time for propagation…
They can even grow new jade plant on their own!
Usually, leaves or stems break off on their own…
… and fall onto the pot.
They grow themselves a new jade plant!
But, it's better to do it yourself…
To prevent failure of new growth…
Plus, you can do it anytime throughout the year…
With keeping in mind of the ideal environment a jade plant needs…
Cuttings usually need to be kept at roughly 60 to 75 degrees Fahrenheit…
Keep away your stem and leaf cuttings from direct sunlight…
But put them in places with lots of bright indirect light…
… such as near a window or grow light.
As long as these conditions are applied…
… you can start leaf or stem cuttings of jade plant year-round.
So…
How to Grow a Jade Plant from Cuttings?
There are basically two cuttings you may choose…
Either the leaf or stem cuttings…
This article will show you how to do both…
But it is recommended to do it with the stem cuttings…
… since it will grow faster than the leaf cuttings method.
Leaf Cuttings Method
Here's what you need to remember…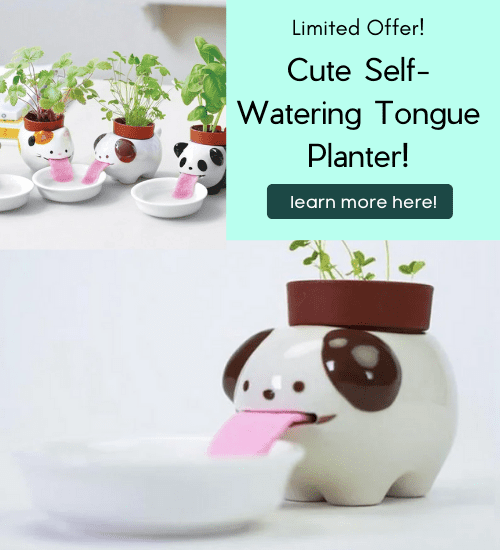 The leaf cuttings method has very simple steps…
But, they have a higher chance of failing…
Nonetheless…
It's a very good thing if you want to try this method…
… and put your full effort on succeeding!
Here are 7 easy steps to leaf cuttings propagation method:
First, choose the most suitable leaf, usually the younger medium-sized leaves, preferably about 7 inches long…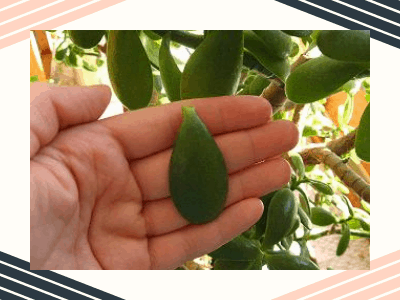 Second, use a blade or scissors to cut the leaf off…
Make sure that you cut the entire stem of the leaf where the roots will grow from…
Third, put the leaf in a dry place to make the leaf callous, away from moisture!
This is important to prevent rot and diseases into the new jade plant and allowing roots to begin growing…
Fourth, tiny white roots will begin sprouting and the leaf will shrink and shrivel after a few weeks…
This is because the roots are absorbing moisture and energy from the leaf to stay alive…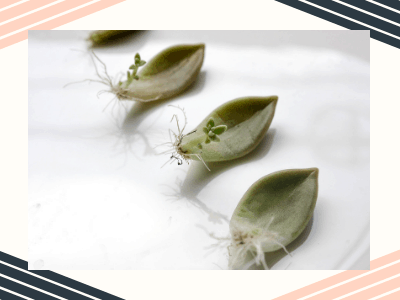 Fifth, put the leaf in a fast draining soil medium (ex. sand and perlite mix) and water occasionally…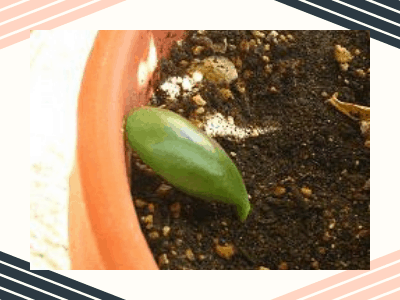 Sixth, a very small leaf and stem will begin to grow once the roots are established…
The leaf cutting will be completely shriveled by then…
Seventh, water only when there are signs of wrinkles in the leaves.
It is better to under-water jade plants than to over-water them. The leaves show signs when watering is needed. Small wrinkles will begin to show on the leaves: This is when watering needs to occur. The leaves will eventually shrivel up and die if the plant doesn't get any water, which ultimately kills the jade.

Thoroughly water when wrinkling occurs. Saturate the soil until water drains from the container. Be sure that the water soaks into the soil, and don't leave the pot standing in water.

This technique of watering builds a resilient jade plant, promotes strong roots, and prevents disease. Remember, jade is native to arid climates and does not receive rain regularly.

Sean Hemmer of Den Garden
Stem Cuttings Method
Here's the commonly used method…
In growing a jade plant from cuttings…
Just like the leaf cuttings method…
The stem cuttings method also has 7 easy steps…
Here's how you do it:
First, select your stem of choice, within 3 to 4 inches tall…
Keep in mind to choose the best looking stem without harming the appearance of the original jade plant…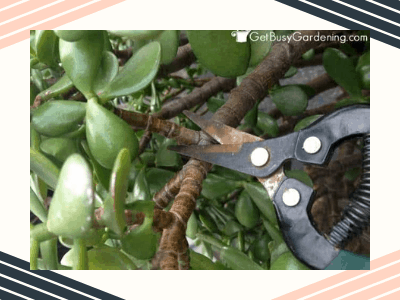 Second, cut a portion of the stem above a node (re: a place where the leaves join the stem)…
The stem cuttings should also have at least one node above the cut…
… with at least one internode (re: a section of bare stem without leaves).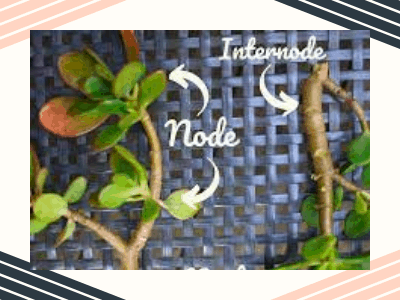 Third, remove the leaves near the cut end of the stem…
… since they absorb energy away from the rooting process of the stem.
Leave only a few young leaves towards the uncut end of the stem…
Fourth, put this stem cuttings in a dry area until the cut end of the stem becomes dry and callous…
This is to prevent rot and diseases from the new growing jade plant…
Fifth, tiny white roots will appear from the cut end after a few weeks…
… and that's when you carefully place the stem into a draining pot of soil (ex. sand and perlite mix).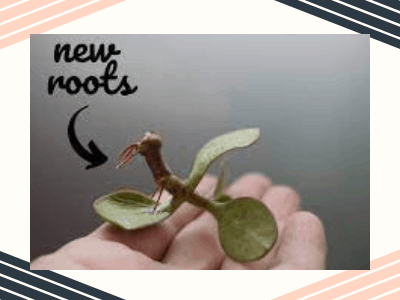 Sixth, water the planted stem cuttings slightly after put in the soil…
Stem cuttings that haven't grown roots yet can start to droop a bit. This is normal, but if yours looks like it's about to fall over, you can use a stick or something similar to prop it up. Once it roots, it'll start growing upright again.

InterMari of Houseplant Central
Seventh, water when you see signs of wrinkling leaves which are lacking moisture occasionally…
Watering only when necessary will prevent root rot and promote strong roots and resiliency…
Time to recap…
Growing a jade plant from cuttings isn't hard at all…
There are only seven easy steps needed…
It is important to keep in mind of the environmental necessities…
… since they determine the success of your propagation.
Keep in warm, humid, and ventilated space…
No direct sunlight…
… and follow on the steps!
You can also find more on this topic in our other articles like this one…
Conclusion
This article is written to help you out on your gardening journey…
If you have recommendations…
Or have I missed anything in particular…
Do comment below…
Spread knowledge and help others…
You can also contact me here…
For any suggestions on the next topic!

Have an awesome gardening adventure!