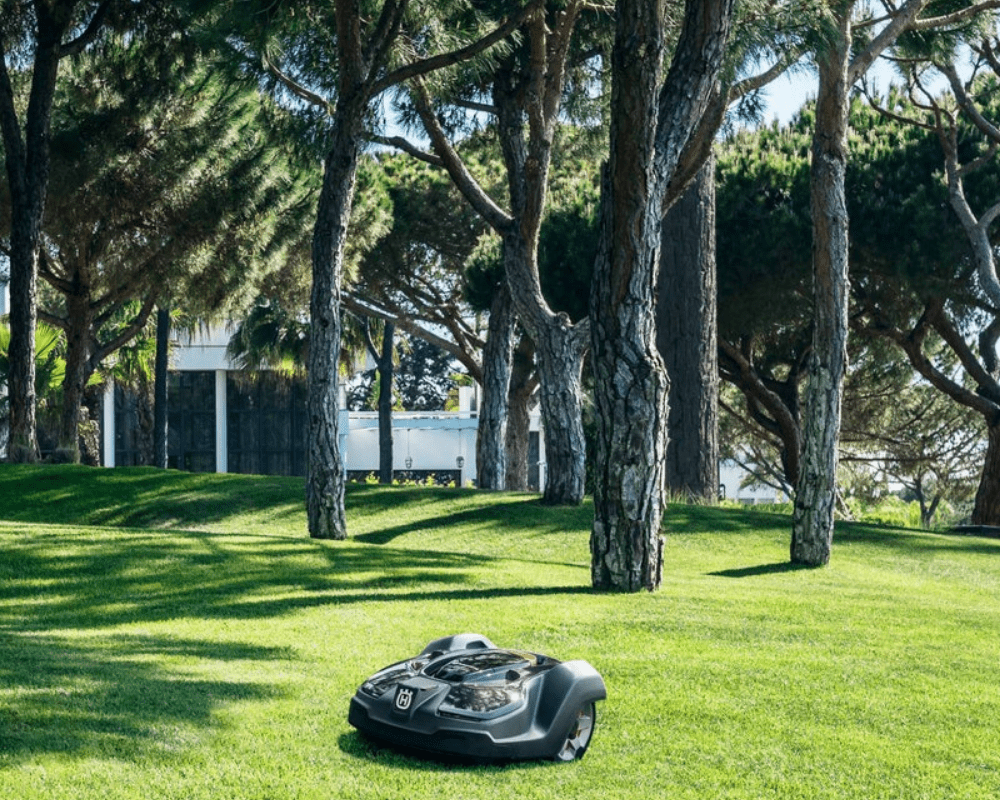 Our lawn mowers are being put away for the season…
…but that doesn't mean we can't look for one that suits our needs for next summer.
What about all the pushing, riding, and spending money on gas and maintenance?
We are fortunate to have Husqvarna on our side.
With one of the most well-known manufacturers of robot lawn mowers…
…you're getting a durable, quality device that takes excellent care of your yard.
Husqvarna has a solid lineup of robot lawn mowers, and the 450x is one of the newer models.
Take a look at this Husqvarna Automower 450X review to learn more about its capabilities.
A few words from Jonathan…
Since June 2018, I have owned and used this mower extensively.
Over an area of about 1 acre, I have used it extensively.
It far exceeded my expectations.
The ground in the Seattle area can become very wet and slippery with a lot of small obstacles…
…where even a large tractor could be stuck cutting.
In general, only a few times did this little mower get stuck, which was more than I had expected. 
Let's jump right in!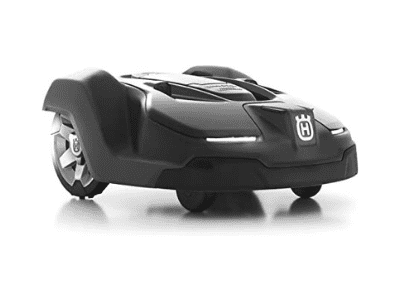 Design
You might want to consider the Husqvarna Automower 450x robot lawnmower…
…if you have a large yard and are hard on your lawnmower.
One 450x provides coverage for an impressive 1.25 acres…
…which is more than twice as much as some of its competitors.
The price tag on this robot is more than reasonable…
…considering the amount of coverage it offers.
In Husqvarna 450x robot lawnmowers, built-in GPS tells the robot exactly…
…where it is and where it has already mowed.
Although this technology is accurate and quite useful…
…Husqvarna still does not trust this robot mower to stay within a given area.
Perimeter Wire
It means you have to treat the 450x like other robot mowers.
A perimeter wire must be used to mark off the robot's work area.
You lay a perimeter wire, if you aren't familiar with it, to mark the area where the robot needs to mow.
The robot mower will not cross the perimeter wire, no matter where it is positioned.
By laying down perimeter wire, your 450x will only mow within the boundaries of your yard.
It can also be used to create zones or areas that don't need to be mowed.
If you have a garden or flower bed that you want the 450x to stay out of…
…just put down perimeter wire around it.
You have a few options when it comes to perimeter wire.
Either you can keep it above ground and secure it to the grass…
…with hooks that Husqvarna provides, or you can bury it a few inches underground.
It is entirely possible to bury the wire in either case, but Husqvarna recommends this method.
It takes a little longer to install that way, but you won't have to worry…
…about your robot mower unintentionally cutting the wire.
If the wire is cut or moved, your 450x becomes useless.
You will have to determine exactly where the perimeter is broken, which can be a big hassle.
Husqvarna recommends burying the cable for this reason among others.
If it's buried under a few inches of dirt, it's harder to break.
We can only hope that the next generation of robotic mowers…
…will not require us to deal with perimeter wires!
Keep reading…
Mobile Application
Husqvarna's smartphone app is considered one of the best among smart robot mowers.
Take a moment to download the app from both the Android and iOS marketplaces.
In terms of functionality, this app is very useful…
…because it can perform many tasks without having to get up from your seat.
By using the mobile app, you can schedule specific mowing times and view mowing history.
Using the app, you can see exactly where the 450x is at any given moment. 
You can use this feature to determine whether or not certain areas…
…of your yard need more attention or perimeter fencing.
Additionally, you can use the mobile app to activate the "weather timer" on the 450x, which we'll discuss later.
Connectivity 
The Husqvarna 450x has a built-in GSM module that can connect to a 3G or 4G network…
…so you can connect your robot lawnmower to the internet.
This is the only viable option right now if you have a large yard and require connectivity…
…since it's unlikely that your network covers your entire yard.
The robot lawnmower does not come with a SIM card, so you need to purchase one separately.
A data package is also required, which means you'll have to pay a monthly fee…
…to keep your robot lawnmower connected.
As a plus, you can choose the cheapest data package you can find…
…since the mower won't require much bandwidth.
You can also use a prepaid card so you only pay for the data you need when you need it.
Scheduling
Husqvarna 450x smart robot mowers typically follow predefined schedules.
If you want your whole yard mowed at once, you can have the 450x do a continuous mow.
If the device detects that its battery is low…
…it will automatically return to its charging station, charge, then continue from where it left off.
With its GPS capabilities, the 450x will know precisely where to pick up.
Your lawn will be mapped digitally as it's being mowed and the areas…
…that have already been mowed will be marked.
Therefore, it won't have to remow parts of the lawn that it has already cut.
By using the Weather Timer mode, the 450x determines the best time to mow based on weather conditions.
When it's been raining for a few days, you may notice that the robot mower goes out more frequently.
In the case of a dry day, it might not make as many passes.
This saves energy and reduces the wear and tear on the mower's blades.
Unlike a typical gas or electric powered lawn mower…
…the 450x is specifically designed to mow your lawn more often.
It cuts only a tiny portion of the grass each time it passes through your lawn.
This type of infrequent mowing has a few advantages.
First, when grass is clipped so short, the clippings act as fertilizer when they fall to the ground.
As a result, there is no need to bag and collect clippings to recycle or dispose of them.
With the Husqvarna 450x smart robot lawnmower, your lawn will take care of itself!
Secondly, you will get a much better result than you would with a normal lawnmower.
The lawn will be less prone to developing lines…
…since it will be mowed more often than it would otherwise.
For a few weeks, you might see tire lines on your lawn…
…but they will disappear after around a month of regular mowing.
Go on…
Weather Resistant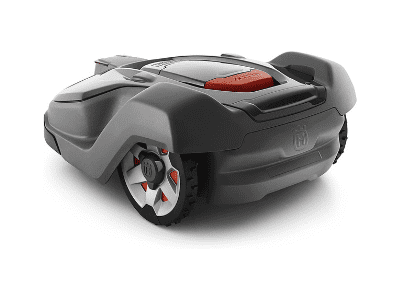 Husqvarna 450x smart robot mowers can withstand the elements.
Even if it's raining or the sun is beating down, the 450x will work.
Keep in mind, however, that just because it works in the rain doesn't mean you should run your 450x.
To begin with, mowing in the rain isn't a good idea in the first place…
…since mowing in the rain will inevitably damage your lawn.
It's especially important if you're mowing a young lawn.
Additionally, you will have to manually clean out your 450x after it has been mowing in the rain.
This is not something you want to do frequently.
With the 450x, Husqvarna was wise enough to equip it with a rain sensor…
…so if it rains, it won't automatically start mowing.
When it detects the first drops of rain, the 450x will return to its charging station.
It is possible to set the device to continue automatically when it stops raining in the mobile application.
Zones and Power
You can divide your lawn into three distinct mowing zones…
…if different parts of it require different types of mowing.
The 450x can be configured to cover different areas with different settings.
For instance, if you prefer to have your grass cut shorter…
…on the back of the house than on the front, you can instruct the 450x to do so.
One change of the 450x can last for up to four and a half hours.
The robot mower only takes about an hour and a half to fully charge.
Therefore, your robot will mow throughout the day instead of you having to wait.
Within 90 minutes, the battery will be fully recharged, and it will be ready to go.
"The 450X is perfect for those large and complicated spaces. If you have a hilly yard with plenty of flower beds, trees, and shrubs, it can easily cut all those areas. This model is perfect for homeowners who want a model controlled with a mobile app. You also don't have to worry about this mower harming your children or pets. " 

robotlawnmowerreviews.com
Security and Safety
Husqvarna's 450x smart robot mower has an ultrasound collision sensor…
…which prevents it from hitting anything with great force.
Therefore, the mower won't harm your pets or children while they're playing in the yard.
Occasionally, it may give an obstruction a slight nudge to avoid it…
…but otherwise, it will avoid obstacles as it mows.
If the robot tips over or is lifted off the ground while mowing…
…the blades will shut off immediately.
Even if your children are stubborn and insist on testing their strength on the 450x…
…they will not be injured by the spinning blades.
Additionally, the 450x has a number of security features.
Husqvarna robots, for example, have a PIN code that protects them.
If the robot leaves its designated work area, you must enter the PIN code to shut it down.
Using the mobile application and GPS locator built into the mower…
…you can also track the 450x in real time using the PIN code.
Finally, the Husqvarna 450x is an environmentally friendly robot mower…
…since it does not use gasoline like other lawn mowers.
As it is 100% electric powered, it doesn't produce any pollution…
…or side effects like a riding lawn mower or push mower.
Pros and Cons
The Husqvarna Automower 450x is a great robot lawnmower…
…but it has its disadvantages as well. Here are some of the pros and cons of the device.
Pros
Excellent mobile application
Can mow large lawns
With its built-in GSM module, the robot mower can connect to 3G/4G no matter where it is
When rain is detected, the robot mower returns to its charging station
Handles steep slopes with ease
Runs for four and a half hours on a single charge
Quick charging in less than 90 minutes
Includes Husqvarna's proprietary weather timer
Built-in ultrasound collision sensor
Blades turn off if mower is picked up or tipped over
Cons
A SIM data package is required for the mower
The application may be confusing
The mower is more expensive than other robot mowers
Specs
Here's a quick rundown of the specs for the Husqvarna Automower 450x:
| | |
| --- | --- |
| Charge Time  | 90 minutes  |
| Work time on one charge  | 4.5 hours  |
| Maximum coverage area  | 1.25 acres  |
| Slope  | 45%  |
| Weight  | 30.6 lbs  |
| Mobile Application  | Android and iOS  |
Sum Up!
You can use the Husqvarna Automower 450x for lawns…
…that are up to 1.25 acres when you have a large yard.
Mowing a lawn that large would take all afternoon on a push mower…
…and even a few hours on a riding mower.
You've dedicated a lot of time and energy to mowing.
Why not get a robot mower instead?
Although burying the perimeter wire requires an initial investment…
…once it's done, you won't have to worry about it again.
You don't have to spend your entire weekend mowing your lawn when you have the Husqvarna 450x.
With a robot lawnmower, you don't have to drag out the mower…
…fill it up with gas, and fry under the hot summer sun.
The 450x costs more than other robot mowers…
…but it might be worth it if you don't have to worry about mowing your lawn every summer.
Conclusion
It's not the robotic lawnmower for you if you're looking for a low-cost model.
A $4,600 price tag is the downside. There's no need to spend a lot of money on a Husqvarna.
Their Automower 115H costs just $1,200. 
Few mowers on the market, however, can handle the capacity…
…of the 450X and its higher-grass counterpart, the 450XH.
This gives you the best performance in all those areas, especially steep slopes. 
Its only drawback is the installation process, which can take a few hours.
Once set up, the operation will be hands-free, and you will have little maintenance to do.
The robust safety features of this product will also protect your children and pets.
It is one of the best smart mowers available on the market.
With that, you will have a precise cut every time the Automower 450X takes a spin on your lawn.
Gardening is how I relax!
It's another form of creating and playing with colors?
My mission is to make people realize that even by growing a plant...
....it will make them believe in tomorrow?
And that's life most valuable moment!?