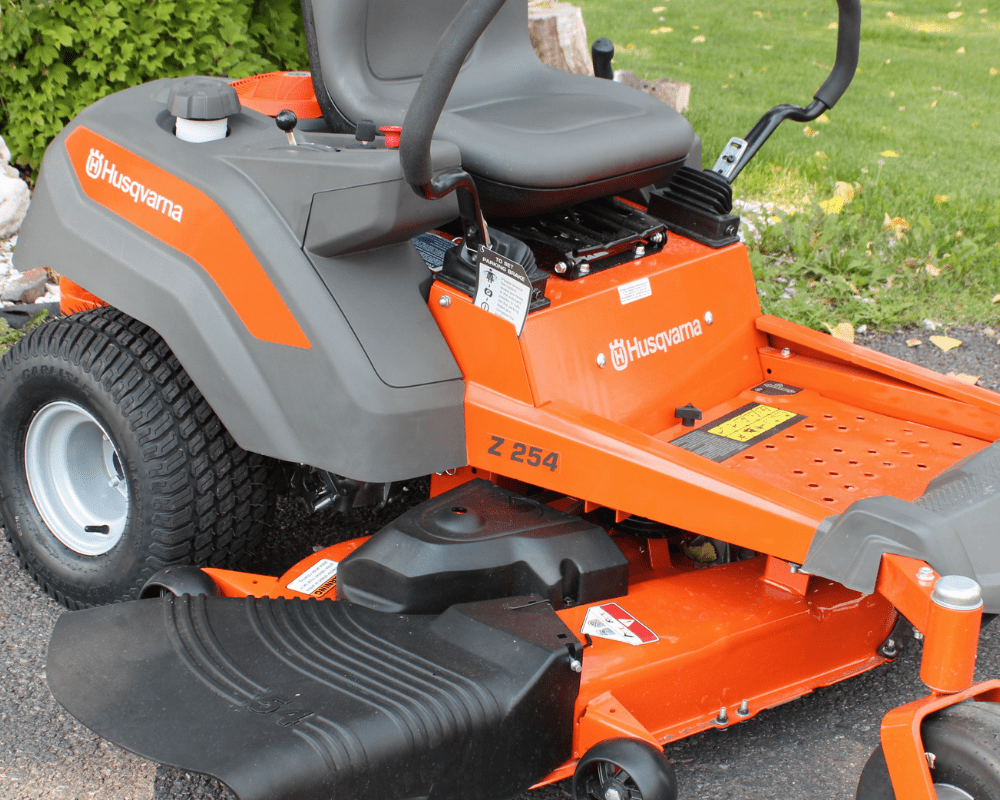 Husqvarna's Z254 zero turn mower is a very popular residential mower.
With a very simple design, it has been a favorite of many homeowners for several years.
The performance of this mower surprised me immediately when I tested it for the first time.
Maintaining your lawn with a zero turn mower, such as this one, will be quick and easy.
You will be able to mow your lawn much faster than with a riding lawn mower or push mower.
Zero turn mowers are famed for their maneuverability and faster drive, but are they worth the investment?
There's a lot to spend on something that may not meet your expectations…
…but our experts are here with a detailed Husqvarna Z254 26HP Kohler review…
…to make sure you don't waste your money.
Here are a few words from Sam before we get started…
I purchased this mower as a way to make a bit of extra money…
…and I am very impressed with how easily and quickly I can mow an acre and more.
I am pleased with the product. Once again, I was impressed when I mowed through high grass…
…with a motor that barely had to fight.
I heard there were issues with seat discomfort, but I feel like I could lounge in that seat all day if need be.

The product arrived hanging off its pallet on a truck, this is a shipping error.
There were minor scratches and scuffs on the plastic, but I was worried about big damage.
Now, let's get started…
Husqvarna Z254 26HP Kohler Review: Features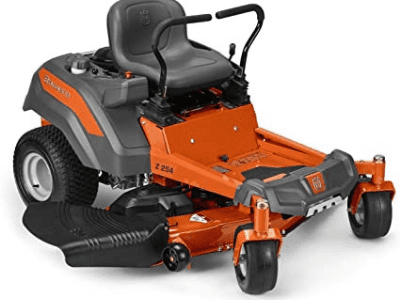 54 in Cutting Deck
Stamp and Fabricated Deck options
LED lights on the bumper that can enable you to work till late in the night
Ergonomic control panel
26, 24, or 23 HP engine
3.5 Gallon fuel tank
Electric clutch
Integrated, maintenance-free transmission
The spring-assisted deck lift system
Zero-turn radius
Excellent air filtration in the engine
Cooling fans
Auto parking brakes
3-Year warranty
Husqvarna Z254 26HP Kohler Review: Design
Bright orange is the color of the Husqvarna Z254's body, which features a high-back seat for comfort.
Although the seat does not have a premium suspension system…
…it's still quite comfortable when you go over gopher mounds.
This riding lawn mower has one of the largest decks we have seen from our experts.
If you're worried about comfort, don't be. Your mowing job will be finished much more quickly…
…before you feel any discomfort due to the zero turn radius.
For most people, the cushioning on the Husqvarna Z254 is adequate.
Husqvarna Z254 26HP Kohler Review: Power
With the Z254, customers have an option of a 26 HP Kohler engine…
…a 24 HP Briggs and Stratton engine, or a 21.5 HP Kawasaki engine.
In terms of horsepower, most people will choose the Kohler 26 HP…
…but any of the three will suffice for the average mower.
As for the speed, you can get up to 6.5 miles per hour…
…which is also average for a riding mower in this price range.
We found that 6.5 mph could finish the average yard in less than 30 minutes.
In addition to the power, there is also an automatic choke system…
…which allows users to start up the motor engine instantly.
Keep reading…
Husqvarna Z254 26HP Kohler Review: Deck Of Husqvarna Z254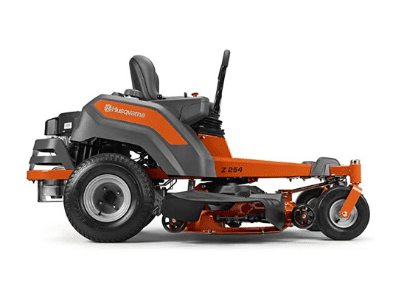 Husqvarna's Z254 has a larger deck than most other lawn mowers.
Deck measures 54 inches and is reinforced with heavy-gauge flat-stock steel and stamped steel for extra durability.
The deck also allows mowers to adjust to six different positions with a spring-assisted lift system.
Husqvarna Z254 26HP Kohler Review: Controls
There are a few controls on the Z254 that increase its safety and usability.
We'll start with this mower's automatic braking system, which is one of its best features.
When you move the steering wheel, the auto parking brake system will either engage or deactivate.
A single control panel makes it incredibly easy to operate the zero turn lawn mower…
…while the integrated control panel places everything in one place.
Pedals located below have slip-proof pads, so you can increase or decrease speed with little difficulty.
Compared to other lawn mowers, this system makes the Z254 zero turn riding mower much safer.
Go on…
Husqvarna Z254 26HP Kohler Review: Cutting Performance
Part of the effectiveness of the Z254 zero turn lawn mower comes from the larger cutting deck…
…which is also equipped with air induction mowing technology.
With this technology, air is drawn from both the top and bottom of the deck…
…instead of just from one direction, enhancing cut quality and grass lift.
Which engine you choose will also affect cutting performance.
A Kawasaki engine, for example, is quiet and lightweight.
In spite of its smaller size, it was still able to handle uneven terrain and thick grass well…
…much better than a regular push mower.
A Kohler engine can handle anything other riding mowers can, but it excelled in wet and tall grass.
The Briggs and Stratton engine mowed the lawn with no problems and handled rough terrain with ease.
"The overall cut quality of the Husqvarna Z254 lawn mower is very good. Both the stamped and fabricated decks do a very good job of cutting grass. I personally prefer a fabricated deck, since they usually hold up for a longer period of time, and this deck cut great. The grass lift of this deck is pretty good which makes side discharging and mulching grass a solid option."

Commercialmowerreviews.com
Husqvarna Z254 26HP Kohler Review: Maneuverability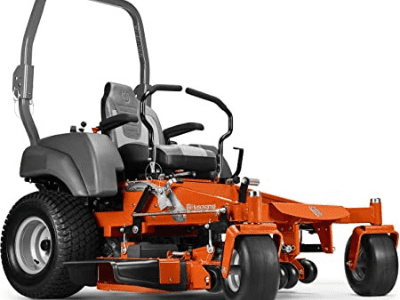 Known for their maneuverability, zero turn lawn mowers are highly regarded by our team.
Known as 'drifters' in the mower world, they can easily cut corners.
In what ways does the zero turn feature make your life easier?
That leads us to our next point.
Husqvarna Z254 26HP Kohler Review: Zero Turn Capacity
The zero turn capability of the Z254 mower allows mowers to make turns with zero radius.
With no turning radius, you can cut your working time in half and control the mower more easily.
You have come to the right place if you are looking for speed and smooth riding.
Compared to models that don't have zero turns, the cut job will be much cleaner and less weed eating will occur.
In order to be the house in the neighborhood with the best lawn, our team suggests getting a zero-turn mower.
Husqvarna Z254 26HP Kohler Review: Comfort
Although the riding mower doesn't have a cozy armchair…
…the high-back seat and sufficient cushioning will adequately protect your lower body for however long it takes.
The chair is designed to hug your lower back for support and contour to your legs.
Even when the Kohler engine is cranked at full speed…
…the chair will effectively absorb most vibrations from the ground, even when the terrain is rough.
Husqvarna Z254 26HP Kohler Review: LED Lights
Even though it isn't a car, LED lights on the bumper are still a nice touch.
It is not a full-on headlight, which would effectively illuminate the path…
…but the presence of these small lights will make it easier for mowers to work at night.
With LED lights, you aren't limited to mowing your lawn during the day..
…but unless you have special reasons, we recommend not doing so after hours…
…as it may disturb your neighbors.
Husqvarna Z254 26HP Kohler Review: Accessories
In case you feel the Husqvarna Z254 reviews you have read depict a machine…
…that doesn't have much in terms of extra accessories, don't worry, there are additional add-ons available.
Start by adding an LED headlight if the bumper lights aren't enough.
In addition, you can find an engine guard that will ensure peak performance for years to come.
Z254 also comes with a sweeper, a dump cart, a front scoop blade, and even a battery pack.
Our team enjoyed using the front scoop blade.
It can haul heavy obstacles, such as rocks and other debris, out of the way.
Using a front scoop blade, you can also dig or cover up uneven ground to make it easier for your mower to move.
Our experts suggest focusing more on the mulching kit. With the kit, cleanup is easy…
…and you can use the waste to replenish your lawn.
If you would like to rest your elbows, an armrest kit is also available.
However, the Z254 already includes onboard storage and a cup holder.
Additionally, the company offers a rear hitch kit with mounting hardware…
…if you need to hitch anything to the back of your mower.
Lastly, there is the deck belt, which needs to be replaced…
…every so often and isn't really considered an additional accessory.
Replacement of the deck belt periodically will ensure that things run as smoothly as possible during each use.
The triple bagger is another feature that enhances the usability and performance of the mower.
Grass clippings and other debris are collected in three bags for easy disposal after the job is done.
Husqvarna Z254 26HP Kohler Review: Additional Features
A superior engine ventilation system ensures optimal airflow during operation.
Also, the large cooling fans will keep the engine…
…at an optimum temperature to prolong the machine's life.
The clippings can also be discharged, mulched or bagged for easy disposal.
Last, but not least…
Husqvarna Z254 26HP Kohler Review: Price And Warranty
When it comes to price, our experts say the Husqvarna Z254 is expensive but worth the money.
Generally, zero turning mowers are priced between 2-3K and some even higher…
…which makes the Z254 an average choice.
This mower is a good deal for what you get, such as a large cutting deck design, your choice of Kohler…
…Kawasaki or Briggs & Stratton engines, zero turning, a high-quality build…
…multiple attachments, and many other features.
While some customer reviews mention warranty repair issues…
…our team's Husqvarna Z254 review was extremely positive.
We did not run into any issues during testing, but we did contact customer service…
…in case any items were faulty and to ask about certain concerns.
We were assisted by individuals who explained the details of the 3-year warranty.
Most mowers come with a one-year warranty, which is pretty standard.
The mower comes with a 3-year warranty, which is definitely a plus.
Sum Up!
Because of its cast iron blades, Kholer motor, and Fabricated deck…
…the Husqvarna Z254 is a powerful and durable machine.
Hydrostatic transmissions make handling easy and mowing acres of grass enjoyable.
Its power, ease of use, and cutting speed more than compensate for its shortcomings…
…despite the lack of headlight accessories and comfortable seats.
This hydrostatic zero turn mower is an excellent buy – it gets the job done quickly and efficiently.
Conclusion
The Husqvarna Z254 riding mower is one of the best on the market.
It surprised our team how efficient the zero turn feature is and how much time it saved.
Other zero turn mowers don't have a large deck and the grass can't be discharged, mulched or bagged.
There is nothing better than a zero-turn mower like the Husqvarna HZ254 for simple maneuverability.
Gardening is how I relax!
It's another form of creating and playing with colors?
My mission is to make people realize that even by growing a plant...
....it will make them believe in tomorrow?
And that's life most valuable moment!?