One of the most common questions I get is how often should you water indoor plants?
There is no simple answer to this question because so many variables come into play…
Hear it from Daniel!
I don't ever want to water my houseplant on schedule…
This is because a gardener friend once told me…
… that watering needs may vary due to factors…
… such as temperature, humidity, and sunlight.
Generally, plants need less watering in cooler temperatures…
… because water dry out slower during this time.
So I tend to water my houseplant whenever I see their soil dry…
… which is a hard thing to see with bare eyes as well.
Anyways, I don't really know how to water my houseplants the correct way…
… but I hope I wasn't doing it wrong right now.
You can relax Daniel!
It's true that watering routine may differ from time to time…
… and following a schedule is not really recommended.
Let me answer your questions and discuss some things to consider when it comes to watering indoor plants…
How To Water Indoor Plants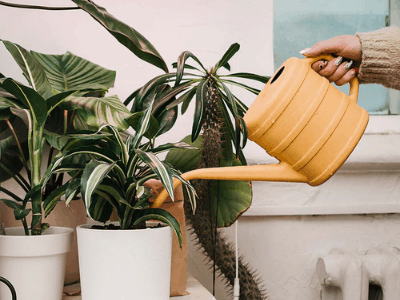 I can't give you a set answer on how frequently to water your houseplants…
… because there are too many factors to consider.
Learning to water is one of the most important skills in plant care. Applying too much water can suffocate plant roots and too little water causes growth to become erratic and stunted. Watering frequency will depend on the conditions under which the plants are growing.

University of Georgia Extension
You can use this guide as a guideline when watering your houseplants…
Why Indoor Plants May Die
Firstly, watering too much or too little…
Too much water results in no oxygen reaching the roots, which leads to root rot…
Too little water dries out the roots…
The most common mistake that novice houseplant gardeners make…
… is to water their plants too much, i.e. too frequently.
Secondly, you have the wrong plant in the wrong place…
A Ficus benjamina won't survive in low light, and a Pothos could burn in high light…
You know how the popular Ficus benjamina can be temperamental…
… and drop leaves whenever something isn't to their liking.
What To Consider Before Watering Houseplants
These tips will help you get the most out of your plants' watering experience.
The Type of Plant
There are different watering requirements for plants, which is closely related to the next point.
How You Water
Make sure to water the soil evenly, not just in one spot. The roots surround the entire plant.
Not Checking the Soil
You should water according to how the soil feels, not by the length of time…
Roots tend to go deep and are in the lower half of the root ball…
The roots may not be dry because the surface appears dry. Avoid watering shallowly…
Exposure
A higher light level translates to a greater frequency of watering…
A lower light level translates to a lower frequency of watering…
Snake plants don't need or want to be watered every week…
They're perfect for people who travel or forget to water their plants…
I water mine every 3-5 weeks, depending on the time of year…
Pot Size
The smaller the pot or grow container, the more often your plants will require watering…
It's the matter of plant pot size…
The larger the container, the less often…
It is not necessary to water plants in large pots as often as plants in small pots…
It isn't harder to water plants in large pots…
… and in some cases it can be easier because they don't need it as often.
Type of Pot
Pots made of terracotta and unglazed clay are porous, allowing air to get into the root ball…
These types of plants require more frequent watering…
… than those in plastic grow pots or those planted directly in ceramics or resin pots.
Root Ball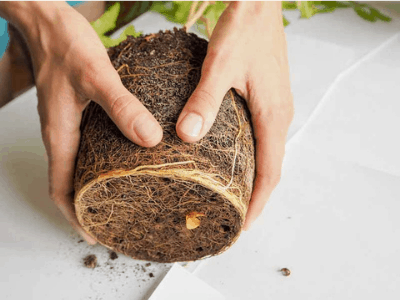 If the root ball is tightly packed in the pot, it's likely to require more frequent watering…
Potbound plants tend to grow better if they're slightly tight in their pots…
However, too tight of a pot will cause the roots to be unable to hold water…
Soil Mix
Typically, the heavier the soil mix, the less often you'll water…
I have two Dracaenas Lisas planted in different potting soils right next to each other…
Because lava rock doesn't hold water like potting soil…
… I tend to water the Lisa more frequently than I do the marginata.
Temperature
The higher the home's temperature, the faster the plants will dry out…
A cooler climate will make indoor plants require fewer waterings (and most people live in cooler climates!)..
Humidity
Humidity affects the rate of dry out of potting soil (especially in warm weather)…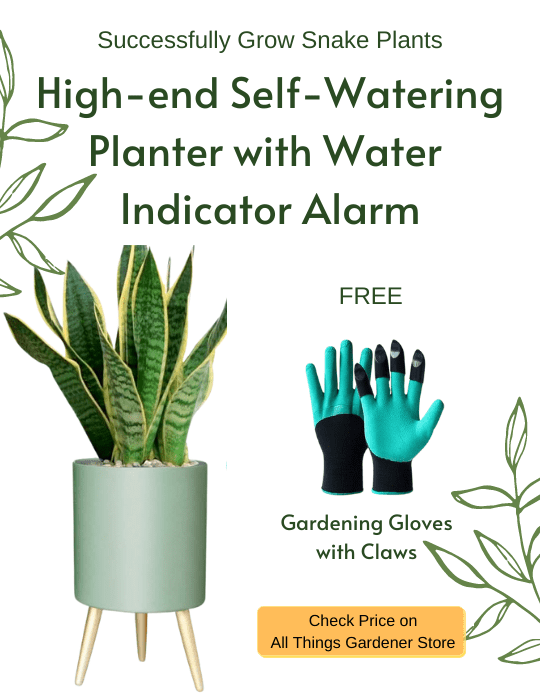 My plants will be watered more often since I live in a sunny and warm climate and the humidity is low…
Heat/Air Conditioning
As both reduce humidity and can dry the air, you will need to water less frequently in the winter…
… but air conditioning can accelerate the process as well.
Top-Dressing
In the absence of a top-dressing of moss, bark or rock, the soil will dry out more slowly.
Water Quality
It's not the frequency, it's the salt and minerals in your tap water…
These can burn the roots, resulting in brown tips and/or brown spots on the leaves…
The water I use for watering my houseplants comes from a filtration system attached to my kitchen faucet…
Your water might need to be filtered or you might need to use distilled water if the quality is poor…
Time of Year
The cool, darker months are not the best time to water indoor plants since they rest…
… so you will need to water them less often.
During the summer, I keep my 6″ Aglaonema commutatum moist every 7 to 10 days…
… while during the winter, I water every 14 to 18 days.
How Do I Know When I'm Overwatering My Indoor Plant?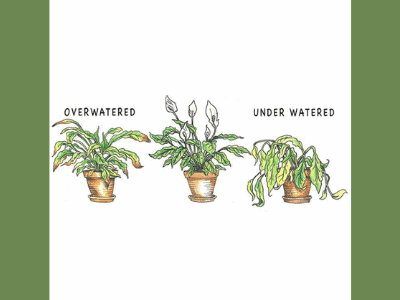 It can be difficult to distinguish overwatering from underwatering…
Both conditions can cause wilting and yellowing of leaves…
Generally, if the plant is soft and mushy, you've overwatered it…
If some of the leaves are brown or turning dark, you've overwatered…
You might also notice the soil pulling away from the grow pot if the leaves turn pale and/or wrinkled…
Generally, plants recover better from underwatering than from overwatering…
Will My Houseplant Die If I Overwater It?
If you notice damage to your plant after it's already wilted, it may be too late to save it…
This depends on the type of plant and how long the root system has been wet…
My experience with the interior plantscaping industry many moons ago told me…
… that overwatering was the most common cause of plant replacement.
Overwatering can result in the death of an indoor plant…
… depending on the conditions, the plant, and the soil mix.
It is particularly true when you water a houseplant at the same frequency during winter as during summer…
Watering less frequently during cooler temperatures and shorter daylight hours is a good idea…
How Do I Fix An Overwatered Plant?
As I explained above, it may not be possible. You can try repotting it in fresh soil mix…
Then you can inspect the roots. If too many of them aren't damaged…
… then you should be able to repot them into the dry mix.
How Can I Prevent Overwatering My Houseplants?
I water my houseplants by instinct. It's become so second nature to me that I don't think about it anymore…
You may want to look into getting a houseplant watering journal, calendar, or app…
This will help you determine when your plants last received water and help you avoid overwatering…
The Top Of The Soil Is Dry. Should I water?
It doesn't necessarily follow that the roots below are dry just because the top of the soil is…
When you're not sure, you can probe the soil with your finger…
This usually works best with small pots, though a moisture meter can be useful, too…
What Kind Of Water Is Best For Houseplants?
Water may be fine from your tap, but it depends on whether it contains chlorine and minerals…
Some people have to use distilled water for this reason…
Brown tips and spots will appear on the leaves as a result of the damage…
What Temperature Should The Water Be?
Roots of houseplants cannot tolerate extremes of temperature. They like a moderate temperature…
How Much Should I Water My Houseplants?
There is no fixed answer for this. It depends on the type of plant, your home environment and the time of year…
All the points above and the answers to these questions will help you out…
Is Watering Indoor Plants Better From The Top Or The Bottom?
My indoor plants have always received water directly from the top, allowing any excess to drain away…
This method has always worked well for me…
Soil mix that is watered regularly from the bottom will keep minerals and salts in place…
To sum it up…
You shouldn't water your plants in a "hit and run" fashion…
Splashing plants every 2 or 3 days is not how they prefer to be watered…
Indoor plants suffer most when overwatered…
As a rule, I have always believed that less water is better than too much water…
I enjoy watering my houseplants so it's not at all a chore for me…
As a fervent plant devotee, it's something I look forward to every time I do it…
So, in summary, houseplants need to be watered at different times and at different rates…
… based on their needs, size, seasons, and home environments.
You will learn more about your houseplants as you grow more comfortable with them!
Conclusion
If you still have any questions or doubts on the matter…
Let me know right away through the comment section below…
You can also contact us for direct approach…
Check out more of our posts like this one here!
I hope you can now take care your snake carefully and grow it big!
Have an awesome gardening journey!
Related Articles!