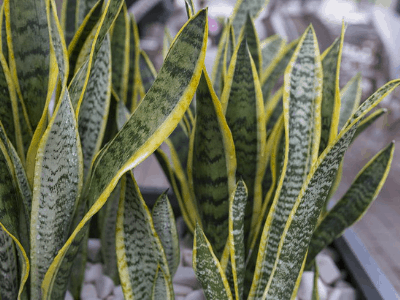 Snake plants, or mother-in-law's tongues, are one of the easiest houseplants to care for…
Snake plants can range in height from one to eight feet, and are also easy to apply for the novice gardener…
The snake plant is a great option for beginners for a two big reasons. First, it's technically a drought tolerant succulent. This means you'll be watering it less frequently than other common houseplants, and when you forget a watering (or two!), it'll be fine. Second, the snake plant is also low light tolerant. Although snake plants prefer medium to bright light, they can tolerate lower light levels than other common houseplants. This means you can pretty much stick it in any room of your room, as long as there's a window that receives natural light, be it bright, moderate, or low.

Erin Marino, Director of Brand Marketing at The Sill
Snake plants are special because of the leaves, which are smooth, waxy, and shaped like snakes…
Because of its simplicity of nature and its ability to survive with little care, it is a perfect plant for indoors, as well…
Hear it from Ming!
I love having snake plants as my houseplant…
I first know it from my gardener friend who's a plant addict…
He recommended me this plant because he knows how such a mess I am…
I couldn't really care for my own body, so he bought me the snake plant…
… so I will have a responsibility to take care of.
Well guess what? He's right! I am now more considerate of my well being…
Because it turns out that caring for a houseplants requires patience…
Remember that the statement comes from me, a black-thumbed gardener…
… who is taking care of a snake plant – the most easy care plant there is.
Good job Ming!
Due to the simple nature of the plant, the only way to kill it is by adding excess water and rotting the roots…
Primarily, its fibers were prized and used to make ropes and baskets…
Overview Of Snake Plant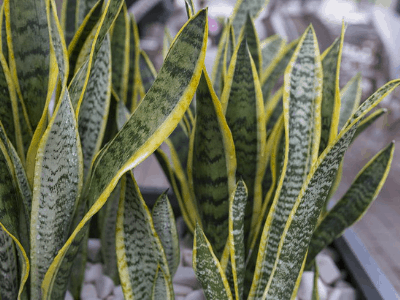 Mother-in-law's tongue is native to Africa, Madagascar, and Southern Asia, and there are over 70 different species…
Snake plants can grow 8 inches to 12 feet tall and are perennials…
Like their tongue, the dark green leaves are almost two feet long…
These leaves have white and yellow stripes. It survives under inappropriate conditions…
A snake plant is light toxic, which is why it should not be placed in a place where small children can reach it…
Upon ingestion, swelling can be seen in the throat and tongue, as well as gastrointestinal problems…
How To Grow Snake Plant
Soil and Location
A snake plant performs best in sandy soil where it prefers to grow. Cactus potting soil is the best soil to use…
You should keep the drainage system in the pot well-oiled. This is the easiest plant to maintain…
Sansevieria does well in both sunlight and shadow, but it requires sunlight for 4-5 hours a day to perform well…
Their growth accelerates when they are exposed to sunlight…
Temperature
Snake plants thrive in temperatures between 60 to 85 degrees Fahrenheit…
This plant is good in moderately hot conditions (50 degrees Fahrenheit)…
… but its performance is adversely affected at temperatures below that.
You should install Sansevieria plants in an area where they will not be exposed to the draft…
Watering
It's important to use well-drained soil for Mother-in-Law's Tongue as soil that holds water can rapidly rot the plant…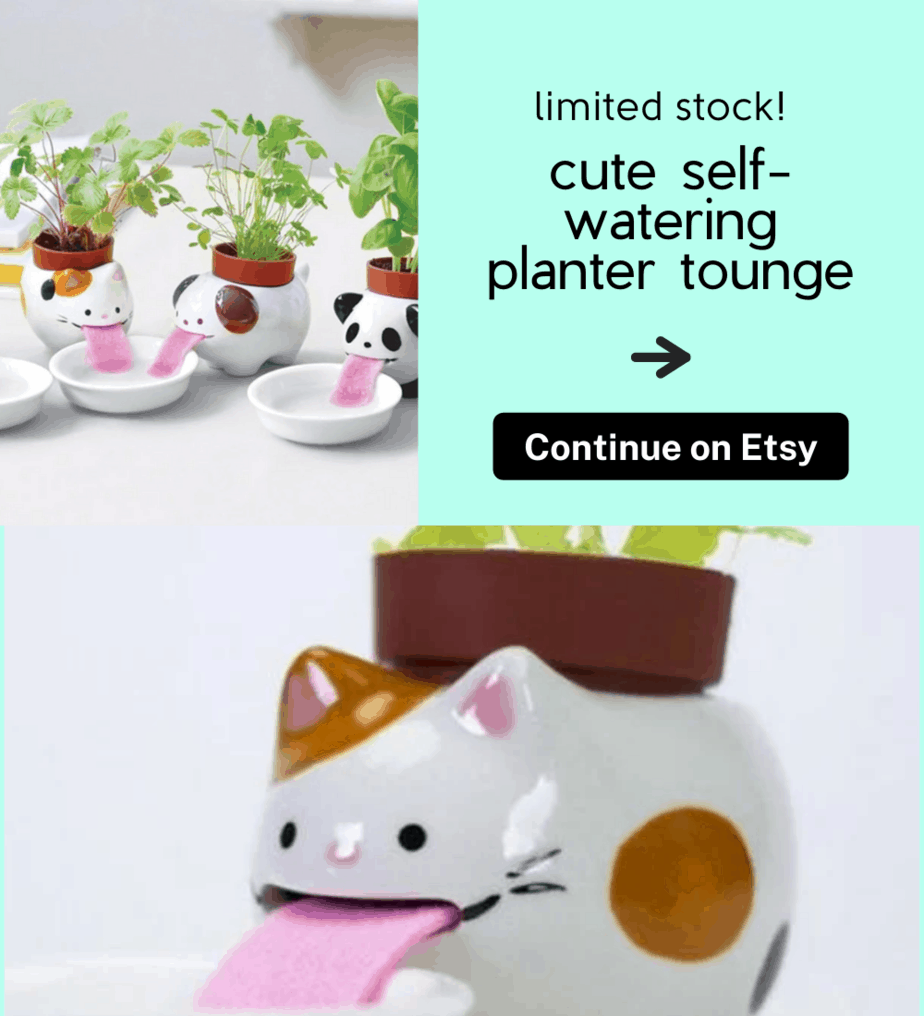 You will want to avoid over watering this plant especially during the days of cold…
After drying the surface of the soil, water it again. This is why these plants thrive in sandy soils…
Fertilizer
During the growing season, you can feed it light cactus fertilizer, so it will benefit from it…
You can use a general-purpose slow-speed liquid fertilizer (10-10-10 diluted). Do not feed it in winter…
Sansevieria Propagation
Leaf Cuttings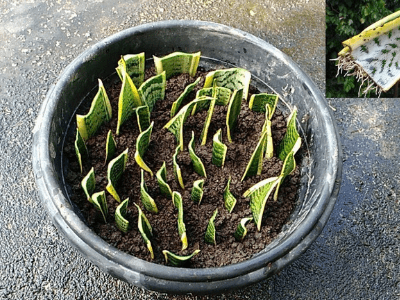 You can propagate snake plants with leaf cuttings…
Cut the leaves into sections of 2-3 inches in length and put them in the soil, watering regularly…
In the next few weeks, its roots start to grow, when roots are matured, you can transplant…
It takes a long time to develop this plant with leaf cuttings, so if you do not have a rush, then this is an easy way…
Division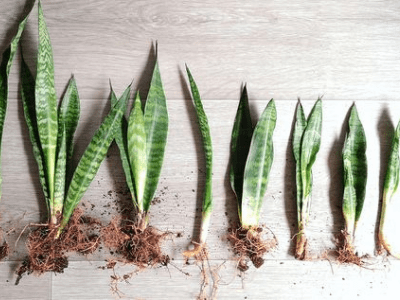 The snake plant can fill the entire container after some time. When it does, re-pot it in a large container…
Split off the root clump and plant it separately. This is also the easiest way to propagate it…
Snake Plant Care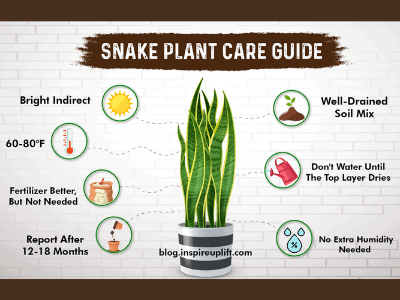 This plant is able to grow in temperatures between 60 and 85 degrees Fahrenheit; however, its performance is adversely affected by temperatures below 50 degrees Fahrenheit.
In the sun for 4-6 hours a day, the plant performs well.
During the spring and summer, water the plant once a week, otherwise it will start drying out.
Replant this plant in large containers every 3-4 years, the roots of this plant are not tied, so do not rush to plant it again.
Root rot can occur if the plant is left in water for too long, which is why it must be drained well to avoid this problem.
If you are planting Sansevieria in pots, you will need to use some general-purpose fertilizers.
Growing Snake Plant In Pots
Choose a container that is at least 18-20 inches wide and deep, 1/3 of the large container should be near the root ball. You can use plastic containers, but its roots are aggressive, so your terracotta container may break.
You should check the drainage hole before planting in the pot, if the hole does not exist then do it with the help of tools. If the plant does not have good drainage it will die due to root rot.
Choose cactus potting soil that drains fast, especially for low-water plants. This will assist in growing stronger plants in the container.
Place the potting soil about one inch below the rim of the container. Plant in the container and fill it with the soil around the root ball and gently press it down.
Let your plant dry slightly and then water well, then put it on a saucer or tray and take it to the appropriate place in your house where it gets a lot of direct sunlight. 
Varieties Of Snake Plants
The many varieties of Sansevieria can be distinguished by their colors, shapes, and effects…
Sansevieria Trifasciata (Hahnii)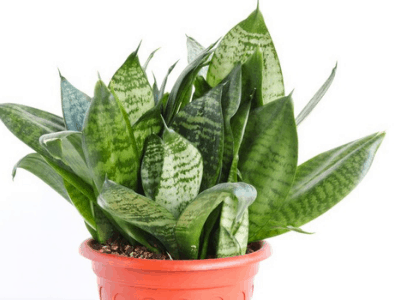 Snake plants are about six inches tall. Their leaves resemble flakes and feel like the nest of a bird…
Black Jack Sansevieria  Plant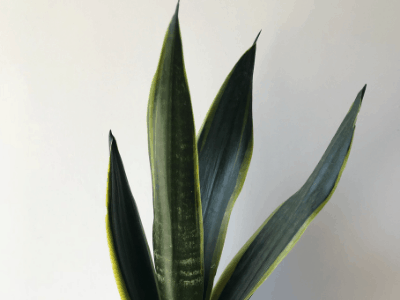 Snake Plants BlackJack are a few varieties, which leaves are dark green and have gold edges…
Futura Robusta Sansevieria Plant
Snake plants have compact leaves that are light green and dark green-green…
Golden Flame Sansevieria Plant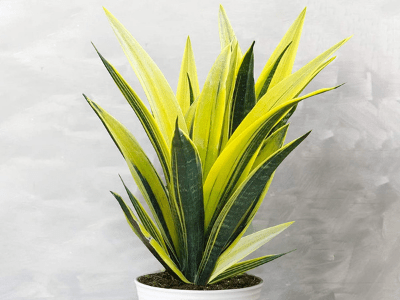 Currently, the Golden Flame variety has golden yellow leaves…
The leaves become faded and dark green in color as they mature…
Bantel's Sensation Sansevieria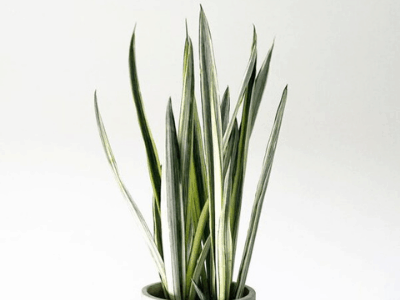 This type of snake plant has thin, dark green leaves containing cream-colored stripes…
This type of snake plant is 36 inches in height and is easy to grow…
Cylindrica Sansevieria
The leaves of this plant are round, these are hard leaves that can reach several feet in length…
The leaves arise from a central crown..
To sum it up…
It is relatively easy to take care of snake plants…
You can even neglect it for couple of days and they'll thrive…
But that doesn't mean you ought to neglect them completely…
Give them the love you have as you do with yourself…
And your snake plant will provide you with much more benefit they could offer!
Conclusion
There are still many recent and interesting articles about Snake Plants…
… as well as other unique information from All Things Gardener.
For further information and other inquiries…
… you can contact us here.
Check out more posts on our website like this one here!

Have an awesome gardening journey!
Related Articles!