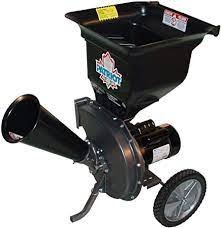 Winter weather can cause your lawn to have a mixture of fallen branches, leaves, and other debris, regardless of the area. A leaf chipper shredder is a fantastic tool for revitalizing and cleaning up your yard.
These tools serve the objective of making it simple to remove yard waste, such as leaves, tiny branches, and twigs, which may also be utilized for other lawn purposes. The flexibility to travel like a walk-behind mower allows you to reach those difficult-to-get regions with a vacuum hose, unlike a chipper shredder.
Time Saver. These gadgets not only assist in clearing your yard of twigs and leaves, but they can also combine 10 bags of trash into one for a quick cleanup. You'll be able to save time and space this way.
Mulch. To create fine wood chips for your own nutrient-rich mulch, use the chipping capability to transform twigs and tiny branches into wood chips.
Compost. The possibility to quickly compost leaves and plants is provided by the shredding feature of chipper shredders and chipper shredder vacuums. Because more surface area is exposed with smaller pieces, the breakdown process is accelerated rather than taking a few months.
Best Leaf Mulcher Shredder
Worx is renowned for producing durable power tools that are affordable. They also produce a variety of electric-powered leaf-mulcher versions.
A powerful electric leaf shredder, the Earthwise corded leaf shredder can easily and efficiently shred leaves. To quickly shred leaves, there are three different mulching settings available. Oil or gas is not needed for the operation of this corded electric mulcher because it is totally powered by electricity. Although the Earthwise shredder doesn't produce any toxic gases, it has a similar amount of power to a gas shredder. 55 gallons of leaves per minute may be efficiently mulched by an Earthwise leaf shredder using a 16:1 mulching ratio. Because it is portable and simple to operate, this garden shredder is perfect for your yard.
15-Amp Brushless Induction Motor Shredder for Composting, Leaf Shredder, Electric Garden Shredder Mulcher with Safety Locking Knob. PowerSmart wood chipper electric have a small frame and six-inch wheels for mobility. The shredder is simple to relocate to other workspaces.
How Does a Leaf Shredder Work?
Leaf shredders shred leaves into small pieces using blades or strings. When used as leaf blowers or vacuums, handheld shredders frequently discharge the mulch into a collecting bag. Leaves enter solitary units at the top and exit the bottom as mulch. The mulch can be composted, spread out on the ground, or collected in a collecting bag.
Safety and Maintenance for Leaf Shredder
Never put your hand into the shredder while it is running, even if this should go without saying. Every leaf shredder will eventually become clogged. When that occurs, repress the impulse to use a stick to force the load through. Before cleaning the obstruction, turn off the power out of caution.
In addition, bear in mind that when in use, the shredder will produce a large quantity of dust and debris. Even though getting leaf particles in your eye is really unpleasant, it generally won't require medical attention. Put on a mask and eye protection to prevent that. Wear earplugs to protect your hearing depending on how loud the shredder becomes.
Conclusion
No matter where you live, winter weather may leave your lawn with a combination of fallen branches, leaves, and other debris. An excellent piece of equipment for reviving and cleaning up your yard is a leaf chipper shredder.
We may replenish the soil with nutrient-rich material by adding leaves, which are a free organic substance. You could find that using a leaf shredder to shred them is the ideal method for controlling them.
We appreciate you taking the time to read our blog post. If you're looking for more fun information about all garden issues, check out our blog post !