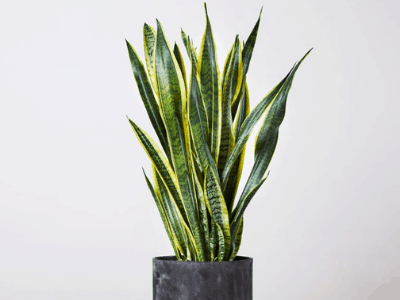 Are you here because you just got your brand new snake plant?
Or are you here because you're just curious before purchasing?
Whatever the matter, you've come to the right place!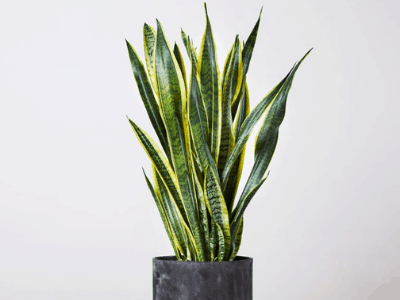 Hear it from Nick!
Aren't snake plants amazing? They're so majestic, in my opinion…
They don't only look unique in their own way…
… but they also offers us the most benefits.
I've had my snake plant for quite some while now…
… and I always feel so at ease whenever I wake up…
… since I put mine near my bedroom drawer.
My friends had also told me that snake plants do them the same way!
Yes, that's right!
Snake Plants are known in dozens of varieties…
… but there are few that are more stunning (and air-purifying) than the Laurentii.
An incredibly stylish yet robust plant, the snake plant is the perfect addition…
… to anyone's home or office, offering a low-maintenance, full-bodied appearance.
Snake Plant Care
Get to know the many benefits of Snake Plants as well as how to care for and grow them…
Light
Sansevieria are not picky when it comes to light requirements…
The plants of this species do best in indirect light though they will also thrive in bright sunlight…
Water
The top soil should be watered once every ten days to two weeks, or whenever it is completely dry…
Avoid overwatering. Don't over wet your Sansevieria's leaves…
… you can use watering cans with long spouts to water a Sansevieria precisely.
Growth
Generally speaking, they grow quite slowly, though they can attain heights of four to five feet…
Common Snake Plant Problems
Leaves Curling or Falling Over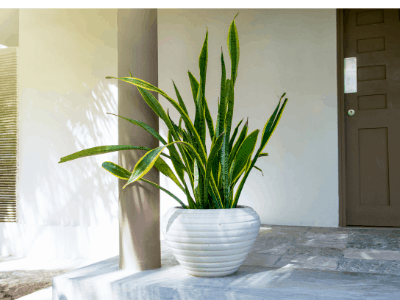 It is important to diagnose a snake plant that curls its leaves in order to determine the cause…
Infestations of thrips, a tiny black insect that attacks Sansevieria…
… is one of the most common problems with Sansevieria.
Your plant may have thrips if tiny black bugs fall off it…
… when you shake it on top of a white piece of paper.
However, do not panic! If you see any damaged leaves then cut them off with a sharp blade…
… and then squirt plenty of water on the plant. Wipe it down with a clean cloth afterwards.
Then, spray neem oil on the plant on a weekly schedule for a month…
Do not overwater or underwater your plants if you see no signs of bugs…
Dry Brown Tips
It is most likely due to infrequent or sporadic watering if you notice dry, brown tips on your Snake Plant…
Despite its ability to endure long periods of drought, the Snake Plant still enjoys a regular watering routine!
Soggy or Mushy Leaves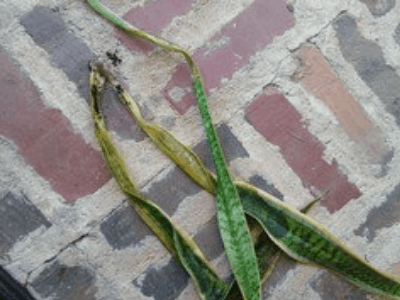 Have you noticed soggy or mushy leaves on your Snake Plant?
Overwatering is more likely to cause this problem than root rot…
The Snake Plant should only be watered when the soil is dry — once every 10 days to two weeks should be fine…
In case overwatering was suspected, you may want to remove the plant from the pot and inspect the soil below it…
There may be a problem with root rot if the area is moist…
Snake Plant not Growing
What should I do if my Snake Plant doesn't grow?
Do not worry because Snake Plants can be slow growers…
… especially in low-light conditions (a reason why many people choose this plant).
Don't worry if your plant doesn't grow since it will mostly grow in the spring and summer…
You can fertilize your plant when this happens to help it grow…
Cracks in Leaves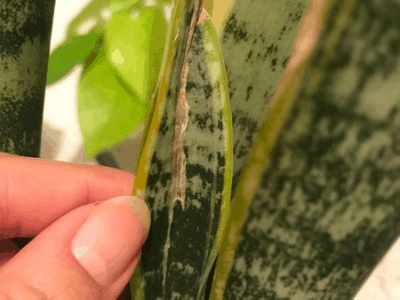 Snake Plants naturally have cracks in their leaves, so don't worry about it…
They are completely healthy and shouldn't affect your plant in any way.
Consider them as beauty marks!
How To Keep Snake Plants Healthy And Beautiful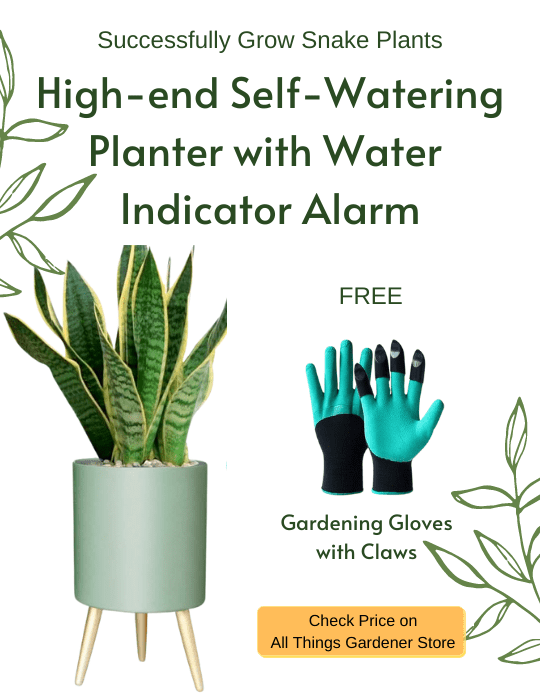 Snake Plants possess a wide range of benefits, including the ability to release oxygen and purify air…
NASA states that the Sansevieria Laurentii variety is one of the most effective houseplants for removing toxins…
… such as formaldehyde and xylene. This makes an excellent bedroom plant too…
… as it transforms carbon dioxide into oxygen at night.
These simple tips will help you continue to care for your Snake Plant…
… and enjoy all its benefits for many years to come.
Pruning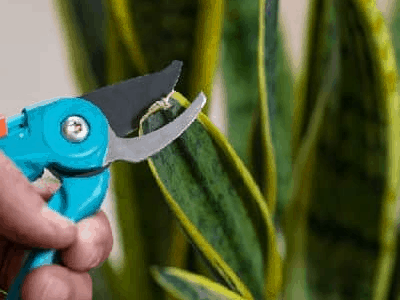 The Snake Plant can be pruned easily..
..whether it has damaged leaves you want to remove or it is overgrown…
Simply cut off the stalks with a sharp, clean blade at the root..
..so that they are as close as possible to the soil…
Try pulling the leaf out from its roots if the leaf is drooping, dry..
..or otherwise on its way out…
If time has come, it will come out easily…
Cleaning
Wipe off the top of each leaf with two soft tissue cloths…
… revealing a healthy glow (this will also help the plant soak up more light)!
Repotting
In the wild, houseplants would grow much faster than in the home…
You may want to do this every 2-3 years..
..depending on the size of your plant and the density of the roots…
… to provide fresh nutrients and encourage new growth.
When to repot?
Snake Plants have extremely strong roots, and will literally burst out of its pot once it's time to repot.
Pot sizing?
Find a nursery pot that is two inches larger than the current pot if you want your plant to grow taller…
If you want your plant to grow the same height, you can reuse the same pot and simply change the soil…
Should this be the case…
You will likely need to separate some of the snake plant stalks as they won't all fit into the pot.
Get your hands dirty!
You should spread newspaper on the floor before removing the potted plant…
… and shaking off the old soil, so that the roots are clean.
The plant can be placed in the center of the pot..
..new soil should be added, and patted down firmly…
The plant should be watered thoroughly and placed in an indirect area with bright light…
It will take about two to four weeks for your plant to adjust from the shock of moving and settle into its new home…
How To Propagate A Snake Plant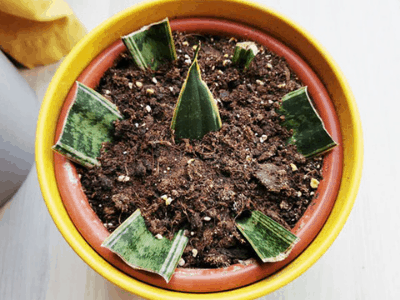 Is your Snake Plant in need of propagation?
Plants can be propagated in a variety of ways..
..including plant divisions or water propagation…
You can grow Snake Plants with these instructions:
Cut off a leaf – By chopping off a leaf, propagate the plant by placing it in water after cutting the leaf from near the soil. You should see roots sprouting after a week or two. Before planting the leaf, let the roots grow to at least an inch in length. For a few weeks or until the cutting roots (if you tug on it, it feels firmly rooted), keep the cutting moist to the touch and in bright indirect light.
Divide roots – Snake Plants may also be propagated through division. Begin by removing the roots and leaves from the plant and separating them into different clusters.
Repot the clusters – In a small pot, place each leaf or cluster of leaves.
Keep hydrated – The first few weeks after planting your new Snake Plants, you should make sure they stay hydrated.
To sum it up…
It's relatively easy to care for this plant whichever your gardening skill is at right now…
Not only that, they allow for better air quality due to their air purifying properties!
If you had decided to purchase one of your own…
… and got confused as to what to do, refer here for your information.
Conclusion
There are still many recent and interesting articles about Snake Plants…
… as well as other unique information from All Things Gardener.
Check out more of our posts like this one here!
I hope you can now take care your snake carefully and grow it big!
Thanks for reading this article! Bye!
Related Articles!