If you're like most homeowners, your garage is probably one of your most-used spaces.
But with heavy use comes the risk of your garage deteriorating and ending up in a state of disrepair.
In this blog post, we'll share 4 top tips on how to make your portable garage last longer, so you can keep it in good condition and use it to its full potential.
Let's hear what John says about his take on making your portable garage last longer.
I'm a homeowner who likes everything to be hassle-free.

For someone like me, portable garages are the best next thing.

It doesn't take much effort to maintain, too.

You just have to be thorough and careful.

I really hope my portable garage could last longer than the average age.

John, Vancouver
How Long Does A Portable Garage Last, Usually?
A portable garage is the next best thing if you need extra storage space for vehicles, farming equipment, or objects that don't fit in your house but don't fit in a standard garage.
Portable shelters are manufactured with galvanized steel frames that can withstand harsh weather and polyethylene covers that are mold, mildew, and UV rays resistant.
Many individuals like the versatility that a movable garage provides.
A portable garage is also far less expensive than a permanent garage.
The durability of the portable garage is determined by the materials and manufacturing quality.
In general, a good portable carport will last ten to twenty years, but some less expensive options may have worn fabrics after a shorter period of time.
The steel frame will outlast the outer material in most cases, though UV-treated polyethylene fabric will last a long time.
So what's the deal?
How can you make your portable garage last longer?
Tips on How to Make Your Portable Garage Last Longer
Now that you know how long portable garages last, is there anything we can do to maximize it?
Is it possible?
Of course, keep reading below for the top 4 tips on how to make your portable garage last longer:
Choose A Good One In The First Place
Because a portable garage is such a large financial commitment, you want to make sure you get a high-quality shelter that will last.
Please don't opt for cheap ones.
Try to find out which portable garage brands are most reliable, especially in your region.
Materials and construction quality may differ from one manufacturer to the next, which is why some survive longer than others.
Check the specifications for a portable garage to see what materials it is built of, how it is constructed, and how long it is intended to survive.
One of the best brand which invents and manufactures high-quality portable garages is ShelterLogic.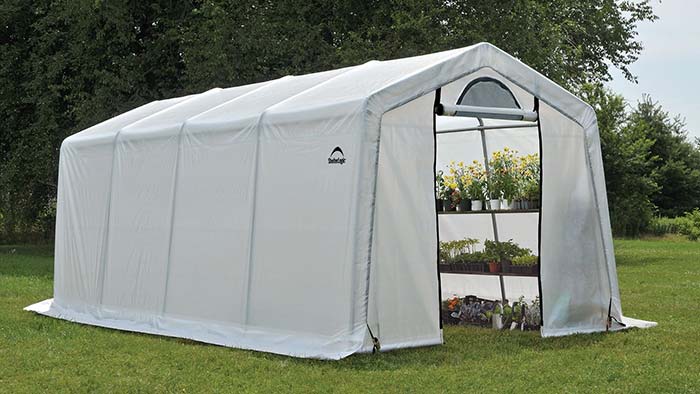 You can check out our article on the best recommendations of ShelterLogic portable garage here.
You'll love it, we promise!
Consistently Maintain The Condition Of The Tarp Structures
Even if bad weather isn't forecast, it's a good idea to keep an eye on your tarp constructing structure.
Keeping an eye on the building's cover to ensure a flawless fit is one of the simplest maintenance suggestions.
It's important that the cover be snug, but not too tight.
The cover is too loose if there is any sagging.
Check for sliding cross rails, ratchet rails, or lace connections on yours.
Sliding cross rails: Simply loosen the clamps and pull the cover to the appropriate location before tightening the cross rails.
Ratchet rails: Locate the ratchet that links the cover rail to the ratchet rail and tighten the ratchet until the cover is snug.
Lace connections: Start at one end of the lace and pull in portions toward the other until there is enough slack to retie the other end for ideal cover placement.
Checking the tarp shed frame for wear and tear is another simple but important maintenance advice.
Check to be sure that bolts and connectors are not only in position, but also properly fastened.
Do Quarterly Inspections
Inspections should be done every three months to ensure peak performance.
While a cursory inspection of tarp structures is always a good idea for ongoing maintenance, you should inspect your tarp shed frame thoroughly every quarter to prepare for each season.
To maintain a long lifespan, keep the roof of tarp structures free of debris, whether it's a violent storm in the summer or snow accumulation in the winter.
If You Use Portable Garage For Storage, Watch What You Store
The lifetime of your tarp structures will likely be unaffected by storing common goods like lawn and garden tools or seasonal décor.
If you plan to store chemicals or other potentially corrosive substances, however, wear some tarp storage solutions to keep your building safe.
Regular maintenance and proper storage will ensure that your fabric structure will withstand the weather in any season.
Sum Up
Many individuals like the versatility that a movable garage provides.
However, we must not forget to maintain it well so that it can last long.
If possible, even longer than the average age of a portable garage.
So those are the top 4 tips on how to make your portable garage last longer.
Did you find them useful?
Let us know your thoughts below!