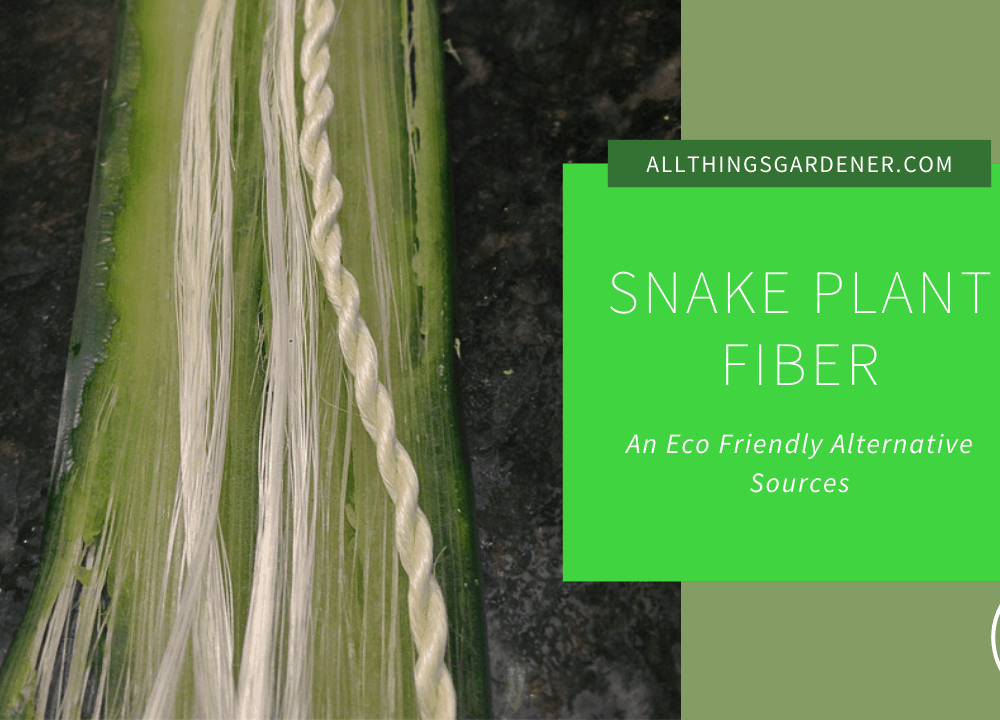 Natural Fiber Snake Plant, Is That Possible!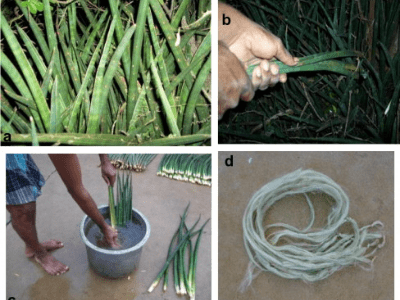 Almost 70 species of Sansevieria have been recorded including over twenty cultivars of Trifasciata.
Though Native to tropical and sub-tropical regions of Europe, Asia and Africa…
…it is grown and cultivated throughout the world.
Trifasciata implies that the upright stiff evergreen leaves are marked with three bands.
Sanseveria is named after the Italian scientist…
…and inventor Raimondo di Sangro (1710-1771), Prince of Sansevero.
He was a garden patron. Their leaves can grow 8-inches to 10 feet long and 2- to 3-inches wide.
Most indoor plants I have seen are shorter than 3 feet. There is a yellow band around the edges.
In the past, they had been known as snake plants and mother-in-law's tongue…
…due to their irregular shape and lighter horizontal stripes.
But, do you know that there's more to them than just beauty and resilience?
They can actually be extracted as fibre!
Here we have a story from Smith, about his experience seeing snake plants being extracted…
….for its natural fibre snake plant.
Let us hear Smith's story
Last Monday, I have seen the biggest fantastic phenomenon I have encountered in my life.
"You know, I've never seen an aloe plant. Let's go to the botanical garden,"
said me to Jack after arriving at his house.
I shook my head in disbelief. "No, you're not extracting fiber from this plant right?."
At that table, I saw all of the snake plants all over it. There is a sign "Natural Fiber Snake Plant" it said.
"There's a snake plant on my porch and it has these fibers that are just like yarn!"
He pointed at the stringy material hanging from the pot in front of him.
He has been cutting these leaves and extracting forms like fibre from this plant.
I'm surprisingly amazed of this.
I never that is possible. "Jesus, I never thought it was real from all of this time."
I'm really shocked by what I have seen. "Now you believe right?"
He's smiling and starts extracting again the so-called "natural fiber snake plant"
Sansevieria Trifasciata fiber is one such lignocellulosic fiber that has likelihood for use in textile industry. It can be extracted from the leaves of Sansevieria Trifasciata Plant by various methods, one of them being water retting

Dr Rita Kant, Assistant Professor, University Institute of Fashion and Lifestyle Technology, Panjab University, Chandigar
Here are the main things that you should know!
Sansevieria Trifasciata, Why So Phenomenal?
Sansevieria trifasciata is the scientific name for the snake plant, a member of the Asparagaceae family.
The plants are indigenous to Africa, and Brazil. There are approximately 70 species of these plants.
There are two kinds of this plant with flowering, and both are spread by creeping rhizomes.
Leaf length and width are approximately 2.5 inches for the dark green leaves.
Dark green leaves with yellow edges cover some plants with variegated leaves.
These plants are mainly used for ornamental purposes in America.
In Africa, they are used in the production of fibre.
Outdoors in warmer climates, these plants can be grown…
…but in colder climates they are used as a decorative houseplant.
You can use them for air purification, removing formaldehyde and benzene from the air.
The fact that they reach upwards makes them extremely desirable in Feng Shui.
When displaying Sansevieria near young children, you should be careful because it's mildly toxic.
Ingestion can cause swelling of the throat and tongue, as well as problems with the digestive tract.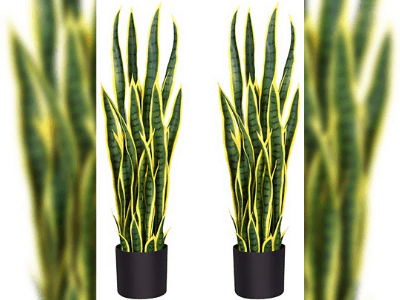 New facts for you!
Extracting Natural Fiber Snake Plant
Student research on the natural fibre snake plant…
…that was made from snake plant roots Sansevieria trifasciata…
….won first place in the first Davao Regional Invention Contests and Exhibits.
The University of the Compostela National High School's Lovely Asur and Angelou Angway…
…discovered the snake plant's potential as a source of natural fibre by accident.
Who will believe this natural fibre snake plant will be coming out from the snake plant.
Originally, Asur said, they hoped to find out its antibiotic properties.
"We noticed threadlike substance on the rotten leaves, so we refocused our study on that.

The fibres were smooth, creamy white and creamy when we dried them from the rotten leaves,"

—Asur, University of Compostela National High Shool.
During their research, they discovered that the snake plant threads…
…were also used by early Filipinos for bowstrings…
…in addition to its ornamental and air purifying purposes.
Are you wondering…
---
How Do They Do That?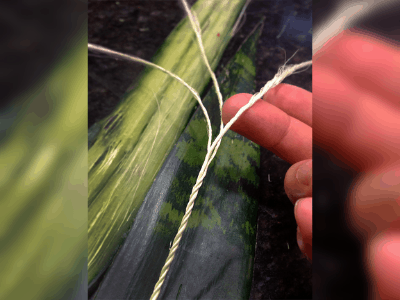 First of all, to obtain the fibres, students soaked the leaves of the snake plant in water for three weeks rinsed and dried and then subjected them to tests to compare them to commercially available fibres like abaca and pina. Fibres from leaves are extracted using the retting method.
The leaves are collected and then retreated in water for seven to eight weeks.
When the leaves are completely decayed, the fibres are removed from the outer layer.
The fibres were washed thoroughly so that no pulp remained attached to them.
They were then dried in sunlight for about five to seven hours to remove moisture.
Further research had also been done. In the International Journal of Science and Research article…
…."Extraction of Fiber from the Sansevieria Trifasciata Plant and its Properties"…
…it was discussed how we have used fabrics in ways that have a detrimental effect on the environment.
Fashion consumers in all countries practice a "use and throw"…
…attitude which leads to textile waste clogging landfills. 
In response to this, governments have begun launching environmental awareness programs;
international businesses are being asked to observe strict legislation and undergo environmental audits.
Research is being conducted to identify non-conventional sources for natural fiber snake plants.
Asur also said that the main and most important thing on the process is to pick the most healthy snake plants leaves before drying them out. He told us that he use this fertilizer to boost the snake plants grow faster to be able to extract them…
Now, let's talk about the facts about natural fiber snake plants
Benefits of Natural Fiber Snake Plant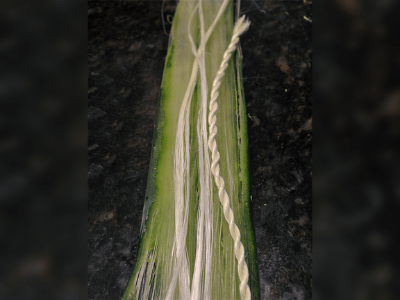 Sansevieria trifasciata is one such lignocellulosic fibre with potential for textile use.
It can be extracted from the leaves by various methods.
As a result of its greater strength, its economic value, and the fiber's renewable nature the fibre can be used to make a wide variety of textile products like sacks, ropes, handicrafts mattress for bedding and other extensive applications of textiles.
Other possible uses of the snake plant fibre extract include sources of high-quality paper, clothing, etc. and products such as sacks, ropes, handicrafts, mattresses for bedding and other wider applications of textiles. 
In the elongation limit test, it was revealed that snake plant fibres…
…can extend nearly twice their original length rather than the 33.48 percent limit…
…for abaca fibres, demonstrating an ability to stretch nearly three times as much,
…when compared with linen.
By testing the strength of the snake plant fibre,
…the students decided that its breaking point was 1,327 grams.
Like abaca, snake plant fibres burn like paper.
Physical testing has demonstrated that the natural fibre snake plant…
…are comparable to commercial textiles as their elongation limit and strength are not only comparable…
…but even superior to cotton. The students also suggested it could be used in medical applications…
…as a thread in surgery since the fibers break down readily within the body.
Sum Up
This natural fibre snake plant is incredibly strong. It actually feel like horsehair?
I'm glad I got to practice this primitive skill, but won't be doing it every day.
Simply taking on these painstaking tasks really makes me appreciate how convenient our daily lives are.
However, if you ever find yourself in a survival situation in a tropical region of the world…
…look for snake plants to make cordage from.
Conclusion
Last thing for sure. This plant needs to be taken care of gently, remember the plant need "love" too.
And this natural fiber snake plant can help us to substitute if there's a lack of supply for it.
Alright, that's all for today! Do you have any questions about all of this?
Or do you want to add some other facts about the natural fiber snake plants?
Let me know your recommendation from the comment below.
I hope you can now take care of your snake carefully and grow it big!
And hope you can extract the natural fiber snake plant itself
Thanks for reading this article! Bye!
Frequently Asked Questions On All About The Natural Fiber Snake Plant – What It Is, Where To Get It, and How To Care For It
Are you looking for a plant that can help you achieve environmentally friendly gardening?
If so, you'll love the natural fiber snake plant!
This plant is special because it's made up of 100% natural fibers…
…and it can be used in a variety of ways. In fact, it has been shown…
…to be an effective eco-friendly alternative to traditional landscape plants.
Read on to learn more about this plant and how it can help you..
…with your eco-friendly gardening goals.
How does a natural fiber snake plant help in eco-friendly gardening?
If you're looking for something unique and special in your garden…
….a natural fiber snake plant is definitely worth considering!
These plants make an excellent addition to eco-friendly gardens…
…because they require little care once they're established.
Furthermore, they are made up of a variety of different types of…
…plant fibers that help to bind the soil together.
They also have mucilage glands which helps them absorb water…
…and nutrients from the soil, helping them to grow rapidly.
So if you're looking for a low-maintenance plant that can add beauty…
…and functionality to your eco-friendly garden, a natural fiber snake plant is the perfect option!
Are there any side effects of using a natural fiber snake plant in eco-friendly gardening?
There's no denying that natural fiber snake plants are a special kind of houseplant.
They combine the beauty of a plant with the functionality of a snake…
…and they're perfect for eco-friendly gardeners who want to add…
…some green flair without taking too much time or effort.
Because they're low-maintenance, there are few side effects associated with their use.
Some of the benefits of using a natural fiber snake plant in eco-friendly gardening…
…include reducing the need for pesticides and improving water retention.
Additionally, snake plants can be easily propagated from cuttings taken…
…from new growth or roots that have been left in water.
So if you're looking for an interesting and unique houseplant…
…give a natural fiber snake plant a try!
More Related Articles For You
Gardening is how I relax!
It's another form of creating and playing with colors?
My mission is to make people realize that even by growing a plant...
....it will make them believe in tomorrow?
And that's life most valuable moment!?