Why choose the new All American sharpener model? Is there a new model of All American lawn mower blade sharpener? Is there a 5005 mower blade sharpener? Do you want the greatest all-American sharpener, model 5005 adjustable lawnmower blade sharpener? Before you read the answer, maybe you are interested in checking out our article: Best Riding Lawn Mower Blade Sharpener.
---
Why Should You Go with New All American Sharpener?
Maybe you are considering purchasing the products of the new All American Sharpener brand. The items were designed to be a low-cost, high-quality sharpener for lawn mower blades.
This technique uses a guide arm and pin that attaches to your angle grinder to clamp the blade in place at the desired angle, ensuring that you get the edge you want every time.
The sharpeners are expertly designed and constructed from anodized aluminum and stainless steel, and they are built to last. The sharpeners can do the task whether you're a large lawn mowing company or a homeowner.
---
How do you sharpen blades with the new All American Sharpener?
---
Angle and Edge
If the bottom of your mower blade is not flat to a table (parallel to the ground or center portion) when viewed from the end, it will change the angle of your grind. This is a forward tilt or twist, comparable to that of a propeller. You'll need a Model 5005 if you have a blade-like that. You may easily adjust the grinding angle on the 5005 to accommodate for the changed cutting edge angle.
---
Potentially Issues: Blades
Various mower blade styles that aren't compatible with their vise.
Bi-level mulching blades are seen on some eXmark 48″ and smaller deck mowers, where the cutting edge extends all the way to the center of the blade, beyond the center hole. This will result in mounting challenges in our vise system for which we have yet to find a solution.
In the center mounting position of some mower blades, there are raised edges on the sides. Some Toro, Snapper, and Cub Cadet blades fall into this group, but not all. This geometry may be found in other brands as well. This poses problems, but it may be solved by backing out the vise screws and raising them so the blade can fit beneath them.
Their current units are unable to sharpen Snapper Ninja mower blades. They were unable to design an adaptor that would allow you to grind on all four blade edges.
A mower blade made by John Deere for some older tractor models is too large to fit in our jigs. The round center hub of these blades is 4 inches wide. For this style of mower blade, they do not have an adapter or mounting solution.
The X—Blade system on Dixie Chopper blades has elevated centers that are imprinted at an angle. Our vise system suffers as a result of this. All American Sharpener now have an additional adaptor for mounting the X-blades in our system appropriately.
The mulching blades on Honda riding lawn tractors have a form that will present problems with their jigs. They have not yet had the opportunity to test or accommodate these blades. For the Honda walk behind Microcut Twin Blade Sets, All American Sharpener have an adaptor.
---
Is there a new model of All American lawn mower blade sharpener?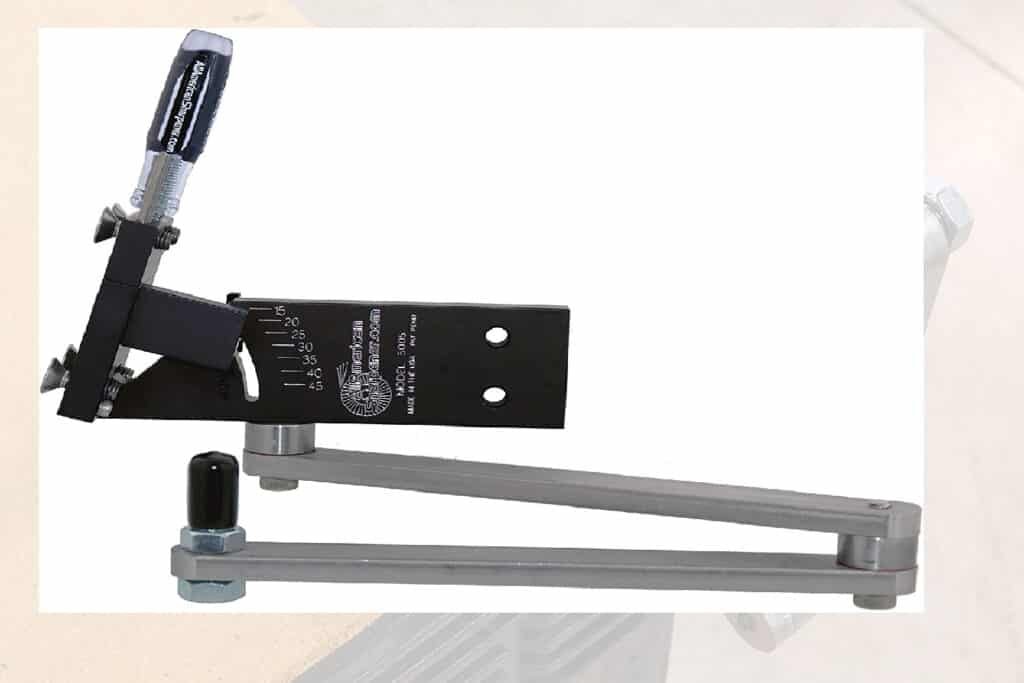 Is there a new All American Sharpener? Yes. Lawn Mower Blade Sharpener, All American Our Newest Model 5005 available. Depending on the scenario and mower blades, their customers have stated a desire to adjust angles. All American Sharpener designed this model to work with a variety of blade kinds, styles, and angles.
---
Blades for standard lawnmowers
There are no altered angles along the cutting edge of the conventional blade, as we call it. It's straightforward and straightforward. You only need the Model 5002 if you want to grind a 30 degree edge on these blades. Check out the New All American Sharpener Model 5005 if you want more angle possibilities and adaptability.
---
Blades for John Deere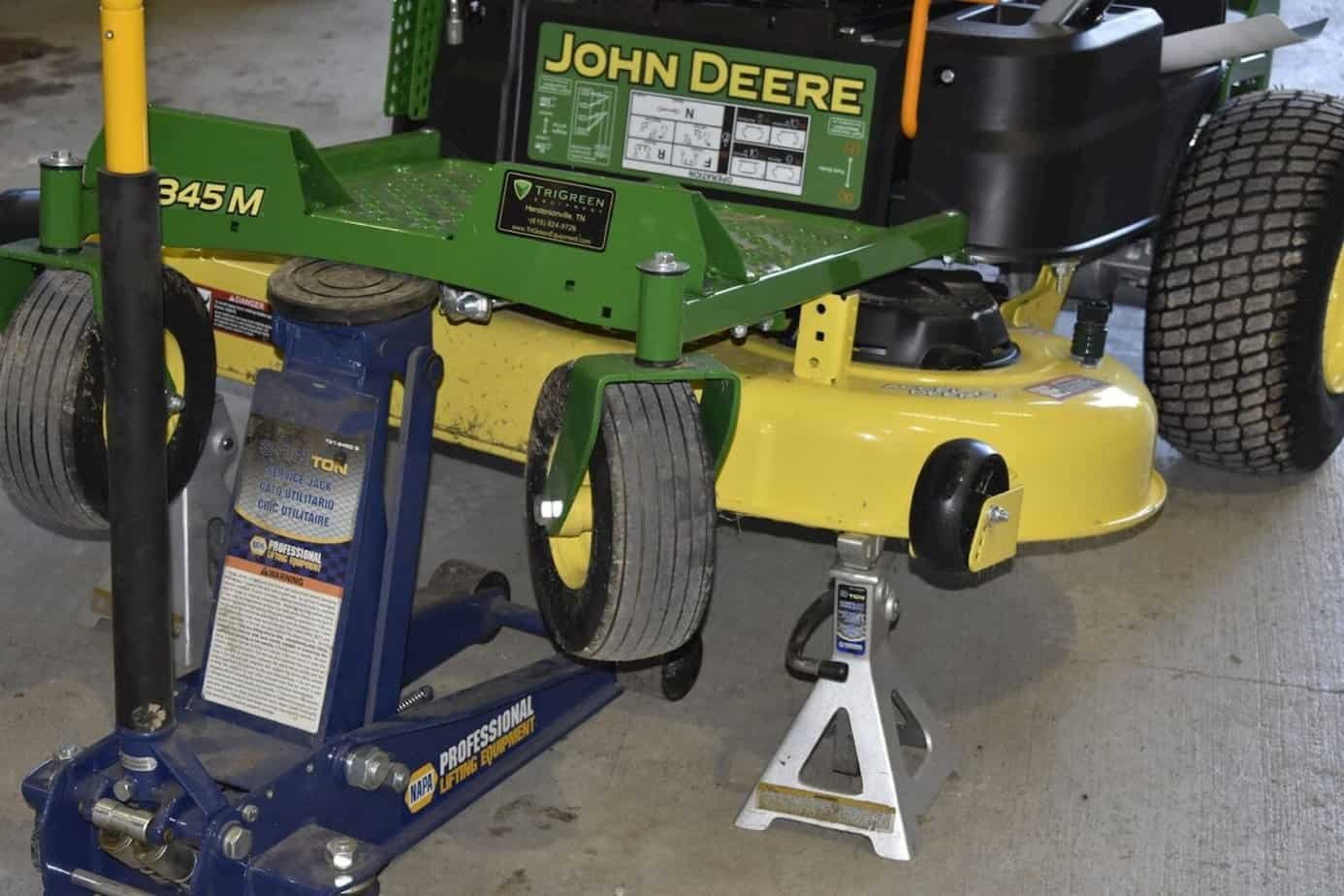 Mower blades from John Deere can appear to be typical straight blades. However, the cutting portion of many, if not all, of them has a significant tilt or twist forward, so it is not parallel with the center section. Because this changes the angle of the grind, a setting greater than 30 degrees is required to compensate for the tilt.
The New All American Sharpener Model 5005 is the only jig they offer that allows you to easily select steeper angle settings. Many John Deere customers have been told that their 5005 needed to be adjusted all the way to 45 degrees.
---
Final Words
What is the most effective method for sharpening a mower blade? Some tips for you:
Whatever tool you use to sharpen your blades, make sure you run it in one direction and maintain a 30 to 45 degree angle between the blade's edge and the sharpening tool.
After that, make sure you only sharpen in one direction. To put it another way, don't use the file tool like a saw, going back and forth. Only sharpen in one direction.
Sharpening your mower's blades is a rather fascinating operation. Some people will enjoy doing things for themselves, while others will not.
If you're one of the latter, don't be afraid to participate in regular sessions. It's easy, and the workshops should take care of it. You can either take the mower to the workshop or hire a specialist to bring the grinder in and do the work on your property.
Find more about how you sharpen lawn mower blades and the best universal lawn mower blade sharpener.
---
More Related Articles