Snake plants have a huge price range on the marketplace..
You might be thinking what makes it so expensive?
What are the factors that can make a simple plant so expensive?
Hear it from Sandra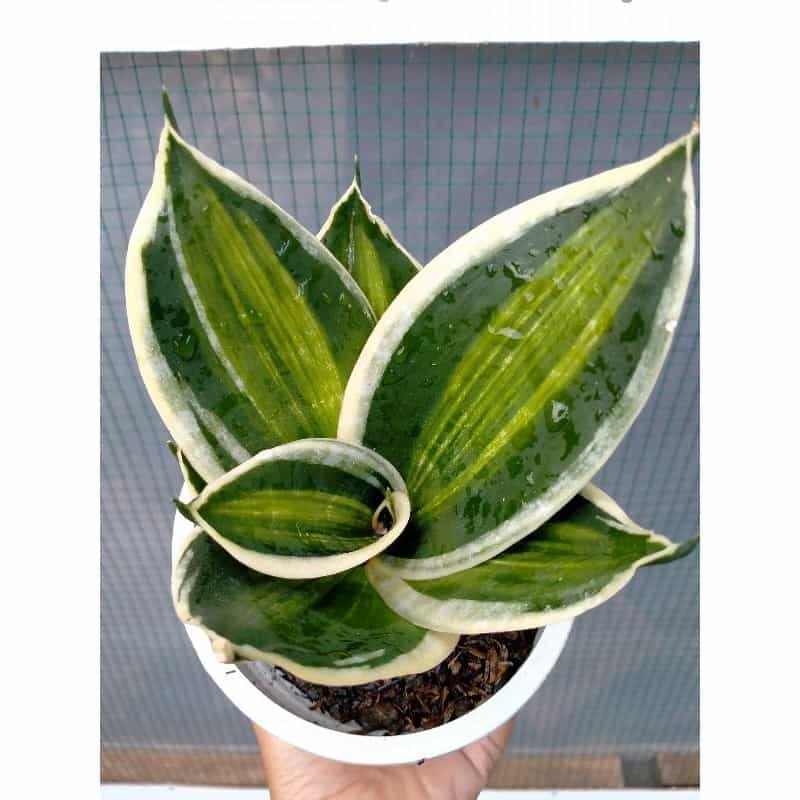 The pandemic has been tough on us..
Since we thought work is going to give us a promising future..
..we have loans for buying cars and our house that we are…
…staying right now.
The pandemic has been here for almost two years..
Last year they have been giving us a half-paid salary.
So we decide to move to a smaller house…
..our children are not so happy about it.
After a while there we start to do more gardening..
we don't really socialize with our neighbors...
...so we communicate through the kitchen windows.
Suddenly, they came in and bring a plant for us.
Not knowing what's the plant they are giving,
..we start to look it search it on the internet..
We are stunned by the fact this is not the regular snake plant..
The snake plant can be sell up to $1000!
Are you surprised by the fact that a snake plant could cost that much?
Do you know how to take care if the plant?
Or how do you keep the snake plant healthy?
Let's get started!
Sansevieria Beauty Care
First of all Sansevieria is a succulent plant..
..it keeps the moisture on the leaves..
it originally comes from Africa, where you…
…can find it sunny and dry. These are a few…
…things to consider when you are going…
…to plant a snake plant.
In addition to that…
Which Is Better For Snake Plant? Inside or Outside?
A lot of people consider the snake plant as an indoor plant.
To have an expensive snake plant, you might want to keep it indoors…
Snake plants grow in a dark environment incredibly well or…
…you may say, indirect sunlight. Too little sun might cause…
…the plant to grow slower than if it's located in a sufficient…
…light spot.
Other than it's good for your health, you can keep an eye…
…on it while you are having your activities. Especially during…
…the pandemic we tend to work from home, and it's not suggested…
…to get out of the house. It's a win-win solution! Extra care for your…
…plants and it filtered the air of your working area.
Now, let's get things underway…
Repotting
So, first of all you have to choose a pot!
If you choose to put it inside the house…
…you have to consider which pot is able…
…to support the plant, does it have a good…
…drainage?
It is important to choose the right pot, or else…
…your expensive snake plant will have a mushy…
…leaves and root rot.
Actually, I have a few of those pots! As the result, it's perfect for many…
…of my plants, I prefer terra cotta pots. Very good drain holes and…
…everything arrived in one piece! As far as thickness goes, they're perfect!
Are you there?
Soil
The recommended type of soil is the one that is not mouldy.
Make sure the soil that you're going to use is sandy and…
…has enough nutrition.
If you choose to put it outside with other plants. you have…
…to be careful about how to water the plant.
Again and again, I suggest this soil based on my experience!
To pot my baby succulent, I used Hoffman Organic Cactus…
…and Succulent Soil, which I mixed with potting soil for my…
…snake plant to create a terrarium. The soil has been draining…
…well, and the plants appear to be in good shape!
Keep going…
Watering
Snake plants don't need so much water..
You can water when the soil is dry outside..
If the colour of the soil is still looking moist and dark,
..you might want to give it a rest for a day..
During spring it may bloom a flower, as it rarely happens…
…you can also encourage it.
Furthermore, during winter, it doesn't need a lot of watering.
You might only check the humidity of the soil once a week.
My plants love them because they are reliable, functional, and easy to use.
Both indoors and out, they are versatile. The small spout prevents water from spilling out.
Back to the topic…
What makes the Sansevieria expensive if the maintenance…
…is so simple?
Are you interested in collecting one of the expensive Sansevieria?
Or do you want to increase the price of your Sansevieria?
You won't believe it…
What Makes Snake Plants So Expensive?
Expensive snake plants exist, here's why :
Type of Sansevieria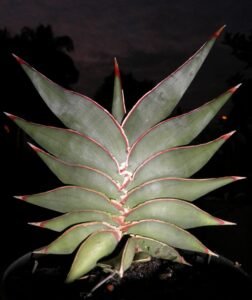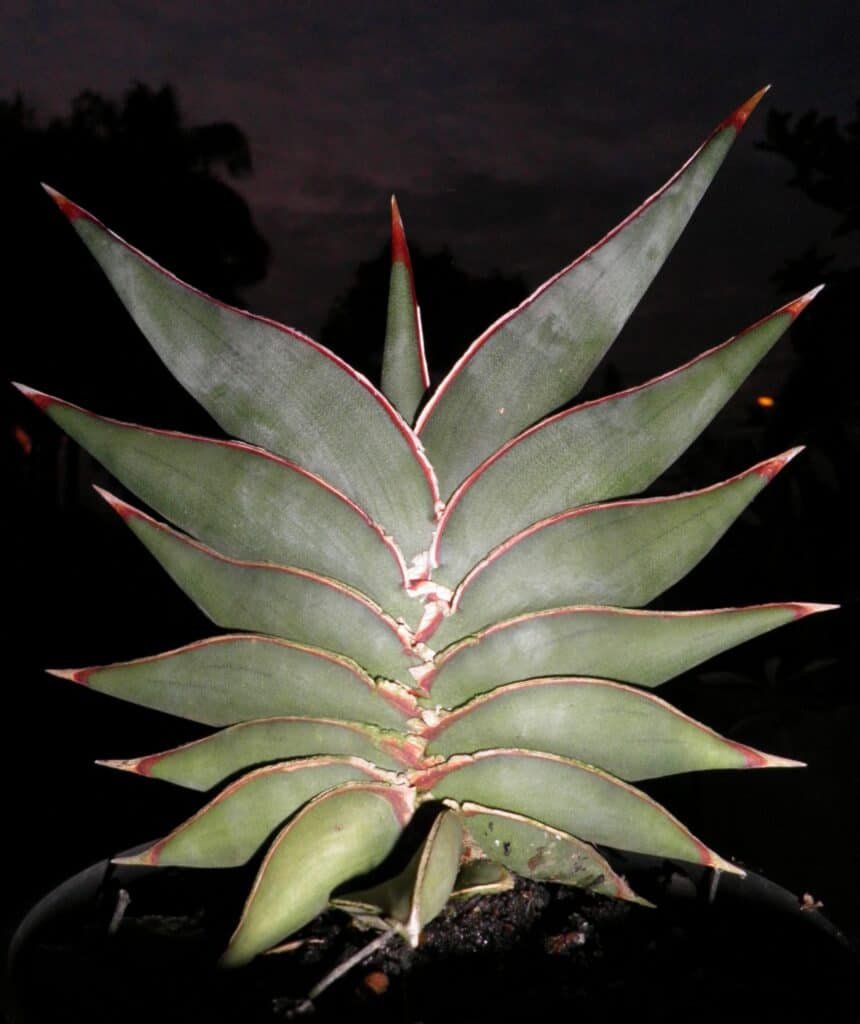 There are more than 50 types of Sansevieria in the world..
Some that you've encountered in a lot of places might not be the most expensive…
Most of the expensive snake plants are rare types : 
Sansevieria Suffruticosa Variegated Suffruticosa.
It's the best selling in the Sansevieria market.
The Sansevieria contest is sometimes championed by it.
Suffuticosa and Sansevieria cylindrica are related.
The leaves of Suffruticosa grow on its tuber while…
…the leaves of Sansevieria grow on its armpit.
Astonishing, isn't it?
Sansevieria Crested Hahnii
This type is quite unique, a family of Sansevieria Cylindrica.
Let's see what the collector says about the plant :
Probably, this is the most expensive hahnii in the market.

The Crested hahnii with only 7 leaves and 5 cm long can be sold at US $250.

by Ratna Surfitasari a Snake Plant Collector
Sansevieria Regale
Beating the said to be the most expensive sansevieria crested hahnii,
One beautiful Sansevieria regale cost as much as 32 thousand dollars!
There are so many more unique and rare Sansevieria,
But let's move on to…
Health Aspects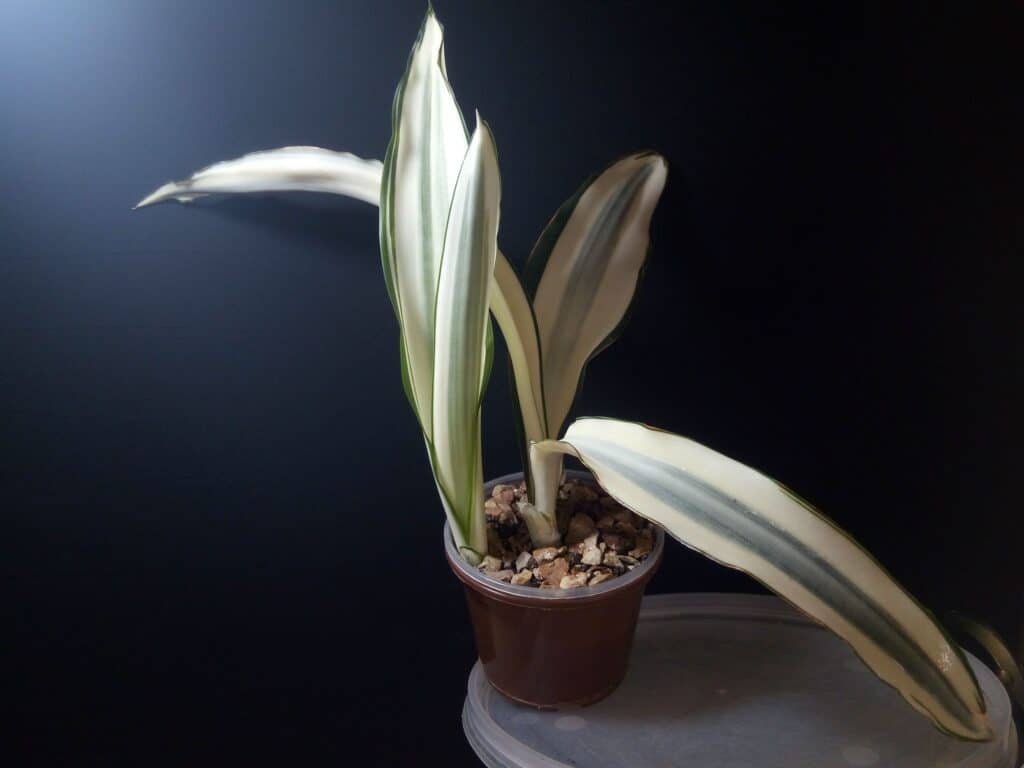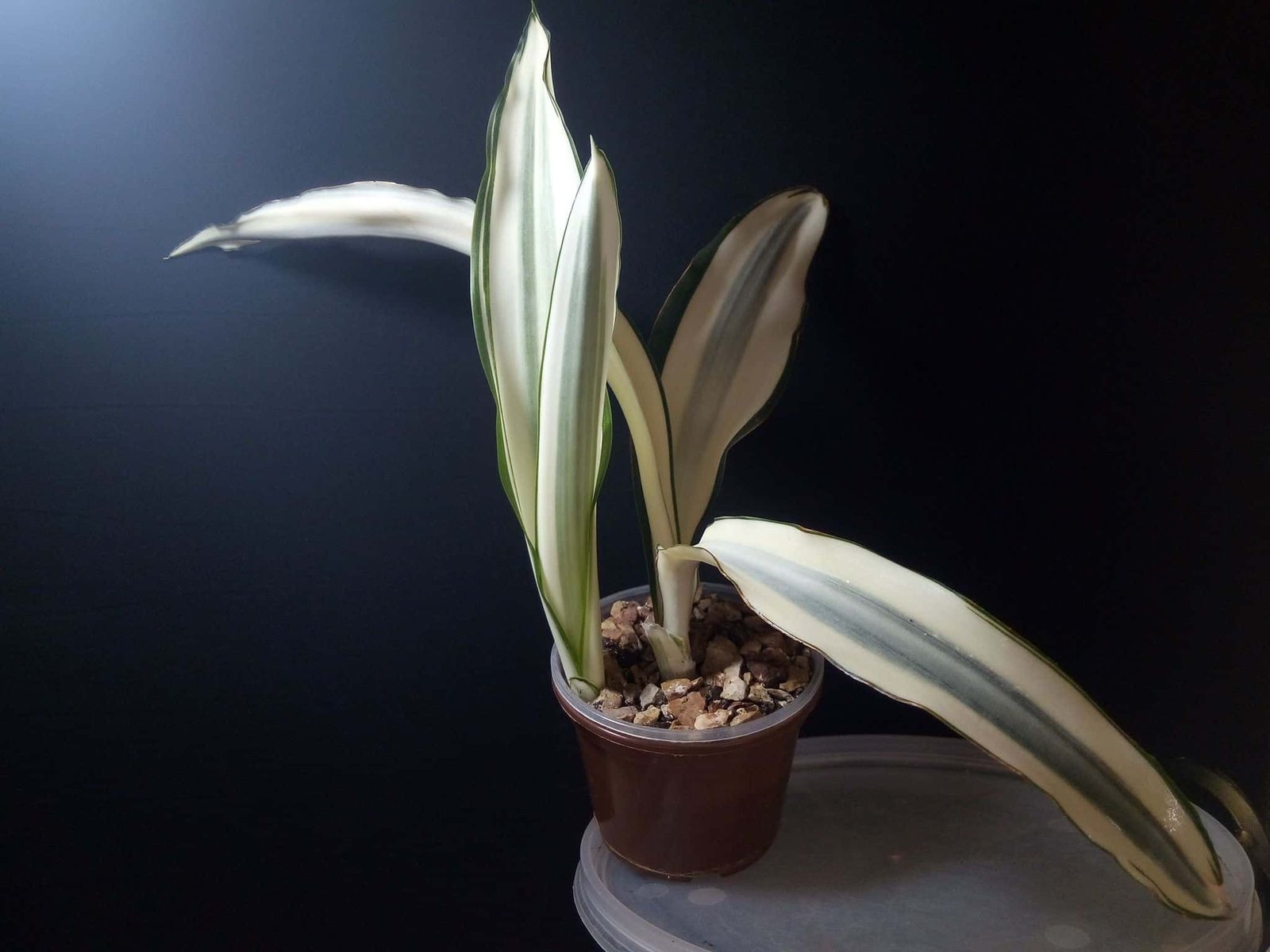 The health aspects are no other than: 
The Snake Plant is Healthy
What are categorized as healthy snake plants?
It's not infected by any plant disease,
If there's a thrips on the plant, it is also considered as sick.
Make sure your plant is away from any insects and disease
Scars can affect the beauty of the leaves..
It can be gained from insects bites or it can be from the ..
…previous infection from any sickness..
To prevent it from scars, make sure you have cut off the infected leaves.
Too much sun will cause the leaves to look unhealthy yellow..
..worse, it could look like it's burnt
Wrinkles are one of the signs that the snake plant is not healthy..
It may be caused by an insect that absorbs the fluid inside the leaves..
You might wanna beware of it..
Cracks might also happen in snake plants' leaves.. 
It could be triggered by too much direct sunlight, dryness, etc.
Other than health we also have a beauty aspect
Beauty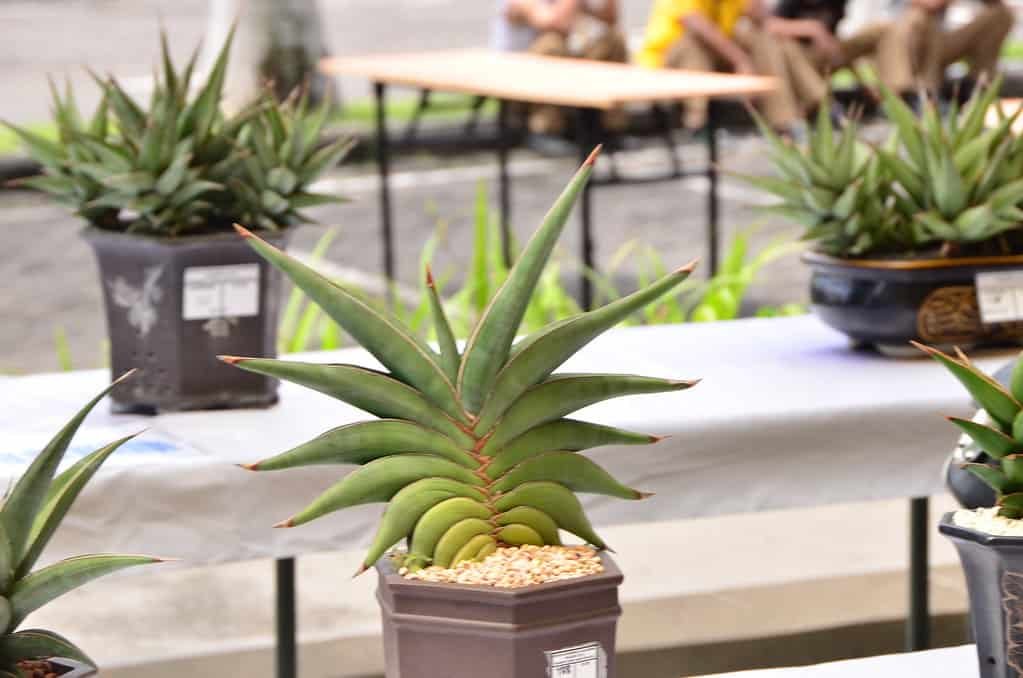 Most of the expensive Sansevieria is also a winner of the Sansevieria Contest.
This is one of the plus points to win the competition.
The First Impression is all about looks. Does it look naturally healthy?
Colour is one of the most important factors that make the plant expensive.
Colour in Sansevieria could be faked by giving a powder
The form of the leaves is an interesting part that plays a role…
..in making the price goes expensive..
The composition of the soil is another factor.
What kind of fertilizer, stones, or even a companion plant…
…that has been put on with the snake plant.
Some fertilizer might be harmful to the roots, 
so make sure you have the right fertilizer and nutrition for your plant!
Frequently Asked Questions
What should I do if my Sansevieria starts to lose leaves or flowers?
Sansevieria should be watered regularly and fertilized every two weeks with a balanced fertilizer.
If leaves or flowers are dropping, it may be because of a lack of water or fertilizer.
How can I tell if my Sansevieria is getting too much water or not enough water?
Sansevieria can get water from the soil, rain, or a faucet.
If the plant looks wilted or the leaves are drooping, it may need more water.
Sansevieria can also be told how much water it needs by looking at the roots.
Roots that are wetter than the surrounding soil mean that there is too much water…
…and roots that are drier than the surrounding soil mean that there is not enough water.
What are the top five things to consider when choosing a Sansevieria?
There is no definitive answer to this question as it depends on personal preferences…
…and the specific Sansevieria plant in question.
However, some popular choices include Sansevieria trifasciata,
Sansevieria indica, Sansevieria polymorpha, and Sansevieria quartaniana.
It is important to note that these are just some of the many varieties of Sansevieria plants available,
…so it is best to do some research before making a purchase.
Is it okay to repot an existing Sansevieria plant once a year?
In general, it is okay to repot an existing Sansevieria plant once a year.
However, it is always best to consult with a plant specialist…
…or grower to get the most accurate advice for your specific plant.
What is the Price of a Snake Plant?
Prices for snake plants can vary depending on the plant's variety, size, and condition.
However, a typical price range would be around $10-25 per pot.
What is the Most Expensive Snake Plant?
There is no definitive answer to this question, as the price of a snake plant…
…can vary widely depending on the condition, size, and origin of the plant.
However, some of the more expensive options include Chinese Sansevieria Trifasciata 'Alba'..,
…mother-of-pearl orchids (Dendrobium spp.), and leopard lilies (Lilium concolor).
While these plants might not be for everyone, those that are looking….
…for unique garden accents could find them quite attractive.
If you're undecided about which snake plant to buy,…
…then it's always best to visit a nursery or specialist store in order to…
…get a better sense of what's available.
Remember that prices generally increase as plants grow older,..
…so don't hesitate to purchase one when you see it!
Finally..
To Sum Up
You might find some of the Sansevieria clans expensive..
There are some factors that cause it to become expensive..
These qualities might also consider taking the plant,
into a Sansevieria competition!
Who knows your plant can be a champion?
To Conclude 
Now that you know the snake plants could be expensive,
You won't think it as a scam anymore, don't you?
More than that, now you would know what kind of snake plant,
..that is worth to buy, or you want to game up your snake plants collection?
That's all your choice! 
Do you have any other expensive snake plants suggestions?
Check out more posts on our website like this one here!!
Have an awesome gardening journey!
Share it with us by dropping a comment down below!
More Related Articles Just For You!