It is always interesting to make your terrarium for jade plant!
As famous succulents and one of the best low-light terrarium plants…
Jade plant is easy to maintain, and care for its beauty is also a plus!
This is why they are best used in terrariums…
Especially the kind of jade plant that is small in size…
… but still so beautiful to see.
Putting it in a terrarium is another fun activity we can do with them!
There are several Crassula species that are sold under the general name of jade plant, friendship tree, or lucky plant. Jade plants are common indoor houseplants and often manicured as bonsai. They prefer moist soil, full (not direct) sun, and should not be over watered. Jade plants are from the Crassulaceae family, which has a number of other terrarium-friendly species.

Monica Miller of BC Living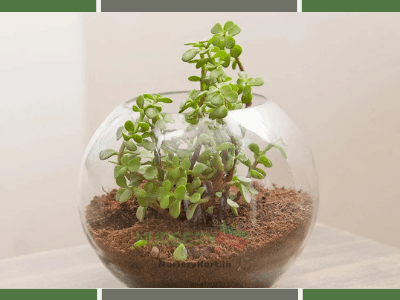 Kay's story…
I had an empty bowl aquarium in my garage…
It has been sitting there being useless since my fish died…
I had a feeling I could turn it into something really beautiful…
… and useful…
… but I didn't know what yet.
I asked my sister about it…
And guess what she told me…
"A terrarium would be awesome!"
I hesitate at first…
Because I didn't know a thing about terrariums…
But I gave it a try…
It took me a couple of days to finish it up…
… and almost a week to perfect it.
I chose to put my jade plant into the terrarium…
Because they're the most recommended succulent…
… to be planted in a terrarium.
I was so satisfied with the result!
It was really beautiful…
It adds up to my room decor perfectly…
Amazing, right?..
Kay's story just showed you…
How pleasant and a fun journey it will be…
… once you start making your terrarium.
Also, you can combine this fun activity with your love of jade plants!
But first…
You need to remember that ideally, you should group plants…
… according to their similar growing conditions.
These may include indicators as lighting, humidity, and moisture…
It is also far better to choose plants with a slow growth rate…
… to avoid terrarium outgrown.
Now…
What Kind of Terrarium Should You Choose?
There are two kinds of terrarium in general…
The closed and open terrariums…
Closed terrariums are any containers with a lid on them to cover it…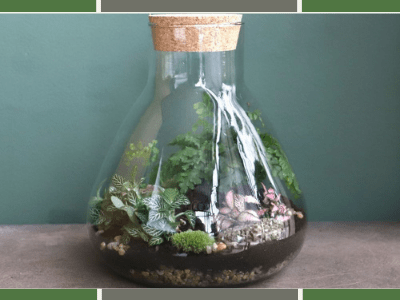 The best plants to be planted inside these containers…
… are plants that tolerate humid and moist environments.
These plants include tropical flowers, mosses, and ferns…
Whereas open terrariums are containers with open tops…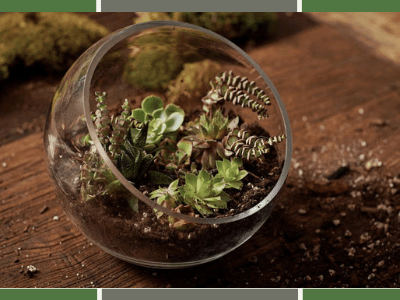 These containers are best for plants that need less moisture…
Usually, they are the arid living type of plants…
Such as cactuses and succulents…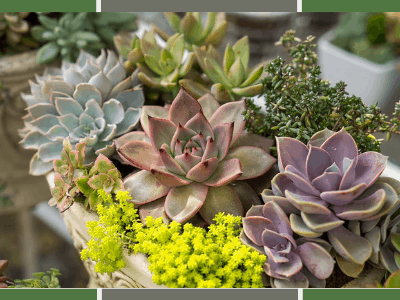 This is why the open terrarium is the best choice for jade plant!
As a succulent, the Jade plant requires more warmth and air…
Making it perfect to be planted in open terrariums…
More on the topic of terrariums can be found here.
The Best Terrarium for Jade Plant!
Now that you know that open terrariums are best for jade plant…
You should also know how to create the layering and type of open terrarium for your jade plant…
Remember…
There are certain kinds of jade plants that may be suitable…
… since the different jade plant has different feature.
This is why you should choose the jade plant that grows up to 4 feet…
… such as the Mini Jade or the Hobbit Jade.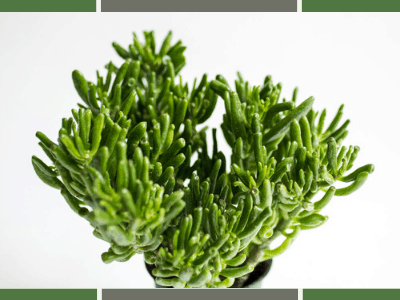 Kinds of Open Terrarium
The type of the open terrarium will determine its composition of it…
Mainly, there are two kinds of open terrariums…
The one made for succulents…
… and the one made for cactuses.
The open houseplant terrarium is mainly used for succulents…
Need no difficult composition…
… since the least you should do is only put in substrate and plants.
Whereas the arid terrariums, which are made for cactuses…
They require different structures and substrates…
… due to its very arid requirements.
The Layering of Open Terrarium
Specifically for succulents…
What you need to have for an ideal layering of open terrariums are…
A vase, bowl, container, or jar of any kind
Pebbles
Pea gravel
Succulent or cactus soil
Succulents and air plants
Decorative rocks, sand, shells
The steps for making one include:
Fill up your container with decorative rocks about an inch or so.
Add pea gravel or sand on top. You can also use activated charcoal instead, but it's messy. Pea gravel is much better and enhances the appearance of your succulents while helping with drainage and avoiding rotting and odors.
This is when you choose where to plant it. Position them around and see what looks best.
Then, scoop in the succulent or cactus soil about an inch or two – depending on the size of your terrarium vessel.
Now make a little hole in the soil and begin designing! If you don't like how your design works, don't be afraid to reposition it.
Finally, we can add sand, tiny pebbles, recycled glass, or shell chips to enhance its beauty!
Wasn't that easy and fun?..
Not just that your jade plant is now in a new beautiful home…
You also had fun doing it!
Designing an open terrarium for your jade plant would be an amazing activity…
… to be done with family or friends!
In addition, to enhance the beauty and fresh value, you should know how to clean a glass terrarium.
Frequently Asked Questions
How can I choose the right type of glass container for my terrarium?
Glass containers are a popular choice for terrariums because of their transparent nature. Many different types of glass containers can be used for terrariums, including drinking glasses, Mason jars, and food storage containers. The best type of glass container for your terrarium will depend on the type of terrarium you are using it for.
Can I add other plants to my jade plant terrarium if I want to increase its biodiversity?
Yes, you can add other plants to your jade plant terrarium if you want to increase its biodiversity. However, be sure to keep an eye on the plant's watering and sunlight levels as additions can quickly grow out of control.
How do I water my jade plant terrarium properly?
Water your jade plant terrarium like this: pour a little bit of water into the top of the pot, wait a few minutes, and then pour another little bit of water in. Do this every day until the pot is full.
What types of rocks should be used in my jade plant terrarium?
The type of rock your jade plant terrarium will be made out of is up to you. However, for a healthy environment for your jade plant, it is advisable to use a succulent potting soil mix or cactus soil mix.
What kinds of food can I put in my jade plant's terrarium?
You can put plants in a jade plant's terrarium, but be sure to select plants that are compatible with each other. The most popular plants for terrariums are succulents, air plants, and cacti.
How do I make a sustainable terrarium for my jade plant?
You can make a sustainable terrarium for your jade plant by using a mix of soil, sand, and bark chips.
How often should I water my jade plant's terrarium?
Watering your jade plant's terrarium should be done every day.
Time to recap…
Terrariums are amazing for home decor purposes…
You may make one that is open or closed…
But the best kind for your jade plant…
… would be the open terrarium!
It is a fun and creative activity to do…
… and it won't take up a lot of your time.
There are only 6 easy steps on doing it!
Conclusion
Now that you have done a new activity with your jade plant…
Tell me what you think about it…
And comment down below…