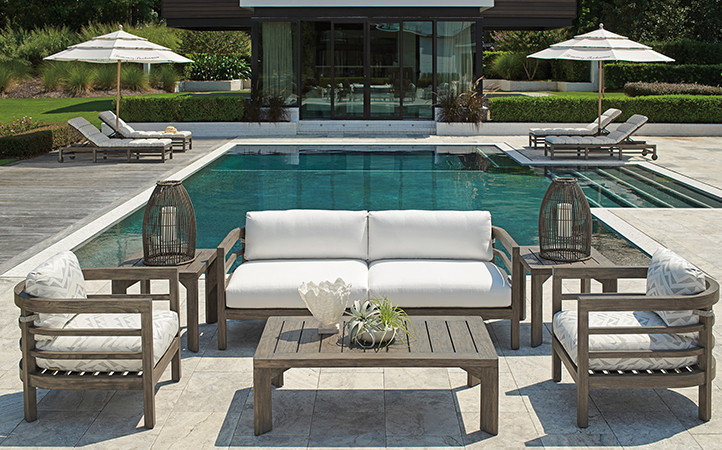 We're reminded at the outset of every summer that outdoor patio furniture is an investment.
That is the most important feature of all contemporary outdoor furniture: its material composition.
Let's hear a few words from Kathlene, who realizes just how significant your furniture material choice really is.
I never thought that it pays to know more about the materials for outdoor furniture.

I used to just throw in random cheap patio chairs and tables, and honestly, I've always hated how it looked!

Plus, they didn't have a very long durability.

After doing some research about the key differences and quality with each material, I am now more ready to invest in patio furniture which are improved and better.

Kathlene, Ohio
Without further ado, let's delve deeper into the knowledge of outdoor furniture materials.
Outdoor Furniture Materials and Types
The truth is that there are a plethora of excellent materials to pick from for your outdoor furniture.
The graph below can help you have a general view of many types of materials.
Let's have a look at the benefits and drawbacks of the various materials used in outdoor furniture for the long answer:
Teak
Teak is by far the most popular wood for outdoor furniture, out of all the options. And it's not without reason.
Teak patio furniture is naturally resistant to the elements.
Teak has a high oil and natural resin content, making it more insect resistant and water resistant.
Teak is a particularly sturdy and long-lasting outdoor furniture option because to the oils that protect it from dry rot.
A teak sealant will normally last a year before needing to be reapplied to protect the original color from fading.
Synthetic Resin & Plastic
Synthetic resin is another wonderful material for modern outdoor furniture because of its low maintenance, light weight, and all-weather durability.
For a classic outdoor appeal, traditional synthetic resin outdoor furniture is often woven in a wicker form.
Outdoor furniture made of synthetic resin wicker can survive the elements.
Nylon, polyethylene, and PVC are among of the most common synthetic materials used to manufacture synthetic resin wicker.
When purchasing a piece of synthetic resin furniture, make sure it is made of High Density Polyethylene (HDPE) wicker.
They combine excellent durability with a light weight that makes moving outdoor chairs and tables much easier.
Metal
Steel is the strongest of the metals, but it is also the heaviest and most expensive.
Steel furniture is more difficult to move around due to its weight, but it will be more stable against the wind.
Stainless steel, on the other hand, adds chromium to molten steel, making it rust-resistant and even salt-water resistant.
Stainless steel is hence ideal for use in marine conditions.
Steel outdoor furniture, whether galvanized or stainless, will rust if exposed to chlorine.
To further safeguard poolside steel furniture, make sure it has a good, robust powder coat finish.
Aluminum may be extruded or cast into any shape or design, making it extremely flexible.
It's a good choice for outdoor furniture because of its light weight and durability.
Rattan
Rattan outdoor furniture has swiftly become one of the most popular trends in outdoor décor and design.
Rattan is a climbing or trailing vine-like palm endemic to Asia, Malaysia, and China's tropical jungles.
The Philippines has been one of the most important sources.
Rattan, which was first introduced to the West in the early nineteenth century, has since become the standard material for furniture manufacturing.
Its popularity as a material for outdoor and indoor furnishings is undeniable.
Rattan can be bent and curved to create a variety of beautiful bending forms.
Its light golden color instantly illuminates an indoor or outdoor setting and gives the impression of being in a tropical paradise
Rattan is a lightweight, nearly impermeable material that is easy to move and handle.
It has a natural resilience to insects and can tolerate excessive humidity and temperature.
Check out our recommendations of the best rattan furniture set here.
Final Say: Outdoor Furniture Materials
If you're looking for a warm tone to connect your modern patio together, teak is the way to go.
Aluminum or stainless steel are ideal for a sleek style that emphasizes clean lines, as seen in metal furniture.
Give cement a try if you're searching for something different with a cool, industrial atmosphere.
The bottom line is…
There is no such thing as the "best" outdoor furniture material for everyone.
What matters most is your outdoor space and sense of style.
Let us know below which outdoor furniture materials is most suitable to your taste!