You may think it's impossible to place your new orchid in a pot without drainage holes…
There are three main reasons that drainage holes are important: 1) they allow water to drain from the soil and through that, they enable 2) good airflow and 3) the flushing of salts from the soil.

Shifrah Combiths of Apartment Therapy
However, you don't have to give up on beautiful containers for your snake plant, cactus, orchid…
… or small tree because they lack drainage holes.
In case you were wondering whether it were possible…
… to make a pot with drainage holes work well with a plant…
You are in luck!
It will not require you to drill a hole in your container to keep your plant healthy…
… we have discovered a method to keep your container whole…
… while keeping your plants happy and healthy!
Here are the steps you need to follow to successfully place a plant in a pot without drainage holes:
A pot with holes that is slightly smaller than the pot without holes is ideal.
Gravel or small stones should be placed two to three inches deep in the bottom of the larger pots, depending on the size.
Your plant should be placed in the smaller pot with holes.
Placing the small container on top of the inner layer of material in the larger container will ensure that the material will not get mixed up. 
The following methods can help you create a captivating container…
… for your plant without holes for drainage.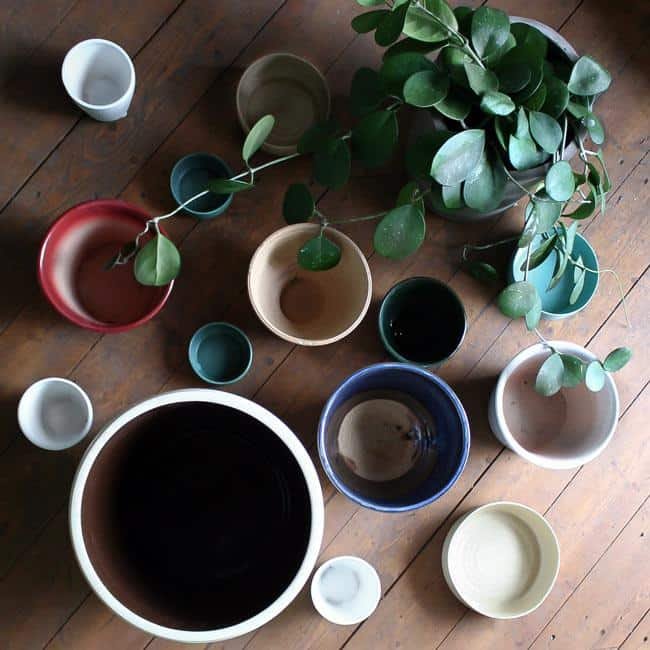 Let us hear Indra's story
I've always been a fan of plants…
… but I don't have the patience to wait for them to grow.
So I find pots without drainage holes and fill them with dirt…
The trick is that if you water the pot...
… it will leak out onto your carpet or kitchen floor…
… so make sure to use plastic table cloths or buy an indoor plant stand.
Planting Pots In Containers Without Drainage Holes
If you would like to plant a plant in a container without drainage holes, there are lots of ways to do it…
The simplest way may be to drill holes in the container…
… especially if it's made from more malleable materials like wood, plastic, or ceramic.
If this is the case, then you may have to replace the container…
… as it would become irreparably damaged if you drilled your own holes.
There are two methods that are tried and true…
… for planting a pot in a large pot container.
The first step you should do is…
Method One: Pot Inside of Planter
To grow plants in the container without holes…
… you need to find a pot smaller than that container.
A plastic container with drainage holes will work well…
The bottom of the larger container needs to be lined…
… with suitable drainage material, including gravel, river stones, or found rocks.
The planter should be filled to a level and height that captures water overflow…
It should also stabilize the smaller container…
Then fill the smaller container with soil…
… and place it on top of the stones, etc. to anchor your plant.
You must be careful not to overwater your plant…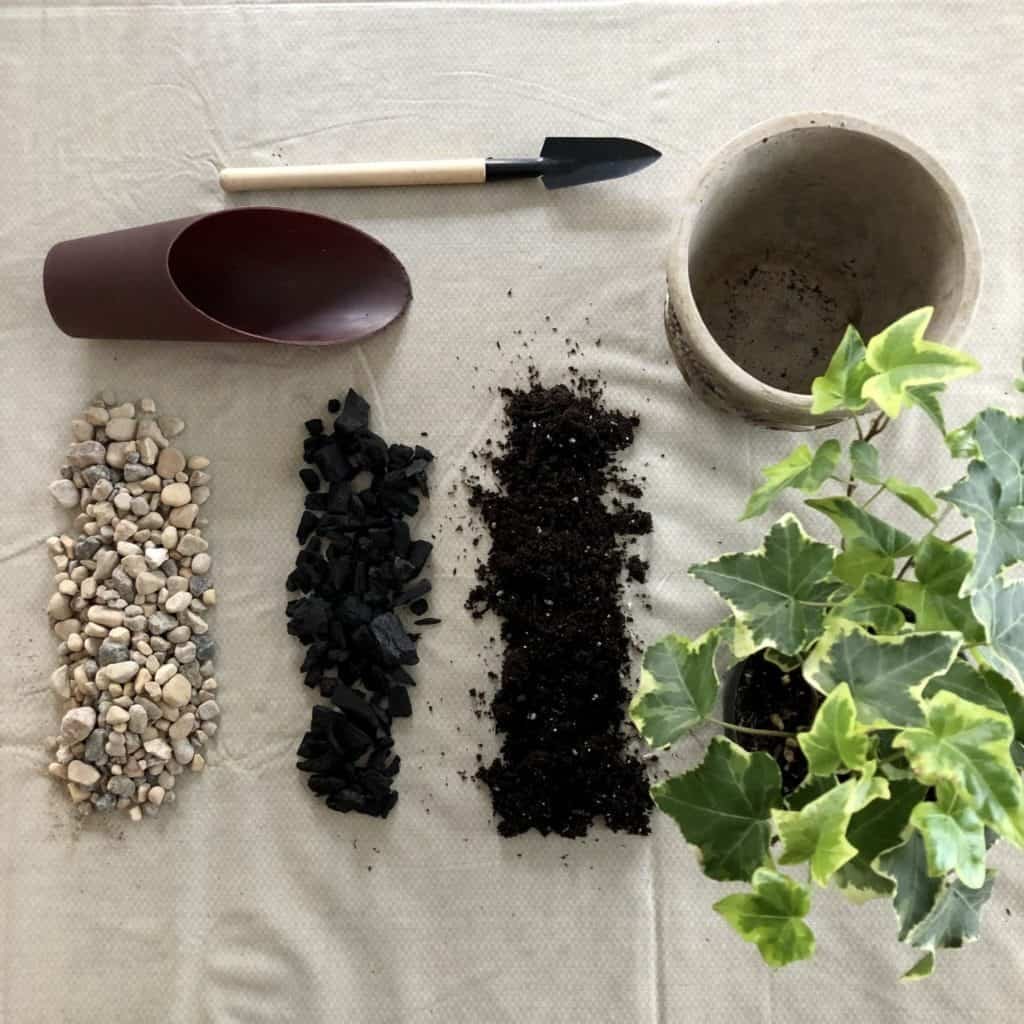 Method Two: Add Drainage Material
A layer of pebbles, rock, or landscape rock should be deposited evenly…
… in the bottom of a container lacking drainage holes.
The layer should be at least 2 to 3 inches thick…
On top of the landscape rocks or pebbles, sprinkle a modest layer of horticultural charcoal…
The remainder of the container should be filled with sterile, well-draining potting soil…
Turn the water off if the soil becomes too hot…
If it begins to rain, add more soil to accommodate the roots of the plant…
Depending on the size of the container and the plant…
… you should adjust the amount of material for each layer.
Ensure the plant has enough soil for a secure root system…
Avoid overwatering the plant after the soil provides enough support…
Keep reading…
What Do You Put In The Bottom Of A Planter For Drainage?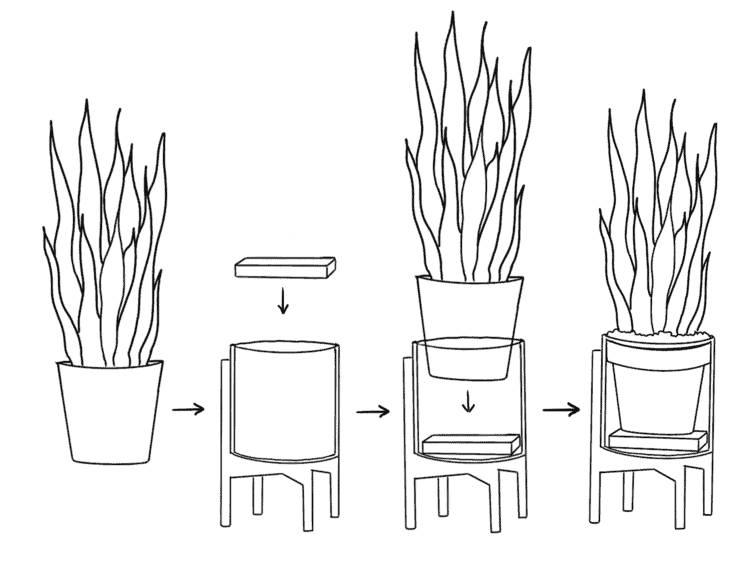 There are many choices when it comes to the type of material…
… that you can use to prevent moisture buildup in a planter. 
Several gardeners prefer to place small river stones…
… landscape rocks, or pebbles in the bottom of their pots.
You may also be able to get good results with a disc…
… made out of coconut fiber, plastic, or polyester fixed to the drainage hole.
If a planter does not have a drainage disc, it is helpful to top it…
… with a layer of rocks, followed by charcoal, sand, and then soil.
Foam peanuts can also be added to the bottom of the planter…
… to allow for greater air circulation and drainage.
In order for plants to grow successfully…
… it is important for them to be able to drain excess water and enable air circulation.
If improper drainage is not provided, salts can gather…
… standing water can breed fungus, root rot, and the plant will die.
Why Do Some Plant Pots Not Have Holes?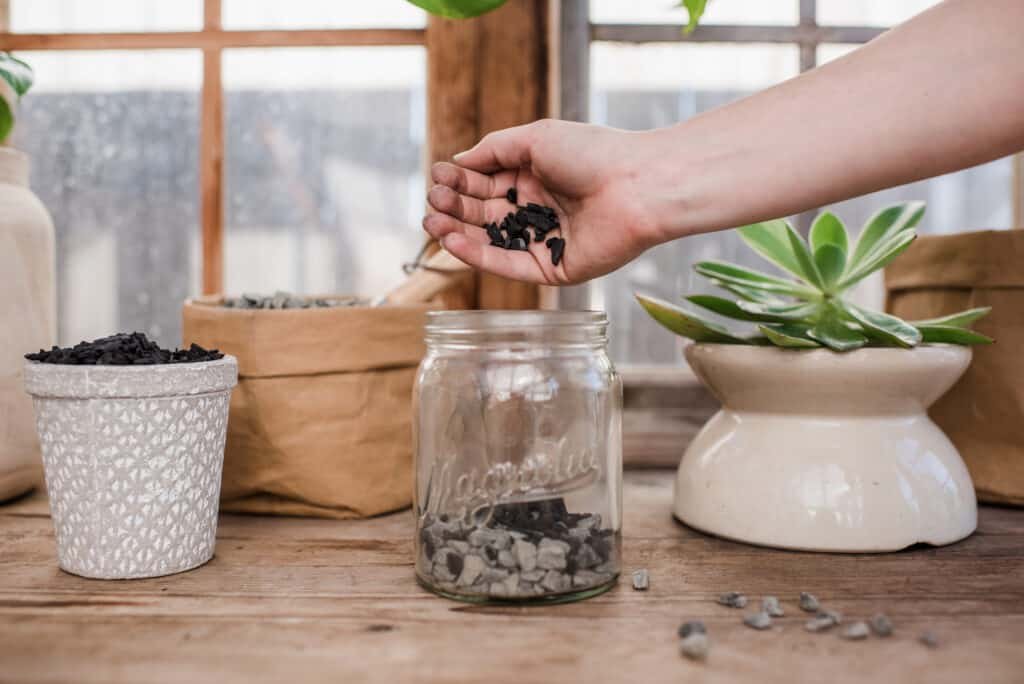 A planter without drainage holes is ideal for plants that require little water…
Air plants, aloe, and succulents are examples of plants…
… that benefit from a planter without drainage holes.
Pots should have drainage holes for plants…
This will ensure they receive adequate air circulation and allow the salts in the soil to drain…
This will prevent root rot and other fungal diseases…
It is inevitable that the plant's roots will be submerged when containers for plants don't have holes…
The incorrect lining of the containers with draining materials will result in overwatering…
Generally…
Without holes, planters may seem impractical and only decorative…
… but you can add drainage holes or even add drainage materials to them.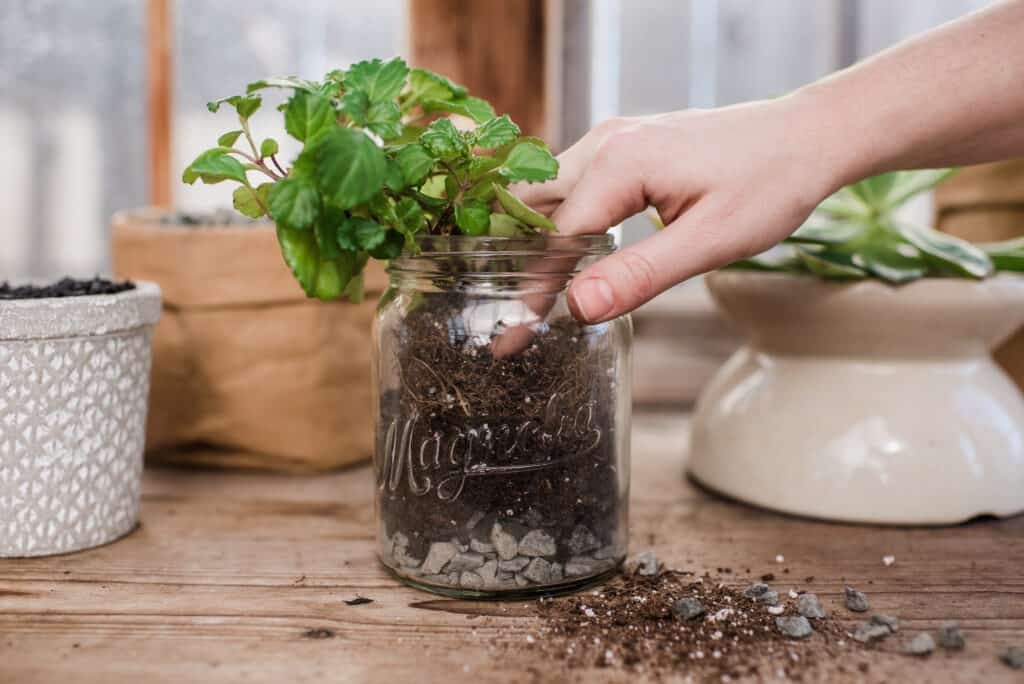 Should You Drill Holes In Flower Pots?
You might find it easier to drill holes in ceramic flower pots…
If you want to drill a hole in a flower pot, use a power drill…
… and half-inch diamond-tipped hole saw bit or a ceramic and glass bit.
Utilizing these particular bits will help you make an easy hole…
… without having to put a lot of effort into your flowerpot.
The center of the bottom of the pot you want to drill a hole in…
… must be marked with a sharpie for visibility.
The drill bit must be positioned at a 45-degree angle to create the hole…
In addition, a small amount of water should be added to the bottom of the pot…
… and a low RPM should be used when drilling the hole for the best results.
If you want to ensure clean work, rinse your container after drilling carefully and slowly within it…
Drainage holes are important for three main reasons:
They allow water to drain from the soil and through that they enable the soil to breathe and for the salts to be carried away from it.
If roots are allowed to sit in water for too long, and air isn't allowed to flow freely (like when soil is saturated) plants can develop root rot, which is almost always irreversible for a plant.
Soaking plants in water is a sure-fire way to ensure their early demise.
To sum it up…
It is not recommended to use pots without drainage holes outside…
… where your plants will be rained on because you have no way…
… of controlling the amount of water they receive.
You can certainly use and enjoy those beautiful pots without drainage holes…
… but be careful not to harm your plants.
Conclusion
Now that you know the answer to your question…
Try it out and let us know how it went for you…
… in the comments below or by contacting us!
Check out more of our posts on this website like this one here!
Have an awesome gardening journey!
Related Articles
Gardening is how I relax!
It's another form of creating and playing with colors?
My mission is to make people realize that even by growing a plant...
....it will make them believe in tomorrow?
And that's life most valuable moment!?