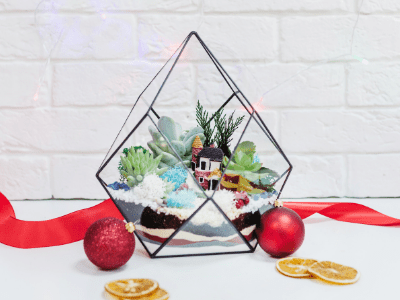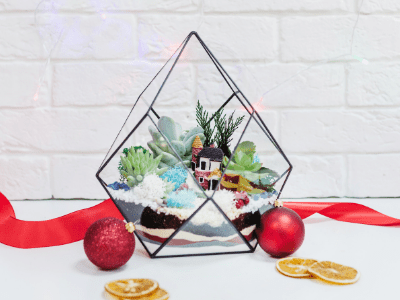 There are a lot of reasons why you would like to be potting up a succulent terrarium.
When you buy a lovely succulent plant at the shop, it usually comes in one of those small, inexpensive black plastic containers.
I'm sure you understand what I'm talking about.
These plastic containers are not only unsightly in your home, but they also stifle the growth of your succulent plant.
This is what Bella said about it.
I buy succulents to make my house look pretty.
The thing is, I don't really have much time for gardening.
I was so disappointed to know that I have to be potting up a succulent terrarium on my weekend.
But over time, when I buy these pretty terrariums for my succulents,
I'm starting to love this little creative time.
Now, potting up a succulent terrarium is one of my favorite thing to do!
Do you know how much improvement pretty terrariums can give to the aesthetic?
To help you imagine them better, we'll give you succulent terrarium options to admire (or buy!).
Before that, though, let's dig a little deeper into the know-how.
When Should You Be Potting Up a Succulent Terrarium?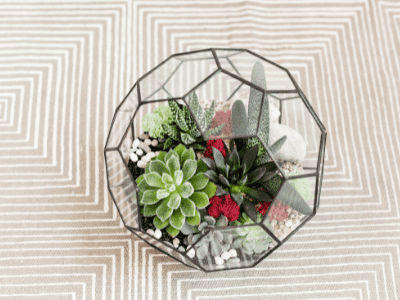 After you acquire your succulent, make sure to re-pot it with nutrient-rich soil and potting mix. You don't want to wait too long before repotting it; I'd suggest no longer than two weeks. (1 week, to be sure).
A terra-cotta planter is highly recommended since it helps with moisture. Any succulent planter with drainage holes would suffice.
You have a sneaking suspicion that watering your succulent feels "off" or "strange."
If your prized succulent plant appears to dry out soon after being watered, necessitating more frequent watering, it could be an indication that you need to re-pot it.
It's possible that the planter or pot you're using doesn't allow enough water to flow around the plant entirely.
Also, if your succulent isn't absorbing water, it's possible that your pot is too tiny. Your succulent won't be able to completely utilize its roots if it's too tight and confined.
Consider getting a bigger pot.
If your succulent plant appears to be outgrowing its current container, do it a huge favor and re-pot it. (Succulents, like you and me, require space to grow.)
Re-pot it if you notice roots sprouting out of the bottom of the planter or pot.
If it's been days, weeks, months, or years since you last repotted (or remembered), it's time to change things up.
It's crucial to remember that while repotting, you may not need to alter the container or planter itself. It's possible that the soil and positioning, rather than the pot or planter, will need to be changed.
Potting Preparations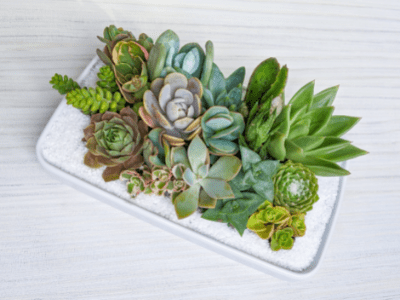 Here's the truth
It's simple to set up and manage a succulent container garden. The most important thing is to choose the correct container, soil, and plants.
Container selection: Succulent roots do well in shallow containers.
Check for drainage holes in the container. Drill drainage holes in the bottom of the container if it doesn't already have them. A succulent can be killed by standing water.
Using the proper soil: You can use any succulent-specific potting mix. On the packaging, look for words like "cactus mix" or "succulent mix."
You can also manufacture your own potting mix for succulents. To make a perfect mix, use equal parts normal potting soil, gritty sand, and perlite or pumice.
When choosing plants, keep in mind that they may have different light and care requirements.
To group succulents with comparable needs in your container, check the plant tags for specific requirements.
Even if you don't give the ideal growing conditions for succulents, they can still be quite healthy.
Other species, on the other hand, are extremely sensitive to their surroundings.
Before deciding on a species for your container, make sure you do your homework.
Make sure they'll all thrive in the light, at the temperatures you can supply, and with the level of care, you can provide.
Some succulents, for example, are tough while others are delicate.
Hardy succulents can survive colder temperatures, however fragile succulents would succumb to it rapidly.
If you choose sensitive succulents, bring them inside when the weather is too chilly outside. They must also be kept safe from drafts and air conditioning.
Potting Up a Succulent Terrarium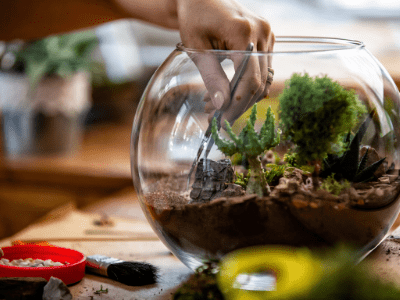 Because of their small size, stunning diversity, and ease of maintenance, succulents make excellent terrarium plants.
In general, you'll need to follow these procedures to construct a succulent terrarium:
Select a container for your terrarium.
Disinfect the container.
Choose a drainage layer and place it on the bottom.
Separate the data with a filter.
Make a layer of charcoal.
After that, add the succulent soil mix and the plants.
Decorate (to your preference)
Selecting a Containter for Your Terrarium
Check Out These Succulent Terrariums!
Prices pulled from the Amazon Product Advertising API on:
Product prices and availability are accurate as of the date/time indicated and are subject to change. Any price and availability information displayed on [relevant Amazon Site(s), as applicable] at the time of purchase will apply to the purchase of this product.
Prices pulled from the Amazon Product Advertising API on:
Product prices and availability are accurate as of the date/time indicated and are subject to change. Any price and availability information displayed on [relevant Amazon Site(s), as applicable] at the time of purchase will apply to the purchase of this product.
Select a container for your terrarium. Succulents, such as cactus, are native to extremely hot climates. This necessitates appropriate air circulation and low humidity levels.
As a result, if you want to construct a succulent terrarium, you'll need to use an open container. Same goes for pots for succulents. A small enclosed terrarium with an entrance could also be used to house a few smaller plants.
Make sure that the container you choose for your succulent terrarium is mostly open. For your succulent terrarium, avoid using cloches, lidded cookie jars, or similar containers. They will prevent appropriate air exchange and will quickly destroy the plants.
Clean Your Container
It's critical to wash your selected container with hot water and soap before beginning to make a succulent terrarium.
This will assist eliminate any chemical residue and debris from your plants, preventing mold and rot.
After washing and drying the container, you may begin creating your terrarium.
Adding Drainage Layer on the Bottom
It's critical to provide a layer of drainage at the bottom of a terrarium. If you accidentally overwater your plants, the filler will catch the extra water. It will also aid in the right building of your terrarium.
You have a variety of drainage choices to choose from. Depending on your overall design, you can choose from a variety of materials. In general, you have the following options:
River rocks
Lava rocks
Speckled dotted rocks
Fecorative rocks, gravel, or pebbles.
For a woodland or woody theme, use bark chips.
If you opt to use stones, make sure to thoroughly clean them to remove any chemical residue. Before using, allow drying.
Add Filter to Separate
You should preferably put a little filter between the drainage layer and the charcoal that you will add next to prevent the contents from mingling and damaging the pattern.
It will not only aid to keep the pattern together, but will also keep the soil/potting mix out of the bottom layers.
Make sure the filter you choose is thin and can pass water.
Coffee filters, cheesecloth, gauze, construction paper, and other materials are examples.
Avoid using separators made of plastic or comparable materials. Simply place a thin filter over your drainage layer.
Add a Layer of Charcoal
Charcoal acts as a cleanser and prevents the formation of fungi and decay. It will also help keep a terrarium fresh by removing undesirable odors. Apply a thin layer of horticultural charcoal (to cover the surface) like this.
Add Soil and Plants
After that, you'll need to add potting soil and your chosen plants. Make sure you're using a succulent-friendly potting mix, such as this.
A citrus and palm mix can also be used, but a succulent potting mix is the best option. This soil should be light, drain quickly, and provide adequate aeration.
Before you can start putting your plants, you'll need to add some potting mix. Check for healthy plants, remove any dead leaves, and shake off any soil from the roots. Lightly spray the soil as well as the rootball of your plants.
If you're still undecided about which succulents to put in your terrarium, check for ideas. Always choose succulents that are smaller and slower growing.
Hens and chicks, jade plant, echeveria, aeonium, panda plant, zebra plant, dwarf aloe, Mammillaria cacti, and others are fantastic succulents for terrariums.
You can prune your plant if it becomes too tall or huge. The same goes for the roots: if they're excessively long, you may easily clip them off.
To avoid diseases in your plant, make sure to clean the scissors with fire or rubbing alcohol first.
Place your plants in the soil and continue to add soil until the roots are completely covered.
After you've placed the plant, don't add too much soil.
The major goal is to thoroughly cover the rootballs of the plants with soil.
Adding Decorations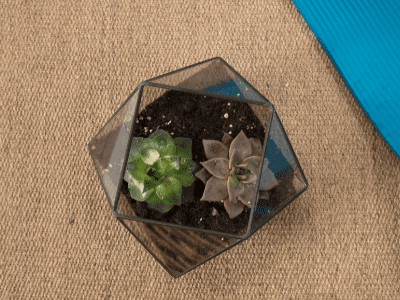 After you've placed your plants, you may begin to add decorations. Aside from ornaments, you can also add rocks or gravel on top of the soil for aesthetic purposes.
Allow your imagination to go wild when it comes to decorative items. You can choose from a variety of decorations, including figurines and imitation plants. You can add preserved reindeer moss of a specific hue or small things, depending on your concept and style.
Sum Up
That's it!
Potting up a succulent terrarium can be a pretty fun job for you who love decorating.
Plus terrarium pots look very aesthetically pleasing!
Conclusion
Now it's time for you to go and do it.
We've given all the tips that we have for potting up a succulent terrarium.
Share your result with us and the world!
Related Articles for You