Taking care of your lawn or yard is like taking care of your body.
It's important to keep your lawn neatly trimmed and well maintained…
…since your yard gives visitors the first impression.
You can accomplish this by using the quietest lawn mower on Amazon.
Unfortunately, most lawn mowers make quite a lot of noise and are quite irritating.
Nevertheless, there are still options.
You can find lawn mowers that work quietly to make the task…
…of trimming your lawn more enjoyable.
Here are a few words from Robin…
Having been skeptical of battery powered mowers…
…I did a lot of research over this past winter before purchasing it…
…and notifying my yard crew that I no longer needed them.
I have mowed five times so far this season…
…and so far my expectations have been exceeded
Let's jump right in!
Quietest Lawn Mower on Amazon – Our Top Picks!
Let's go through them one by one…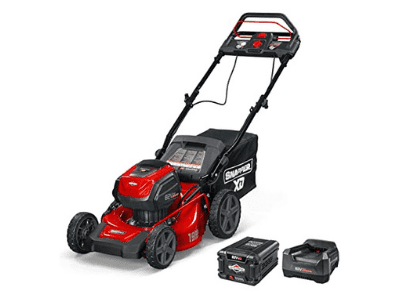 A Snapper XD lawn mower comes with a 2 Ah battery…
…a run time of 45 minutes, and a rapid charger.
In addition to being three in one, the steel mowing deck measures 21 inches. 
With its lawn sensing technology, this Snapper XD Cordless lawn mower is quite efficient.
As it's battery-powered, you don't need any oil, gas, or other types of fuel to run it.
The result is that you can save a lot of money on fuel and protect the environment.
This lawn mower is remarkably quiet regardless of whether you are cutting tough or easy parts.
This model has a brushless motor with 1200 watts of power and a push-button starter to increase efficiency.
"The Snapper 19″ lawn mower's selling point is its batteries, which are quick charging and long lasting. It has all the features of a higher-end quiet electric mower, such as large wheels for maneuverability, a wider deck, mulching capabilities, and side discharge." 

Kelly Brayton – Writer at bettersoundproofing.com
Among the interesting features of the EGO lawn mower is its self-propulsion capability.
In fact, the mower can be moved forward by itself without the need for force.
The operator simply walks behind the mower and guides its path.
You can walk behind the mower at different speeds, depending on how fast you want to walk.
It is a great buy for users who don't want to wear themselves out mowing the lawn.
Self-propelled lawn mowers are more expensive than traditional push mowers due to their self-propulsion.
Potential buyers should note that the unit in the above link does not include a battery and charger.
The buyer will need to supply their own battery or purchase one separately.
Other features of this model include a brushless and cordless design, mulching abilities, and a durable steel deck.
Keep reading…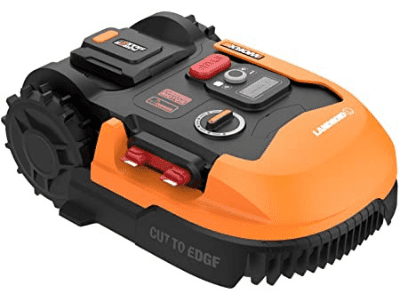 Error: Unknown Link Type
It's true, you read that right. There are robotic vacuum cleaners…
…robotic limbs, and now robotic lawn mowers.
They are capable of mowing up to a half-acre lawn.
The unit is quiet, and users can program how often they want it to mow.
The Landroid can mow every single day.
The device has several smart features, such as a rain sensor.
Whenever rain is detected, the Landroid retreats to its shelter.
It also comes with an app that owners can use to monitor its progress.
In addition, the app notifies owners immediately if the unit is moved beyond its boundary…
…such as in the event of a theft attempt.
The downside is that the Landroid cuts in a random pattern.
Thus, if you are looking for nice, straight lines, you might want to look elsewhere.
Another thing that may be a concern for some is that you need boundary wire…
…to operate the Landroid, which can take a while.
For most users, the LawnMaster electric mower is the best option.
The machine can mow small to mid-sized lawns on a single charge.
It has a large grass bag that does not require frequent emptying.
The blades can be adjusted in height, and the handles are also adjustable.
Grass can be cut as low as one inch.
Using the mower in the morning is also quiet enough.
The motor's 12 Amp efficiency keeps noise and vibration to an absolute minimum.
Almost anyone can operate the mower, including children and senior citizens.
Due to its lightweight design and foldable handle…
…the mower is easy to move and store even in small spaces.
This mower is the best option for people on a budget…
…who want a hassle-free mowing experience.
Reliability and affordability make it an excellent purchase.
Go on…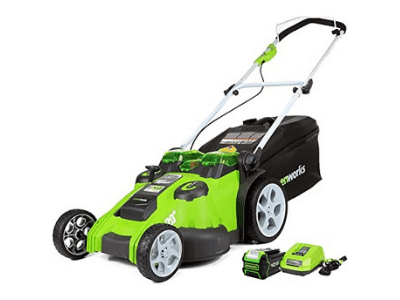 For those with tougher lawns or grass that grows taller, this Greenworks 20-inch mower is ideal.
Unlike a single-bladed saw, it has two steel blades, which make cutting easier.
It also has multiple cutting modes.
Mowers can be adjusted to give either better power or longer battery life.
Thanks to its dual batteries, it has an impressive battery life.
The mower is quiet, comes with a bag at the rear, and mulches.
Plastic is the deck, so the mower is lightweight, but plastic tends to be less durable than steel.
To ensure that you get the most out of this mower, you can buy a protection plan.
Since the extra features come at a higher price, I recommend thinking about whether they are worth it.
Perhaps you are wondering…
Things to Consider When Mower Shopping
When you're searching for the most quiet lawn mower…
…there are many factors to consider. Below are some of them.
Your Lawn
You should consider your lawn's needs when purchasing a new mower.
Mowers with more than one blade may be necessary on lawns…
…with challenging terrain or long grass.
You would also benefit from a lawn mower with multiple power modes…
…so that you can ramp up the power when tackling thick grass.
The Greenworks Twin Force lawn mower has both of these features.
Those with small yards, such as those who live in urban areas…
…may prefer an electric mower with a smaller cutting deck, such as 14 inches or less.
The mower is easier to maneuver around tight spaces.
When living in densely populated areas…
…having a whisper-quiet electric lawn mower becomes essential.
Manual lawn mowers might also be worth considering.
It is more time consuming to use manual mowers than gas or electric alternatives…
…but they are quieter and easier to handle.
Mowers that are manually operated produce no vibrations…
…so they are easy to handle for most people.
If you are considering buying an electric mower…
…you should closely evaluate battery life if you have a large lawn or live in a rural area.
Choose mowers with up to four batteries or mowers with upgradeable batteries.
There are four batteries in this Makita model, which is designed to provide long battery life.
The width of the cutting deck should also be considered.
Having a wider cutting deck means that fewer passes are needed to mow the entire lawn.
Large yards can be mowed in less time with a wider cutting deck.
For lawns over a certain size, people may want to consider a gas-powered lawn mower.
Despite being noisier, harder to handle, and producing more vibrations…
…their power cannot be matched by electric or manual mowers.
Moreover, features such as self-propulsion can take the hassle out of mowing large lawns.
Your Needs
Another crucial consideration is the budget and physical ability of the user.
Despite being the most affordable option, manual lawn mowers can have significant drawbacks.
As they were designed for smaller yards, anyone with large areas of land…
…will have to work harder to get the job done.
Gas and electric lawn mowers are comparable in price.
Even mowers with only a few basic features, such as a rear bag, are highly affordable.
Plastic lawn mowers are significantly less expensive than steel lawn mowers.
It is only natural that a reduction in cost will result in a reduction in durability and longevity.
Buyers looking for more advanced features, such as self-propulsion…
…will need to be prepared to spend a bit more.
You should also consider your own physical capabilities.
Lawn mowers with few to no vibrations are ideal for the elderly, children, and physically challenged.
Manual mowers are virtually vibration- and noise-free.
They are also light enough to be carried by one person. Users will find them very convenient.
Brushless electric lawn mowers also have reduced vibration.
Moreover, brushless motors are even more powerful and efficient than conventional motors.
In addition to self-propelled capabilities, adjustable handle heights…
…and lightweight designs are other features that make lawn mowers more user-friendly.
Sum Up!
It has historically been difficult to find a quiet lawn mower…
…but modern technology makes the search easier.
Buyers today have a wide range of options to choose from.
There is something unique about all types of lawn mowers, whether they are manual, electric, or gas.
As a result of my research, I recommend this LawnMaster model lawn mower as the best buy overall.
There is no other option that offers such an affordable and high-quality combination.
This lawn mower is quiet enough that you don't need to wear earplugs…
…or wake the entire family when mowing the lawn.
However, some people may require features that the LawnMaster mower does not provide.
You may be interested in some unusual features if you have a large budget for a lawn mower.
This self-propelled lawn mower from EGO Power+ is a good example.
This will save you a lot of time and energy.
Moreover, the Landroid from Worx is a robotic lawn mower that takes care of everything for you.
You can reclaim your weekends by letting this quiet device do the work…
…(as long as you are willing to pay a lot, of course). 
There is a lawn mower to suit your needs, no matter what they are.
Conclusion
The above are some of the things you must know about the quietest lawn mowers.
It's very important to know what you want to accomplish before you look for one.
It is important to choose a lawn mower that is suitable for the size of your yard.
If you aren't sure how to go about it, this guide can assist you.