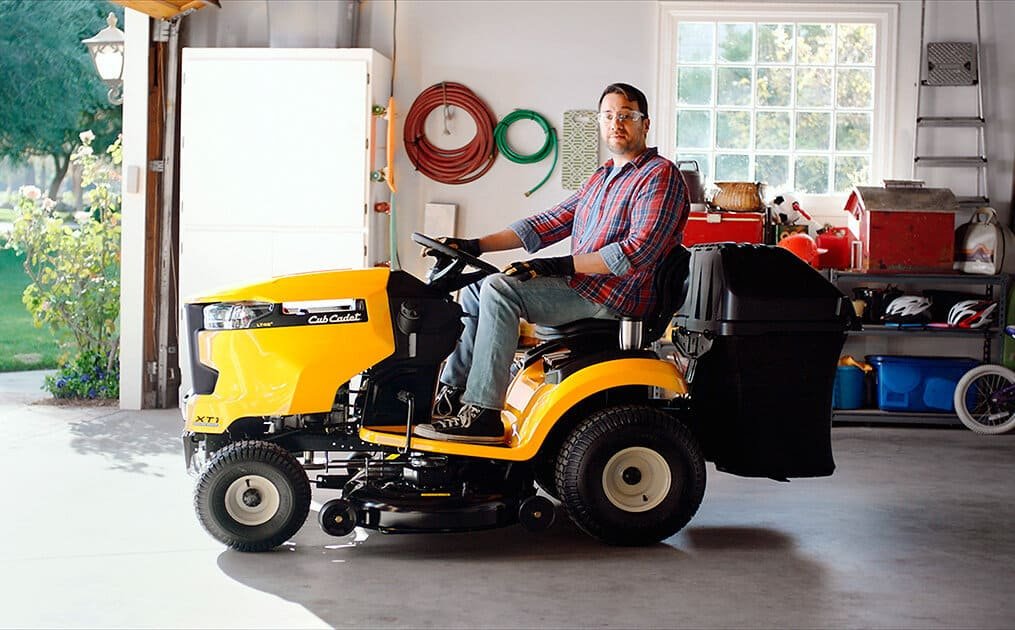 We reveal to you: our top 5 riding lawn mowers, chosen carefully and meticulously!
Riding lawn mowers are ideal for homeowners looking to save money while still getting the job done properly.
Whether it's tackling small areas of grass or large expanses of green space, there's nothing better than being able to work around the clock without having to worry about tired legs!
With that in mind, we've rounded up the very best riding lawn mower brands available today.
From electric models to petrol-powered options, we'll help you find the perfect brand which can provide for you the perfect lawn rider.
Here are our picks of the top 5 riding lawn mowers which would be the perfect addition to your home!
Top 5 Riding Lawn Mowers
Best electric riding mower: RYOBI
RYOBI is known for making quality garden equipment, including some of the best electric hedge trimmers on the market.
But now the Japanese manufacturer is expanding into the lawn care space with a new model called the RYOBI 38.
The mower boasts a 38-inch cutting deck that can handle medium-sized yards, and it includes many of the same features found on larger models like the RYOBI 48.
For example, there are LED headlights, a USB charging port and cruise control, among others.
However, the biggest difference here is that this model does not feature a zero turn radius, which makes it less suited for tight spaces.
Best gas-powered riding mower: Toro
The Toro 50″ 23 hp TimeCutter Gas Dual Hydrostatic Zero Turn Riding Mower offers a 50-inch cutting width, making it ideal for larger lawns.
You can use it to cut grass in 3 different speeds: 4 mph in trimming mode, 5.5mph in tow mode and up tp 7mph while mowing.
It also has smart speed technology, which allows you to control your mowing speed easily in 3 modes: 4 mph in Trim Mode, 5.5 mph In Tow Mode and up to 7 mph While Mowing.
This mower also features a built-in cupholder, shock absorbing dampeners that make rides smooth and a step-thru front end.
Best affordable riding mower: Troy-Bilt
Troy-Bilt makes some great lawn care products, including its popular ride-on mowers, and we've found that this compact model is ideal for small yards where space constraints are a concern.
This particular version features a 30-inch cutting deck, making it perfect for maintaining areas under one acre in size.
The mower's design allows you to make quick adjustments to different settings like speed, height, mulching mode and more.
You'll also find a handy shift-on-the-go transmission that lets you change gears manually without having to reach down into the machine.
Best riding mower for uphill yards: Cub Cadet
The Cub Cadet Ultima is one of the best riding mowers for uphill yards because it offers enough power to climb hills without breaking a sweat.
It's also easy to maneuver around obstacles and tight spaces.
This mower is designed to give you a great ride even though it's compact.
Its low height allows it to easily go over tall grasses and brush while still providing plenty of clearance under trees and shrubs.
The mower also includes a dual hydrostatic transmission system that lets you shift gears quickly and smoothly.
You won't have to worry about getting stuck in gear!
Best riding mower for larger yards: Toro
The Toro Titan 60″ gas dual hydrostatic zero turn riding mower has a lot of great features, including a comfortable high-backed seat with padded armrests and lever handles with handgrips.
This zero-turn mower is one of the best choices for larger yards because it has a big cutting width of 60 inches, making it ideal for covering areas up to seven acres.
Its high maximum speed of 8 mph allows you to make quick passes across your yard without having to slow down too much.
And thanks to its large cutting width, this model can easily cut around objects like trees, fences, and even boulders.
Plus, it has a powerful hydraulic system that lets you control the height of the deck while still maintaining a smooth ride.
Conclusion
We hope our blog has helped shed some light on the top 5 riding lawn mowers out there!
Each category we explained about above has its own champion in riding lawn mower.
Make sure you are certain about your lawn needs before making the purchase.
If you are interested in riding lawn mower deals or more riding lawn mower recommendations\, we have that, too.
Let us know your thoughts below.