It's time you got acquainted with the greatest alternatives on the market,..
…so the riding lawn mower 2022 will arrive soon.
You'll discover everything you need to know about the top riding mowers…
…in 2022 in this blog article.
This is what Rostam said about his riding lawn mower.
I've spent my summer break in my Gramps' house.
He has a really big garden where him and my Nana use to grow a lot of edible stuffs.
This is also one of the reason why our family's youngsters would always love to visit his place.
We can play in his garden and roll around on the grass.
However, I overheard that my Gramps had been having trouble using his walk-behind lawn mower.
He's considering to buy a riding lawn mower, but haven't had the time to check them out.
I think this is my time to shine!
I'm going to buy him the best riding lawn mower with my first paycheck!
Can you relate to Rostam? Let us help you!
Lawn tractors, which are a versatile option for bigger lawns, will also be discussed.
You'll have everything you need to make an informed riding mower…
…decision in 2022 after reading through this blog post!
What You Need to Consider Before Buying a Riding Lawn Mower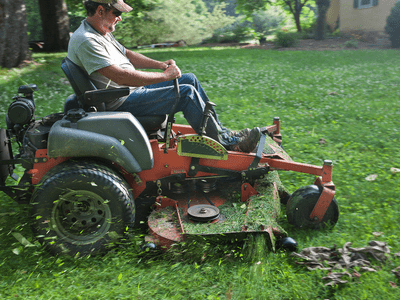 Keeping your lawn in good shape is an important aspect of homeownership.
A well-kept lawn not only improves the curb appeal of your home,..
…but it may also increase its value.
That is why purchasing a good lawn mower makes a lot of sense.
With robot mowers still gaining traction, your options are primarily divided…
…between walking and riding models.
If you have a small yard, a walking lawn mower is ideal.
However, if your yard is larger than a quarter-acre or you want to spend less time mowing it,..
…it's worth considering upgrading to a riding lawn mower.
This guide will assist you in selecting the best one by examining factors such as lawn size..,
…terrain type, and special features to look for.
Know Your Terrain
Is your lawn riddled with tripping hazards?
If so, consider a riding mower with a small turning radius,…
…which is useful for maneuvering around tight spots and corners.
A tighter turning radius results in smoother handling and a more uniform cut.
The turn radius of a mower is typically measured in inches,..
…with smaller figures describing tighter turns.
Meanwhile, if you have a lot of flower beds or shrubs in your yard,…
…a zero-turn mower might be more your speed.
You'll use a pair of levers rather than a steering wheel to maneuver a zero-turn mower.
Mowers spin on a dime with an effective turning radius of 0 inches.
They also have a fast forward speed.
This enables them to whip around tight edges while maintaining a smooth cut.
Carts
Riding mowers are capable of more than just cutting grass.
Some, for example, can transport additional items.
Dump carts and other items can be hitched, allowing you to easily move…
…lawn debris and other items.
Other useful options include snow plows and snowblower attachments to deal with harsh winters.
Comfort Quality
You can also look for comfort features in your next mower.
Seating is an important consideration, especially if you'll…
…be riding on your mower for several hours at a time.
If long rides are a concern, look for a mower with high-back seats..,
…lumbar support, and armrests, as these features can help keep you…
…comfortable for the duration of the ride.
Some riding mowers come with cup holders to keep you hydrated while mowing.
There are also options for extra leg room, rubber foot pedals, and a variety of other features.
Features and Capabilities
Remember to consider engine design as you shop.
Single engines are typically the least expensive and are ideal for smaller yards.
You should consider getting a V-twin engine if you have a large yard.
A V-twin not only allows for faster mowing, but also allows you to easily navigate uneven terrain.
Some riding lawn mowers can also mow in reverse, which is useful…
…if you need to cut around obstacles at a different angle.
Cutting in reverse also helps to smooth out rough spots on hilly terrain.
Features Against Budget
So now you know some of the most important factors to consider…
…when purchasing a lawn mower.
The final step is to weigh your desired features against your budget.
Remember that some manufacturers, such as John Deere, offer financing incentives.
Even better, if you pay off the loan within the promotional period, you won't be charged interest.
This type of financing may also allow you to purchase a more powerful…
…lawn mower or even the machine of your dreams.
And, with regular maintenance, your lawn mower could last for many years.
---
Best Riding Lawn Mower 2022
We found in a previous article on Forbes discussing the best riding lawn mowers.
So here are some of them:
---
Ryobi 38 In.
Prices pulled from the Amazon Product Advertising API on:
Product prices and availability are accurate as of the date/time indicated and are subject to change. Any price and availability information displayed on [relevant Amazon Site(s), as applicable] at the time of purchase will apply to the purchase of this product.
Best Overall Riding Lawn Mower: Ryobi 38-Inch Electric Rear Engine Riding Lawn Mower.
There are several types of lawn mowers to choose from when it comes to riding.
The Ryobi 38-Inch Electric Rear Engine Riding Lawn Mower, however…,
….is the finest all-around excellent riding mower.
It features a Pocket Operated Chute and a Side Discharge Deck, among other things…,
…making it simple to use.
Additionally, it's small enough to maneuver around and is lightweight,..
…making it ideal for tight spaces.
The Ryobi 38-Inch Electric Rear Engine Riding Lawn Mower…
….is the best choice for an inexpensive and dependable riding mower!
---
John Deere S100
Best Gas Riding Lawn Mower: John Deere S100 Side-by-Side Hydrostatic 42-Inch Riding Lawn Mower.
The John Deere S100 Side By Side Hydrostatic 42-Inch Riding Mower…
….is the best gas-riding lawn mower we've reviewed in this article.
By comparing specs and reviews, you may make an educated choice…
…about which lawn mower is best for you.
For those who need versatility, side-by-side models are the best option….
… since they may be used for both residential and commercial buildings.
In comparison to electric models, gas-riding lawn mowers have…
…several advantages, such as simple starting and quiet operation.
---
Ryobi 54-In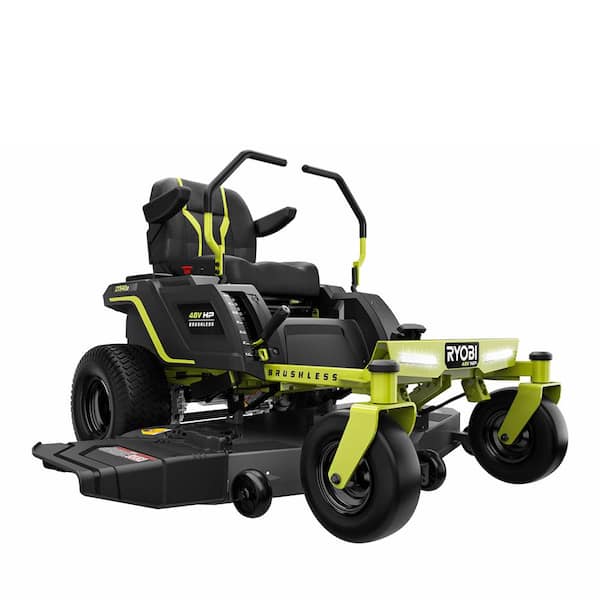 Best Zero-Turn Riding Lawn Mower: Ryobi 54-Inch Electric Riding Zero Turn Mower.
The Ryobi 54-inch Electric Riding Zero Turn Mower is the finest….
…zero-turn riding lawn mower available, and it comes in a variety of models.
The grass-cutting machine starts cutting your lawn as soon as possible…,
…and it's simple to operate the gas and electric engine.
The clippings are mulched, which means you'll be rewarded later in the year for your efforts.
Hosing down or cleaning up has become much easier thanks to a reverse function.
The Ryobi 54-Inch Electric Riding Zero Turn Mower is one of the best options…
…out there if you're looking for a zero-turn riding lawn mower.
---
Troy-Bilt Pony 42X
Best Lawn Tractor: Troy-Bilt Pony 42-Inch Riding Lawn Tractor.
The 15.5 horsepower engine in the Troy-Bilt Pony Riding Lawn Tractor provides plenty of power.
As you easily ride around your yard, switch between seven speeds. possess some obstinate grass?
The 42-inch twin-blade deck allows you to cover…
…a wide area of ground while you work, and the reverse mowing capability…
…gives you an alternative cutting choice.
You can see in darker conditions without having to turn a switch thanks to automatic headlights.
It's up to you whether you want to use the mulching or bagging settings.
Even a cup holder is available to keep your favorite beverage close at hand.
We have an article on the comparison of Troy Bilt with ego and Cub cadet if you want to know…,
…you can visit our article here: Riding Lawn Mower Comparison: Best Review Troy-Bilt, EGO, and Cub Cadet.
---
Sum Up
The term 'best' is very subjective.
That's why you must be sure about what you need before…
…purchasing a riding lawn mower.
After knowing your yard and what you need, getting the best riding lawn mower…
…isn't hard at all.
Conclusion
All in all,
It's simple to see that there is a lawn tractor for everyone after reading…
…through the four greatest riding lawn mower reviews.
We've got the ideal option for you whether you're looking for a gas-powered…
…lawn tractor or an electric riding mower!
In addition, if you're looking to cut down on your lawn care routine…,
…our zero-turn lawn tractor is an excellent option.
So, what are you waiting for? Start shopping for the best riding lawn mower today!
Frequently Asked Questions About the Best Riding Lawn Mower
What is the best riding lawnmower engine?
There are numerous riding lawnmower engines on the market..,
…so it is critical to do your research to determine which one is best for you.
Honda GX 390 V4, John Deere GXT 660E3, and Toro 5385 Direct Drive…
….Riding Lawn Mower are among the most popular.
Each engine has its own set of advantages and disadvantages,…
…so it is critical to select the one that best suits your requirements.
For example, if you want an engine that has a lot of power but…
…is also easy to maneuver in tight spaces, a Honda or John Deere may be a good choice.
However, a Toro might be a better fit if you're just looking for something cheap and easy to use.
Finally, it is critical to conduct research before making any purchasing decisions!
How long should a riding mower last?
A riding mower should last about 5-7 years, but it is important to keep it clean…
…and maintained to extend its life.
Cleaning the mower can be accomplished with a lawnmower cleaning kit…
…or by having it serviced.
Additionally, make sure to adjust the blades and other parts…
…as needed to ensure proper operation.
If you notice any problems with your riding mower..,
…put it in service right away to avoid further damage.
Is Cub Cadet as good as John Deere?
This is a difficult question to answer because there are many factors…
…that go into the quality of a tractor, such as engine power, tractors designed…
…for specific purposes (such as farming or construction), and features like navigation.
However, one of the most important considerations when…
…it comes to comparing tractors is often price.
While both brands offer great value for money, Cub Cadet may be more…
…affordable if you're looking for an entry-level tractor.
John Deere's top-of-the-line models can cost upwards of $150,000+,..
…so make sure this is something you really need before making your purchase decision.
---
More Related Articles