Are you looking for a riding lawn mower battery powered?
A riding lawn mower is a better option if you have a larger lot, and don't want to strain your back,…
…and want to mow as quickly and effectively as possible even though you could use a push mower.
Hey, did you know, according to David Steckel, a home expert at Thumbtack,…
…that a riding lawn mower can cost anywhere from $1,000 to as much as $3,500 on average?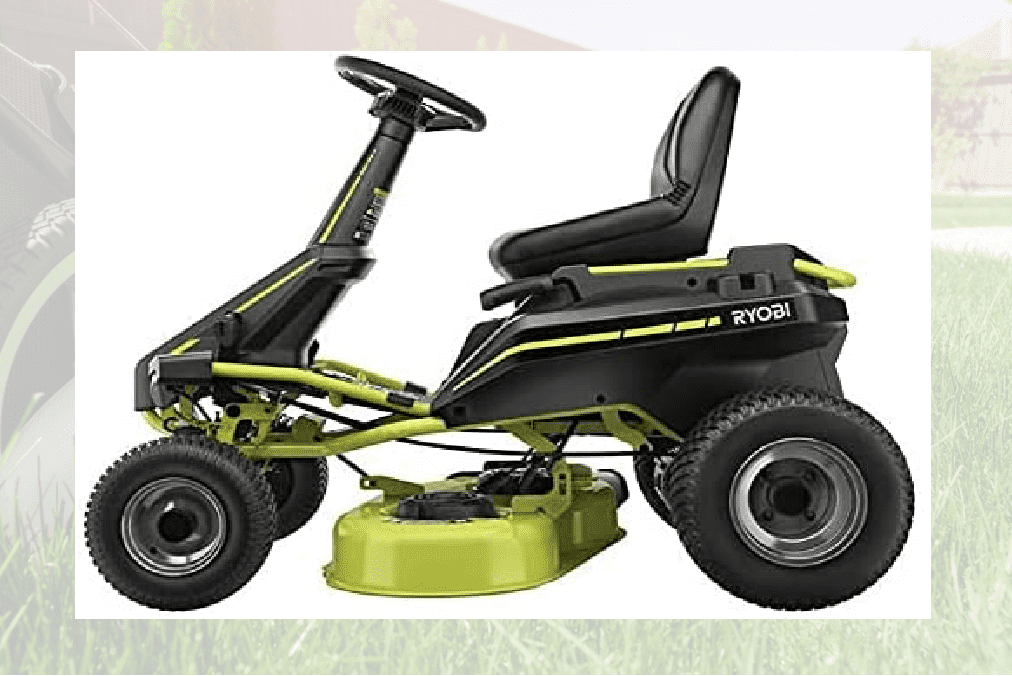 There are so many choices you can look up online and offline for a riding lawn mower battery-powered,…
…but we notice these two brands have been attracting more gardeners for the past months!
There are Ryobi lawnmowers and also Cub Cadets that we will discuss in this article.
They have been developing so much in the past few years!
Now let's hear it from Evan, a guy who loves Ryobi and Cub Cadet Lawn Mowers!
Check Evan's words now…
I've been into gardening for the past few years…
…and it is interesting how technology has helped gardening activities.
I didn't know that taking care of my garden could be this easy.
Especially with lots of animals on the farm that I have.
I'm impressed that Ryobi and Cub Cadet produce a silent riding lawn mower that is battery-powered.
Both brands have developed so much that I tried both.
It could be pricey to have them two, but fortunately,…
…I have the time to let you know what might be the best for you!
So, we discussed the riding lawn mower's battery-powered features with Evan, and here's the result.
By the way, before you scroll, you can check out our article about riding lawn mowers here: The Most Popular Riding Lawn Mowers on the Market.
Now, check this out!
---
The Battle Of The Best Riding Lawn Mower Battery Powered
Rear Engine Riding Lawn Mower Battery Powered 38-Inch…
…is a hands-on choice with the features of a standard gas-powered ride-on mower.
Pros:
Excellent battery life, extensive feature set, and ability to handle massive workloads
Cons:
Takes up more storage space than push mowers, and costs more.
The Ryobi RY48111 38-Inch Battery Electric Rear Engine Riding Lawn Mower…
…is a high-quality machine that combines tough construction with the advantages of electric power.
This is the best from this mower…
Three high-torque brushless motors give maximum cutting power,…
…and the steel chassis accommodates a spacious 38-inch blade deck.
Because Ryobi does not provide the same information as the other brands in this guide,
…determining power is more difficult. On a single charge,…
…the 48-volt battery may last for around two hours or two acres of mowing time,…
…allowing you to get a lot of work done fast.
This mower is jam-packed with features. The seat may be adjusted for comfort,…
…and the control panel is conveniently positioned for easy access.
The 12-point deck height adjustment allows you to fine-tune your mowing height,…
…and the LED lamps make nighttime work possible.
There's also USB charging and cruise control.
The fantastic design of this machine is completed with a cup holder and a mobile phone holder.
Compared to ordinary gas-powered mowers, this one has a lot of benefits.
It's a low-maintenance choice since it doesn't need belts, spark plugs, or filters.
The Ryobi is a great alternative to electric-powered riding mowers since it's dependable, powerful, and quiet.
The next is…
---
Ryobi RM480E – RM480ex ELECTRIC RIDING MOWER
Specification :
Class: Riding Mower
The Ryobi RM480E has been on the market for two years,…
…and it comes with a tried-and-true battery and propulsion system that will last you for years.
For years, there was no petrol, no oil changes, and no significant maintenance save blades and cleaning.
For lengthy mowing duration and battery life, this mower utilizes normal deep discharge batteries.
The cordless electric Ryobi RM480ex is worth serious consideration if you have a smaller lot to mow…
….and want to avoid the noise, emissions, and maintenance hassles that come with a gas-powered riding mower.
Want to look for more features?
It can last up to 2.5 hours on a single charge and performs well.
Riding mowers are ideal for tiny lawns.
fully electric and with zero emissions when powered by batteries.
3 brushless motors for increased performance and power
2 acres of mowing or up to 2 hours of runtime.
environmentally responsible.
Almost maintenance-free.
very quiet. The operation is intuitive.
3-Year Limited Warranty.
You get all the advantages of owning a fully electric riding lawn mower with the RM480E, without losing power, performance, or features.
Let's move to the next brand…
---
Cub Cadet Ultima ZT1 42E Electric Zero-Turn
For the homeowner who wants the greatest cut first,…
…followed by the best ZTR, and is thrilled that it now comes in a battery version.
If you have "just a little more" grass than that,…
…the Cub Cadet ZT1 42E zero-turn mower can mow up to two and a half acres on a single charge,
and the lithium-ion battery can be swiftly charged to any quantity.
---
Cub Cadet CC30E Riding Mower 
Specifications:
Cutting Deck:30″
Battery Life:1 hour
Speed:4mph
Charging Time:4 hours
Cutting Height:1.5-4″
The Cub Cadet CC30E is a top-rated electric lawn mower…
…with a variety of features and advantages for homeowners.
For small to medium-sized yards, the 30″ cutting deck is ideal.
Furthermore, the electric motor runs quietly, making it suitable for mowing at any time of day.
This mower will not only make you proud, but it will also make your neighbors happy!
Most significantly…
What is the cut like?
According to many prior customer testimonials, it works really well!
Most folks can't tell the difference between a gas and an electric mower.
Your grass will look like a million bucks after the cut.
Cub Cadet even throws in a mulching kit.
That means you can recycle grass to keep your yard looking good.
However, isn't it true that not everyone likes to mulch their clippings? That's all right!
Cub Cadet has created a bagger to gather the scraps.
This, unlike the mulch package, must be purchased separately.
The seat springs, on the other hand, guarantee a pleasant ride.
Because many electric lawn mowers are inconvenient, this is a huge benefit.
You also get a cup holder, as if that wasn't enough.
Who doesn't like a cup of coffee while mowing the lawn?
Although this mower seems to be ideal, there are several drawbacks…
It's not suitable for big lawns because of the tiny cutting deck and low battery life (1 hour).
It also has trouble with damp grass clumps. It's possible that the blades will disengage.
Are you wondering this…
---
Do Riding Lawn Mowers Charge the Battery While Running
Yes, it does. Did you know, that a battery is a feature of mowers; it charges as the engine runs?
If the battery is faulty, it might not recharge at all or might quickly lose its charge.
In this situation, a new battery will probably be required.
A multimeter can be used to check the voltage a battery is producing.
A battery that produces 11.5 volts or less is probably so worn out that it needs to be completely replaced.
Therefore, you may have a faulty battery if your mower's electrical system isn't functioning properly.
Furthermore, have you also ever asked this…
---
Why Does My Riding Lawn Mower Drain the Battery
You're not alone. There are several reasons why the battery in your lawn mower can be draining,…
…including damaged, loose, or unclean battery cables, electrical drain, or a defective battery.
Your lawn mower battery may potentially be being drained by a defective charging system, a broken voltage regulator, or other problems.
Our advice you should decide what is a good battery for riding lawn mowers to minimize the possibility of problems in this case.
So…
---
Sum Up
There are a lot of types of riding lawnmowers, including riding lawnmowers that are battery-powered.
You can choose the quiet ones or even choose one that has a large battery capacity.
It's all your choice!
---
Conclusion
When it comes to the lawn mower, you can choose between gas, electric, push, or riding lawn mower battery-powered.
So, have you decided what you prefer the most?
Let us know what you think by dropping comments below!
---
FAQ
How long do the batteries last on a Ryobi ride on mower?
There is no clear-cut answer to this topic because it will rely on a variety of variables,…
…such as how frequently the rider uses the lawn mower, how much yardage is cut each time, and the sort of terrain they are traveling on.
While some Ryobi users claim their battery packs can last up to five or six hours…
…before needing to be recharged, others claim they only last for approximately two hours.
To maximize the batteries' operating time, the majority of Cub Cadet riders advise charging them every two to three rides.
Is Cub Cadet as good as John Deere?
Both the John Deere D130 and the Cub Cadet XT1 LT42 are excellent riding lawnmowers.
They are both so great, in fact, that they are tied for first place in our rankings.
In a category where models may easily cost more than $3,000, that's noteworthy. As a result, this match ends in a tie.
How many hours Cub Cadet last?
Husqvarna lawnmowers and Cub Cadet lawnmowers perform and last similarly. 500 to 1000 hours, then.
Like all mowers, this can be extended with proper care and maintenance.
---
More Related Articles