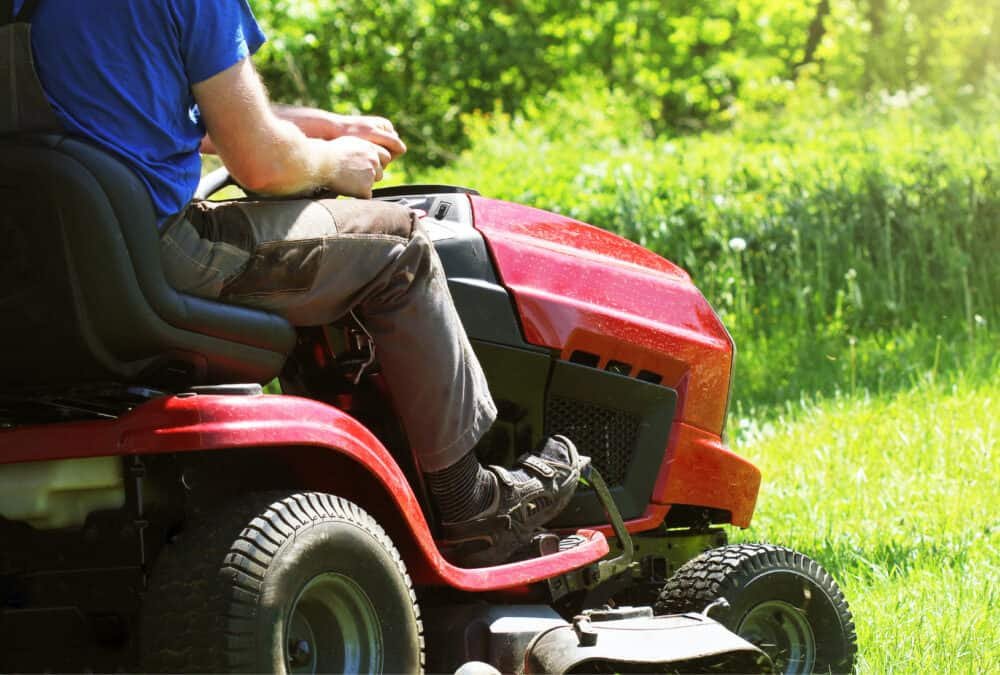 It is best to know do some research before buying something, and this includes buying a riding lawn mower.
Read our overview of the 3 most known riding lawn mower types to discover everything there is to know about them below!
But first, let's hear a few words from Jessica:
I've had this ride-on for a few years and was impressed with the power and ease of use.

My gas push-on mower gave up this year and I considered another but have this electric a chance.

It's amazing, I can mow my whole yard in one charge (about an acre).

Cuts as well as a gas powered without the expense of gas.

I would highly recommend.

Jessica, Montana
Without further ado, learn with us about 3 of the most commonly found riding lawn mower types:
Riding Lawn Mower Types
Lawn Tractor
Most people will be familiar with lawn tractors, and many of us picture these front-mounted engines when we think of ride-on mowers.
With typical deck widths between 42 and 54 inches, they are an excellent mower option for large lawns.
By dividing the width of the deck by 12, you may determine the maximum size of lawn that a particular lawn tractor can handle.
For instance, a 42-inch deck width will work for lawns up to 4 acres in size.
Lawn tractors have an engine that can produce 18 to 25 horsepower, with some more expensive versions having dual cylinders while entry-level ones just have one.
Lever-operated gear transmissions are standard on entry-level lawn tractors, although continuously variable transmissions, pulley drive-powered automatic gearboxes controlled by a hand lever, may be found on improved versions.
You could pick a lawn tractor with a hydrostatic pedal transmission if you truly want to stretch your financial limits.
When compared to other varieties of ride-on mowers, lawn tractors are typically very affordable, costing between $1000 and $3000.
Despite having a small amount of maneuverability, they are generally good for large lawns.
When a lawn tractor is unable to get close enough to an edge or an obstruction, it frequently leaves sections of grass uncut since they are difficult to turn and cannot handle obstacles adequately.
Zero-Turn Mower
Over the past few decades, zero-turn mowers have evolved into the Ferraris of the lawn-mowing industry.
The dual hydrostatic gearboxes at the back wheels are managed by lap bars in the front seat.
They feature unmatched mobility because to their design, which sets them apart from other ride-on mowers.
They have exceptional all-around cutting performance, the ability to rotate, and can make sharp bends.
In comparison to other ride-on mowers, zero-turn mowers can reach significantly closer to barriers and can trim closely against landscaped edges, giving most lawns a better finish.
Particularly on lawns with varied shapes, their maneuvering abilities makes mowing more effective.
Since they can cut the most grass in the shortest amount of time, they often provide the easiest mowing of any lawnmowers.
Zero-turn mowers typically have deck widths between 32 and 60 inches.
Their estimated horsepower ranges from 12 to 25, and their engine capacities range from 452 to 700 cc.
A zero-turn mower can cost anywhere from $1000 and $6000, depending on the model and quality.
We've covered the prices of some zero-turn mower here, so make sure to check that out.
Rear Engine Riding Mower
These ride-on mowers are a suitable option for lawns of a size that may be neither too little nor too large to be effectively serviced by a walk-behind mower.
As implied by the name, the deck of these mowers is located beneath the driver's seat, while the engine is located at the back of the machine.
They normally have single-cylinder engines that can range in size from 344 to 38 cc and have an estimated horsepower of 10 to 11.
The continuously variable transmission is operated by a shift-on-the-go hand lever.
Rear engine riding mowers typically have deck sizes between 30 and 33 inches, making them best suited for lawns with a total area of less than 2.5 acres.
Sum Up
Lawn mowers are a necessary piece of equipment for yard work and lawn care.
Whether you just want to prevent your lawn from turning into a wild meadow or you want a neat, well-kept lawn that your neighbors will envy…
…there are a few things you should think about before buying one.
One of them is learning about the types of lawn mower more deeply so you are more sure about what you buy.
The other is constantly checking if there are riding lawn mowers on sale, especially if you are on a budget.
And if you want to completely learn about riding lawn mower types, you can check out our article here: Riding Lawn Mowers – Complete Guide.
Let us know below what you think about the riding lawn mower types we shared above.
Are you a fan of crime dramas? If you're anything like us, you love getting into the mind of a serial killer.
So why not do it with style? With our serial killer mug, you'll be able to focus on the mystery and the
memorization of numerous serial murderers. Not to mention, it will be a hilarious drama in your home!