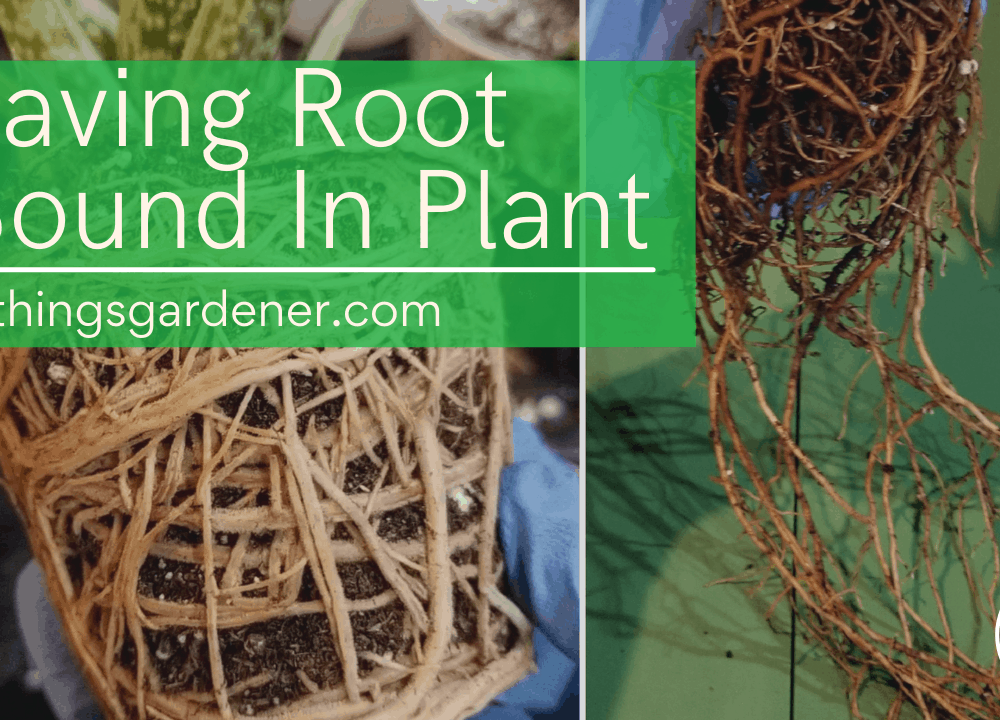 Root Bound Plants
Everyone should know how to spot rootbound plants and how to correct them…
….as well as how to prevent it from happening in the first place.
Here we're sharing our tips and tricks for diagnosing and treating roots…
…that have become bound, preventing root-binding in the first place…
…and treating it once you've seen signs of root-binding.
With this knowledge, you can not only grow beautiful plants in your own garden…
…but you will be well prepared to buy them as well.
Some of those rooted plants you purchase in the nursery or garden center…
already have a lot of roots when they are planted.
That's because some plants purchased from the store have been hiding out…
…in their containers for several years before they are taken home.
When you read this article, you will gain insight on how to avoid selecting rootbound…
…specimens when choosing which plants to take home with you.
If you get your landscaping supplies home and find all the plants are rootbound…
…you will know what kind of treatment you should apply.
Here's the story from Rex, about his experience having root bound on his very first owned snake plant.
Let us hear Rex's story.
It was a cold winter night who knew what the morning would bring.
As I lay in bed, my thoughts turned to all of the things that could happen today.
Who knows if I'll be going to school or if someone might come and take me away.
The weight of these questions brought on by this fear made it hard for me to sleep so I decided to do something about it.
My snake plant had been looking droopy lately, so maybe watering her would help my restlessness pass?
But when I got up out of bed, root bound seemed like an occurred to my snake plant.
So I decided to check it further, and its like what I suspected.3
My plant have root rot on it. In no time, I prepare all of the things…
….that needed and began the operation "Saving My Snake Plant From Root Bound".
Snake plants are sturdy plants that can grow petty big if the conditions are set right. Some people often beleive that keeping their snake plant in a smaller pot where they remain root bounded will encourage better growth. But how true is that? Do snake plants like to be root bound? 

Richa, expert in plants
Here's the main thing
What Does Rootbound Plants Mean?
Rootbound plants, sometimes called potbound plants, tend to develop too large roots that crowd into the container.
Without plenty of room to grow, their roots are congested and crowded.
It keeps its roots clumped together into a dense tangle…
…instead of dispersing like the branches of a tree with plenty of space between them.
Plants in acute root-bound situations may develop root balls that completely take over the container's shape…
…and some species may have replaced the soil in the pot entirely with their dense coiled roots.
Go on..
What does a rootbound plant look like?
Rootbound plants keep their roots and soil in one solid wad and tend to stay bunched together…
…after they come out of their containers.
It's even possible to see root snaking out of the drainage holes on severely rootbound plants…
…or the roots might have even climbed back up the container walls and been visible on the soil surface.
Next up…
Telling a plant is root bound
Usually, it is difficult to diagnose a rootbound plant without removing it from the container…
..because rootbound plants can display similar symptoms to plants that don't receive enough water.
The symptoms include stunted growth, sudden greening, yellowing or brown leaves…
..especially toward the bottom of the plant), and one-sided growth.
In severe cases, crowded roots may cause the pot to snap or become misshaped.
The underside of the pot of your choice should have roots that don't protrude through the drainage holes…
…so make sure this is the case when picking out plants or trees at the garden center.
Inspect the root system and avoid bringing home roots bound plants by sliding the plant gently up…
…and out of its pot and gently sliding it back down again.
Plant root binding checks are welcome at the nursery as long as care is taken not to damage any plants.
If you see root covering the sides of the container in any way, there is a good chance the plant is rootbound…
…though if plenty of soil is visible, the plant may be only a little rootbound.
Go on…
Root bound plant symptoms
Yellow Foliage
If you notice any yellowing of your plant leaves, they may be root bound.
This may affect the whole plant, or just the leaves nearest the plant's base.
There may be problems with the plant's ability to absorb nutrients from the soil…
…because roots take up more space than soil, there isn't much for them to absorb anymore.
Wilting
Watering too much causes your plant to wilt, and even more watering might not make it grow.
That's a sign that your plant has become root bound.
Having its roots packed so tightly, the plant's roots are unable to efficiently take in water…
…leaving it always thirsty and wilting.
Rooting
The roots involved in root rot may have been blocked by the drainage holes of the pot…
…in which case they are likely to get soaked and become prime targets for root rot.
Pests
Despite a rootbound plant's stress, they are vulnerable to pests, since they are more stressed because of it.
Root Damage
When severely root bound, your plant's roots can actually break their pot if it is not trimmed and watered properly!
Lack of Soil
As roots grow, they displace the soil from the pot, which can eventually take up more space than the soil itself.
Your plant is approaching or already being root bound if you can spot roots peeking from the surface of the soil.
Because some of these symptoms are caused by numerous issues with your plant (over- or under-watering…
…lack of fertilizer, etc., make sure it's root bound by removing the plant from the inner grower pot to examine it.
Next up
What happens then?
You might think rootbound plants are the best selection because of their extensive root system…
….if you have never seen them otherwise.
Since a plant's roots draw water and nutrients from the soil to feed it and help it grow…
…they serve as the plant's food supply. In reality, the opposite is true.
If the problem is left unattended, even when a rootbound plant is transferred to a larger container…
…or his roots are placed directly in garden soil, they remain confined in a tight knot.
Rootbound plants don't extend their roots far enough into the soil surrounding the root ball…
….which means they'll miss out on the water and nutrients it needs to thrive.
That's why it's so important for gardeners to be able to spot rootbound plants quickly…
…and decide how to encourage the plants to spread their roots thus making the plant healthier and stronger.
Will rootbound plants die?
Rootbound plants receive less nutrition and hydration without intervention from the gardener.
In severe cases, bound roots can choke a plant, eventually leading to its death.
It is possible for the root binding to kill the plant as a result of its stress or its starvation process.
Can a rootbound plant recover?
Plants can be saved if they are rootbound. By repotting them correctly and hydrating them properly…
…they can recover. Find out how you can cut the roots of a rootbound plant and transplant it…
…to a new container in the article below.
Treating root bound plant
There are a few options for you depending on how root bound your plant is.
Keep in mind that not all plants will be able to handle the stress of being replanted…
…after being root bound for a long time.
A variety that has thicker, fleshier roots and fewer hair roots is more susceptible to repotting stress…
…and may not survive long-term repotting.
However, it is always worthwhile to try, so consider these options for your root bound plant.
Keep going…
Repotting a Root Bound Plant
Repot a root-bound plant by loosening the roots you may have to cut a few strands away…
…and repot in a pot 1-2 inches larger in diameter than the original pot with new potting soil.
Water thoroughly and let drain thoroughly.
Pruning Houseplant Roots
When your root bound plant is not too rootbound and you want it to stay in the same pot…
…you can prune back some of the roots so that it can live in its original pot with about an inch…
…of fresh potting soil on all sides.
Dividing a Root Bound Plant
If you have a rootbound plant, you may divide it into two or more smaller plants in order to repot with more room.
To repot the plant, carefully cut the roots in half and separate them with a sterilized knife.
Put the two halves back together.
Last but not least…
Plants that like to be root bound
Plants sometimes reproduce more successfully when they are root bound.
They can produce pups or baby plants when root bound because they need to be under some stress to reproduce.
The plants that like to keep their roots rooted in the ground include spider plants…
….sansevierias, umbrella trees, jade, astilbe, and aloe. It is important to repot these plants when you wish…
…the mother plant to grow larger;
however, they will not produce baby plants until they become root bound again.
If bare roots are not showing symptoms of root entropy, you're okay to keep them a little tight.
Sum Up
See having snake plant is good choice for you to have! It's cool, its famous, it's easy to have and care!
What else do you need? In this pandemic time like this, is a good choice for you to have an new activity…
…and having snake plant is a good choice for you to have!
Conclusion
Last thing for sure. This plant need to be care carefully, remember plant need the "love" too.
There are still many recent and interesting articles about snake plants
Alright that's all for today! Do you have any questions about all of this?
Or do you want to add some tips and guide encounter snake plant from root bound?
Let me know your recommendation from the comment below.
I hope you can now take care your snake carefully and grow it big!
As well as other unique information from All Things Gardener.
For further information and other inquiries you can contact us here
Thanks for reading this article! Bye!
More Related Articles For You!
Gardening is how I relax!
It's another form of creating and playing with colors?
My mission is to make people realize that even by growing a plant...
....it will make them believe in tomorrow?
And that's life most valuable moment!?