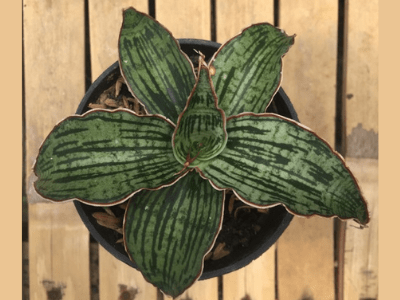 Are you a snake plant lover, cause if you are…
… I bet you do have a Sanseviaria cleopatra with you!
In my opinion, the Sansevieria cleopatra is the most beautiful one yet!
Harry agrees with me!
I do love the Sansevieria cleopatra when it comes to snake plants…
It's small size and contrasting edges made it a very royal looking plant!
Moreover, I can put them anywhere in the house…
… without it being a distraction or sight-blocker due to its small size.
They also grow in a rosette pattern which makes them seem to be evergrowing!
Don't you agree?
Because I really hope you do, hence the reason why you're reading on this article…
In this article, I will try to provide you with all the necessary information…
… that you will probably need for caring on this beautiful snake plant.
Read on!
Sanseviaria Cleopatra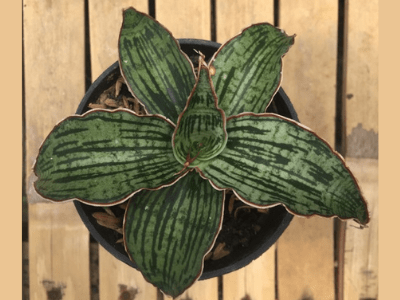 Sansevieria cleopatra is a lovely, slow-growing hybrid…
… with intricate leaf patterns that grow in a perfect rosette.
Sansevieria cleopatra is a flowering plant native to Africa, Madagascar…
… and southern Asia that is popular as a houseplant in cooler climates.
Warmth and bright light are ideal for them, but they will also tolerate shade…
They must be grown in well-draining compost and not be over-watered, or they will rot…
How To Plant Sansevieria Cleopatra?
Select a container with a drainage hole in the bottom…
Snake plants thrive in terra cotta pots…
… which allow the soil to dry out more quickly than plastic pots.
Use a potting mix that drains well…
It's best to use a potting mix designed for "cacti and succulents,"…
… as it'll be less likely to become waterlogged.
Don't bury snake plants too deeply when repotting them…
The plant should be planted at the same depth as it was in its previous container…
Choosing a Location for Sansevieria Cleopatra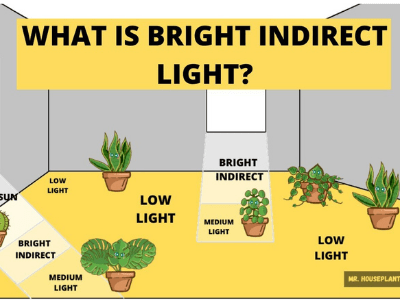 Sansevieria cleopatra prefer bright, indirect light…
… but they can tolerate some direct sunlight as well.
They do, however, grow well in shady corners…
… and other low-light areas of the house (albeit more slowly).
Maintain a warm environment for the plant, with temperatures above 50°F (10°C)…
In the winter, make sure the windows aren't drafty…
Sansevieria Cleopatra Care
Sansevieria cleopatra are ideal for new gardeners because they are nearly impossible to kill…
It's a great container plant that looks great in a grouping…
… and can be used on the floor or in tabletop displays.
Drought resistance is also a feature of these plants…
Two low-growing varieties exist, but they are rarely found in garden centers…
Avoid overwatering your snake plant, as this can cause it to rot…
Before watering again, make sure the soil is completely dry…
During the winter, they can even go two months without watering…
Water every three to four weeks during the summer…
Snake plants do best in warm weather and struggle in extremely cold weather…
Light
Sansevieria cleopatra prefer indirect but consistent light…
… with some direct sunlight, despite their forgiving nature.
They can adapt to full sun and will also survive in low-light conditions…
Most snake plants thrive in bright, indirect light as a general rule…
Sansevieria cleopatra are considered low-light variants…
… which is one of the factors that is misunderstood.
That's how they're usually offered for sale…
Your Sansevieria cleopatra will tell you if it isn't getting enough sunlight…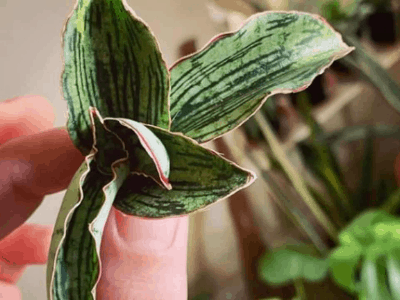 … by having droopy and sad-looking leaves.
While it's important not to move your snake plant…
… from a dark corner to a bright light environment too quickly…
… you can train it to thrive next to a window that gets plenty of light.
To do so, gradually bring it closer to your light source…
… while maintaining a high humidity level.
Just keep an eye out for "sunburn" as it gets closer to your window…
A thinning leaf that is beginning to blacken or brown is one sign of plant sunburn…
It will appear flimsy, and the tips will become crispy. Snake plants require regular watering…
Snake plants are succulents, which means they store water in their leaves…
… stems, and roots and can survive in arid conditions.
You'll notice these giant root structures that are really thick if you pull snake plants out…
Those root structures store a lot of water, and the meaty, fleshy leaves also have a lot of water…
As a result, Sansevieria cleoptra is one type of plant that can go longer between waterings…
When it comes to snake plants, one of the tricks is to make sure the soil is completely dry before watering…
Soil
Because Sansevieria cleopatra is a slow grower, they don't require much fertilizer…
… but you should replace their soil every eight to twelve months to avoid root rot.
Check to see if your snake plant's roots are pressed…
… all the way against the pot as you add more soil.
If they are…
… you'll need to move it to a new pot with a diameter of 1 to 2 inches wider…
You shouldn't have to do it more than once every two to three years…
Snake plants, once again, are slow-growing…
If your Sansevieria cleopatra's new leaves wilt before they have a chance to mature…
… or if older growth suddenly starts to look unhealthy and die…
… despite the fact that your care routine hasn't changed, your snake plant may need a new home.
Water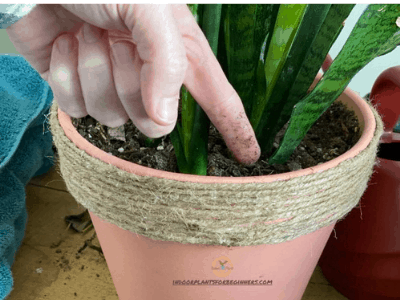 Between waterings, allow the soil to dry out…
Reduce watering to once a month during the winter…
… or whenever the soil feels dry to the touch.
Under-watering is preferable to over-watering, as too much water can kill Sansevieria cleopatra…
Temperature and Humidity
Sansevieria cleopatra thrives in warm environments and will suffer…
… if temperatures drop below 50 degrees Fahrenheit.
Place the plant in an area where it won't be exposed to drafts…
It's best if the temperature is between 70 and 90 degrees…
Fertilizer
During the growing season, feed with a mild cactus fertilizer…
… or a balanced liquid slow-release (10-10-10 fertilizer) diluted to half strength.
In the winter, don't fertilize…
More On Snake Plant
Is Snake Plant Toxic?
People, dogs, and cats are moderately poisoned by the snake plant…
Humans who consume the plant may experience short-term symptoms…
… such as mouth pain, salivation, and nausea.
It can cause a dermatological reaction in rare cases, but it is only toxic if ingested…
Ingestion can cause excessive salivation, pain, nausea, vomiting, and diarrhea in cats and dogs…
But the plants are also poisonous if ingested. Large doses can cause nausea and vomiting, and the poison found in the plant has a numbing effect that can cause the tongue and throat to swell. The plants are more toxic to dogs and cats, which can suffer from nausea, vomiting, and diarrhea.

Angela Colley of American Kennel Club
Snake Plant Varieties
This plant is available in a variety of cultivars…
Some don't get very tall, while others have leaves that are a different color…
For a variety of effects, try these snake plants: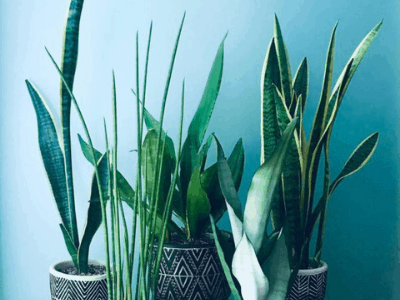 The bird's nest snake plant, Sansevieria trifasciata 'Hahnii', is only about 6 inches tall. It has a cluster of leaves that resembles a bird's nest.
The cylinder snake plant, Sansevieria cylindrica, has round, stiff leaves that can grow to be several feet long. From a central crown, the leaves arch outward.
The leaf margins of Sansevieria trifasciata 'Laurentii' (variegated snake plant) are creamy yellow. This plant must be divided rather than propagated from leaf cuttings to be propagated.
Sansevieria trifasciata 'Twist' has twisted leaves with yellow variegated edges that are striped horizontally. It reaches a height of about 14 inches.
Sansevieria trifasciata 'Bantel's Sensation' has narrow leaves with white vertical stripes that grow to about 3 feet tall.
Sansevieria desertii, also known as rhino grass, reaches a height of 12 inches and has succulent red-tinged leaves.
Propagation
During repotting, Sansevieria plants can easily be divided…
New shoots that emerge from the soil can also be taken and potted separately…
Cuttings can also be made, but relying on division is much easier…
Potting and Repotting
Strong roots can easily crack and break weak pots…
… so choose a sturdy material when potting.
Sansevierias are slow growers who rarely require repotting…
… but if given enough sunlight, they can grow quickly and require repotting or dividing once a year.
In the spring, repot these plants…
Pests/Diseases
Overwatering causes root rot, which is the most common problem…
Remove any dying leaves and allow the plant to dry out more than usual if this happens…
Snake plants are tough and usually bounce back…
Remove the plant from its pot, discard any rotted roots and leaves…
… and repot in fresh soil if the plant continues to die.
Wit and Wisdom
Snake plants, like spider plants and peace lilies, are said to be excellent…
… at cleaning the air and removing toxins like formaldehyde.
However, more research is needed to determine the true extent of these plants' ability to purify the air!
A type of snake plant native to tropical Africa…
… Sansevieria trifasciata produces a strong plant fiber…
… that was once used to make bow strings for hunting.
It's also known as "Bowstring Hemp" because of this…
To sum it up…
See having Snake plant is good choice for you to have! It's cool, its famous, it's easy to have and care!
What else do you need? In this pandemic time like this, is a good choice for you to have an new activity…
…and having snake plant is a good choice for you to have!
Conclusion
Last thing for sure. This plant need to be care carefully, remember plant need the "love" too.
Alright that's all for today! Do you have any questions about all of this?
Let me know your recommendation from the comment below or contact us.
Check out more of our posts like this one here!
I hope you can now take care your snake carefully and grow it big!
Thanks for reading this article! Bye!
Related Articles!