Sansevieria belong to the genus Dracaena, and can be grown indoors or outdoors…
Snake plants are hardy and can be grown anywhere…
The Sansevieria contains over 70 different species…
These species come in a variety of sizes and forms…
There are some Sansevieria that can grow taller than a person, up to 7 feet tall…
… while others can grow no taller than a foot.
Hear it from Karen!
I've collected lots of houseplants in my life…
… especially small ones which can be put in different places.
One houseplant type in particular that strikes me the most…
… is the Sansevieria. Why you may ask?
Well this is because Sansevieria has a wide variety of shapes and sizes…
… which put me in awe every time I found a new cultivar.
Here's a friendly tip, that Sansevieria are perfect for homes and offices…
… also in schools, hospitals, and everywhere you want it to be!
Interesting, right?
In this post I will introduce some shorter Sansevieria types…
You can grow one of these easy-care Sansevieria in your home or office…
… if you prefer a plant that can fit in a small space and is easy to care for.
When grown indoors, Sansevieria make excellent ornamental plants…
… and they can also help you out in purifying indoor air from toxins – according to NASA.
In this study, the leaves, roots, soil, and associated microorganisms of plants have been evaluated as a possible means of reducing indoor air pollutants. Additionally, a novel approach of using plant systems for removing high concentrations of indoor air pollutants such as cigarette smoke, organic solvents, and possibly radon has been designed from this work.

Plant roots and their associated microorganisms then destroy the pathogenic viruses, bacteria, and the organic chemicals, eventually converting all of these air pollutants into new plant tissue. It is believed that the decayed radon products would be taken up the plant roots and retained in the plant tissue.

B.C. Wolverton, Anne Johnson, and Keith Bounds in Interior Landscape Plants for Indoor Air Pollution Abatement
Due to their small size, you can grow them in small pots, dish gardens, and as tabletop decors.
You can also use them in window sills or on the wall shelves along with other smaller succulents…
Mini Snake Plant Collection
Sansevieria Pinguicula
Other Sansevieria types that are under a foot tall include Sansevieria Pinguicula…
… and other varieties belonging to genus Sansevieria.
The species is widely grown in the dry soils of Kenya…
In contrast to most Sansevieria, Pinguicula has a striking greenish blue leaf pattern…
… without typical Sansevieria leaf patterns.
The thick, pointed, and broadly channeled leaves look like miniature Agave plants…
One interesting characteristic of this plant is its ability to walk, so it is known as Walking Sansevieria…
This ability is actually a distinct way to grow…
Instead of underground stems (rhizomes), it produces aerial stolon…
A stolon emerges from a rosette and roots into the earth to create another plant…
The new plant looks like it is walking away from the parent…
… that is why it is called a "walking Sansevieria".
Sansevieria Trifasciata Twisted Sister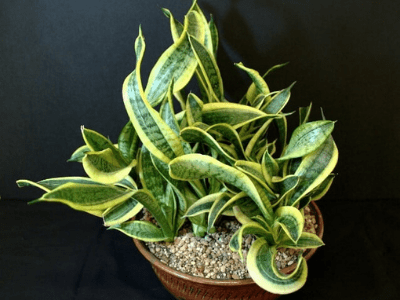 Another strikingly beautiful variegated cultivar of Sansevieria Trifasciata…
… is the Sansevieria Gold Twist or Twisted Sister.
Unlike sword shaped leaves, the foliage of this cultivar twists and turns as it grows…
This plant can grow as tall as 37 cm (15 inches) and produces tightly arranged leaves in rosette form…
Amongst otherSansevieria types, the Gold Twisted one stand out because of their uniquely shaped leaves…
Maintain the plant in an environment where it can get filtered yet bright sunlight…
… with an average room temperature and humidity.
Sansevieria Kirkii Silver Blue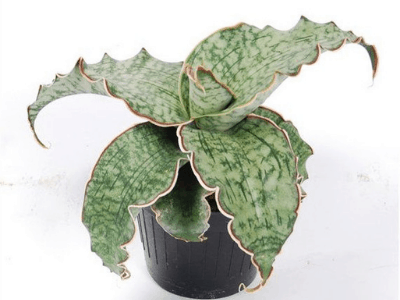 The Silver Blue Sansevieria, a miniature cultivar of Sansevieria Kirkii…
… only reaches a height of 30 cm, even though its parent has leaves up to 6 feet long.
This plant is also known as Sansevieria silver blue, because it is believed to be related to Sansevieria Kirkii…
… but scientific validation is still lacking. It is stunning and considered to be a rare collection…
It has a silvery blue foliage with mottled dark lines that appears broken longitudinally…
The leaves are exceptionally thick and short with wavy borders…
They are easy to propagate, easy to grow, and is low-maintenance with its red-brown…
… and white narrow green margins that can break up into stringy fibers.
Sansevieria Ehrenbergii Samurai Dwarf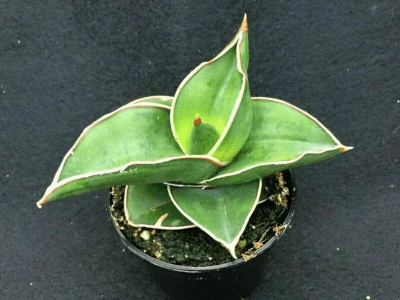 A compact cultivar of a tall Sansevieria can be found in the Sansevieria Samurai dwarf…
Its parent can achieve a mature height of up to 5 feet…
… while the cultivar is usually just four to six inches (20-30 cm) tall.
As a rare variety, it features short and thick leaves…
Due to its short stature, it makes a great tabletop decoration and is easy to move around…
It will look great on your dining table or in your office…
A samurai dwarf's leaves have two different points that grow in opposite directions, like its parent…
But they grow in a spiral shape, so if you view it from above, you'll see a beautiful flower shape…
Each leaf has distinct edges and tips that are reddish brown and white in color…
The leaves have a pronounced V-shape and they grow on plants with short stems…
It is essential not to water the leaves, as this can cause rot and fungal problems…
Better lighting and well-draining soil will lead to better plant health…
Sansevieria Ballyi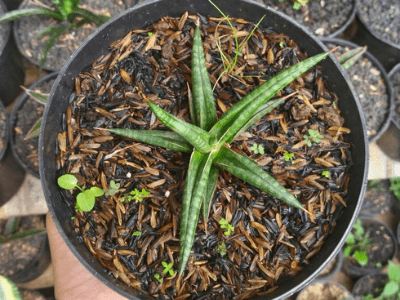 Like the walking sansevieria, this small succulent herb can be found only in Kenya…
It produces spider-like stolons that can grow up to 6 inches (15 cm)…
This already small variety of Sansevieria has an even smaller cultivar called "Minnie"…
In the Minnie cultivar, the leaves are even shorter and stubby…
… and they grow only 2 inches across before they begin producing stolon.
Sansevieria Ballyi is a flowering that can produce small clusters of greenish white flowers…
They have a few stilt roots that are long and slender…
… and they rise almost a few centimeters above the ground.
It spreads relatively slowly…
However, it can be propagated by removing and re-rooting the plants that grow at the end of the stolon…
Sansevieria Francisii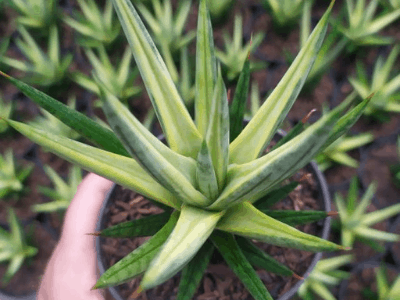 Sansevieria Francisii Chahin is a lesser known Sansevieria that reaches up to 2 feet tall at mature age…
Although it's taller than other Sansevieria, it can still be grown in any small space in your home or office…
With its unique foliage, Sansevieria Francisii can magnify the beauty of any place…
It produces a stem, unlike most Sansevieria. Each leaf is arranged in 5 distinct rows…
The leaves are about 6 inches (15 cm) long, dark green with irregular horizontal bands…
The pointy tips of the leaves are reddish brown. Sansevieria Francisii can also flower on rare occasions…
This usually occurs in the late winter to early spring season…
Sansevieria Moonshine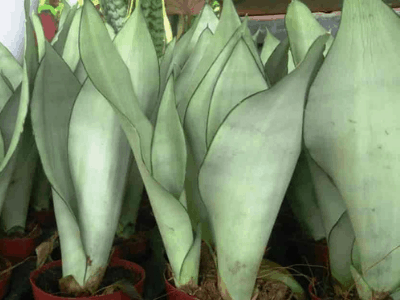 Sansevieria Moonshine, often called Silver Sansevieria, Moonlight Sansevieria…
… and Sansevieria Future Silver Offset, are among the most popular varieties of Sansevieria.
It is easily identified by its broad silvery green leaves…
According to some sources, Sansevieria Trifasciata is a cultivar of this species…
… however the exact origin remains unclear.
Moonshine Sansevieria comes up to a height of about 2 feet…
Its leaves are tongue-shaped and grow in upright sections with 2-3 leaves in each…
Sansevieria Moonshine leaves can be as wide as 4 to 5 inches…
Younger leaves are almost white in color…
Due to its unique color, Sansevieria Moonshine is a great accent…
To sum it up…
You can grow Sansevieria inside without much effort and skills…
They are hardy and easy-to-maintain…
They are a great choice for beginners…
You can choose one or maybe six from the Sansevieria listed above…
… because they're small in size and super accessible for anyone!
Conclusion
If you still have any queries on the matter, let us know in the comment below…
You can also contact us for personal engagements…
… so we can get deeper in our gardening community.
Check out more of our posts like this one here!
I hope you can now take care your snake carefully and grow it big!
Thanks for reading this article! Bye!
Related Articles!