If you're seeking for a definition of a blooming snake plant…
… please let me tell you about the Sansevierias (Mother-in-Law's Tongue).
These plants have been plants for centuries…
… but mainly we didn't realize they could give flowers.
Hear it from Jim!
I've had my snake plant for quite some time now…
… and I've never experienced a blooming snake plant.
I even thought that my snake plant won't flower at all!
I've seen a number of folks documenting their flowering snake plant on the internet...
… and I've also asked them about it, like how could that happen?
All of them answered the same, that I have to make my plant stressed…
… before enjoying the bloom the may produce.
On the one hand, I feel that damaging my plant is against my nature...
… but at the same time, I long to see the bloom of my own snake plant.
Hence, with that dilemma in mind, I tried to neglect my snake plant…
… and by that I mean let them grow in the same pot for the longest time possible…
… until I see them bloom, even for a while.
Finally, I did it – my snake plant bloom flowers!
What do you think?
Will you do what Jim did just to see your blooming snake plant?
Well honestly, it's going to be worth it…
… As long as you don't kill your snake plant at the end of the day.
Therefore, let's dive in on the topic of blooming snake plant…
… to help you identify and care for them when the time comes.
Blooming Snake Plant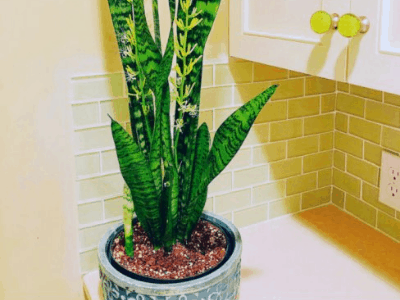 You do not have to take care of them very well and they grow…
… even if you ignore them for a few days or weeks, they will sprout long strappy leaves.
They can live in low-light environments and are only sometimes infected by insects…
The majority of indoor plants are produced for their ability to filter the air…
Furthermore…
Some people believe that mother-in-law's tongue flower will boost your health…
… since it absorbs a lot of harmful things and keeps your home clean.
Blooming snake plant is a scarce thing that grows on the stalk of a snake plant…
Sansevieria flower that is produced under stressful conditions has lily flower appearance…
… which makes it a best eye-catching plant.
You may be surprised to know that plants like this do much more…
… than just refresh our mood and make you happier…
… they also enhance our creative capacity.
Moving forward…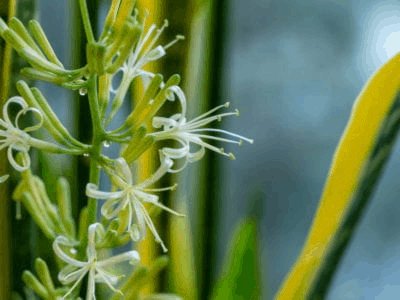 The appearance of a blooming snake plant can enhance the space…
While flower has no significance, it is very rare to get flower blooms…
… from snake plant, and research has confirmed it.
The roots of the plant get 'bound' by continual tension when it produces blossoms….
A stalk with some fluid on it is the first sign that there is something growing…
… and after 2-4 days the flower develops.
Sansevieria flower stalks are typically 2-3 feet long …
… and have a creamy white or cream hue, similar to that of lilies.
These stalks usually grow into some flowering buds…
… and develop about 10-15 days after planting.
The smell of these blooms can attract pests…
… so you have to protect them from them.
In other words…
One in 100 snake plants gets the bloom…
… but otherwise it is very hard to get them all…
… because of the conditions in which they are placed.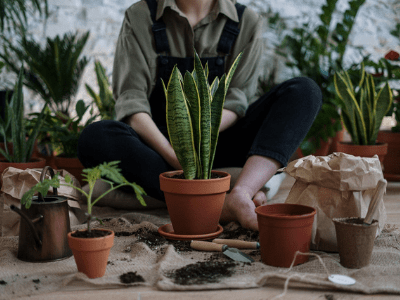 It happened to me as well, but I repotted it…
… not knowing that it would still flower even if it was root bound.
It Stressing your Mother-in-Laws Tongue plant by making it root bound is not a good idea.
It's a rare occurrence, and you don't want to risk killing your plant...
Repot it and let it grow as it grows…
… and enjoy how it will remove pollutants from indoor air…
… As more leaves are added, more oxygen is produced, resulting in cleaner air.
What Is Snake Plant Flower?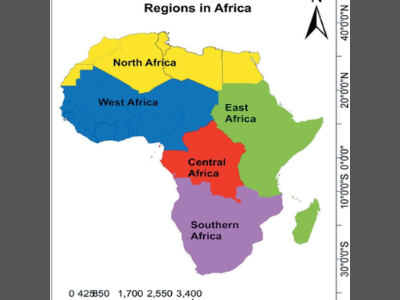 This snake plant, also commonly known as Dracaena trifasciata…
… is a flowering plant that was first discovered in the African region…
… It began in East Nigeria and the Congo, then spread around the world.
Many farmers have even created snake plants with variegated leaves…
… which are more appealing to the eye…
Mother-in-law's tongue has a different name…
… and comes from the Asparagaceae and it was a tropical rainforest plant.
There are a few white flowers that are rarely encountered…
… but you might run into one unexpectedly popping up…
… in your snake plant garden once in a while.
What Does Blooming Snake Plant Mean?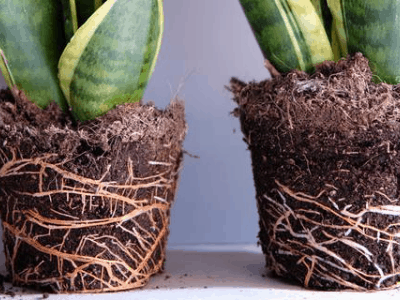 When Sansevieria undergoes stress of not being repotted…
… and becomes root-bound, it flowers.
Snake plants' stalks can also create liquids, and flowers can develop later…
It's a rare incident that occurs once per decade ...
If it was developed on your plant then be thankful that your plant is one of the few that can do that…
Flower of the mother-in-law is white in color and pretty in appearance…
Why Does A Snake Plant Flower?
It is rare for a snake plant to bloom, however it can happen anytime…
… when you wake up and suddenly see it blooming.
There is a slight possibility that your plant has produced the flower…
… as a result of minor stress, so don't worry: it won't harm or inhibit your plant's growth.
One out of one hundred plants have this bloom…
…and as these blossoms open up, they look a lot like lily flowers.
The only thing you should avoid is to force it to bloom…
How Often Does A Snake Plant Flower?
Snake plant flowers are uncommon because they don't grow very often …
… and are extremely hard to see in the wild.
One or two Sansevieria Trifasciata plants might produce a flower stalk…
… one day if they are stressed or root bound.
If they bloom at all…
It would be in spring or just before the start of summer…
… and they should be grown outdoors so they get all the nutrients that nature provides.
Snake plant leaves possess a sharp point…
… and They can also produce oxygen and remove pollutants from the air.
Do Snake Plants Ever Bloom?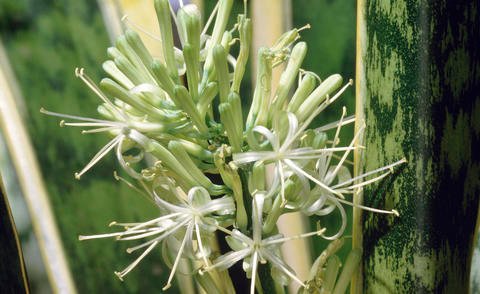 It'It's a rare occurrence in snake plants…
Blooming is contingent on how tough the conditions are for this plant…
… and whether or not it will be killed in the process.
The plants produce flower stalks when under constant stress…
… because all the roots are surrounded by pots and it would be hard…
…. for the plant to develop additional leaves so that the process can create only the flower
That does not mean that you left it…
… to make a rootbound situation for your mother-in-law tongue plant.
It can become worse if you do that…
Snake plants like smaller pots since their roots can better hold the dirt. Your plant, on the other hand, is likely to suffer if the roots have grown densely and removed much of the soil, leaving only the roots ball behind. If your snake plant's roots are bound, you must repot it right away.

Richa of Simplify Plants
… so that is why I said how rare it is to get a bloom.
Perhaps one day you'll see a white flower bloom in your garden…
… after you have grown multiple snake plants.
How Do I Get My Snake Plant To Flower?
Your snake plant can bloom if you neglect it…
… and don't care whether it needs a replacement pot.
Give your plant little water and intense light…
… will enhance the root-growth process to gradually reduce the soil…
… as the plant grows and roots become bound.
Otherwise, sansevieria Subscipata may eventually bloom once they become root-bound…
This process is how it works, but I highly recommend…
… you don't put your plant in a position like this.
The other way around…
We propose that you care for the snake plant by placing it near the windowpane.
and you can also prune them regularly.
If you wish to propagate your snake plant, you'll need to prune it to keep it at a manageable size.
If you want to let your snake plants grow taller and want to put them in a larger pot in your living room …
… or in the corner of your room, make sure you use a good pot like this one.
To Sum It Up…
Yes, it is very rare to see a blooming snake plant…
… but that doesn't necessarily mean it's a good sign for your snake plant.
You may want to enjoy a plant blooming, cause who doesn't…
Nevertheless, you should also keep your plant's health in mind…
A root-bound stressed plant will be prone to diseases and death…
Hence, be mindful of the facts pointed above.
Conclusion
At the end of the day, you now know about the blooming snake plant…
If there may be queries you're still curious about above…
… comment down below or contact us.
Check out more posts on our website like this one here!
Have an awesome gardening journey!
Related Articles!