Are you trying to find a compact way to keep your garbage can? Look no further than the Suncast trash can storage system! Your garden will love this creative storage idea. It is not only simple to assemble, but it also has a small footprint and won't take up much room.
Why Suncast? Suncast helps bring your idea to life with robust, elegant, and convenient storage solutions built for all types of spaces, and all types of houses. The picture below is Suncast BMS4700, you can see the product on our blog.
A trash can storage shed will help you save your trash can. If you leave garbage cans outside your house unattended, it's possible that a wild animal may become curious about what's inside. Raccoons are infamous for rummaging through trash cans, making a mess, and even getting into dangerous situations if they attack a person or a pet while ill.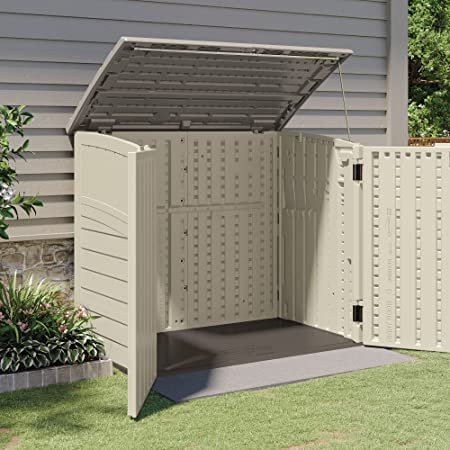 Additionally, it is composed of sturdy materials that can survive exposure to the elements and frequent use. Try out the Suncast garbage can storage system right away to experience for yourself how much your life can be streamlined!
To ensure a hassle-free experience when assembling your Suncast garbage can, be sure to follow these crucial instructions. However, before we move to the main topic, you can look at our article here: Best Suncast Outdoor Garbage Can Storage: Which One is Best For You?
---
Before Assembling the Suncast Trash Can Storage
When you are assembling a trash can storage from Suncast, it is important to follow these 6 key tips:
Consult your local authorities
Consult your local authorities before beginning any shed construction. This will assist you in identifying any building restrictions or permissions that would need to be taken into consideration. You can prevent potential delays and difficulties during the shed-building process by doing this.
A level and sturdy foundation is recommended
Making sure the ground is level and stable is crucial before beginning shed construction. This will assist in preventing any unanticipated mishaps or issues throughout the procedure.
Read instructions thoroughly
Be sure to read all the instructions (in the user manual's assembly instructions) completely before assembling any of the kit's components. If constructed incorrectly or in the wrong order, some parts may be harmed.
Follow instructions
When putting your garbage can storage together, it's crucial that you pay close attention to the directions. Before using it, make sure that all of the screws, nuts, and bolts are securely fastened. Read the directions before you begin as well; you wouldn't want your storage to break apart because something was done incorrectly.
Check for all parts
Make sure you have all the parts you need, the site preparation is finished, and the foundation is built before you start assembling. You will steer clear of any potential issues during the procedure according to this straightforward guidance.
Assistance is required
It is best to seek assistance from a professional if you are a beginner when it comes to putting together furniture. This not only saves you time and hassle but also improves the likelihood that the task will be completed successfully.
---
Tips for Assembly Day
Finish building the foundation and preparing the place before assembling the parts.
Avoid trying to construct on days with high winds.
On days when the temperature is below 32 degrees, do not attempt to assemble.
Allocate enough time for the shed's entire assembly.
Ensure you have help nearby so you can lift and secure parts.
When putting together the shed, wear lightweight work gloves.
After the roof is put together, a flashlight might come in handy for putting together the shed's smaller parts.
For the convenience of its customers, Suncast offers extra hardware for small fasteners. Once the assembly is finished, there may occasionally be extra little fasteners.
---
Safety and Care Shed
Don't store hot objects in the shed, such as recently used barbecues, blowtorches, etc.
Keep the roof clear of snow and debris.
Avoid leaning heavy objects against the walls as this could permanently deform the panels.
The exterior of the shed's walls and roof portions is textured, resembling vinyl siding on a house. Dust may build up in the texture over time. This can promote the development of mold or moss in the shed if moisture is present. We advise washing your shed once a year with mild soap and water to keep it looking good. Avoid using harsh cleaning agents like ammonia, bleach, or sharp bristle brushes. Failure to perform annual cleaning could cause the plastic to become permanently stained. This is not a manufacturing flaw, hence the guarantee is void.
For more information, you can read our tips to clean the Suncast trash can storage on our blog. Go to: 10 Best Tips To Keep Your Suncast Garbage Can Shed Clean.
---
Conclusion
Make sure you carefully read this blog post before assembling your Suncast garbage can storage. You may prevent potential issues and have a stress-free assembly experience by carefully following the offered instructions. Thanks for reading!