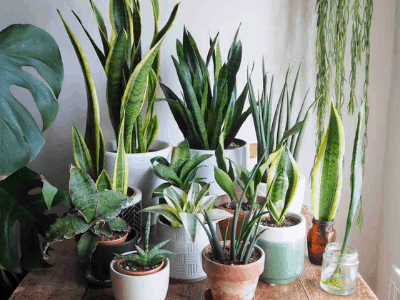 You'll eventually run out of window space if you attempt to fill your home with succulents…
They'll eventually creep into interior rooms that are low light…
Hear it from Byorn!
I've collected a fair amount of succulents in my apartment…
This is just to add some greeneries in my own space…
But now, I don't have enough room to place more of my succulents…
At first, I put all my succulents near the window in the living room…
But sooner than I thought, I've started to put succulents in my room and kitchen…
… where it is low light for them to grow ideally.
So this is now my biggest concern to solve…
Having the same concern?
We've compiled a list of some of the best indoor low light succulents…
But first, let's talk about what it takes for low light succulents to thrive…
Frequently Asked Questions
How Much Light does an Indoor Succulent Need?
The amount of light an indoor succulent requires will depend on the species…
In general, succulents and cacti follows the following light guide, according to University of Minnesota Extension:
Place succulents in a bright, sunny window.
Artificial lighting can make up for insufficient natural light.
A cool white fluorescent tube, or a combination of daylight and natural white fluorescent tubes will give good results. Position them 6-12 inches above the plants, and keep them on for 14-16 hours each day.
Some species, such as cacti, can tolerate direct sunlight, while others may be sunburnt…
There are also species that thrive in shade and low light scenes…
It's always best to do a little research before bringing a new plant into your house…
… to find out which species prefers indirect light or direct sunlight.
Find out how much light your plant needs if you need any help determining what amount…
Do Succulents do Well in Low Light?
Species vary here. Some will thrive in low light environments…
… such as those on this list, while others may need more light.
You need to be aware of the risk that your plants may etiolate if they don't get enough light…
This occurs when they reach areas of higher light…
Despite the fact that it does not harm your plant, etiolation may make your plant appear stretched out…
If you don't like the way it appears, you can always behead it and propagate the top…
… in hopes of growing something more like it should.
Which Succulents are Best for Indoors?
In general, most species of succulents will grow well indoors if they receive an adequate amount of light…
However, some species may not reach the same size as they would if they were planted outdoors…
You can grow succulent plants inside whatever climate you live in…
… because you can grow a wide variety of different plants. 
In most cases…
You will be able to provide succulents with consistent temperature and watering schedules…
… in your indoor space and should still be able to do that outdoors. 
Plants grown inside are more controlled than they would be if grown outdoors…
… since you have more control over the condition of your plants.
What Indoor Plants Do Well In Low Light?
There are still some good options for those who don't want a grow light and an oasis for their chunky friends…
We've compiled a list of low light succulents that seem to thrive in low light levels…
Snake Plant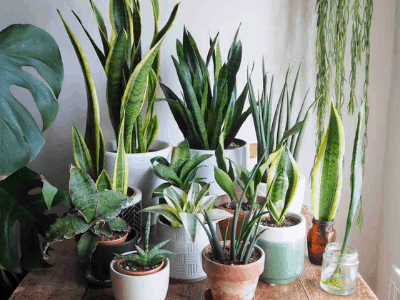 One of my favorite indoor succulents is the mother-in-law's tongue…
I've actually found this succulent still alive in a closet once. It had been there for a few weeks…
Snake plants are ubiquitous in offices worldwide because they are almost impossible to kill and thrive on neglect…
Plant them in the shade during the day and don't water them more than once a month. They'll thrive in any light…
… direct light, bright indirect light, and even low light. You probably don't have to buy it…
You might be able to steal a little shoot from your office or the doctor's waiting room. They self propagate often…
Jade Plant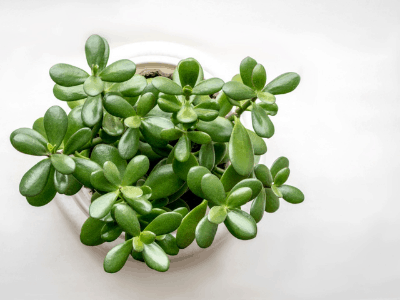 Another easy indoor plant to keep is the jade plant…
It's very common everywhere, both indoors and outside…
It gets really big; you might not notice a bush is actually a jade plant…
… until you get close enough to touch it. They reach 10 feet tall at maturity.
The interesting part…
Their woody stems allow them to bounce back from almost anything…
… making them remarkably strong and resilient. This is part of the reason they are so big.
Most succulents are not woody, and they cannot recover from prolonged periods of neglect or abuse…
Even if a jade plant loses all of its leaves, sprouting new leaves can happen…
If you don't have one, a neighbor may be able to provide you with one…
Moreover…
Jade plants are a good luck sign according to Feng Shui…
Jade plants are evergreen succulents with round or heart-shaped leaves. Evergreen plants establish permanency in the energies they generate. In feng shui, this plant is considered a good luck symbol and activates financial luck since the leaves are coin-shaped.

Sally Painter, Feng Shui Practioner
Bear Paws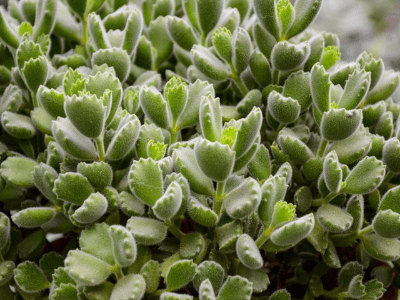 This Cotyledon might seem unusual, but it actually fits well on a list of indoor succulents that survive low light…
This Cotyledon prefers direct light, but because of its unusual growth pattern…
… you won't notice etiolation typically associated with low light situations.
Also bear paws are a nice succulent, and their fur will encourage conversation!
How often do you see a plant with fur? Especially one that won't sting you when it is petted?
Zebra Cactus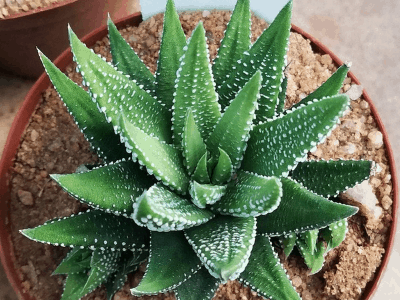 A staple in any cubicle (or succulent arrangement), the zebra cactus is native to South Africa…
… and has a unique aesthetic that stands on its own or in a group setting.
Our friends over at Print A Pot make some amazing, geometric 3D printed pots…
… that look spectacular paired with these sleek, elegant curves.
Also…
These Haworthia are slow-growing and easy to maintain, so they're good for an office or desk…
A little watering, some light – even low light – and some whispered compliments are all this plant needs to thrive…
You can find these pretty readily at home improvement stores and the like…
… but you can also get them shipped to you.
Holiday Cacti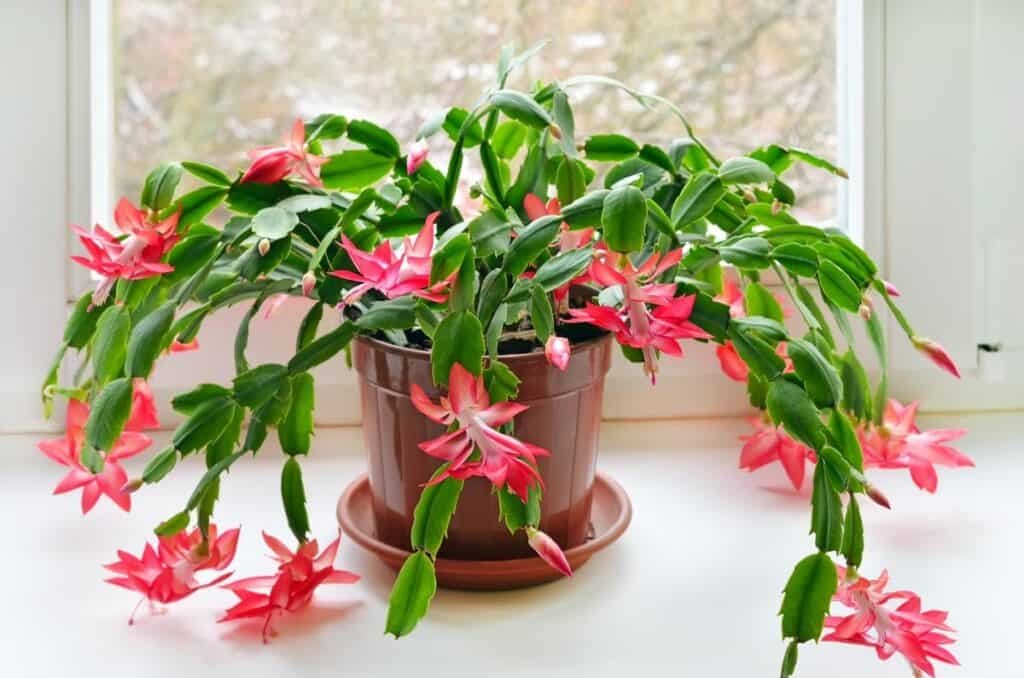 It doesn't matter what kind you have for Christmas, Thanksgiving, Easter, they are all cared for the same way…
People that have holiday cacti water them a little bit more frequently than they would normally water a succulent…
Though these guys thrive, it's unclear if that's because they're naturally hardy…
… or whether they actually prefer more water.
I don't know why, but every grandparent I've met had one of these…
Maybe it's given when you have grandchildren? I don't know, I'm not there yet…
Besides, you shouldn't have to pay for one. Just ask your grandma for a cutting…
Burro's Tail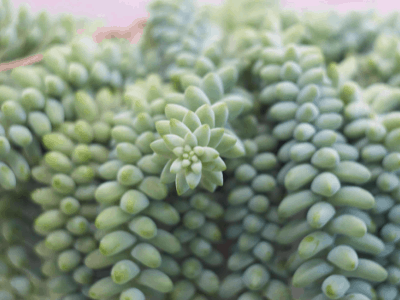 Burro's Tail is a great succulent for almost anywhere…
It's one of the easiest trailing succulents to grow, which is why it is so adaptable…
Because etiolation is nearly impossible to detect in a vine…
… the Sedum grows well in low light environments.
One thing to keep in mind is that…
The leaves on this plant are quite prone to falling off…
Place it somewhere far from heavy traffic so you don't find it looking bare. Hang it in a corner somewhere…
You can easily propagate these from leaves dropped by friends, so take some and throw them in some dirt…
Aloe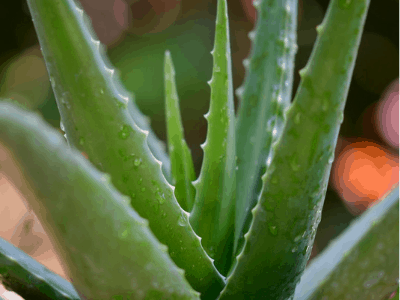 It probably doesn't need to be mentioned, but if you're looking for indoor succulents…
… or succulents of any kind really, you already have one.
Even people without a green thumb have aloe plants. It's the most popular plant in the world…
This is because aloe is so easy to grow, even as an adult…
You don't even need a green thumb to grow aloe…
Just water it once a week and it thrives on any windowsill or under any office light…
I don't think you'd ever need to buy this. I think you'd just find them in kitchen windows naturally…
Ponytail Palm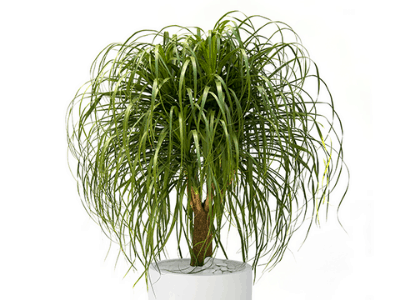 This entry might have surprised you, but we assure you that this palm is a succulent…
After all, succulents aren't a specific family – they're just a catch-all term for plants that store water…
Ponytail Palms have chubby waists. They store water. They grow slow and require low maintenance…
If you're looking for that leafy aesthetic in an indoor space that is difficult…
… to achieve with succulents, this is the plant for you.
Most succulent nurseries won't carry it, but you can buy it online…
Cylindrical Snake Plant
Cylindrical snake plants look unique and striking in any situation…
… but they really shine in those cute specialty planters.
For example, they make perfect spines for dinosaurs and hedgehogs…
Despite being hardy and tolerant of sunny conditions, this plant also likes the shade as well…
That's why it can survive in low light conditions…
Besides…
How could you tell if it is etiolated when it only grows straight out in any case?
All I would recommend is to keep it around the edge of your vision…
Each leaf ends with a sharp spike, so keeping it at eye level is crucial…
I walked right by it once and almost bled to death!
You can sometimes find these at big box stores, but it's easier to get them online…
To sum it up…
Light requirements for indoor succulents vary from one plant to another…
The succulents listed above will surely be your friend…
… when you're choosing for a low light succulent to put on your desk.
Just remember to choose the ones that fit your lifestyle…
… so that they can still survive in the condition they're in.
Conclusion
There are still many recent and interesting articles about Snake Plants…
… as well as other unique information from All Things Gardener.
Check out more of our posts like this one here!
I hope you can now take care your snake carefully and grow it big!
Thanks for reading this article! Bye!
Related Articles!