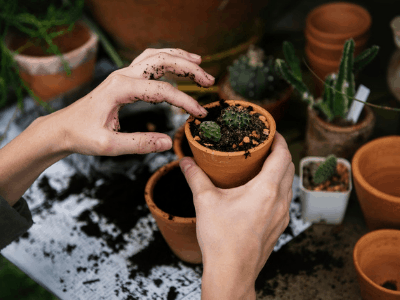 The soil is the basic medium for houseplants to thrive…
Choosing the perfect medium for houseplants to grow, then…
… is something gardeners need to consider first hand!
Hear it from Wayne!
It's really important for me to consider the perfect soil for my plant babies…
This is because I have had an experience where I totally neglect that factor…
This happened upon my snake plant…
I wasn't aware of the plant's needs at first, so I water it day and night…
Furthermore, it was done every single day with soil medium…
… that wasn't specifically made for succulents and cacti.
I used garden soil instead – or known as topsoil...
Why you may ask? This is because what I've know is that…
… topsoil contains all the necessary nutrients a plant needs…
… and also there's where plants originally are planted in.
So where did I go wrong right? Turns out, it was indeed completely wrong…
Good thing Wayne learned already…
It is crucial for a plant to have its ideal medium of growth…
And this is completely in the hands of the plant owner to consider…
How To Choose The Right Soil For Your Houseplant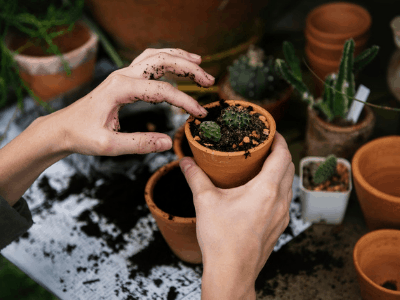 Every plant has its own needs, just like we do…
It is necessary to know the specific needs of each plant…
… as well as the different amounts of water, light, and temperature each prefers.
It is important to choose the right soil for your houseplant…
… as that will affect the health of your plant.
The problem is that the garden center is bursting with so many options for potting soil…
How can you choose?
While it might seem easy to pick up your favorite garden center's "all purpose soil blend"…
… knowing exactly what type of soil your houseplants thrive in…
… can actually benefit you and your houseplants for years to come. 
This article will help you understand what makes up an ideal potting mix for plants…
… including the different types of soil.
With this knowledge…
You will be able to walk into your local garden center…
… confident that you know what mix of soil to buy (or create yourself) for your plants. 
Different Types Of Soil
Cactus and Succulent Mix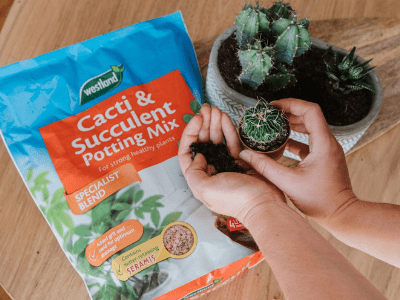 A peat moss-based blend is often the main ingredient (one of several organic materials…
… commonly used in soil mixtures) because it is very absorbent and releases moisture easily.
Peat moss does not require much water to thrive and dries out quickly…
… preventing overwatering of succulents and cacti.
Perlite or pumice, as well as a well draining rocky material, should be included in this mix…
In addition to sand, this mix contains a number of other ingredients…
Similar to perlite, sand prevents the soil from compacting and leaves it aerated… 
What's Perlite?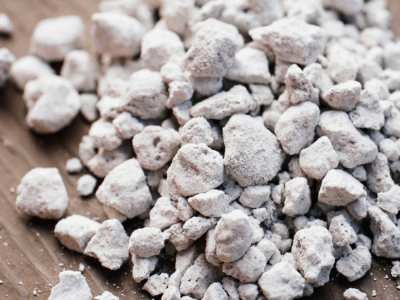 During the soil mixing process, perlite is the material that looks like styrofoam…
To create the perlite we are familiar with, the gray to black obsidian rock is mined, crushed into smaller fragments, and then heated to very high temperatures. Once temperatures reach 850-900 ℃ the perlite becomes soft. Water trapped inside the rock vaporizes and tries to escape, expanding the rock to more than 10 times its original volume and changing the color or perlite to white. An extremely similar process to making popcorn. 

The resulting expanded perlite is a lightweight material full of tiny little air pockets; it is clean, sterile, and resists compaction. The pockets on the outside absorb water, blocking moisture from entering into the center of the perlite pieces.

Amanda Shiffler Plant Expert, M.Sc. Agronomy of Herbs at Home
In addition to retaining little moisture, it aids in proper drainage…
Potting Soil
Planting soil consists of soil mixed with dirt as well as potting mix, the latter of which is denser…
Planting soil is typically used for gardens or planting beds…
Other soil-less ingredients such as perlite, vermiculite, or sphagnum (peat) moss…
… may also be used in regular potting soil.
The purpose of these good indoor potting mediums may be included in some potting soil mixes…
… but potting soil is much more likely to hold moisture, compact the root system…
… turn waterlogged, and prevent proper aeration that many houseplants need.
Thanks, but no thanks!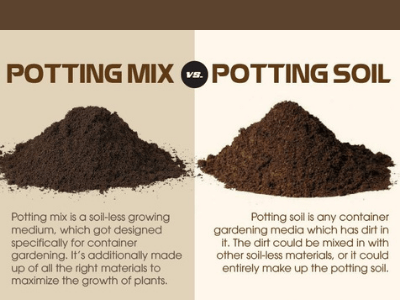 Potting Mix
A potting mix is a mix for growing plants in containers…
With its light and fluffy texture, it is optimal for aeration and drainage…
… as well as preventing the soil from becoming too loose.
This is a soil-free potting mixture consisting of perlite, vermiculite…
… peat moss, sand, wood fiber, coconut fiber, and other materials. 
Try creating your own blend if you're feeling adventurous!
Using a mix of peat moss and coconut fiber is recommended…
You should add sand or pumice to the pot if you are planting a succulent or cactus…
What Makes A Good Soil Potting Mix?
The pH of the soil is an important component of good soil…
pH is measured as a number from 0 (most acidic) to 14 (most alkaline)…
Too much acid or too much alkalinity in a plant's pH can prevent it from absorbing nutrients…
In other words…
If your plant is fertilized, but its pH level isn't optimal, it may not receive any nutrients…
The pH range for houseplants is slightly acidic to neutral (6.0 to 7.0)…
If you're interested in checking your soil's pH, you can also use a soil pH meter…
As easy as adding sulfur to the soil to lower its pH…
… or adding powdered limestone to raise its pH, soil pH can be controlled with ease.
It is best to use peat moss and other soilless mediums (coconut/wood fiber, vermiculite, perlite, etc.)…
… in indoor potting mixes.
These are vital to the health of plants…
But it is equally important to supplement their nutrition. It's no different for plants!
They must eat, too! By fertilizing, you can achieve the desired results…
Importance Of Soil Content and Drainage
Having a high-quality potting mix is essential to the happiness of your houseplant…
Although taking care of your plant's foliage might seem more appealing to some of you…
… looking after your plant's roots is just as vital.
Roots are protected and supported by the soil…
The best rooting conditions include plenty of space for roots to expand…
… and strengthen as well as adequate drainage facilities.
The soil mixes and potting mixes you use should drain and dry faster than others…
… so you should know which one works best for your plants. 
Aerated and well-draining soil is important for your plants' survival…
Plants require well-drained soil, which allows the water to flow through the soil without waterlogging. Because plant roots also require aeration to thrive, the soil should be porous enough to allow air pockets for oxygenation. Together, these factors ensure that roots don't rot. Soil should also drain well to ensure salt from fertilizer and hard water doesn't build up in the soil and burn plant roots.

Ashley Mackenzie of SF Gate
Coconut fiber, wood fiber, perlite, sand, etc. help keep the soil from becoming waterlogged…
… which is especially important if your plants are overly loved. 
Wet soil can create an environment that promotes root rot…
Watered too much, plants wilt, and the soil becomes soupy. Their leaves may also turn yellow…
Wet and dense soil confines the roots of plants, preventing them from breathing properly…
But balance is important, because underwatering can also damage your plants!
When your soil is dry, your plants will become wilted and their growth will be slowed down…
Crispy leaves and crusty soil are signs of an under-watered plant…
You can identify signs and help your plant bounce back…
… when those situations occur even though they sound scary.
Check out how to spot and treat houseplant root rot…
Plant Watering Tips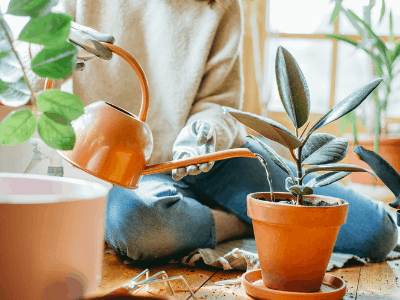 It is important to water plants according to their needs…
In addition to plant size, the amount of light it receives, room temperature, and humidity…
… as well as its rate of growth, determine how often plants should be watered.
We recommend 1-2″ of damp soil for foliage plants and your collection plants…
The soil in your plant is probably becoming dry and lighter than usual, so it is time to rewater…
It is best to soak succulents for a few minutes…
… then let them completely dry out before watering again.
Bottom watering is recommended for succulents…
The roots are thus able to soak up water from the saucer bottom…
… which promotes stronger roots and helps prevent the soil from overwatering.
To sum it up…
Plants prefer certain nutrients and have specific requirements…
It is crucial that you choose the right potting mix for your plants' home…
… in order to keep them healthy and alive.
When picking or making a potting mix, look for a combination of soilless mediums…
… such as peat moss, coir (coconut) fiber, wood fiber, vermiculite, perlite, and/or sand. 
In order for houseplants to thrive…
Their soil needs to provide aeration, drainage, and room for root growth…
You're more likely to have your indoor plant suffer from a lack of root growth…
… if a soil mix contains actual dirt from outside.
You must also ensure that the pH of the soil and the minerals in the soil…
… are balanced to keep your plants thriving.
With all of these measures taken together, your garden will thank you for their health…
Conclusion
If you still have any questions on the matter…
… or in need of further information regarding soil for plants…
… comment down below.
Check out more posts on our website like this one here!
Have an awesome gardening journey!
Related Articles!