Snake plant, also known as Dracaena trifasciata is an evergreen ornamental houseplant…
…with long sword-shaped, green and yellow leaves. The snake plant is easy to grow at home and requires very little care.
In fact..
..it thrives on neglect. This plant is highly recognizable by its long, strappy leaves.
The leaves grow in clusters from rhizomes and resemble sword blades extending from the pot.
The plants have air-clearing properties that make them an ideal plant for bedrooms.
Here you will find detailed instructions on how you can care for Dracaena trifasciata at home.
In addition to handy growing tips..
..you will also learn how to fix common growing disputes with this succulent.
Snake Plant Facts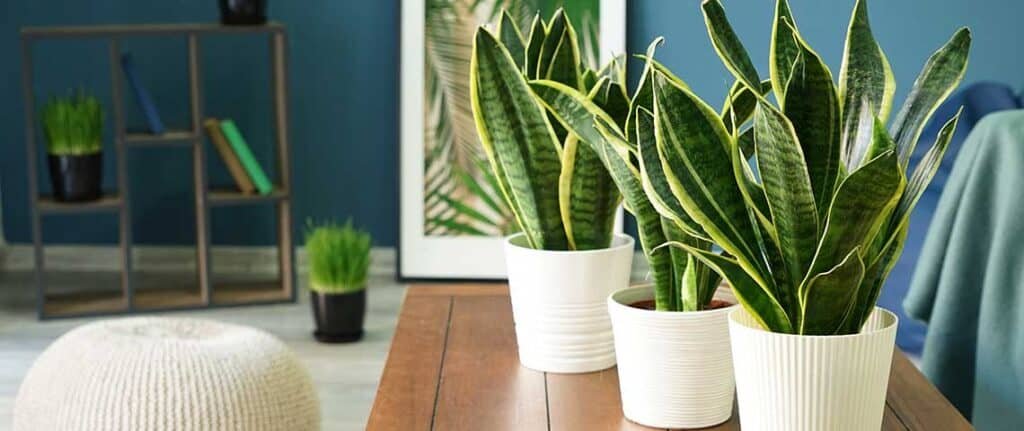 In the family Asparagaceae, Dracaena trifasciata is a tropical evergreen species native to Africa.
Its stiff foliage, which grows vertically upward, gives it a unique appearance.
This plant has dark green leaves with dark green bands and some variegated cultivars have yellow margins.
The long leaves angle to become pointy and are usually 28″ – 35″ long.
The strappy broad leaves are between 2.5″ – 5″ wide.
The snake plants, also known as Dracaena trifasciata, remain slow-growing in the right conditions.
They thrive best in warm temperatures and bright light.
Here's the interesting part…
In the right conditions, snake plants live for between five and ten years.
The plant was known botanically as Sansevieria trifasciata and it has a variety of common names..
..such as snake plant, mother-in-law's tongue, viper's bowstring hemp, and Saint George's sword.
The common names reflect characteristics of Dracaena trifasciata leaves, which are long, sharp, stiff and pointed.
Flowers
Snake plants are perennial flowering plants that bloom in spring.
In ideal conditions, snake plants bloom with showy white flowers on their long stalks.
These flowers resemble miniature lily flowers and emit a pleasant scent.
Plants belonging to the genus Dracaena trifasciata seldom flower indoors.
Even in ideal growing conditions, the plant seldom blooms.
However..
..if the plant does bloom, it sheds a bloom followed by small orange berries.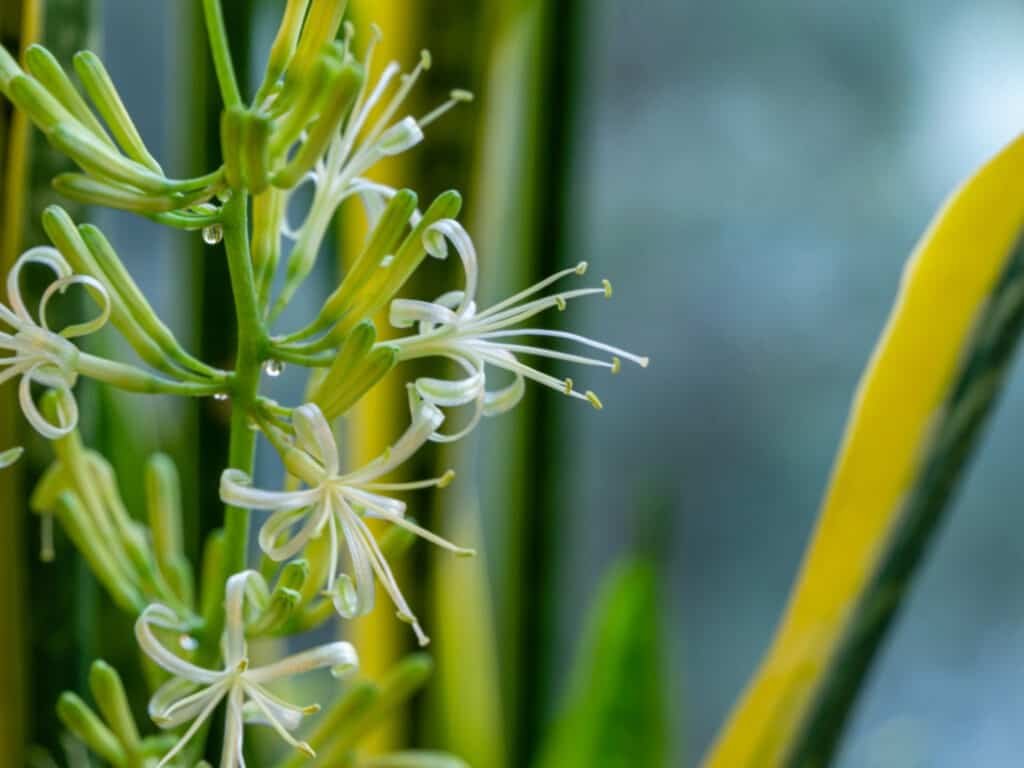 Benefits
An NASA study found that the snake plant helps remove harmful toxins from home air.
Snake plants have been shown to reduce xylene, nitrogen oxide, benzene, and formaldehyde.
Snake Plant Care Guide
Mother-in-law's tongue is one of the simplest houseplants to maintain..
..but there are a few factors that must be adjusted.
For example, loose soil, appropriate watering methods..
..and adequate light are essential for a successful care routine.
Here is the complete care guide to growing Dracaena trifasciata.
Light Requirements
It thrives in indirect light with just a few hours of sunlight daily.
Snake plants are also low-light houseplants that do well in partial or full shade.
If your Dracaena species have variegated leaves, then they might actually do better in brighter conditions.
Snake plants should not be placed under direct sunlight as intense sunlight can scorch their stiff green leaves.
When this happens..
..the leaves start to yellow.
If the Dracaena trifasciata is near a south-facing window, put it behind a sheer curtain.
Growing Dracaena trifasciata indoors is great because the plant is versatile.
Snake plants are ideal for rooms, offices, or areas that receive constant shade.
However, in dim light, the growth is still slow, and the leaves lose some of their vibrancy.
Soil Requirements
Use a porous, aerated soil mixture that drains well for Dracaena trifasciata.
This mix includes one part regular potting soil and two parts perlite.
This soil is nutrient-rich and allows excess moisture to drain.
In addition, you can buy commercial potting mix made especially for cactus plants.
Go on…
If the soil in pots is dense or clayey, snake plant roots will rot if the roots are constantly waterlogged.
Pods of Dracaena trifasciata should not be cultivated in this kind of soil.
Plants should be allowed to dry out every few days when they are planted in soil.
A plant's health can be affected by the type of pot you choose for it.
Here are a few tips for choosing the right pot for snake plants:
Terracotta pots dry faster than clay pots, and succulents tend to grow well in clay pots.
The pot's size should be considered when selecting the pot. Excessive moisture can occur if the pot is too small or too large.
Make sure the pot has drainage holes so that water can drain.
Water Requirements
A Dracaena trifasciata plant may need watering every week during warm summer weather.
During winter, you should only water once every month.
The key to caring for a snake plant is to avoid overwatering, the soil becoming soggy.
You should water Dracaena trifasciata only when half of the pot mix is dry to prevent root rot.
You can tell when it is time to water the mother-in-law's tongue by poking your finger 2″ (5 cm) into the soil.
on the other hand
If it's dry, it's time to water it.
For Dracaena trifasciata, the best way to water it is to drench it in water and let excess water drip out.
After the soil has dried, the plant should be rewatered.
Temperature Requirements
This plant grows best at 70°F – 90°F (21°C – 32°C)..
..however, it will lessen its growth when temperatures dip below 55°F (12°C).
If the temperature is comfortable, the snake plant will grow well.
Originally from tropical climates, Dracaena trifasciata thrives in USDA zones 10 through 12.
As a house plant, you can grow the snake plant in the summer in a sunny spot.
Keep going…
This species prefers afternoon sun for a few hours per day.
The best indoor care for Dracaena trifasciata includes avoiding heat or cold extremes.
In summer, for instance, avoid placing the plant close to drafts or the air conditioner.
In winter, avoid placing the plant near heating vents or radiators.
Humidity Requirements
The Dracaena snake plant does not need misting because room humidity is ideal.
There are few humidity problems if the snake plants are kept in bright light..
..and warm temperatures and watered occasionally.
You should wipe its leaves with a damp cloth periodically to keep the plant's appearance.
Fertilizing Snake Plant
Slow-growing Dracaena trifasciata can benefit from fertilizer diluted to half strength..
..once a month during the growing season.
Avoid fertilizing the plant in the winter when growth is dormant.
Sounds complex?
You can also use organic fertilizer to protect the roots.
Since the snake plant doesn't require much fertilizer, you might not even need to do so.
In general, if you care for your snake plant appropriately, you won't have to add extra nutrients to the soil.
Benefits of Fertilizing
Fertilizing your snake plant is like giving it vitamins. 
Vitamins provide the plant with nutrients it needs and keep it healthy, but they aren't necessary for its survival. 
Your plant may not show you exactly how much fertilizer it needs until it's been years since it needed it.
When you fertilize your snake plant properly, you can help it grow and have fewer problems.
Even though snake plant blooms aren't very well-known, fertilizing can increase your chances of having one bloom. 
You should fertilize your snake plant if you want it to grow at a faster rate and flower more often. 
What Fertilizer To Use
The most difficult part of getting started is choosing a fertilizer. 
Various fertilizers are available, and some are better  than others. 
Before I give you my particular suggestion, my sincere belief is to avoid most natural composts including things..
..for example, "fish dinner", "blood supper", "worm crap", and so on.
There are many sorts however the greater part of them have such minimal dietary benefit and excessive costs that cause them to have minimal worth.
The lone potential gain of these natural manures is that they certainly are harmless to the ecosystem..
..yet I would contend that typical composts are similarly as harmless to the ecosystem when they're utilized appropriately.
However long you're not unloading your manure down the channel or into your neighborhood waterway..
..you will not be contrarily affecting the climate with your ordinary "un-natural" compost.
That is my feedback on purchasing natural composts..
..and you're free to tune in to my recommendation or leave it with no guarantees.   
Understanding Your Fertilizer
Realizing how this compost will function with your snake plant's dirt and why it should be treated is a critical piece of doing this appropriately.
The 10-15-10 on its name identifies with the level of NPK (Nitrogen, Phosphorus, Potassium(K)), in a specific order.
You'll discover these numbers recorded on each manure that you at any point purchase..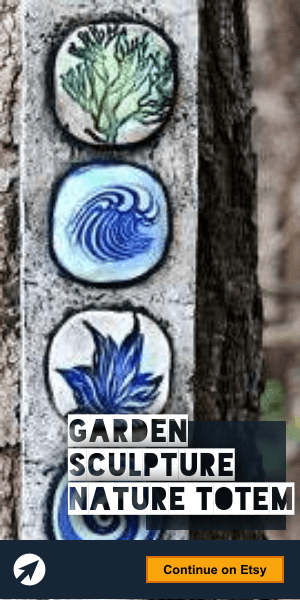 ..so you can analyze their NPK esteems. 
For Schultz 10-15-10 Plant Food Fertilizer, 10% of the dynamic fixings is nitrogen..
..another 15% is phosphorus, and 10% for potassium.
The excess rate is micronutrients or different fixings to help your snake plant.
N, P, and K are viewed as the three primary macronutrients that all plants need. 
Nitrogen assists with by and large greenness, phosphorus helps roots and bloom advancement..
..and potassium assists with the overall cell capacities. 
For what reason do you need to place every one of these supplements into your plants soil?
Each time you water your snake plant..
..it takes up supplements and water through its foundations to be utilized by the plant, accordingly..
..these supplements are gradually drained from the dirt.
On the off chance that you were to never treat your plant..
..it would in the long run out of key supplements and give indications of lacks with yellowing leaves, crude leaves..
..and so on Most snake plants would require a long time to give these indications of supplement lack..
so in the event that you do see a yellowing leaf..
utilize the strategy for allowance to sort out what it was brought about by prior to accepting it simply needs compost. 
Snake plants will have leaves become yellow now and then when they're old..
..or it can become yellow in instances of under or overwatering (which the snake plant is especially unforgiving of overwatering).
Simply be certain that any yellow leaves aren't being brought about by some other factor..
..before you accept it needs manure and more supplements in its dirt..
..as this sort of reasoning could cause you a larger number of issues than you need.
How Often Should I Fertilize My Snake Plant
Regardless of prevalent thinking..
there's not a specific season or exacting timetable to follow with treating your snake plant.
It is the measure of sun that your snake plant is getting that will decide how regularly you ought to treat it.
Here are some broad rules that you can allude to: 
High light = Fertilize every 3 months 
Medium light = fertilize twice a year
Low light = fertilize once every year 
On the off chance that you treat your snake plant more regularly than the rules above..
..you hazard over-burdening your snake plant with supplements and it could cause supplement poisonousness or compost consume.
You'll see this showed in fresh leaf edges, or unexpected yellowing leaves.
This happens on the grounds that a plant in high light is assembling loads of energy..
..and taking up supplements quickly to stay aware of all the energy it can use. 
A plant in low light isn't taking up supplements quick and accordingly won't should be treated all the time.
Snake plants are fairly lethargic developing and frequently publicized as plants that do well in low light..
..so you shouldn't should treat all that regularly.
In case you're as yet not certain and question your capacity to realize how much light your snake plant is getting..
..go on the more traditionalist side and just do it once every year.
Snake plants are certainly one of those indoor plants that don't need weighty treating.
Fertilization Steps
Since you know the basics of how fertilization functions, its advantages..
..and how frequently you ought to complete it, you're prepared to fertilize!
Before we start..
..mark off the accompanying two statements to ensure your snake plant is really fit to be fertilized. 
My snake plant is healthy and has no underlying conditions 
I'm not fertilizing to fix my snake plant's issues 
The explanation I have you scratch off those statements on the grounds..
..that too often I've seen individuals use manure as a kind of "Hail Mary" to fix their plant's issues and get it to some ideal picture of where they figure their plant ought to be.
Sadly, it doesn't work that way.
On the off chance that your snake plant is now focused and battling with something different like unfortunate watering rehearses, pests, sun scorch, and so forth..
..at that point treating it can simply add pressure to it and could hurt it more than help it..
..now and then in any event, driving it to the brink and making it kick the bucket. 
On the off chance that your snake plant isn't battling with any external factors and is healthy..
..it will be okay with compost being added to it!
Propagating Snake Plant
To propagate Dracaena trifasciata, you can divide its tuberous roots or propagate new plants by taking leaf cuttings.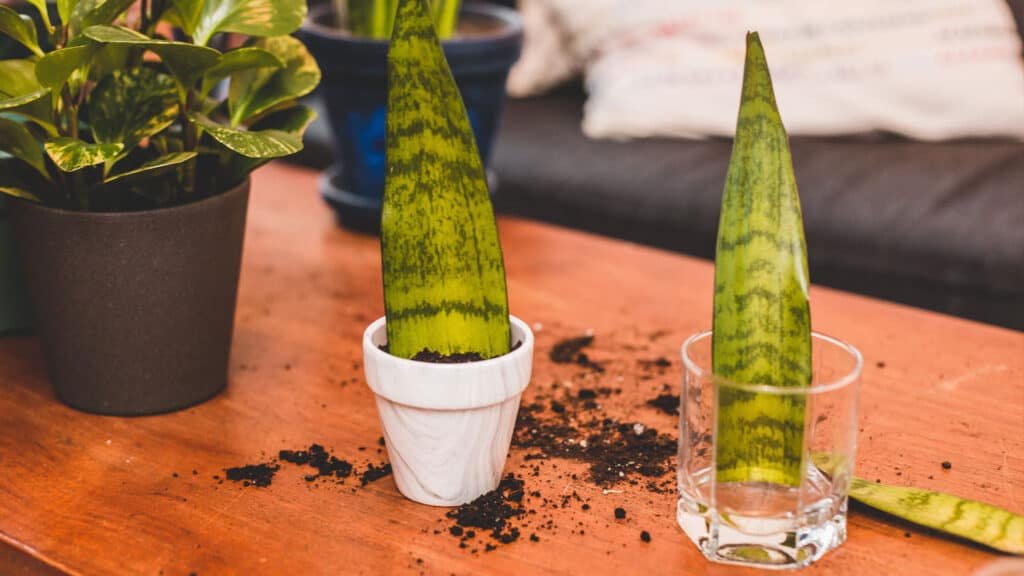 Rhizome Division
Root division is the preferred method of propagating snake plants by removing them from their pots..
..cleaning the roots, and looking for sections they can divide.
Remove the roots and cut them into two or three sections once you are ready to plant the snake plant.
Keep reading…
Cuttings
Prune leaves to form a callus at the cut end of new leaves. Plant the cut end of the leaf in moist potting soil or vermiculite.
The newly developed roots should appear after a few weeks.
Water
Propagate snake plants by placing leaf-cuttings in a jar filled with water tying them together to prevent disease.
Keep the jars in the sun while protecting them from direct sunlight as needed.
Once the roots appear..
..transplant the leaves to an appropriate potting mixture.
Repotting Snake Plant
Snake plants should be replanted when they become rootbound.
However, since these plants grow slowly, you only need to do it every two or three years.
You should also check the roots for signs of damage when repotting snake plants.
Here are some indications that your Dracaena trifasciata needs to be repotted:
A long, rigid spike of leaves has grown on the plant, and it has become top-heavy.
In the drainage hole of the pot, you see roots poking out.
You suspect root rot in the snake plant because you have overwatered it.
The last but not least…
Pruning Snake Plant
It's rare for Dracaena trifasciata to require pruning.
Trimming the succulent-like fibrous leaves only requires removing dead or dying leaves.
When pruning snake plants, use sharp, sterile tools and cut the tough leaves at the base.
New growth will then appear.
The tips of Dracaena trifasciata cannot be renewed if they become brown and unsightly.
If the leaves appear brown and unsightly..
..it is recommended to shear off the entire leaf to improve the plant's appearance.
Pests Affecting Snake Plant
The snake plant is susceptible to spider mites and mealybugs.
Neem oil can be used to treat the plants.
Check this out:
Combine 2 teaspoons of neem oil with 1 teaspoon liquid soap and 1 quart (1 liter) of water.
To remove the bugs, spray this mixture liberally on the sword-like leaves.
Combine the 2 ingredients in a spray bottle and shake well.
You must be vigilant for signs of houseplant pest infestations.
Bugs, mites, and other pests feed on houseplant sap, which can kill your prized plants if left untreated.
Spider mites are common on snake plants because they prefer dry, sandy soil.
Now..
Inspect the leaves for fine silky webbing to check for spider mite activity.
Mealybugs leave behind a white fuzzy substance on plant leaves.
Scale insects hide in the nooks and crannies of snake plants.
If left untreated, the pest infestation can weaken the plant and eventually kill it.
Diseases Affecting Snake Plant
Dracaena trifasciata has root rot if the leaves yellow and droop.
Root rot is the result of overwatering.
The brown roots in the snake plant will indicate root rot.
To solve the problem, repot the snake plant.
Unless your snake plant has rotten roots, you will need to take additional steps.
First, remove the snake plant from the pot and remove all diseased roots.
If the snake plants still have healthy roots..
..then discard their diseased roots and repotter the healthy part of the plant.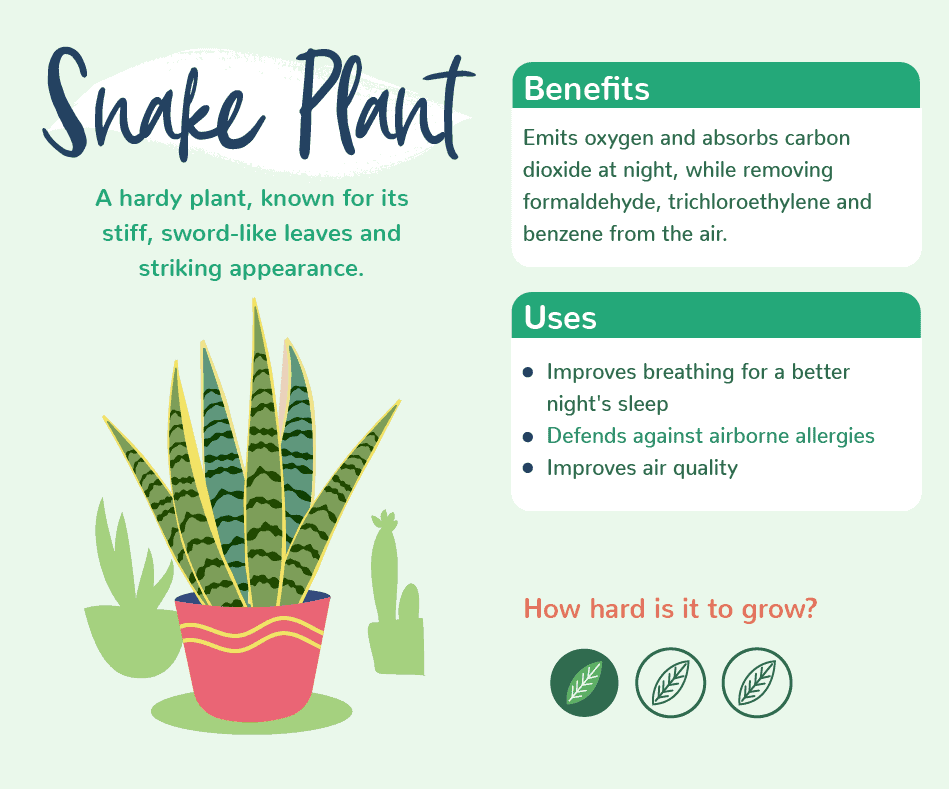 Sums Up
Most snake plants are low maintenance so they don't require much attention to grow.
This is perhaps one of their biggest advantages.
They are resilient..
..hardy plants that can survive in relatively dry environments, both indoors and outdoors.
If you intend to have a snake plant in your home, here are some things to remember.
Don't overwater & Indirect sunlight is best.
Conclusion
As visually appealing as they are useful, snake plants are also extremely useful.
Plants can be grown indoors and outdoors with little to no maintenance.
Additionally, snake plants can purify the air in a house, which is beneficial to your overall health.
Snake plants can be both aesthetically pleasing and healthful..
..so consider adding one to your home. If you still have any questions on our topic of Snake Plant Care
…or even you need to know a more detailed steps to do in dealing with it feel free to contact me!
More Related Articles For You!