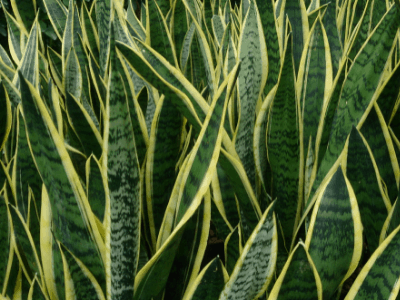 How to propagate snake plant? 
What are all the possible propagation methods? 
Which one should you choose? 
Those are the most frequently asked questions I often encounter about snake plant propagation…
A snake plant or Sansevieria trifasciata, commonly called Mother-in-law's tongue…
… is the easiest, most tolerant plant to take care of among the plants.
One of the things that I truly enjoy about this plant is the sword-like…
… streaked foliage that reaches up to 2' feet tall and provides a handsome, upright, and showy display. 
Hear it from Jeanne!
Snake plant is my favorite houseplant to have…
It doesn't only provide us with the most beautiful variants…
… but it also requires low maintenance – which is a huge advantage.
Moreover, it's easy for me to share this plant with my fellow gardeners…
… because they are very easy to propagate!
You can just pick up a new sprout and plant it…
… or you can also cut its leaves and plant it in either water or soil.
You can't go wrong with these beautiful houseplants…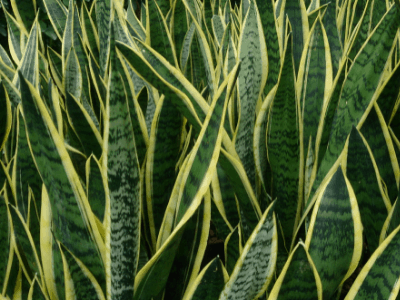 With their versatility, drought resistance, low light tolerance and ability to take advantage of bright indirect light…
… snake plants are excellent for purifying the air and which do not require fertilizer.
Over the last few years, there was much scientific investigation around the impact of houseplants on indoor air quality, particularly on their ability to remove CO2 and volatile organic compounds (VOCs) e.g. emitted from paints and furnishings, to name some sources. Generally good all-rounders and relatively easy-to-grow plants include peace lilies, zamioculcas zamiifolia, snake plants, and devil's ivy, to name a few.

Dr Tijana Blanusa, the Principal Horticultural Scientist at the RHS
The low-maintenance power of snake plants is to satisfy all tastes…
… especially those of forgetful owners, amateur gardeners, enthusiasts, botanists, and gardening experts.
The creation of a comprehensive guide on snake plant propagation would be highly beneficial…
… and the writing of one would be worthwhile!
Overview
A propagation guide is essential to the growth of an easily-grown plant like snake plants…
You will find below instructions on how to propagate the snake plant…
… using two different methods: leaf cuttings and rhizomes.
A few things need to be considered before delving into propagating methods…
While Sansevieria plants require no special lighting or humidity…
… they can be particular with regard to watering needs.  
Like other cacti succulents, snake plants place an emphasis on water conservation…
… when it comes to water, believing, "too much of a good thing can be harmful". 
Root rot may result from excessively watering the plant, and eventually, it will be killed…
A promising option is to propagate snake plants in the water…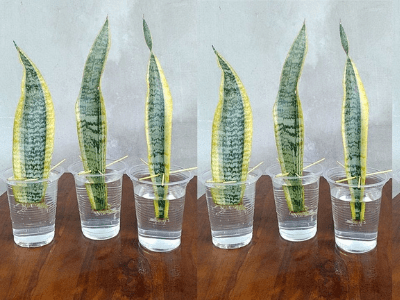 You can grow snake plants from cuttings, but to grow them much faster, you need rhizomes…
More rhizomes are produced by snake plants as they get older…
You can use any of the propagation methods listed below and watch your garden grow…
Various Ways To Propagate Snake Plants At Home
Leaf Cuttings – Propagation No. 1
As the name suggests, snake plants can be propagated…
… by cuttings taken from one of your snake plants. 
You should choose healthy, solidly colored snake plant cuttings…
People with patience come out on top when using this method!
Materials Needed:
A pot with slightly moist, well-draining soil or a tall container with water (depending on the variety you choose to use)
A mature Sansevieria plant
A sharp knife
A pair of gloves
Steps to Take:
Choose a healthy leaf from the mother plant and cut a section with a clean, sharp blade or sheaths. 
You must keep two things in mind while doing so.
Make sure that your knife is very sharp and clean and you should cut the leaves in the direction in which they have grown.
It is important to root the leaf cutting at the correct end, because this is what ultimately determines whether the plant will grow or not. 
It is important to remember which end faced the roots if you cut an asymmetrical piece.
Plant your cuttings after a few days of resting so that they can properly heal. 
Several varieties of rooting can be performed once the cuttings have been rooted.
Variety 1: Rooting A Snake Plant in Water
Place the leaf in the tall vase or container. 
A leaf should be cut with the cut-end facing downwards. 
A good rule of thumb is to cover the leaf only 1/4 of the way with water. 
Place the container at a place that has indirect light, preferably a place with partial shade. 
The water should be changed every couple of days.
The snake plant cutter can be planted in the pot with lightly moist soil as soon as the plant grows roots.
Variety 2: Rooting Cuttings in Soil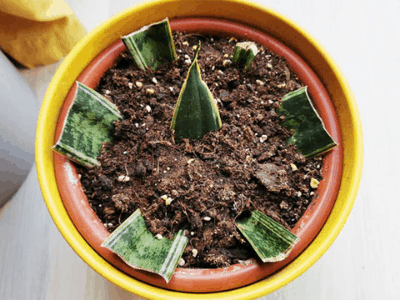 With this variation, the leaf cutting has to be planted directly in the planting container with soil. 
Insert the lead tipped with the cut end in water-retentive, well-draining soil. 
The plant takes between 2 and 4 weeks to sprout roots…
… and then another month or two before it begins to produce green leaves.
Cuttings from Rhizomes – Propagation No. 2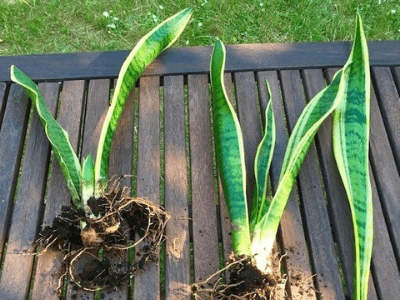 The snake plant's roots and shoots are made up of rhizomes…
… that are thick and underground parts coupled with the root stalks. 
Its color is white. During the propagation of a snake plant, rhizomes are referred to as mother plants…
Faster and simpler than the previous method, this one is a more effective way to propagate snake plants…
Get your hands dirty and it could be very rewarding…
Materials Needed:
The number of posts you need depends on how many sections you have to make.
A mature Sansevieria plant
A sharp knife
A pair of gloves
Steps to Take:
The rhizomes can be obtained by digging up the mother plant and removing the plant from its pot and cutting through and dividing them together with their roots. 
Please use clean and sharp shears or knives if you intend to harm the healthy plant.
If your mother plant has multiple rhizomes, you may need more sections of the plant, as it is normally divided only into two parts.
Replant your mother-in-law tongue plant into separate pots after letting the section leaf calluses over for a few days. 
For the healthy growth of the new plant, multiple rhizomes should be attached to three or more healthy leaves.
Each new section of the plant should be replanted in a new pot with a fresh planting medium.
To sum it up…
It's now your turn, go on and grow some Sansevieria babies…
As an ornamental houseplant, they are also great for your garden…
You could share them with friends and family as a gift…
Remember not to overwater snake plants since excess water can kill the baby plants…
Conclusion
There are still many recent and interesting articles about Jade Plants..
..as well as other unique information from All Things Gardener..
For further information and other inquiries..
..you can contact us here.
Check out more of our posts like this one here!
I hope you can now take care your snake carefully and grow it big!
Thanks for reading this article! Bye!
Related Articles!
I am a new gardener – from the covid generation. From gardening, I know how to be more patient and tend to other things besides myself.
I'm sure there are many new gardener like me. I hope I can give us helpful information through this All Things Gardener site (which is our lovely website, of course). Let's be better of taking care of our "green child" together!???
*My first friend is jade plant a.k.a money tree. It is true, we can make money from the tree. If you sell the tree, you get your money :3.